Cristi Movila (VTEX) – At VTEX, every employee is a leader
VTEX is a multinational tech company delivering a global, fully integrated, end-to-end digital commerce solution.
BRAND MINDS partnered with VTEX for its 2022 edition to provide companies with the necessary tools to future-proof their businesses.
We sat down with Cristi Movila, Eastern Europe General Manager & EMEA Sales VP at VTEX and talked about the company's vision for the future, his perspective on innovation and leadership, the company's most important leadership lesson and much more.
1. What is the brand's VISION for the next 10 years?
When looking to the future, VTEX aims to be recognized as the backbone for connected commerce by offering an all-in-one enterprise digital commerce platform. That means that customers and partners can onboard the VTEX platform at an extraordinary speed-to-market and seamlessly find, buy and sell products and services from each other, creating a connected ecosystem.
Our vision is that VTEX will be the single control panel for every order, so customers will be able to manage 100% of their orders from all channels through our platform.
On top of that, our solution is being set to execute our customer's strategy autonomously or recommend the best actions. Therefore, VTEX will be the developer platform of choice for commerce.
2. What is VTEX's LATEST impactful INNOVATION?
Building is an always evolving process, we are constantly innovating. This is a must as we are operating in an environment that is changing rapidly. Consumers are more demanding than ever, wanting to find everything they might need fast and with an experience that resembles the physical one-on-one experience but online.
We believe that retailers should have the power to sell anything, from anywhere to anywhere regardless of the channel they are performing the sale. To do that, the platform is constantly evolving to help brands deal with increasingly complex scenarios in a simpler and more strategic way.
Thus, last year we continued making progress with our new front-end framework called FastStore. We have already successfully mentored System Integrators that are now implementing this new module for VTEX IO that was built from scratch with storefront performance in mind without compromising flexibility or development productivity.
We also continued making strides related to our inStore's endless aisle approach. Now, physical store sales associates can use filters such as price range, department, and brand, among other configurable filters, when searching for products on inStore VTEX Intelligent Search. This results in a more dynamic and precise process, speeding up sales, and allowing them to quickly find the desired product.
Another product we are proud of is Live Shopping App, which helps our clients to create immersive live shopping experiences, increasing engagement and conversion rates, thus unlocking new growth opportunities.
On top of that, we launched social commerce, which enables sales associates in our customer's physical stores to share products via QR codes, using the social selling feature.
Also, in order to increase the support for our customers who want to introduce sales capabilities to their conversational touchpoints, we enabled several customers at VTEX to combine the worlds of commerce and conversational platforms. We are onboarding customers from different segments, such as grocery and drug stores, to sell through WhatsApp and other conversational interfaces, a significant emerging channel that will complement physical stores, browsers, mobile apps, marketplaces and other sales channels.
3. What is the impact of the brand's CUSTOMER CARE on people's perception of the brand?
Our specially called ''hypercare'' aims to position VTEX not just as a technology provider, but as a full-time partner to our clients.
We are not only dedicated to improving each store's ecosystem but also helping our customers overcome real business challenges, where our commerce expert's know-how can come in handy. We understand the clients' challenges and their consumers' needs, so we connect both ends.
4. What is the company's most important LEADERSHIP learning that has impacted its organizational culture over the past year?
"Leadership" has very particular meaning at VTEX, because here we consider everyone to be a leader.
It doesn't matter the position you are in within the company. Leadership is not about job titles, it's about attitude.
When people feel they have ownership over their work they don't wake up just to do their job, they wake up to accomplish goals that are beyond predictable. And such a mindset is only possible because we are building a team of leaders looking for excellence.
We also embrace and encourage failure, because failure means new data and new possibilities, with which we can do better analyses and we are better prepared for the future.
5. Name the most essential aspect of TEAM MANAGEMENT and improved performance according to the company
No matter what happens, one thing is certain: the future is not just about the right choices, it's also about the right talent.
We have taken it upon ourselves to create an abundance of diverse talent for the digital commerce ecosystem, and that goes far beyond our company's needs. We invest heavily in historically under-served yet high potential regions, co-creating centres of academic excellence to develop world-class, global-citizen digital workers. We foster the emerging market leaders who will build the next generation of disruptive technologies and global businesses.
6. What is the LATEST NEWS about the brand our readers should learn?
VTEX is where commerce happens. We are building the global digital commerce infrastructure that empowers enterprises to be relevant for the modern, convenience-driven consumer.
In that context, the news about how we are working to consolidate our position in the Romanian market and also strengthening our operations in Europe are indeed very relevant.
But, on top of that, VTEX's news is a synonym of what is hottest in the digital commerce scene, and a reference for the most important trends in this industry.
The pandemic accelerated digital commerce but simply having a website is not enough for the modern-day retailer. Now more than ever, it's critical that businesses around the world meet consumers wherever they are with modern experiences that surpass the "in-store".
This means that retailers need innovative new tools to make shopping easier and a seamless and exceptional experience. VTEX is providing that — as evidenced by our recent product momentum. With conversational commerce and Live Shopping, customers can avoid all the downsides of traditional in-store shopping by mixing and matching offered experiences. To know more about that, readers should follow VTEX latest news.
VTEX IO – the technology that brings balanced speed and flexibility to the online retailers (P)
Having more than 2,400 customers with over 3,200 active online stores who rely on VTEX to connect them with their consumers is a big challenge.
VTEX's clients are all over the globe, in 38 different countries, meaning that the company needs to have products and services that can be customized for every type of client, no matter their field or business strategy.
Being customizable and flexible for a software company means a lot of effort and investments to match, but that didn't stop VTEX and that's how the VTEX IO concept was launched.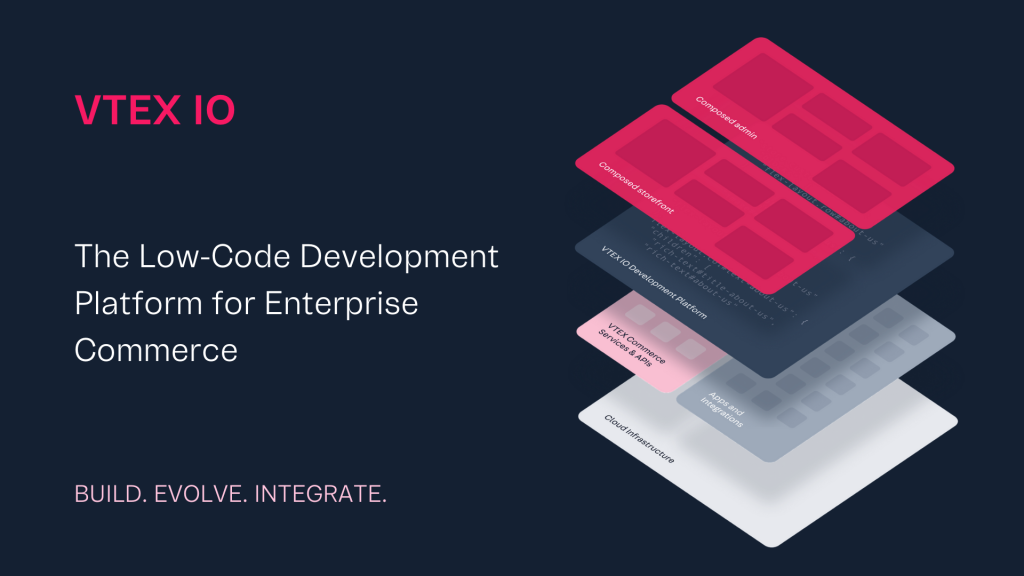 VTEX believes that retailers should have the power to sell anything, from anywhere to anywhere and in any channel.
To do that, the platform is constantly evolving to help brands deal with increasingly complex scenarios (e.g cross-border, marketplace, omnichannel) in a simpler and more strategic way.
In the past ten years, probably one of the most distracting jobs online retailers have had to deal with has a name and, honestly, a big budget to go along with: the storefront.
In order to have great conversion rates and brand visibility, operations need to deal with implementing, managing, and evolving their store's front-end in a way that's both meaningful and useful to the consumer.
Furthermore, over the past years, front-end capabilities have been constantly evolving, as development changed drastically with new frameworks and tools. From complex design systems to companies undergoing A/B testing for every single part of their experiences, front-end implementation and management are taking more and more time and resources. But it doesn't have to be that way.
In a few words, VTEX IO is a serverless and low-code development platform designed to create scalable, production-ready web applications.
Basically, it means that merchants can combine pre-built services from VTEX with custom-built and third-party applications to build a truly tailored solution, one that fits the unique needs of their business. The Store Framework is an IO-based collection of elements, designed specifically for front-end development.
By combining VTEX Commerce Cloud with VTEX IO, customers can have both a composable CMS to build their experiences and a low-code development platform to connect other data sources. The beauty of VTEX IO is that if you want you can build your own applications and platform extensions with third-party partners that have the solutions you need.
How does this work in practice? Well, while VTEX is making the implementation easier with ready-to-use components, the community of developers and the constantly growing pool of customers work to make those same components evolve.
In the end, the principle behind VTEX IO and the Store Framework is simple: using an atomic and modular design architecture, we created everything from small UI elements to complex, pre-built components — such as product shelves, sliders, menus and so on — that access all VTEX data to show it seamlessly in the front-end. With those components, you can rapidly build pages and templates without ever having to start from scratch.
Not only was VTEX IO a pioneer in headless and composable commerce, but it also changed the way customers design and think about their customer experiences.
As customers demand newer and newer ways of interaction (from conversational commerce to live shopping), stores often find out their ideal customer journeys are no longer usable. With VTEX IO and the VTEX Store Framework, adapting to the customer is no longer a desire, but a daily reality.
VTEX and BRAND MINDS, helping customers discover new growth opportunities in 2022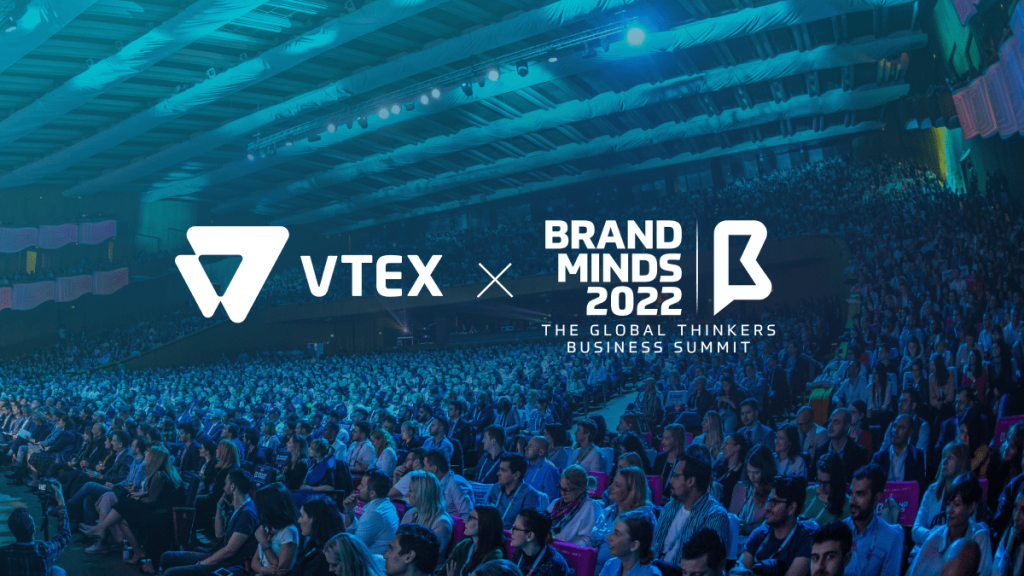 VTEX is a multinational tech company delivering a global, fully integrated, end-to-end digital commerce solution.
Brands working with VTEX are empowered to realize their unique vision and deliver that vision to customers through remarkable experiences.
Among the goals BRAND MINDS is looking to achieve is providing companies with the necessary tools to future-proof their businesses.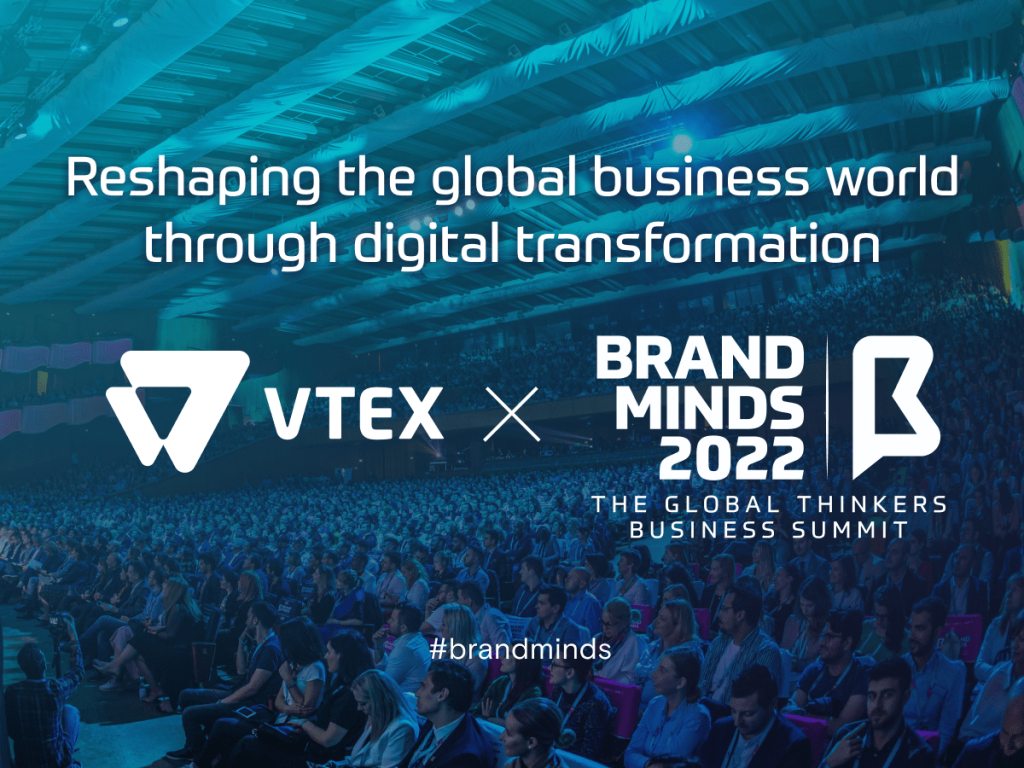 Cristi Movilă, Eastern Europe General Manager & EMEA Sales VP at VTEX:
"We are happy to announce our partnership with BRAND MINDS, The Central and Eastern European Business Summit of the Year.

The event is a must-have in the calendar of everyone interested in entrepreneurial inspiration and business education from the most influential global thinkers.

Like VTEX, BRAND MINDS is always innovating, setting ambitious standards, and exceeding expectations. We value and promote innovation in all aspects of our life because the drive for innovation makes society move forward. In fact, we are living in one of the most disruptive periods of tech evolution since the Internet first entered the scene. And oftentimes we search for inspiration, we look for stories, people, or companies similar to us.

And here comes BRAND MINDS ​​promoting enterprises that have a positive social impact, thus helping the communities they operate in to develop and thrive.

We are very enthusiastic to meet all these amazing people at the 2022 edition of BRAND MINDS!"
VTEX, the enterprise digital commerce platform for premier brands and retailers
VTEX offers solutions for a new era reshaping the business world and helping customers understand how their companies will be changed by customer expectations.
The company's global expertise helps it create a detailed overview of the eCommerce market and build modern experiences for its customers' clients.
VTEX's mission is to drive digital transformation, set technology trends, and join forces with other visionary companies, in order to anticipate the future.