9 social media apps paying their content creators
Competition among social media apps is fierce. Every platform is looking to keep their users engaged as long as possible and one way to achieve this is to provide them with the best from content creators. Some social apps began paying their most talented content creators last year, some started this year.
9 social media apps paying their content creators
1. FACEBOOK

– in-stream ads, fan subscriptions, branded content and subscription groups

On March 11, 2021, Facebook announced that the platform will help Content Creators Diversify Revenue on Facebook.

From 2019 to 2020, the number of content creators earning the equivalent of $10,000 USD per month grew 88% and content creators earning $1,000 per month grew 94% (Facebook).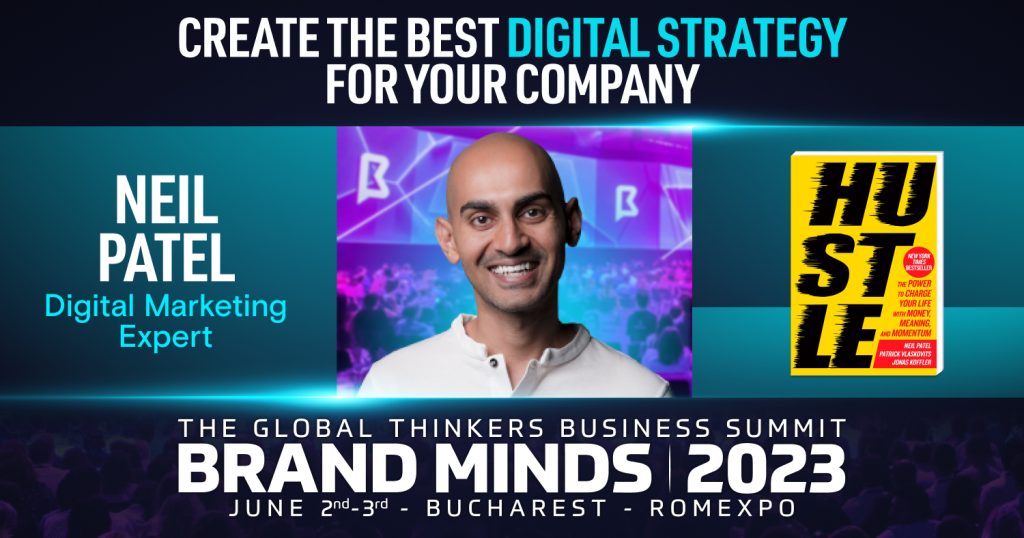 Here is how content creators can monetize content on Facebook:
In-stream ads
In-stream ads help content creators earn money by including short ads before, during or after their videos.
Facebook will automatically identify natural breaks in content to place the creator's ads, or the creator can choose placements.
The creator's earnings are determined by the number of video views and who the advertisers are.
Fan subscriptions
Fan subscriptions allow the creator's audience that cares most about their Page to directly fund it through monthly, recurring payments that the creator sets.
The creator can identify supporters by the special badge the platform provides them in comments.
Facebook's recommendation to keep the fans engaged is to reward them with perks such as exclusive content and discounts.
Branded content
Facebook helps creators generate revenue by publishing content that features or is influenced by a business partner.
Brands want to work with content creators and their audiences.
To make this easier, safer and more impactful for both parties, Facebook created the Brand Collabs Manager, a tool which enables the creator to find and connect with brands.
Subscription Groups
Subscription groups empower group admins to sustain themselves through subscriptions, thus enabling them to further invest in their communities.
We're especially focused on short-form video monetization. In the coming weeks, we'll begin testing the ability for content creators to monetize their Facebook Stories with ads that look like stickers and receive a portion of the resulting revenue.

Yoav Arnstein, Director, Facebook App Monetization
2. TWITTER

– the Tip Jar

On May 6, 2021, Esther Crawford, Senior Product Manager at Twitter announced a new feature called Tip Jar.

What is Tip Jar?

"Tip Jar is an easy way to support the incredible voices that make up the conversation on Twitter. This is a first step in our work to create new ways for people to receive and show support on Twitter – with money."

Tip Jar is a new way for people to send and receive tips. The accounts that enabled this feature have a Tip Jar icon next to the Follow button on their profile page.

How does the Tip Jar work?

By tapping the icon, a dropdown of payment services or platforms unfolds and the user selects whichever they prefer. The services available today include Bandcamp, Cash App, Patreon, PayPal and Venmo.
3. INSTAGRAM

– Badges in Live and IGTV Ads

Badges in Live

In May 2020, Instagram announced new ways for creators to make money.

To give fans another way to participate and show their love towards a particular content creator, Instagram introduced badges that viewers can purchase during a live video.

With badges, creators can generate income from the content they're already creating. Badges will appear next to a person's name throughout the live video.

Fans who have purchased badges in Live will stand out in the comments and unlock additional features, including placement on a creator's list of badge holders and access to a special heart.

IGTV Ads

IGTV has become a powerful place for creators to connect more deeply with their fans, pilot new projects and share their lives and talents.

With IGTV ads, they have another new way to earn money from the content they work so hard to produce.
4. YOUTUBE

– $100M YouTube Shorts Fund

In May 2021, YouTube announced the launch of YouTube Shorts Fund, a $100M fund distributed over the course of 2021-2022.

Anyone is eligible to participate in the fund simply by creating unique Shorts that delight the YouTube community.

Each month, YouTube will reach out to thousands of creators whose Shorts received the most engagement and views to reward them for their contributions.

The video platform said the Shorts Fund is a top priority and the first step in its journey to build a monetization model for Shorts.
We've paid more than $30 billion to creators, artists, and media companies over the last three years, and we remain deeply committed to supporting the next generation of mobile creators with Shorts.

YouTube
5. TIKTOK

– $1B Creator Fund

The Creator Fund gives TikTok's best and brightest the opportunity to earn money with their creative talent.

Within 3 years, TikTok is expecting the fund to rise to a total of $1 billion.

The fund will extend to further markets across the globe so that even more creators will be given the opportunity to earn from their hard work and creativity.

Beginning March 25, 2021, creators will need at least 100K authentic video views in the last 30 days to be eligible to join the Creator Fund.
6. Snapchat

– $1 million a day in Spotlight

Snapchat is willing to pay $1 million a day for good content from creators on its platform.

Snapchatters are invited to submit their top snaps to Spotlight and if the snaps go viral, the company is paying the creators a lot of money.

Snapchat debuted Spotlight in November 2020 and thousands of creators are already getting paid small fortunes.

Snapchatter Cam Casey, a TikTok star with over seven million followers, has been paid nearly $3 million by the company for content that went viral.
7. Pinterest

– $500K Creator Fund

In April 2021, Pinterest hosted an event focused on its creator community. At this event, Pinterest announced the launch of a $500,000 Creator Fund.

The fund is specifically focused on elevating creators from underrepresented communities in the United States. It will offer a combination of creative strategy consulting and compensation for content creation and budget for ad credits.

Creator Inclusion Lead Alexandra Nikolajev said the company worked with "eight emerging creators across fashion, photography, food and travel, and will be identifying 10 more creators in the next few months for the next cohort." (source)
8. LINKEDIN

– Creator Program

In May 2021, Daniel Roth, VP and Editor in Chief at LinkedIn announced a program to support creators around the world, enabling them to have an even bigger impact and better experience on the platform.

No details were further disclosed and also we have no information on whether or not this program will pay LinkedIn Creators.
9. CLUBHOUSE

– Clubhouse Payments and The "Creator First" Accelerator Program

In April 2021, Clubhouse began rolling out Payments—the platform's first monetization feature for creators on Clubhouse. All users will be able to send payments and 100% of the payment will go to the creator, Clubhouse will take nothing.
This will be the first of many features that allow creators to get paid directly on Clubhouse. We are excited to see how people use it, and to continue working hard to help the amazing members of the Clubhouse community grow and thrive.

TikTok
Before the Payments feature, Clubhouse launched the Creator First Accelerator Program.
The program's goal is to help support and equip emerging creators with the resources they need to bring their ideas and creativity to life.
The platform's support includes a wide range of services from sending iPhones to the creators to helping them promote their shows.
The program also provides the creators with a monthly stipend and matches them with brands so they can turn their ideas into profitable creative endeavors.
How Brand Partnerships Move Your Business Forward (with examples)
As a business owner, you are competing with other businesses in your market for the attention of your customer base. What if you took a different approach: choose to build brand partnerships instead of competing with each other?
Step down the competition race and learn how brand partnerships move your business forward.
In this article:
Three examples of brand partnership: Virgin Atlantic x Aviation Gin, YouTube x Waze, Coca Cola x Disney
5 factors for a successful brand partnership
9 benefits of brand partnerships
Brand Partnerships:

Virgin Atlantic x Aviation Gin, YouTube x Waze, Coca Cola x Disney

Virgin Atlantic x Aviation Gin 

In September of 2018, Virgin Atlantic announced a partnership with Aviation American Gin owned by actor and producer, Ryan Reynolds.

The famous UK airline founded by Sir Richard Bronson would serve the award-winning gin to their Upper Class passengers and Club Gold members.

Here's what Sir Richard Branson said on this partnership:
Working with Ryan and his team on this partnership has been so exciting. Aviation Gin is a true icon born out of a spirit of innovation, so serving it on board Virgin Atlantic flights seemed like a natural combination.
YouTube x Waze
In August this year, YouTube announced its partnership with Waze.
YouTube Premium and Music Premium subscribers can safely listen to their favourite music from directly within the Waze app, where they get their directions. It's a natural match: listening to your favourite music makes driving more enjoyable.
With YouTube Music and Waze together in one experience, there has never been a more entertaining way to get around.

YouTube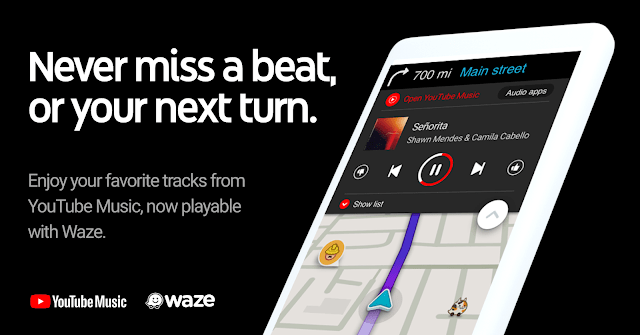 Coca Cola x Disney 
Earlier this year, Disney approached Coca Cola with a novel idea for a partnership: creating custom bottles of Coca Cola for Star Wars: Galaxy's Edge, a new experience playing at the Disneyland Park.
The Star Wars-inspired Coca Cola bottles have a rounded look and brand name printed on rusted labels in Aurebesh, the written language featured in the film franchise.
When we first approached Coca-Cola and shared the idea of bringing their products into the Star Wars galaxy in a new and unique way, they immediately saw the opportunity to give our guests the refreshing drinks they love in a way that maintained the authenticity of the story – which is very important to us – and that was, frankly, just plain cool.

Scott Trowbridge, portfolio creative executive and studio leader, Walt Disney Imagineering
5 factors for a successful brand partnership
Two heads are better than one, goes the popular saying. But one needs to be careful which heads – a.k.a brands – are a perfect match for each other.
Here are 5 factors you should take into account for a successful brand partnership:
The two brands are complementary, but not competitive;
They have similar values and target audiences;
A shared objective and goal;
Involve the right people from both companies;
Bring on board senior executives and even the CEOs from both companies.
9 benefits of brand partnerships
Brand partnerships are successful when both companies start with a win-win mindset.
Here are 9 benefits of brand partnerships:
Sharing customer bases;
Break into new markets;
Cross-selling;
Expanding your customer base;
Lead-generating opportunities;
Brand strengths are amplified through collaboration;
A great experience for the customers;
Enhanced brand awareness and exposure.
Do you plan to build partnerships with other companies?
Join the Conversation
We'd love to hear what you have to say.
Get in touch with us on Facebook Group and Twitter.
YouTube is selling merchandise for YouTube creators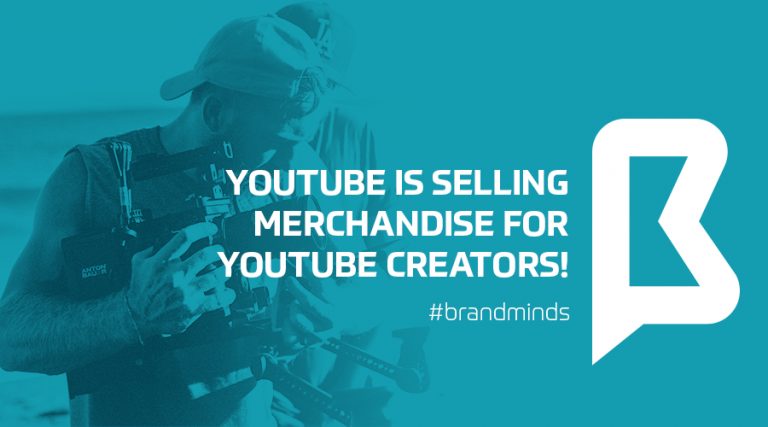 Social media platforms have become an integrated part of business sales strategies. Retailers, brands and companies can use their social media accounts to promote their products:
Ecommerce retailers increase their orders leveraging the power of Facebook Ads with Facebook pixel;
Instagram offers its business users a new way to shop by turning their accounts into a visual storefront with shoppable tags;
Snapchat increases brands' revenues with AR campaigns;
Pinterest invites their users to sell product with buyable pins.
[bctt tweet="YouTube is the latest social media platform to enter the shoppable media environment." username="brand_minds"]
The only way for vloggers to make money on YouTube was through ads. But recently YouTube announced that it will expand the ways its users make money: merchandise selling.  
YouTube will allow certain creators to sell merchandise directly through YouTube's platform. Also these creators will be able to offer $4.99 exclusive content monthly subscriptions to their fans.
The new monetization options will work as follows:
YouTube brokered a discount deal with Teespring;
Teespring supports creators by printing their designs on t-shirts, mugs, phone cases etc and distributing the products to clients;
This deal is available to YouTube users who have at least 10,000 subscribers;
YouTube will display a merchandise "shelf" below eligible videos, turning the platform into a kind of virtual store.
According to Teespring, Lucas the Spider—a YouTube channel that has published just 10 videos featuring Lucas, the animated arachnid—earned over $1 million in less than a month.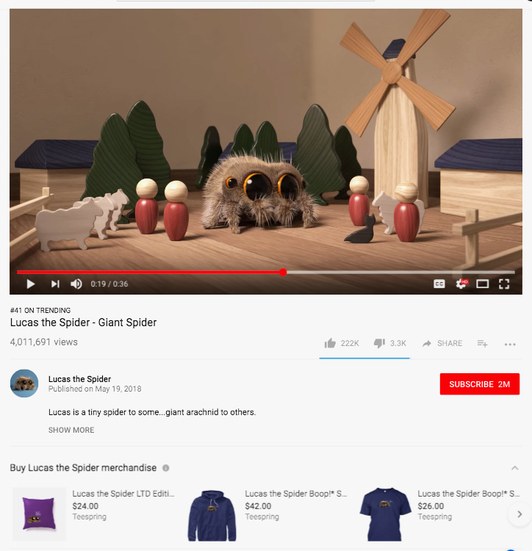 image source: YouTube
Merchandising won't be a perfect match or the next step for every YouTube content creators, but it can become a substantial source of revenue for some.
How To Engage With Your YouTube Subscribers To The Full Potential
Over the years, YouTube has become the go-to place for content creators to showcase their amazing work to a massive audience. YouTube gets over 30 million visits a day, according to blog.elink.io. And in a period of time when Facebook is pushing a lot on video content, YouTube decided it's high time it got back on its target radar as the number one video platform out there. Therefore, one of its moves was creating YouTube Community, a place for YouTubers to interact with their fans and followers in a very friendly environment. The YouTube Community gives creators a space to post various types of status updates – polls, pictures, text, GIFs, links and more. Subscribers and other visitors can then like or comment on these posts.
At launch, YouTube had extended the feature to just a few creators, and, according to engadget.com, the rollout has been slow ever since. But the response has been pretty positive and YouTube said it planned to add more channels following the launch. And, in fact, at the end of November last year, YouTube today announced that its Community feature is available to anyone who has a channel with more than 10,000 subscribers. The YouTube Community tab replaces the Discussion tab, the place where creators and viewers used to have general conversations. The main difference between the Community tab and the Discussion tab is that the Discussion tab was purely text-based, whereas the Community tab allows a variety of posting and discussion capabilities.
To get inspiration for your own community posts, follow the community posts of channels you subscribe to by visiting their Community tab or by viewing the Subscriptions tab of the YouTube app.
"It's extremely important to engage with your users in the comments section. Try to respond to every comment you get; not only will this help your video engagement, it'll help you mold your community as you see fit. Also, the more engaged a specific user is with your channel, the higher the likelihood that your videos will make it into their emails and notifications," wrote Jayson DeMers  for Forbes.
How to use the community tab feature to its best capacities? Here are some steps that will help you along the way:
Tell your followers about the new feature and how you intend to use it, for them. To add a link to your Community tab in the video description, open the tab and copy the URL from your browser's address bar. Share the video on your Community tab to make sure first-time visitors to this tab know what they can do to engage with your channel.
Reach more. Try cross promoting other channels and creators, or promote your own second channel through the Community tab. This is a handy way of increasing your reach and letting people know about the other content that you care about.
Make sure your subscribers enable the notifications. You may use a video or a community post (or both) to let subscribers know how to get notified about your latest channel activity. Tell them that they need to click the bell icon to the right of the button they use to subscribe.
Use polls to get to know more about your target. Polls are a great way in which you can easily find out if they liked your video or not or what they want to see next. You can then refine your content based on their suggestions and provide more quality content to your audience.
Promote your products. "Post a status update to the tab with an image of your product and a link to the product's sales page. Consider creating a special landing page on your website for your channel subscribers and offer an exclusive discount just for YouTube visitors to measure the results," said socialmediaexaminer.com.
Create teasers with the following content of your videos or/and of important launches and events you have for your brand. Offering this exclusive new content will spark their interest and get them on your channel when you launch the new finished product or service. At the same time,you can also promote successful past videos for the people that haven't seen them yet.
Share exclusive GIFs and memes. Don't forget we all want to have fun and enjoy our lives and we were drown to the social media platforms because they offered just that. A brand that can show emotion and humor is a brand that will always win people's hearts and one that they can relate to.
How hard is it or not to monetize on YouTube in 2018
From now on, YouTube content creators won't be able to monetize until they hit 10,000 lifetime views on their channel. YouTube believes that this threshold will give them a chance to gather enough information on a channel to know if it's legit.
"In a few weeks, we'll also be adding a review process for new creators who apply to be in the YouTube Partner Program. After a creator hits 10k lifetime views on their channel, we'll review their activity against our policies. If everything looks good, we'll bring this channel into YPP and begin serving ads against their content. Together these new thresholds will help ensure revenue only flows to creators who are playing by the rules," wrote Ariel Bardin, YouTube's VP of product management, in a blog post.
Moreover, according to polygon.com, YouTube executives acknowledged that life would change for a significant number of channels under the new setup. "The company attempted to defend its decision by noting that <<99 percent of those affected were making less than $100 per year in the last year, with 90 percent earning less than $2.50 in the last month>>," wrote Julia Alexander.
At the same time, she is pointing out that any video that goes through Google Preferred, a classification that pairs top-tier ads with major creators' videos, will now be watched by a human before advertising is approved. "This screening process should prevent objectionable content, like Logan Paul's controversial video containing footage of a dead body, from being monetized. By cutting off the sea of channels that YouTube may not have been able to keep a human eye on, the company will also ensure that it can try to gauge what content is receiving placement for advertisers,"commented Alexander.
On the plus side, the companies must be rejoiced by the fact that YouTube is also giving advertisers more control over which channels get certain ads placed,a situation that permits YouTube to work with both creators in the Partner Program and advertisers to keep a better eye on content before it gets promoted.
Some great ideas on how a company or a content creator can monetize on YouTube can be found here.
How and why to create a YouTube live stream
The power of the video is increasing more and more everyday, on all platforms, from SnapChat to Instagram, from Facebook to YouTube. But what it gets the biggest attention in almost all of them is the live streaming,that brings people together instantly,helping them bond more on the things they like and have in common.
If the live streaming on Facebook is hugely popular, not the same it can be said about the live streaming on YouTube.
"Facebook knows that it needs to grow scalable live video channels to attract audiences, and YouTube content creators are the natural partners to help achieve this vision. In a world of digital plenty, live streaming offers the rare opportunity for digital exclusivity, which cannot be replicated elsewhere. YouTube's huge dependency on native content creators (60% of the most subscribed YouTube channels are in this category), means that they have to respond aggressively and a monetizable live feed is one clear way to achieve this and retain their indigenous social talent," wrote Tom Mulligan on Linkedin, here.
"While live streaming has been part of YouTube since 2011, the consumer appetite for the technology has only taken off in the last 12 months largely pushed by Facebook aggressively promoting live video, initially through the 50 deals signed with media outlets and celebrities to produce live video content (Facebook's first example of commissioning video content). The success of this controlled experiment led to the roll-out to the general public later on in 2016, with the result that live video now holds Facebook audiences for three times longer than recorded video," wrote http://www.hypebot.com.
Big influencers attract thousands of dollars for just a post on social media
Only 3% of the marketers said they planned to cut back on influencer marketing in the coming year, versus about 75% who anticipated spending even more on it, says emarketer.com. Moreover, according to the website, companies are paying the most for celebrity posts, especially on certain platforms. On average, posts by celebrities with at least 1 million followers (considered as influencers) cost nearly £65,000 each ($87,731), with Facebook posts demanding a leading rate of approximately £75,000 ($101,228).
Influencer marketing costs are going up in the UK, according to research by  Rakuten Marketing and  Morar Consulting, but prices per post vary considerably depending on reach and platform. This month, polling of UK marketers working directly on influencer programs from sectors including fashion, beauty and travel, approximately two-thirds of respondents had seen the prices influencers charge for posts go up in the past 12 months. In some industries, the costs were even higher, with some premium fashion brands, for example, paying celebrity influencers more than £160,000 ($215,954) per post.
"UK marketers are willing to pay celebrity influencers on Facebook up to £75,000 for a single post mentioning the brand they want to promote, a new survey has revealed. They are also prepared to pay celebrity influencers £67,000 for each YouTube video that mentions their brand, while key influencers on Snapchat can expect to be paid as much as £53,000 per Snap," writes www.warc.com.
Spending was much more modest for so-called micro-influencers—those with 10,000 or fewer followers, due to the fact that only a fifth (20%) of marketers claim they are able to demonstrate the impact of influencers through indirectly influenced sales. Prices averaged at close to £1,350 ($1,822) per post, with YouTube and Facebook commanding the highest prices—more than £1,500 ($2,025)—and Snapchat the lowest at just over £1,000 ($1,350).
"Decision makers questioned from across a variety of sectors including fashion, FMCG, beauty and travel admitted that they would shell out as much as £53,000 per  Snapchat post, which despite coming in at significantly less than the value they placed on other platforms, is notable given that Snapchat's ephemeral nature means videos and pictures disappear within 24 hours of being posted," said Rebecca Stewart for thedrum.com.
Overall, respondents said they would devote an average of 24% of their marketing budgets to influencer marketing in the next 12 months. That figure's higher than the share of budgets that the largest percentage of marketers in the UK and US said they devoted to influencer marketing in a March 2017 study by  Econsultancy. In that study, between half and six in 10 luxury and non luxury brand marketers said they invested less than 10% of their overall marketing budgets to influencer marketing. But the second largest shares of respondents were similar in their spending allotment to those in the Rakuten and Morar study.
Affiliate marketing firm Rakuten Marketing spoke to 200 UK marketers working on  influencer programmes and found that post-for-post they were prepared to pay 12% more for Facebook endorsements than they were for YouTube. The research also found that despite the value brands clearly place on high-profile influencer slots, the majority of those asked (86%) admit they aren't entirely sure how influencer fees are calculated. Which is pretty odd, especially after the last years of change in the media buying market, the restriction of budgets and the overall risen caution.
Why are the influencers so important for marketers when it comes to social media? According to The Economist, social media offer brands their best opportunity to reach cord-cutting millennials: Snapchat, for instance, reaches 40% of all American 18- to 34-year-olds every day.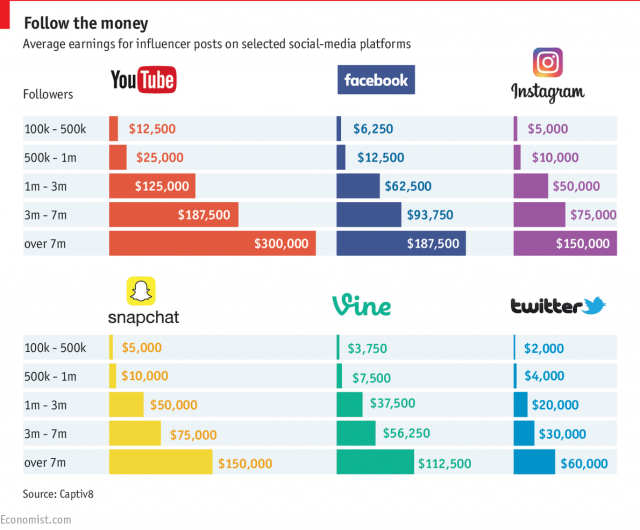 "Moreover, these platforms can make consumers feel they have gained unprecedented access to the lives of the rich and famous. That lets sponsors interact with their target audiences in ways that traditional advertising cannot match. In turn, demand from marketers for these channels has made social media lucrative territory for people with large online followings," wrote the famous business magazine.
On the other hand, while 59 per cent of marketers state the influencers they work with will take guidance from them around best practice, 56 per cent of premium fashion marketers admit to a situation in which influencers hold all of the power. For example, only 20 per cent of marketers state influencers are prepared to follow their lead when it comes to guidance around billing.
Less than a third (29 per cent) believe that the influencers they work with are entirely concerned whether their content drives sales for the brand. Interestingly, when asked what would encourage marketers to invest more in an influencer programme, greater transparency and better reporting of influencer contribution to sales now rank as the highest factor (50 per cent).
James Collins, Rakuten Marketing's SVP/managing director, global attribution, comments, "Influencer marketing can be hugely effective but marketers are commissioning expensive posts without understanding the real impact on the purchase journey. It's essential that marketers question influencer fees and use attribution tools to measure the effect of this activity in order to create strong, value-driven relationships between brands and influencers."
What makes a video viral?
Creating a successful viral campaign is every marketer's dream nowadays and many agencies aspire to the idea of creating a video that will have a huge impact on the target and will get shared fast and, therefore, create a big buzz around it. But what is a viral video and how hard is to reach that goal? According to the definition on techopedia, a viral video is any clip of animation or film that is spread rapidly through online sharing. Viral videos can receive millions of views as they are shared on social media sites, reposted to blogs, sent in emails and so on. Most viral videos contain humor and fall into three broad categories:
Unintentional Viral Videos: Videos that the creators never intended to go viral. These videos may have been posted by the creator or shared with friends, who then spread the content.
Humorous Viral Videos: Videos that have been created specifically to entertain people. If a video is funny enough, it will spread.
Promotional Viral videos: Videos that are designed to go viral with a marketing message to raise brand awareness. Promotional viral videos fall under viral marketing practices.
When it comes to the formula of creating a viral, it hasn't been determined or shared yet, leaving us thinking that some of the success it has to do with luck and that most things actually go viral by accident. Very few people have mastered the art of creating viral content on purpose. What is for sure known is that it has to appeal to the target's emotions, no matter their type (happiness, sadness, anger, joy, love, etc).
"Viral videos are the talk of the town—garnering coverage on popular blogs, rising to the top of sites like Reddit, being Tweeted and posted to Facebook, and even covered on the evening news," wrote Megan O'Neill for AdWeek.
"There's no specific number of shares, likes, retweets, reblogs, or whatever another measure of interaction needed to be reached in order for it to claim "viral" status.  On YouTube, lots of videos get tens of thousands of views now shortly after being uploaded, but many people wouldn't say that's enough to consider it viral. Back in the day, however, when YouTube was much smaller and there weren't as many users uploading videos, tens of thousands of views may have counted as <<going viral>>," said Elise Moreau for Lifewire.
Moreover, advanced technology and platform design have made it way too easy to share things with our friends and followers, making the perfect environment for a ripple effect to occur on all levels of social media with the perfect piece of shareable content. All it takes is a few shares and the right audience to trigger an avalanche of sharing across the internet. It's not easy to start a viral movement, but when it does happen, it can take the most regular people and turn them into  internet celebrities practically overnight if it's powerful enough.
According to Jonah Berger, marketing professor at the Wharton School at the University of Pennsylvania and author of "Contagious: Why Things Catch On", quoted by entrepreneur.com, visceral response is what separates viral breakouts from busts. Berger has spent years investigating the mechanics behind virality, identifying six key drivers under the acronym STEPPS. They are Social Currency (e.g., sharing things that make people look good), Triggers (acknowledging that we talk about things that are top-of-mind), Emotion, Public (imitating what we see others do), Practical Value (news people can use) and Stories (information passed along under the guise of idle chitchat). "Each [driver] is a research-tested principle that increases the likelihood that people will talk about and share things, that brands get word-of-mouth, that services get shared and that videos get passed along the internet," Berger explains. "We can reliably say that including certain characteristics and messages will increase the number of people who share [content] and the likelihood it will be shared."
The best media mix for your brand in 2017
The media market is changing under our eyes, each year bringing something new. It's more than obvious that, even if you are representing a smaller brand, it's not enough to rely on a website or social media page alone if you want to be competitive in the marketplace. Moreover, the media channels that used to work very good for you two or three years ago may very well not be the best ones to use anymore.
According to Initiative and their report Media Fact Book 2016, in Romania the TV continued to be in 2015 the rising engine of the media market, having a push of volumes of 7 percent compared to 2014 and reaching the EUR 212 million margin. Other channels that grew were the online (a boost of 12 percent and reaching EUR 57 million) and the radio (a 5 percent boost, until EUR 19 million). The OOH remained stable at EUR 28 million.  Moreover, Initiative estimated that the media market would reach in 2016 EUR 351 million this year, following a 6 percent growth. The evolution on each channel is similar to the one in 2015 – the TV market will grow with 6 percent, the online with 12, the radio with 5, while the OOH will remain the same and the print would continue to drop still with 10 percent. In this context, the approaching of the digital next to the TV in the consumers' preferences are, the amplitude that the mobile took, the influence of the multi-screening or the forever bigger importance of the content's quality has over the rise of the media budgets.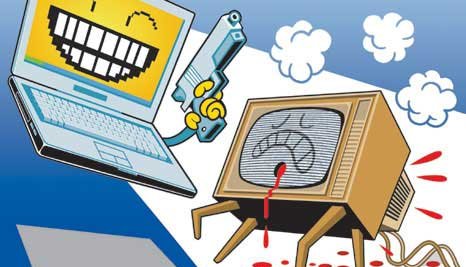 source: Linkedin
With a well-chosen media mix, you can build the kind of name recognition and buzz for your company that isn't possible with single-pronged approach. A mixture of owned, paid and earned media will help ensure your marketing efforts are reaching your target audience.
Consumers want brands that are useful and accessible, and most of all, entertaining. Marketers will continue to pull out all the stops to counter declining ad receptivity. In 2017, we'll see more branded content and less regular advertising. Get ready for more native content, short and long form video, branded filters, and emoji and PR stunts. But it won't end here. The specialists forsee that the marketers will forge ahead with new technologies such as 360 video, augmented reality, virtual reality and artificial intelligence (chatbots performing customer service and sales functions), making the landscape ripe for new creativity. Marketers will also closely monitor effectiveness as studies start to show which formats consumers find annoying and intrusive, particularly on mobile.
These advancements create new challenges for marketers. Far from a controlled consumer view of a brand (TV, outdoor, instore), marketers will face multiplatform, multi-device, in and out of walled gardens, all differently experienced by every consumer. Geotargeting will be seen as a commercial opportunity and Snapchat itself is using geofilters to let people know where to find a Snapbot vending booth. Brands will move quickly into customized/personalized creative content, delivered in a targeted way via programmatic buying. We will see more sequential content as marketers consider using retargeting for a more strategic and persuasive catenation of consumer messages.
In a media landscape of ongoing dramatic change, advertisers will more aggressively adopt multiple media alternatives to reach and connect with their audiences throughout 2017. Synergies will become more important than any single channel and the collective weight of all channels put together. Marketers will be focused on understanding the role each media plays within a broader plan and how they rub off to produce synergistic effects. The concept of synergies has been around for some time but what has changed is the planning aspect and the application of a discipline to the selection of channels to maximize its impact. Cross media studies conducted by Kantar Millward Brown show that globally 25% of media effectiveness has been attributed to synergies, and nearly 40% in APAC. These numbers are not only growing but increasingly we are seeing non-TV synergies emerging as advertisers and agencies start to get their heads around this. The two broad parameters needed to leverage synergies are – creative synchronization and media duplication and phasing.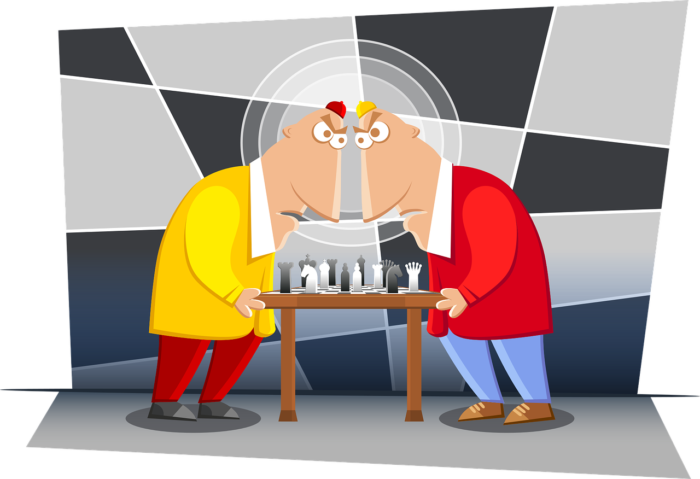 source: Digital Land
"A "big idea" is important for creative synchronization to occur, but it's also about adapting the message to the medium and following a common theme across a campaign. For example, it's unlikely that a 30 second TV ad will work as well on YouTube or Facebook because these media have different characteristics. But they offer opportunities for forming different kinds of relationships that meet consumer needs at different times and occasions. Optimising media duplication and phasing can go a long way in driving synergies but as a first step, marketers will need to ensure that every medium has a role to play within the broader media mix. Roles will be in terms of driving 'reach and or frequency' or various aspects of how people think, feel and make decisions about the brand," said Straford Rodrigues, Media & Digital Director, APAC at Kantar Millward Brown.
Therefore, every brand needs to create its media plan accordingly to its target, expectations and business plan. The strategy is more important than ever: setting clear objectives, finding the right opportunities, integrating your message and your true content, exploring, creating, producing and measuring.
Apart from the media planning itself, don't forget the fact that the content is the KING and it needs to be as powerful, sincere and creative as possible.