Bright lights flood the stage and colourful projections fill the screens. The man walks briskly up and down the stage capturing everyone's attention. He speaks passionately and his messages resonate with the audience. Their faces are all alight with interest, questions, thoughts. There's no empty seat in the venue; some are taking notes, most of them are taking screenshots whenever an interesting idea or statistic shows up. He invites them to question their limitations and fears. He pushes them to reframe their failures. He encourages them to think bigger, to become better, to help more, to lift others and themselves higher.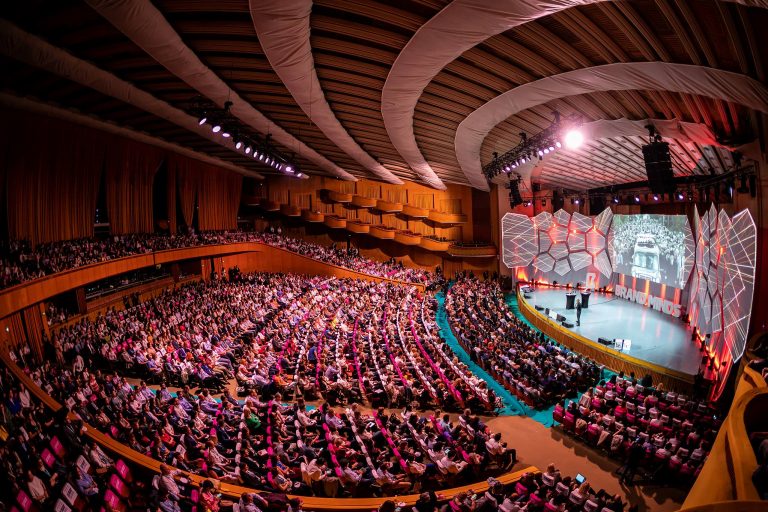 This is how every BRAND MINDS event feels like.
It's a roller coaster of knowledge, insights, amazing speakers, and overall an incredible experience.
Here are 10 reasons why you should attend BRAND MINDS 2019:
1. You will have the chance to see live WORLD's top Brilliant Minds: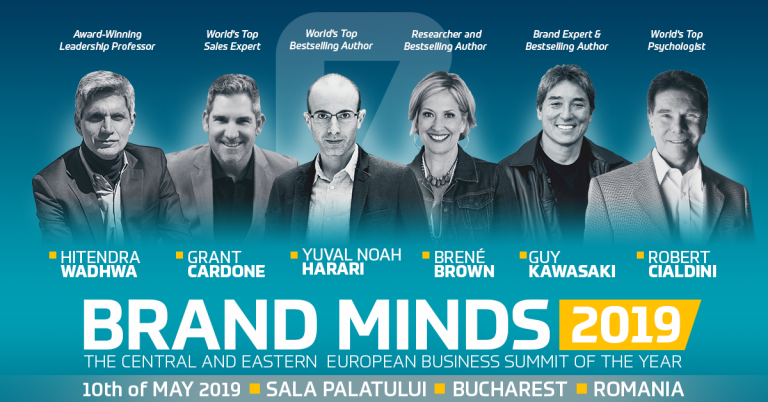 YUVAL NOAH HARARI, GRANT CARDONE, BRENÉ BROWN, GUY KAWASAKI, ROBERT CIALDINI and PROF. HITENDRA WADHWA.
With each new edition we strive to bring to our audience only the best and the brightest of world-renowned professionals with proven accomplishments.
Yuval Noah Harari is one of world's top bestselling author. His books have been translated in 50 languages and sold in over 12 million copies around the globe. He explores various subjects of interest: the future of humans, life without death, digital dictatorship a.s.o.
With 30 years of sales experience, Grant Cardone is world's top sales training expert. He is also a skilled and successful businessman: his companies bring in over $100 million in annual revenues. He is a New York Times bestselling author and was named #1 Marketing Influencer to Watch in 2017 by Forbes.
Brene Brown's 20-year research changed the lives of millions across the world, including her own. She discovered a surprisingly powerful trait of leadership: vulnerability. Her TED talk on the power of vulnerability had an amazing impact: 35 million views. She is a best-selling author and her company helps individuals, teams and organisations develop leaders.
Guy Kawasaki knows everything about building brands through customer connections. Apple owes its strong relationship with the Apple community to Guy and his innovative work. He is a bestselling author and a Silicon Valley Venture Capitalist.
The Godfather of Influence, Robert Cialdini is an award winning psychologist whose research into the theory of influence has changed forever how we see the human behaviour. The seven principles of influence can be leveraged in all areas of human interaction: sales, marketing, communication etc.
Hitendra Wadhwa's teachings help leaders change the world by changing themselves first. He launched Columbia's first executive education online courses – Personal Leadership and Driving Strategic Impact. In 2011 he founded the Institute for Personal Leadership, a program that is focused on training individuals and organisations on self, strategic and people leadership. He has received numerous awards for his work in business education.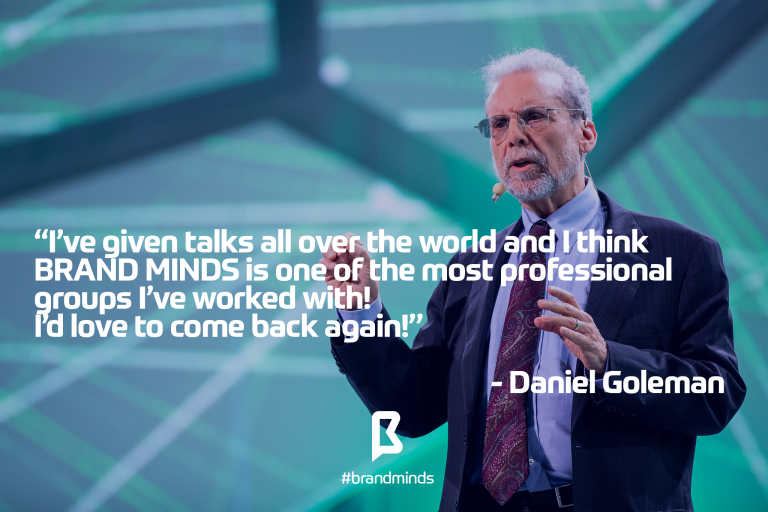 2. You will join THE BUSINESS SUMMIT OF THE YEAR in Central and Eastern Europe in 2019
BRAND MINDS 2019 is The Place To Be if you are a leader, an entrepreneur, business developer or business person.
Andy Szekely, Entrepreneur and Public Speaker

I think BRAND MINDS is putting together people with potential of game-changers! People who are able to improve what they've done in the past and make it better in the future. They're those individuals who have high standards.
3. Over 4000 world changers will attend this edition. Will you be one of them?
Each attendee to our business conference is a world changer. Our audience grew steadily with each edition since the first BRAND MINDS, 6 years ago. The team spared no effort in bringing high-quality speakers and offering the best experience to each and every world changer. They are our inspiration to push forward and become even better than the previous time.
There are 4000 world changers attending BRAND MINDS 2019. I hope I will see you there as well.
Anca Ungureanu, Identity & Communication Director at Unicredit Bank

Every year they go beyond their limits. The organisation is impeccable!

4. You will connect with C-LEVEL PROFESSIONALS and ENTREPRENEURS from 40 countries all over the world.
The high-quality content delivered by our speakers helped BRAND MINDS achieve authority and trust among C-Level professionals and entrepreneurs.
These professionals attend our summit every year knowing they will receive trustworthy information and valuable insights. They regard BRAND MINDS as an investment in their own development.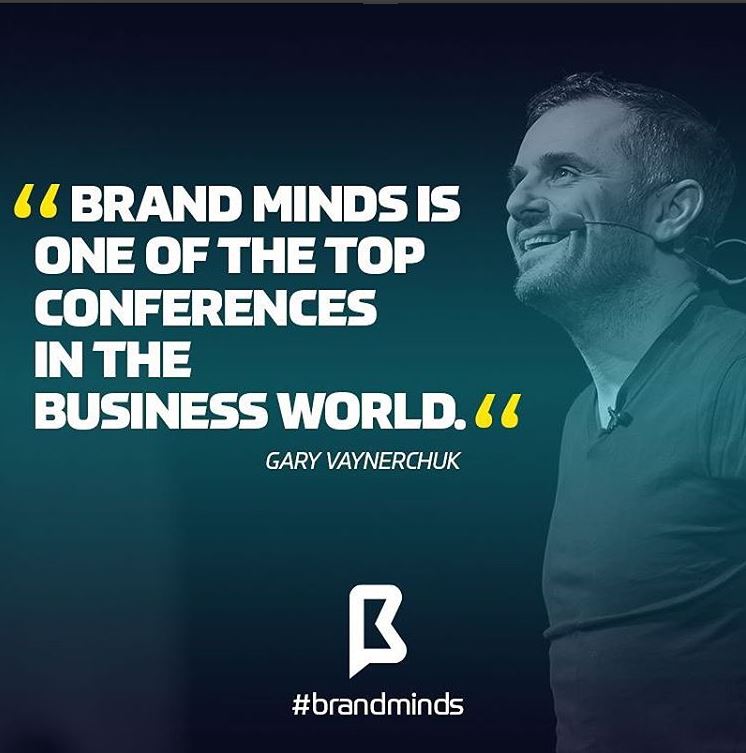 5. You will get a full-day intensive BUSINESS STRATEGY TRAINING with World's Top Experts.
BRAND MINDS is a business summit, so we have invited speakers who are world's top experts in their fields. They achieved success in business by applying various strategies and they are sharing their tips and recommendations with you.
Bogdan Comanescu, Entrepreneur and Sales Trainer

The best organized event of this kind in Romania. Everybody in that room has the opportunity to make a step forward in life's game. I admire them.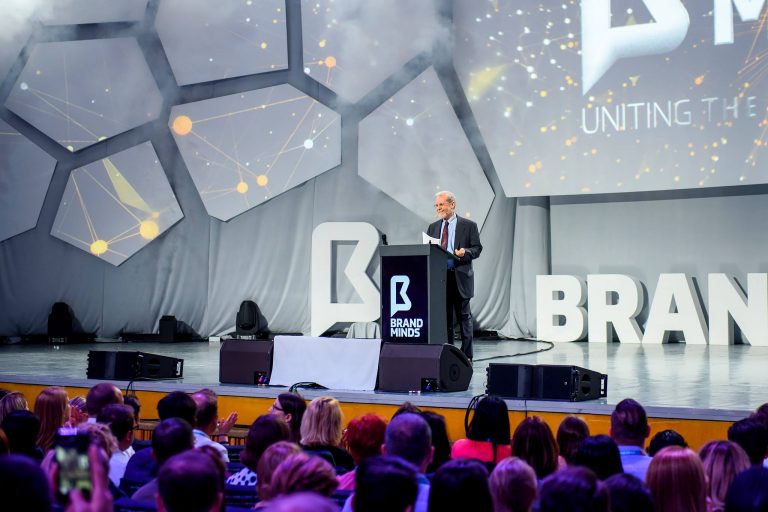 6. You learn how to enhance your IMPACT and build up your LEGACY
As all great business leaders say: if money is the main reason driving your business forward, you will win in the short-term. But if you want to win in the long-term you need to think in terms of lasting impact and leaving a legacy behind.
Every successful business in history set out to change the lives of people for the better. And you find them twenty or thirty years later still going strong and influencing people's lives.
Think about it:
What is your legacy?
What is your business's impact on clients, employees, environment, society?
Come to BRAND MINDS and learn how to enhance your impact and build your legacy.
Lorand Soares Szasz, Entrepreneur and Business Coach

The level of people who join the event is high. It's very good for networking! Plus, very good content from top speakers.
7. You will learn how to SCALE YOUR BUSINESS and take it to the next level.
Entrepreneurs have to answer questions and make tens of decisions every day. It can feel lonely at times. Being an entrepreneur is a 24 hour job and statistics show that it can take a toll on your private life and emotional balance. But it doesn't have to be this way.
At BRAND MINDS you will have the opportunity to receive answers to your questions, you can learn from the best how to scale your business and take it to the next level.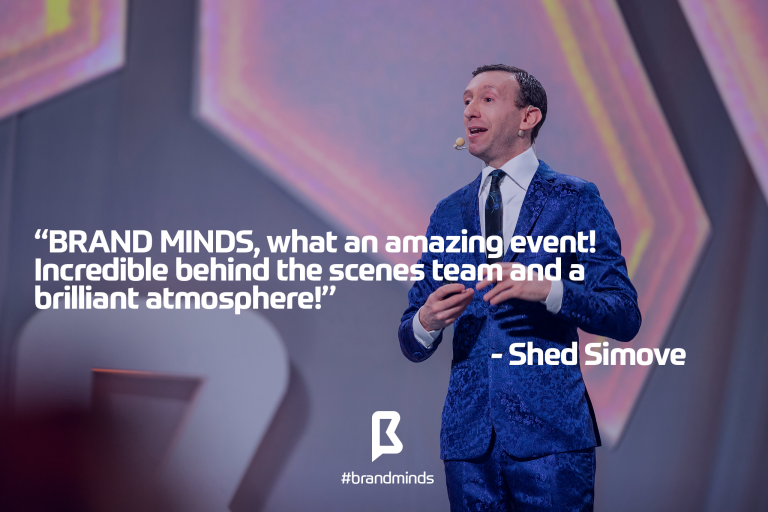 8. You will learn how to ACCESS your FULL POTENTIAL
What do people regret most? People regret not being all they could have been.
Knowing you didn't achieve your full potential is soul wrenching and can lead to depression. The reason is: achieving one's full potential is the highest psychological need of humans. Maslow named it self-fulfilment. Happiness is strongly related to feeling fulfilled on a professional and personal level. And we all want to be happy, don't we?
The speakers who will rock the stage at BRAND MINDS 2019 all have a deep understanding of the journey to self-fulfilment.
Nina Bratfalean, Marketing Manager, BMW Group Romania

As inspiring, as complex, as unique as BRAND MINDS there is nothing in the country. Everyone who's important in the city is here.
9. You will find NEW IDEAS to grow your business.
It takes a lifetime of personal growth to become the best leader for your team. And the growing never stops. You can strive to learn everything there is to learn about a particular subject. Learning means having access to new information which leads to new ideas. But there is so much you need to learn that you may sometimes feel overwhelmed or discouraged. How are you going to get new ideas otherwise? Meeting new people means exchanging new ideas.
BRAND MINDS is about diversity and new ideas: our speakers come from various professional backgrounds and have different life experiences.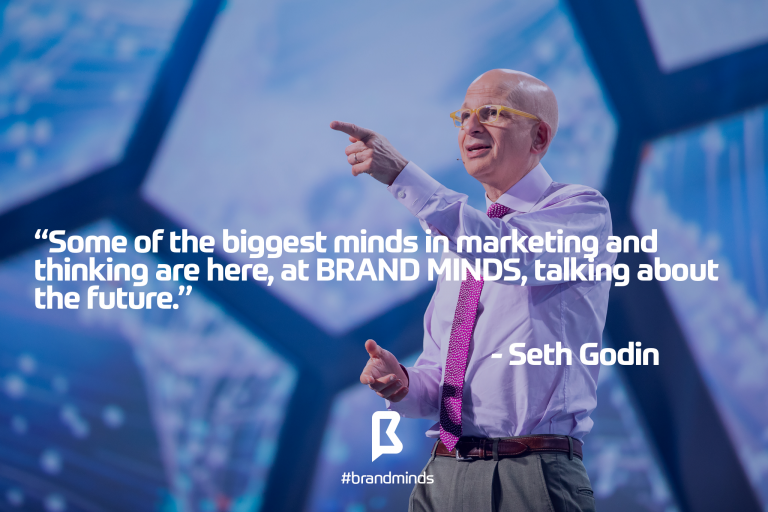 10. You will discover the latest BUSINESS TRENDS from all over the world.
BRAND MINDS 2019 is a conference focused on the Central and Eastern-European business community. One of its goals is to cater to the needs of the business community and to provide entrepreneurs with the necessary tools to develop themselves and their businesses. Information is power. Knowing what lies in the nearest future is the best way to prepare for it.
Anamaria Diaconescu, Director of Hellenic Romanian Chamber of Commerce

Feeling motivated to lead with passion and compassion, taking care of my mindset, heartset, soulset and healthset. Thank you!