BRAND MINDS is among the Top 5 largest business conferences in Europe providing its attendees with a unique business edutainment experience.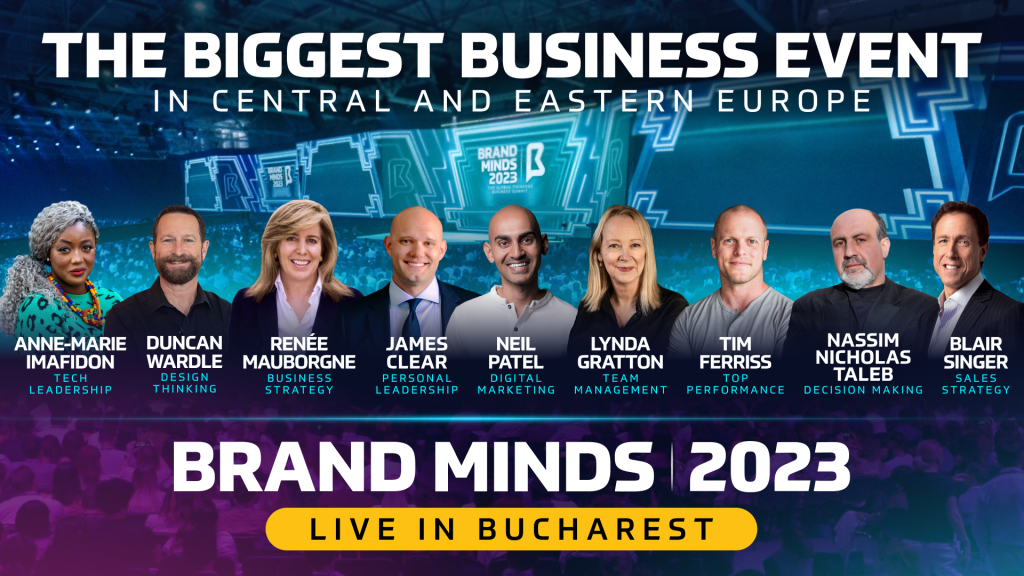 More than 6000 professionals from 500 companies in 80 countries attended BRAND MINDS on June 2nd and 3rd, 2023. 
Bring your team to BRAND MINDS because teams who learn together will grow the company together.
30 reasons to bring your team to BRAND MINDS
You and your team will:
#1 Learn business strategy from the most respected business experts in the world;
#2 Access the opportunity to interact with +7000 business specialists from over 50 countries;
#3 Reconnect with business partners from +11 industries;
#4 Learn how to create an organizational culture where people develop exponentially;
#5 Discover the latest trends in design thinking & innovation;
#6 Discover new models of leadership & team management;
#7 Discover the latest trends in professional development;
#8 Enjoy the most memorable teambuilding yet;
#9 Connect with the latest trends in technology & artificial intelligence;
#10 Learn tactics to overcome any sales objection;
#11 Learn to build an effective digital marketing strategy for your company.
#12 Learn new techniques to develop healthy habits that will help you achieve your vision;
#13 Learn techniques to amplify autonomy & innovation in your team;
#14 Enjoy a complex learning experience, equal to reading 8 books in a day;
#15 Leave with at least 3 actionable ideas to scale up your company;
#16 Discover 8 habits that amplify creativity in a team;
#17 Learn the most effective risk management strategies;
#18 Learn to develop a high-performing sales team;
#19 Learn the latest tactics in sales strategy to close big clients;
#20 Access the opportunity to build new business partnerships;
#21 Network with decision-makers from +300 Top companies;
#22 Discover global economic trends that will help you adapt your business strategy for the future;
#23 Learn team engagement techniques through design thinking;
#24 Learn how to achieve the most ambitious career goals without facing burnout;
#25 Discover artificial intelligence tools that will help your company adapt for the future;
#26 Learn the most common mistakes leaders make that result in team demotivation;
#27 Learn the latest strategies and frameworks of customer loyalization through digital marketing;
#28 Leave with the BRAND MINDS World-Changer participation certificate;
#29 Meet authors among the most respected internationally in a live, in-person event;
#30 Access the opportunity to interact with some of the most renowned business experts of the moment.