We are excited to announce the latest speaker to join our BRAND MINDS 2020 lineup: Amazon's CTO & VP Werner Vogels.
Last year, Amazon reached a market capitalization of $1 trillion (just behind Apple) and its net worth is estimated at $160 billion.
One of the factors which contributed to Amazon's success is having Werner Vogels at the helm of technology, steering the company into the future.
Vogels' vision and leadership have lead to the creation of one of Amazon's highly successful services, the AWS.
With his extensive experience leading one of the most innovative tech companies in the world as its CTO&VP, Werner Vogels will be speaking at BRAND MINDS 2020 about Innovation at scale at Amazon.com
Let's find out more about Werner Vogels.
Godfather of the Cloud
Vogels is was one of the architects behind Amazon's approach to cloud computing, AWS (Amazon Web Services).
AWS is one of the world's most comprehensive and broadly adopted cloud platform, offering over 165 fully-featured services from data centres globally.
Millions of customers —including the fastest-growing startups (Airbnb, Lyft etc), largest enterprises (Oracle, Siemens, Engie, Hilton, British Petroleum, Shell etc), and leading government agencies (the Smithsonian, Minnesota IT Services, City of Iowa City etc) —trust AWS to power their infrastructure, become more agile, and lower costs.
Named in the Top 10 Cloud Computing Leader list in 2010, 2011, and 2012
For three years in a row, Werner Vogels was included by TechTarget in its Top Cloud Computing Leader lists.
He earned Information Week's 2008 CIO/CTO of the Year award and ReadWriteWeb's "Cloud's Most Influential Executive.
He also ranked #1 in Wired's 2012 Top 10 Cloud Influencers, Thought Leaders.
I am an engineer, architect, scientist, programmer, troublemaker, executive, revisionist, investor, mentor, advisor, analyst, academic, sales guy, entrepreneur, data analyst, system administrator, product owner, evangelist, debater, father, musician and biker. And I probably forgot a few.

Werner Vogels
Doctor in Computer Science – One of the World's Top Experts on Ultra-Scalable Systems
Dr Vogels studied computer science at The Hague University of Applied Sciences and received a PhD in computer science from the Vrije Universiteit Amsterdam, Netherlands. He is celebrated as one of the world's top experts on ultra-scalable systems.
Dr Vogels joined Amazon in 2004 from Cornell University where he was a research scientist at the Computer Science Department.
From 1994 until 2004, he mainly conducted research in scalable reliable enterprise systems.
He is the author of many conference and journal articles, mainly on distributed systems technologies for enterprise computing systems.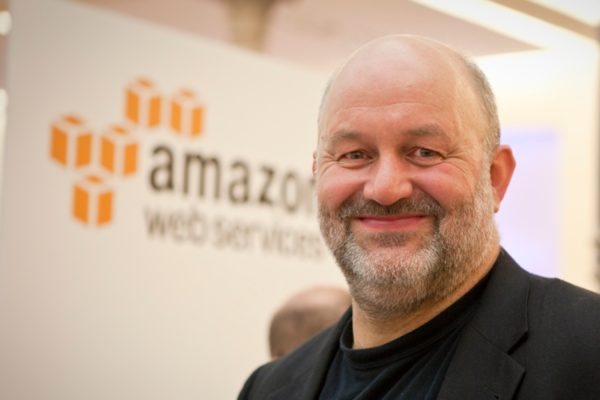 Was appointed VP&CTO at Amazon six months after he was hired
Prior to coming to Amazon, Werner was invited to give a talk on distributed systems for the company's employees. His first thought was What do they need distributed systems? They sell books online!
After seeing what the Amazonians are working with, he realized Amazon was not an online bookseller, but a tech company by every definition and one that was actually 5-10 ahead of its time.
When Jeff Bezos offered Werner a job with Amazon, he was more than thrilled to accept it. Six months later he was appointed Vice President & Chief Technology Officer at Amazon.
One of the reasons for hiring Werner was to insert academic rigour into the way the company wanted to approach scaling.
At that time, in the early 2000s, Amazon had become really good at scaling but was struggling to overcome their latest challenge which was to do orders of magnitude.
Amazon asked Werner to find a solution which would help the company achieve growth by orders of magnitude.
Werner's solution had to align everything, from tech to processes, to building a culture around how to measure performance and how to interpret those measurements.
Also, his main goal as CTO is to find what other technologies the company has developed that could be turned into a business. His job is to look at a wide array of factors and tie everything to business decisions.
I like building things that need to get big. Whether that is technology or a business, I am interested in how to scale them.

I believe in democratising business creation, simplifying operation and driving innovation by providing a low cost, scalable and reliable infrastructure that can be acquired on-demand with a pay-as-you-go pricing model, and that is available to everyone.

Werner Vogels
What is Werner Vogels' role as Chief Technology Officer?
As Chief Technology Officer at Amazon, Werner Vogels is responsible for driving the company's customer-centric technology vision.
His role is to decide what is the technology that the company needs for the future in order to be able to have a solid footing as a business.
He interacts at a deep technical level with Amazon's customers to understand how they are using the company's products. He is looking for bigger patterns among the customers, setting out to pinpoint the biggest pain points they might still have. He then takes the customer feedback and decides what needs to improve or what features need to change to make sure the company serves its customers better.
We're in the business of pain management.

Werner Vogels
What makes Amazon.com so successful? What made it an eCommerce powerhouse?
There are many reasons, but one of the most important is that they are building technologies at the request of customers. They are very good listeners which a feature like Show and Tell, Alexa's support for the blind can attest to.
The engineering teams launch Amazon products with minimal features set, a sort of MVP and then work with customers to develop other features they need.
Learn more: How AI transformed Amazon into an eCommerce powerhouse
Sharing his insights on his blog, All Things Distributed
Werner Vogels is also a blogger. His blog, All Things Distributed is the place where he shares his insights on building scalable and robust distributed systems, machine learning, artificial intelligence technologies.
He also writes about how large enterprise customers use AWS, what is the workplace of the future or how the relationship between human and machine is going to change our world even more than we anticipated and many more hot topics.
Now Go Build with Werner Vogels
Now Go Build with Werner Vogels is a documentary series show running on Amazon Prime, where viewers follow Werner as he meets with startups around the globe that are changing the way we live through innovation.
Join BRAND MINDS 2020 – The Growth Weekend on September 25th and watch Werner Vogels speak about Innovation at scale at Amazon.com!