BRAND MINDS 2020 is proud to announce that Nick Vujicic, Bestselling Author & Motivational Speaker has joined our event.
Nick Vujicic ("voo-yi-chich") is a world-renowned speaker, bestselling author, coach, entrepreneur and anti-bullying advocate. Read on to discover more about Nick Vujicic and his life journey.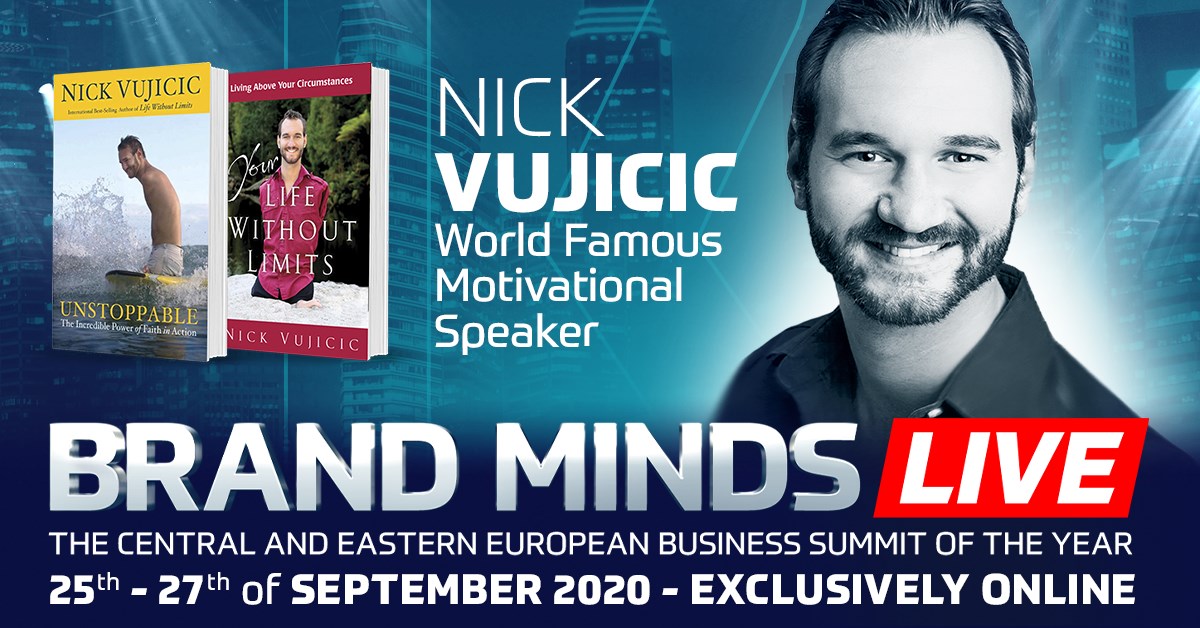 I have a choice. You have a choice. We can choose to dwell on disappointments and shortcomings. We can choose to be bitter, angry, or sad. Or when faced with hard times and hurtful people, we can choose to learn from the experience and move forward, taking responsibility for our own happiness.

Nick Vujicic
New York Times Bestselling Author: over 1 million copies sold worldwide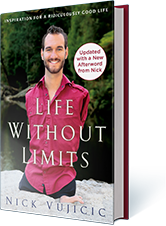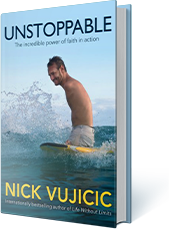 Nick wrote his first book Life without limits in 2007 and by 2010, the book had sold over 1 million copies worldwide and had been translated into 30 languages.
As a man born with no arms or legs, a condition called tetra-amelia syndrome, one might think limitations were all that life could offer Nick.
With support and encouragement from his parents and a newfound purpose in life, Nick discovered the strength to overcome his limitations and live his life free of them.
Life without Limits: Inspiration for a ridiculously good life is filled with awe-inspiring stories of Nick overcoming his challenges, empowering readers to improve their lives and become better people.
Since Life Without Limits, Nick has written seven more books. In his books, through personal stories and the experiences of others, Nick addresses difficult circumstances that many people face today ranging from job challenges and relationship issues to self-destructive emotions and bullying.
World-Renowned Speaker: 15 years, 3500+ speeches, 69 countries
Nick was 19 when he started speaking to people. At first, he gave informal talks to other teens as a way to reach out to them and let them know that aside from his disability, he was just like them. Soon enough, he realized that what he had to say might have an impact on those listening to him.
From gatherings of dozens to a few hundred, at the beginning of his public speaking career, Nick is now speaking to millions of people. He spoke in schools, churches, prisons, orphanages, hospitals, meeting halls and stadiums. His career as a professional speaker spans over fifteen years, counting over 3500 speeches.
He met with 18 presidents and shared his message of hope with people in 69 countries around the world.
You don't know what you can achieve until you try it.

Nick Vujicic
An audience of 1 billion people: live events, online course, podcast and social media
As founder and CEO of Life Without Limbs, Nick has spread his message of empowerment worldwide. Through the organization's resources, programs and live events, he touched the lives of over 1 billion people to date.
He was featured in Oprah's show, BBC, 60 Minutes Australia, CBS Sunday Morning, USA Today, People Magazine, ABC News, The Glenn Beck Program TLC, LA Stories, and many more.
His TEDxTalk, Overcoming hopelessness has reached 6.6 million views.
Nick's online course, Rise Above teaches students, employees and executives how to rise above their circumstances and reach their full potential in six transformational video lessons.
11.5 million people follow Nick on his social media accounts combined.
He recently launched his podcast, The Nick Vujicic Podcast where he shares his personal stories, unique perspectives and interviews with other overcomers.
https://www.youtube.com/watch?v=tyRnRDz9D9I&t=239s
I do believe my life has no limits. I want you to feel the same way about your life, no matter what your challenges may be.

Nick Vujicic
Shaping the mind and soul of future world-changers
As an anti-bullying advocate, Nick knows all too well that teenagers face many challenges growing up.
He is also aware that shaping future generations is every adult's responsibility.
That is why, in 2007, Nick launched Attitude is Altitude (AIA), an innovative Social Emotional Learning (SEL) curriculum for students.
The program is a free-standing, step-by-step resource to empower young people to be successful, achieve their goals and make a positive difference in their lives and community. The curriculum contains comprehensive classroom resources and an exclusive archive of videos from Nick Vujicic for teachers, parents and students.
Nick's passion is to inspire and equip the world to know that we all can rise above adversity and overcome every disability of the heart and mind.
Join 

BRAND MINDS – The Growth Weekend

on September 26th and watch Nick Vujicic speak about Living Life Without Limits.