BRAND MINDS LIVE 2020 is thrilled to announce that Bozoma Saint John, Chief Marketing Officer @ Netflix and Aduke Onafowokan, Expert on Diversity & Inclusive Leadership have joined our online event
Bozoma Saint John,

 CMO at Netflix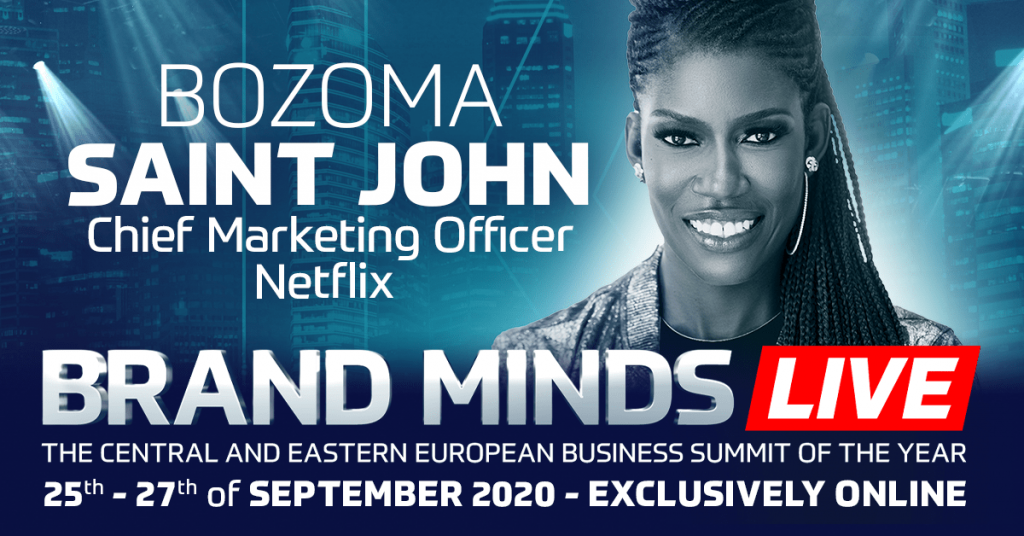 TRAILBLAZING MARKETING & ADVERTISING EXECUTIVE WITH 20 YEARS OF EXPERIENCE
Recently appointed CMO at Netflix, Bozoma is an experienced professional leading the marketing departments for billion-dollar companies.
Before Netflix, the streaming giant now worth more than Disney, she worked at Endeavor, a global leader in entertainment, sports and fashion operating in more than 30 countries.
Before that, she was Chief Brand Officer at Uber and Head of Global Consumer Marketing at Apple Music & iTunes, spearheading campaigns geared towards growing consumer brand recognition, loyalty and equity around the world.
She got her start in marketing at Spike Lee's advertising agency, Spike DDB.
In 2016, Bozoma delivered Apple's Worldwide Developers Conference keynote and blew everyone away with her presentation skills. Journalists wrote she was the "coolest" person to ever take the stage at an Apple keynote. The audience was captivated by Bozoma 'the Boz' Saint John and asked that she deliver every Apple keynote.
ONE OF WORLD'S MOST INFLUENTIAL CMOs
Bozoma was featured in Forbes' World's Most Influential CMOs list and Ad Age's Most Creative People list.
Her career has also been marked by induction into Billboard's Women in Music Hall of Fame and the American Advertising Federation Hall of Achievement, as well as recognition on The Hollywood Reporter's Women in Entertainment Power 100 list.
She has been featured in Fortune Magazine's Disruptors, Innovators & Stars 40 Under 40 and in March 2017 she was named a Henry Crown Fellow in the Aspen Institute.
NAMED ONE OF THE MOST POWERFUL WOMEN IN BUSINESS
Business magazine Black Enterprise recognized Bozoma as one of the most powerful women in business alongside other global leaders such as Oprah Winfrey and Beyoncé Knowles. At the time, she was head of global marketing for Apple Music.
Ebony Magazine's 100 Powerful Executives highlights African-Americans who exemplify brilliance in the fields of entertainment, arts and business. The magazine's 2017 list recognized Bozoma Saint John in the Women Up category.
None of us will have any impact or influence if we are quiet. So don't be quiet, be loud as hell.

Bozoma Saint John
GUEST LECTURER AT HARVARD BUSINESS SCHOOL
During the 2020 Spring semester, Bozoma's marketing career served as a case study in an MBA class at the Harvard Business School. She appeared as a guest lecturer, delving deep into the tactical and pivotal marketing moves she made throughout her career, which she now credits as intrinsic to her success.
REACHED MILLIONS OF FOLLOWERS WITH #ShareTheMicNow
Bozoma launched the #ShareTheMicNow movement on Instagram where 50 Black women are taking over the Instagram feeds of 50 White women with million-follower platforms, magnifying Black women and the important work that they're doing in order to catalyze change.
Among them are world-renowned public figures and celebrities as Brené Brown, Hollywood actress Julia Roberts, award-winning author Elizabeth Gilbert, Arianna Huffington, Melinda Gates and Hillary Clinton.
#ShareTheMicNow will comprise accounts that reach a total reach of 300 million followers.
CO-HOST OF THE BACK TO BIZ WITH KATIE AND BOZ PODCAST
Most recently, Saint John launched a podcast alongside award-winning journalist Katie Couric, "Back to Biz with Katie and Boz," which explores the ways thought leaders, CEOs and innovators are responding to the societal shifts that have been ushered in by the coronavirus pandemic.
THE BADASS WORKSHOP – HOW TO BECOME EMPOWERED
Do you want to know how Bozoma did it? How she built her successful career while being authentic? Now you can by joining Bozoma's The Badass Workshop which she created with the intention to curate and share the knowledge she has amassed in her career, health & wellness, perseverance, goals and much more.
Join the

BRAND MINDS LIVE 2020

on September 26th and connect with Bozoma Saint John!
Aduke Onafowokan

, Expert on Diversity & Inclusive Leadership

PARTNERED WITH THE U.N. FOUNDATION, OXFORD UNIVERSITY & MORE 
Aduke Onafowokan is an internationally renowned expert on diversity, intersectionality, and inclusive leadership whose bespoke programmes helped develop leaders and leadership across cultures and backgrounds.
She has scholarly expertise on leadership and gender from INSEAD, a master's degree in Organisational Leadership from the University of Oxford and a master's degree in Corporate and International Law from Nottingham Law School.
Aduke worked with some of the largest organizations in the world such as Deloitte, British American Tobacco and The UK Ministry of Defence.
She has partnered with the UN Foundation, University of Oxford, UK Parliament and UNICEF on Campus to empower women and future female leaders at work and in business.
She is an entrepreneur with a successful consulting career with ten years of practical experience in Project Management, Training and Talent Development.
Aduke's expertise includes recruiting, developing and retaining talent. Her work focuses on the areas of intersectionality and leadership by helping institutions and organisations understand the often complex and unique challenges of diverse experiences and how these can be managed and mitigated.
EMPOWERED 10.000 WOMEN THROUGH HER ORGANISATIONS
Aduke founded Sister Sister Network in 2016, an organisation offering free career and business accelerator workshops to women. The organisation provides its members with the opportunity to gain the insight, education, empowerment, inspiration and networks required to achieve their personal goals and become leaders in their chosen fields.
Inclusivitii is a Diversity and Inclusion Organisation that has educated and inspired thousands of workforce on inclusive leadership and diversity in the workplace across the globe. The organisation's goal is to promote diversity and inclusion through education and create compassionate spaces for uncomfortable conversations. In a respectful, inclusive workplace, diversity is valued, and individuals feel safe and appreciated.
"Inclusive leadership is needed now more than ever, as the world around us becomes more polarised and divided, the world is hungry for leadership, unity, and vision that carries everyone along".

Aduke Onafowokan
RECOGNISED AS ONE OF THE 145 INSPIRING WOMEN LEADERS IN 2020
Diversein develops sustainable strategies for companies to build inclusive and happier workplace cultures with their authenticity. As part of International Women's Day 2020, Diversein launched a campaign to recognise and reward inspiring women leaders globally. Aduke was recognised alongside leaders such as Oprah Winfrey, Michelle Obama, Brené Brown and Melinda Gates.
​NOMINATED FOR THE YAHOO FINANCE HERoes ROLE MODEL LIST 2020
Aduke was nominated for the HERoes Women Role Model Lists supported by Yahoo Finance which showcases leaders who are championing women in business and driving change for gender diversity in the workplace.
Through her body of work, Aduke continues to make a widespread contribution to the advancement of women in business, career and public life.
Join

BRAND MINDS LIVE 2020

on September 26th and watch Aduke Onafowokan speak about
Diversity and Inclusive Leadership

.