We are excited to announce that Team Performance Expert Whitney Johnson has joined BRAND MINDS 2022!
Do you want to learn how to build an engaged and high performing team?
Get tickets to BRAND MINDS and learn from the best!
Whitney Johnson's speech at BRAND MINDS 2022:
HOW TO BUILD AN EXTRAORDINARY TEAM
You will learn to:
Leverage disruption in your team's favour;
Identify your team's current place on the S Curve of Learning ™ and how to move them forward;
Make big career changes by using the 7 accelerants of personal disruption for career growth.
The best way to manage through disruption is to disrupt yourself.
Whitney Johnson
Whitney Johnson is a world-leading expert on developing high growth teams
One of the leading business thinkers in the world
Ranked #14 in the global top of leading business thinkers by Thinkers50, Whitney and her team are experts at helping people grow their people to grow their organization.
Executive coach and advisor to CEOs
With +20 years of research, consulting & coaching, Whitney Johnson helps leaders to acquire the necessary skills for leading teams with confidence and a strategic approach.
Cofounder of the Disruptive Innovation Fund
She co-founded the Disruptive Innovation Fund, through which she invested in and led the $8 million seed round for South Korea's Coupang, currently valued at more than $9 billion. She was involved in fund formation, capital raising, and the development of the fund's strategy.
Regular contributor to Harvard Business Review
For the past 11 years, she has been contributing regularly to the prestigious Harvard Business Review with articles on building a portfolio of high-value employees, keeping great talent from walking away and career development.
Selected in LinkedIn's 2020 Top Voices
In a time filled with disruption, Whitney Johnson helped create an element of human connection by consistently going live on LinkedIn and sharing her insights on how to navigate challenging times, as well as amplifying the perspective and wisdom of others.
CEO of Disruption Advisors
She is the CEO of human capital consultancy Disruption Advisors, an Inc. 5000 2020 fastest-growing private company in America.
Whitney works with high-growth startups and Fortune 100 companies across a variety of sectors including consumer goods, technology, higher education and financial services.
When we are no longer getting an emotional reward from our career, we may actually end up doing our job poorly.
Whitney Johnson
Created The Personal Disruption and The S Curve of Learning frameworks
To help leaders develop high-growth individuals and organizations, Whitney created and developed two frameworks: Personal Disruption and the S Curve of Learning.
The Personal Disruption Framework is a 7-point actionable tool that helps you reassert control in the present and accelerate your growth into the future.
The S Curve of Learning Framework illustrates the development of competence in a new domain of expertise which is the very essence of professional learning.
Her books explore strategies on Team Growth & High Performance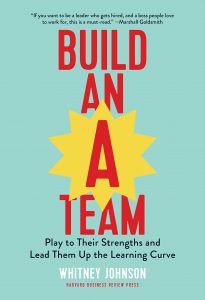 Build an A-Team: Play to Their Strengths and Lead Them Up the Learning Curve
In her book, Whitney Johnson argues that better morale and higher performance happen through learning.
Employees need continuous learning and fresh challenges to stay motivated.
In Build an A-Team, she shares her insights on how to build an engaging team by:
Identifying what your employees already know and what they need to learn;
Designing their jobs to maximize engagement and learning;
Applying a seven-step process for leading each person up their learning curve.
We all want opportunities to learn, experiment, and grow in our jobs. When our bosses work with us to help us leap to new challenges, the result is a team that knows how to thrive, no matter what the future holds.

Whitney Johnson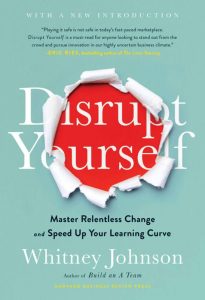 Disrupt Yourself™: Master Relentless Change and Speed Up Your Learning Curve
Disrupt Yourself helps high-growth individuals–and those trying to attain this status–learn the tools and frameworks necessary to make changes that matter.
This book helps you understand how these frameworks of disruptive innovation can apply to your particular path, whether you are:
A self-starter ready to make a disruptive pivot in your business;
A high-potential individual charting your career trajectory;
A manager looking to instil innovative thinking within your team;
A leader facing industry changes that make for an uncertain future.
Whitney Johnson makes the compelling case that managing the S-curve waves of learning and mastery is a requisite skill for the future.
If you want to be successful in unexpected ways and achieve your wildest goals, follow your own disruptive path.
Dare to innovate. Do something astonishing. Disrupt yourself.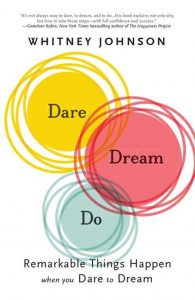 Dare, Dream, Do: Remarkable Things Happen When You Dare to Dream
In this inspiring book, Johnson directs her attention to teaching women, in particular, a three-step model for personal advancement and happiness.
She first encourages us to DARE to boldly step out, to consider disrupting life as we know it.
Then she teaches us how to DREAM, to give life to the many possibilities available, whether to start a business, run a marathon, or travel the world.
Finally, Whitney's model brings out the businesswoman in her; she teaches us to DO, to execute our dreams.
Rich with real stories of women who have dared to dream, DARE, DREAM, DO offers a practical framework to realize one's true potential.
Smart Growth: How to Grow Your People to Grow Your Company – launched in 2022

Whitney Johnson's newest book is Smart Growth: How to Grow Your People to Grow Your Company in which she dives more deeply than ever into the S Curve of Learning.
The book is a compact and complete guide on how organizations can grow their employees. According to the author, the growth and learning journey comes in three phases: the Launch Point, the Sweet Spot, and Mastery. Whitney Johnson gives compelling examples of successful people illustrating when and why growth is slow, how to keep going, what to do when growth and learning are almost too fast to keep up with, and how to leap from one growth journey to another.
BRAND MINDS is where leaders learn the key frameworks of building outstanding teams!