World-famous Entrepreneur & Investor Gary Vaynerchuk is rocking the stage

BRAND MINDS 2022

.
Do you want to scale up your business? Get tickets!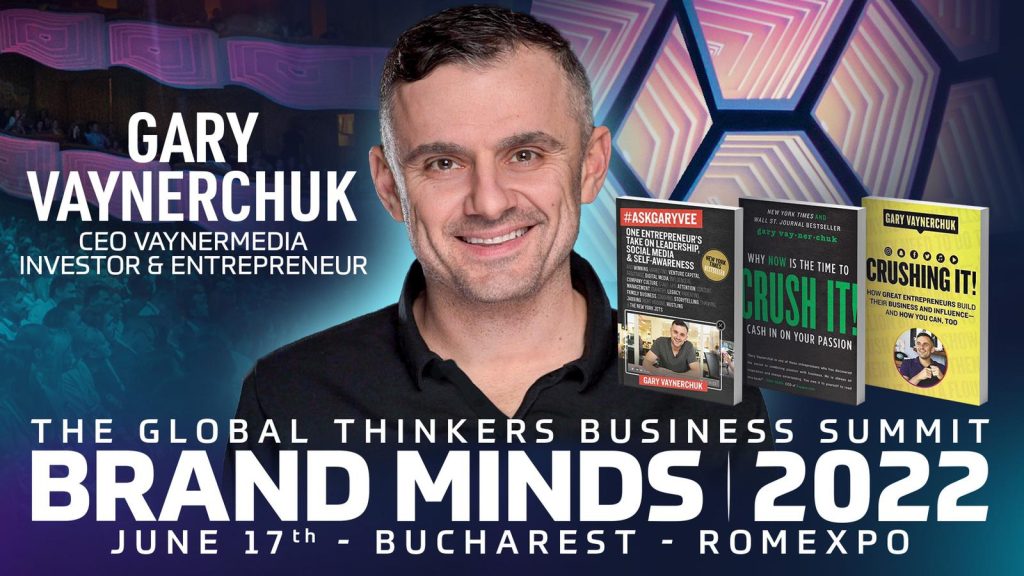 As of 2022, Gary Vaynerchuk's worth is estimated to be around $200 million of which he made $90 million on NFTs
Gary Vaynerchuk is a successful serial entrepreneur & investor, bestselling author and NFT creator.
A pioneer of the internet and social media boom in the early 1990s and 2000s respectively, in 2021 he recognized once again the rise of a new trend – NFTs.
By leveraging new channels to reach and engage with his customers (email marketing, Google advertising and YouTube), he grew first his family's wine liquor business from $3 million to $60 million and then his own business to a global media empire. It took him five years to scale up his family's business and he's been growing VaynerMedia, his company, for the past ten years, but with NFTs, his wealth has grown from zero to $90 million in less than one year. 
His NFT collection was auctioned at Christie's for $1.2 million and outsold famous artists like Andy Warhol and Jackson Pollock.
Gary Vaynerchuk is a trendsetter – he recognized the power of the internet, social media and now the NFT.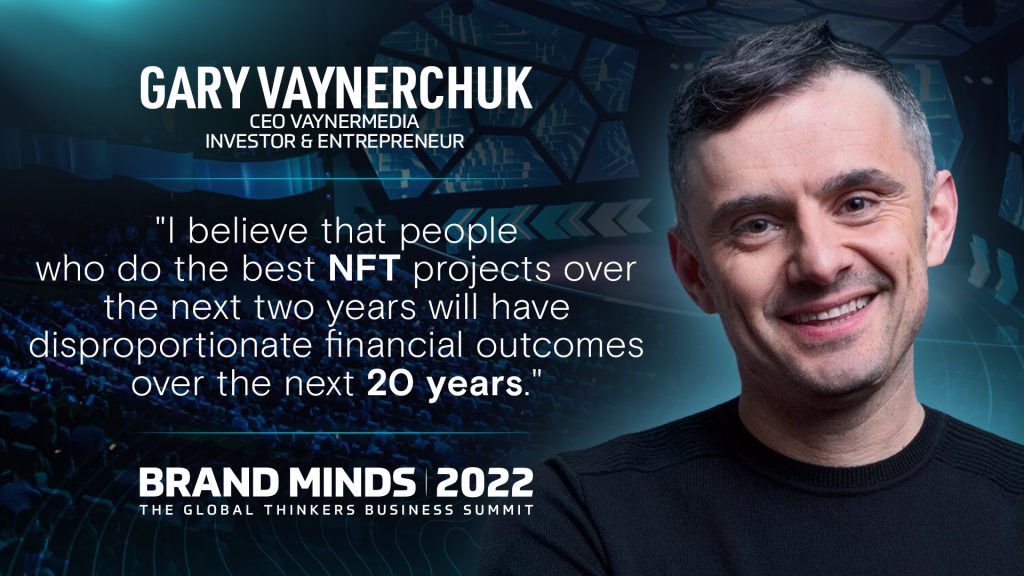 Recognizing where people's attention is going is Gary's strongest suit and the main factor of his success as an entrepreneur and investor.
He is one of the most influential businessmen in the global business world but he says his businesses don't depend on his reputation as an influencer.
I am so business talented that being GaryVee is my side hustle. I do not need to make money by being an influencer, whether that is selling people courses or T-shirts, or using it as a way to get speaking fees, or to get clients for VaynerMedia. I need none of it. If I were completely not an influencer, VaynerMedia would still be a $100 million company, just like Wine Library was built into a massive company by a 20-year-old with zero influence.

Gary Vaynerchuk (quote source)
A prolific Angel Investor
Gary is a prolific angel investor with early investments in companies such as Facebook, Twitter, Tumblr, Venmo, and Uber.
In 2014, he partnered with Matt Higgins from RSE Ventures to form a $25 million investment fund focusing on first-round financing and incubation. The fund has made over 30 investments and is currently incubating two companies that Gary is directly involved with: Resy and Faithbox.
Digital Expert and Media Icon – +30 million combined followers on social media
Youtube
Gary has seen the rise of social media early on and went all-in. He came to YouTube first because he saw its huge potential and directed his attention and his efforts to this platform. And it paid off.
In his YouTube videos, he shares his insights on NFTs, marketing in the year we live in, entrepreneurship 101, success, motivation and gratitude, smart things to do with money, how successful business people think etc.
DailyVee is Gary's daily vlog series where he documents his life as an Entrepreneur and CEO of VaynerX.
Here he talks about social media trends and shares his ideas on business challenges: what to do about Instagram's declining organic reach, how TikTok offers a huge advantage right now, how disruptive innovation is changing the world, the 4 people every startup needs etc.
#AskGaryVee is the show where he answers questions from the audience about marketing, social media, entrepreneurship, and everything in between.
He also invites successful business people and celebrities to talk about their business journeys. So far he's had Ray Dalio, Tim Ferriss, Tony Robbins, Simon Sinek, Arianna Huffington, Seth Godin and others.
Facebook
On his Facebook page, Gary talks about subjects like compassion and how the secret to happiness is kindness.
He urges his followers to find insights into themselves every day and stop being scared of doing what they want to do. He teaches them how to build a big company long-term and how losing and winning both matters.
LinkedIn
If you're first and you're right, you make the most.

Gary Vaynerchuk
He believes LinkedIn is the new Facebook and encourages everyone, from marketers to brand managers to CEOs to leverage the power of this professional platform.
Aside from sharing his branded content (images and videos), Gary posts content specifically designed for LinkedIn: comic strips.
Instagram
View this post on Instagram
Gary Vaynerchuk's newest book sold 1 million copies in 24 hours
Twelve and a Half: Leveraging the Emotional Ingredients Necessary for Business Success is Gary's sixth book and was launched at the end of 2021.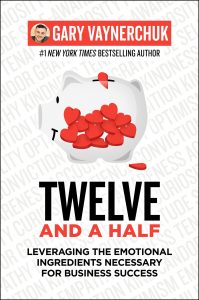 Already the USA Today Bestseller, Twelve and a half (2021) explores the twelve essential emotional skills that are integral to Gary's life—and business—success and provides today's (and tomorrow's) leaders with critical tools to acquire and develop these traits.
Gary's secret to success is using these twelve traits in varying mixtures, depending on the situation. But how do we know when to balance patience with ambition? Humility with conviction? Gary provides real-life examples involving common business scenarios to show you how to use them together for optimum results.
5-time New York Times Bestselling Author
Crush It!: Why NOW Is the Time to Cash In on Your Passion (2009)
Crush It! is Gary's first bestseller where he clearly established that the internet was a venue for turning your passion into your career. It's an informative book which provides step-by-step instructions on how to use platforms like Twitter, Facebook, and Tumblr to develop a personal brand online.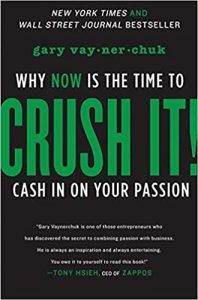 The Thank You Economy (2011)
The Thank You Economy offers compelling, data-driven evidence that we have entered into an entirely new business era. In this era, the companies that see the biggest returns won't be the ones that can throw the most money at an advertising campaign but will be those that can prove they care about their customers more than anyone else.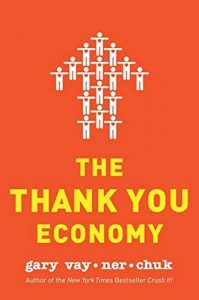 Jab, Jab, Jab Right Hook: How to tell your story in a noisy social world (2013)
Jab, Jab, Jab Right Hook is Gary's third best-seller where he aims to show managers, marketers and small business owners how they should be outlining and approaching their social media strategies.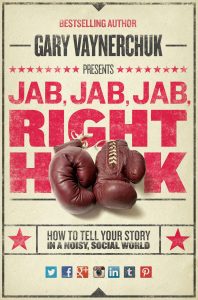 #AskGaryVee: One Entrepreneur's Take on Leadership, Social Media, and Self-Awareness Hardcover (2016)
The #AskGaryVee book is the product of over a year's worth of answering questions on business, entrepreneurship, social media, leadership and more on his YouTube show. This book is chock full of valuable and relevant insights that every marketer and business founder should read.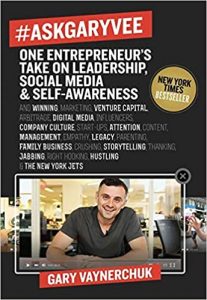 Crushing It! How Great Entrepreneurs Build Their Business and Influence-and How You Can, Too (2018)
In this book, Gary offers new lessons and inspiration drawn from the experiences of dozens of influencers and entrepreneurs who pursued their dreams by building thriving businesses and extraordinary personal brands.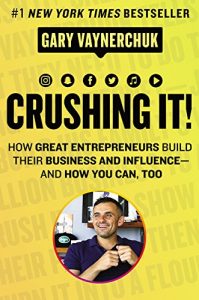 What is Gary Vaynerchuk's mission?
Gary's mission is to try to impact entrepreneurs and people with a positive and practical mindset.
He supports twenty-year-olds as well as forty-year-olds. He tells the first to be patient and put in the work and the latter to start their own companies because they have experience and context.
Stop complaining. Figure out who you are. Triple down at what you're good at. Don't imitate others. Figure out what puts you on fire. If you're good at what you like, become tunnel vision. There are way too many voices telling you what you should do and how you should do it. Don't listen to them. Have the conversation with the person who's holding you back. Stop worrying about the opinion of others, may they be your friends, your spouse or your colleagues.

Gary Vaynerchuk
Entrepreneurs, Top Executives and CEOs attend BRAND MINDS to learn the ultimate strategies to build outstanding businesses. Get your tickets today!