Next week on March 23, 2021, founders and entrepreneurs, CEOs and investors, business developers and sales executives will participate in Business Strategy for Top Executives Masterclass with acclaimed Prof Costas Markides.
If you're looking to turn your business from disrupted to disruptor and find innovative ways to thrive, then this masterclass is for you.
These are the last days you can get your tickets.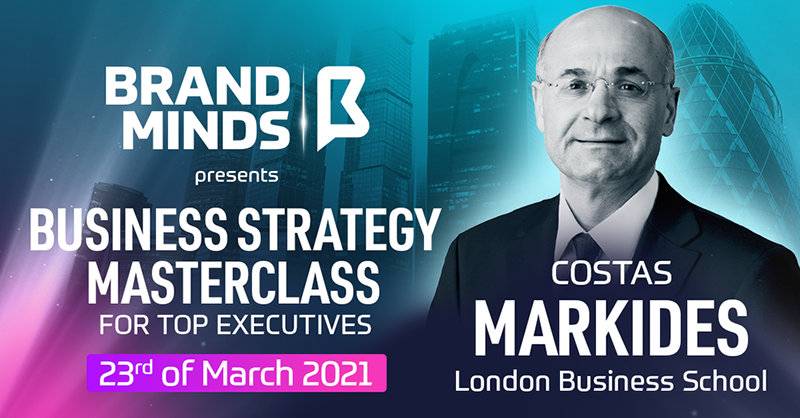 The masterclass is held online through live streaming. It starts at 9 am and ends at 5 pm with a Q&A session which is a great opportunity to get answers to your questions. An outside perspective over your particular situation is invaluable. It could light a new pathway that you couldn't have seen otherwise.
Here is the agenda of Business Strategy for Top Executives Masterclass:
Session 1:
STRATEGY IN A VOLATILE WORLD
Success doesn't come by chance or fall in your lap. It's the result of a well-thought strategy and an excellent implementation plan.
You know how they say about overnight success?
This overnight success has taken ten years of hard work and perseverance.
That's why you need a strategy for your business. And given the volatile nature of the world we are living in, even more so today.
Every successful business has a successful strategy. Remember: strategy before tactics.
Amazon's main strategy is to focus on their customers. But the global leader of the ecommerce market doesn't just listen to its customers.
Year after year, since 1997, Amazon sets out to delight its customers.
And that's the drive pushing every improvement and product or service that the company has ever made: its search recommendation engine, AWS, one-click purchase, Alexa and so on.
Join the masterclass to upgrade and improve your business strategy!
Session 2:
STRATEGIC AGILITY IN TODAY'S WORLD
There has never been a better time to go agile in business. Times are changing quickly and the business environment must adapt and keep up.
In 2014, consulting company McKinsey & Co introduced two new dimensions to their organisational surveys: speed and flexibility.
They described the companies that combined both as agile.
Companies that are agile can adapt quickly to new challenges and opportunities. They mobilize quickly and show a strong relationship between organizational health and the creation of value. They move to market faster than traditional companies and have lower costs.
Join the masterclass to discover ways to create strategic agility for your business!
Session 3:
MOBILIZING THE WHOLE ORGANISATION FOR STRATEGY EXECUTION
Whether you lead a business of thousands of employees or a small team of five, you need to be aware that for the strategy to work, everyone must be on board.
Every employee, from front desk to product development to supplier quality has to understand the strategy, contribute to its implementation and be on the same page with everyone else.
Learn from strategy expert Costas Markides how to mobilize your organisation for strategy execution.
Session 4:
NEW CHALLENGES FOR LEADERS
One of the abilities that successful leaders need to develop or acquire is the ability to see around the corner.
What does that mean?
It means to have one foot in the future.
It implies to be able to spot trends before they go mainstream and take steps to leverage them to the benefit of your business.
It's called strategic foresight. Strategic foresight allows companies to prepare for the future.
What challenges do leaders have to face in the near future?
Is it employee high turnover due to low engagement levels in the context of the work-from-home situation?
Everything going digital and online?
Changes in customer behaviour?
Attend the Business Strategy for Top Executives to find out!
Join the Conversation
We'd love to hear what you have to say.
Get in touch with us on our LinkedIn Page, Facebook Page, Twitter or TikTok.