On February 24, BRAND MINDS will host a live talk event on its Facebook Page with branding expert and bestselling author Martin Lindstrom to mark the release of his latest book, Ministry of Common Sense.
This is an exclusive opportunity for the BRAND MINDS community so if you haven't liked our Facebook Page yet, join us here: BRAND MINDS Facebook Page.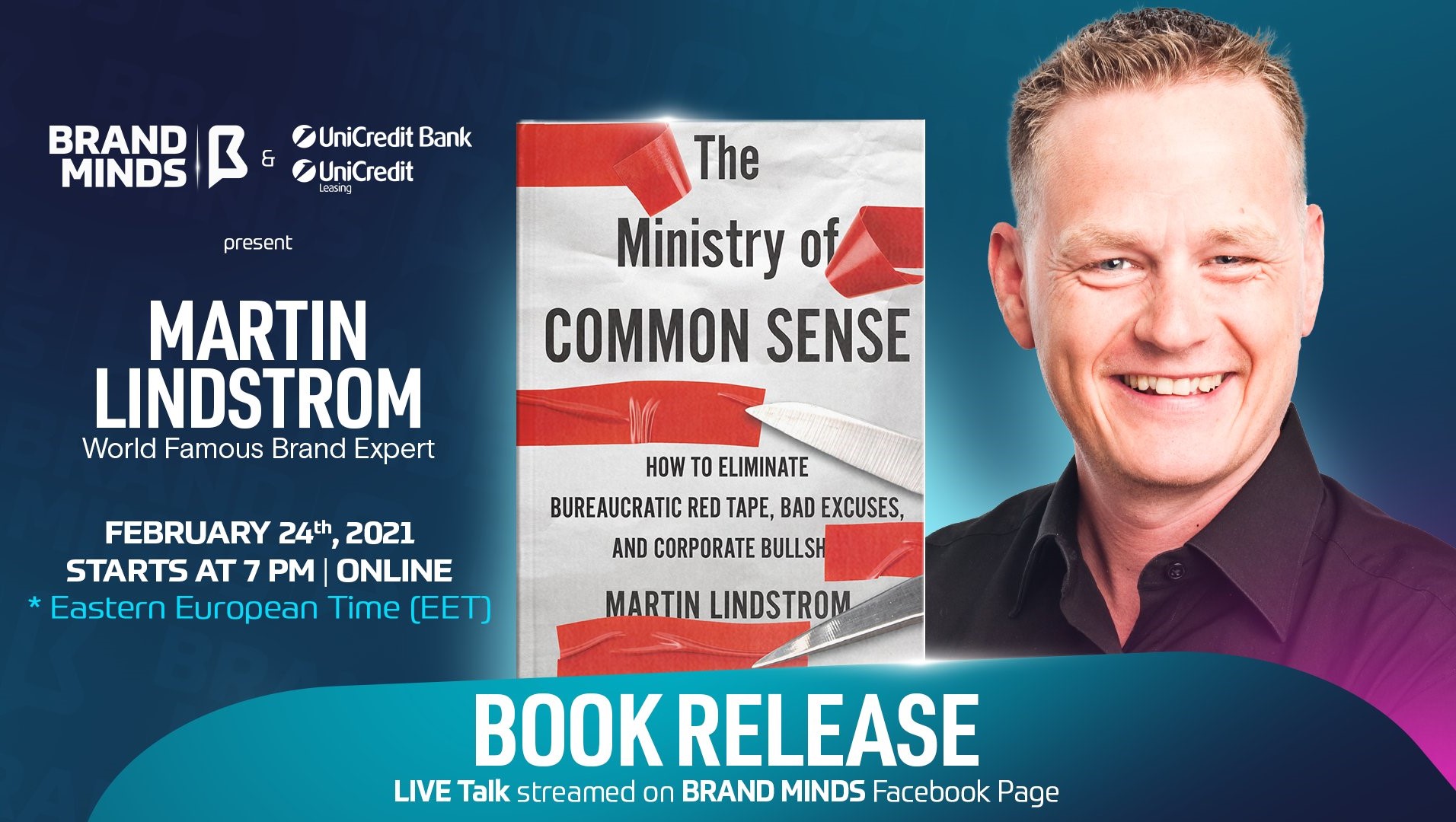 Ministry of Common Sense, a Wall Street Journal bestseller
His latest book, Ministry of Common Sense: How to Eliminate Bureaucratic Red Tape, Bad Excuses, and Corporate BS, debuted straight to #2 on The Wall Street Journal Bestseller list following its launch in January of this year.
In this book, Martin writes about how highly detrimental bureaucracy, rules, and being untruthful can be for one's business.
Here's what The Wall Street Journal says about the book:
Best-selling author Martin Lindstrom combines numerous real‑life examples of corporate common sense gone wrong with his own ingenious plan for restoring logic—and sanity—to the companies and people that need it most. A must-read for today's executives, managers, and employees, The Ministry of Common Sense is funny, entertaining, and immensely practical.
At the time of writing, Ministry of Common Sense has been featured in Yahoo Finance, Inc. Magazine, New York Post, Forbes, The Drum etc.
The Financial Times has nominated Ministry Of Common Sense for their prestigious book of the month.
Blue Ocean Strategy co-author and BRAND MINDS speaker Renee Mauborgne highly recommends Ministry of Common Sense as being "Fun, fast-paced, and as actionable as it is insightful."
Arianna Huffington, Founder & CEO of Thrive Global says the book is an "Essential reading for all of us who feel bogged down in workplace bureaucracy and wish to improve our quality of life at work."
Bestselling author of 8 brand and consumer-focused books
Martin's bestsellers include Buyology, based on a $7-million neuromarketing study, the largest ever done, BrandSense, recognized by Wall Street Journal as "one of the 5 best marketing books ever published" and Small Data which presents a rare behind-the-scenes look at what it takes to create global brands.
To date, his books have been translated into more than 50 languages and published in more than 70 countries worldwide.
Selected by LinkedIn in its 2019 Top Voices list
Martin Lindstrom is a bestselling author, brand and culture transformation expert. He has over 157K followers on LinkedIn.
The platform, now a 700 million-user social network, selected Martin in its 2019 edition of Top Voices. The list highlights professionals in a variety of industries and regions who are building communities and starting thoughtful conversations through their articles, posts, videos and comments.
Martin's insightful posts on branding, behavioural psychology, culture and innovation are highly deserving of such recognition.