Dear world-changer,
We have exciting news!
BRAND MINDS is launching Business Strategy Masterclass for Top Executives with London Business School professor Costas Markides.
The masterclass is scheduled for March 23rd, 2021 and will take place online. It starts at 9 am and ends at 5 pm with a Q&A session which is a great opportunity to get answers to your questions. 
Check the agenda to find what you will learn at this masterclass:
Session 1: Strategy in a volatile world
Session 2: Strategic agility in today's world
Session 3: Mobilizing the whole organisation for strategy execution
Session 4: New challenges for leaders
6 benefits of attending Business Strategy Masterclass for Top Executives
BUILD CUSTOM BUSINESS MODELS
Learn to develop custom business models and drive success through innovation.
WORLD-CLASS EXECUTIVE EDUCATION
Acquire a premium learning experience from the former Executive Education Director of London Business School.
EXPAND YOUR COMPANY
Drive growth by exploring new business opportunities through networking with other Top Executive participants.
BECOME THE ARCHITECT OF YOUR BUSINESS
Acquire the necessary business tools to plan your company's future efficiently.
LEARN BUSINESS INNOVATION PRINCIPLES
Upgrade your knowledge on innovation and disruption to drive business success.
IMPROVE YOUR DECISION-MAKING PROCESS
In today's fast-paced environment, making good decisions fast is an invaluable skill.    
Are you a CEO, investor, business owner, sales expert, marketing manager, HR director or strategy specialist?
Then this masterclass is for you!
Discover additional benefits for you and your business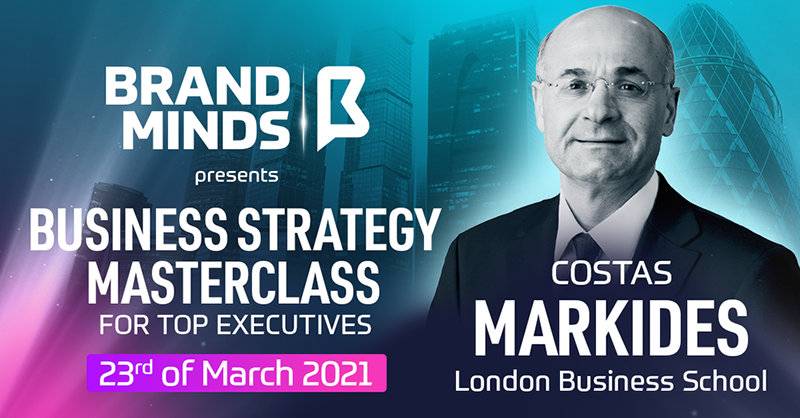 Prof Costas Markides

– One of the world's foremost experts on strategy & innovation

A business author and strategic thinker, Costas Markides has been a professor at London Business School for the past 30 years teaching Strategy & Entrepreneurship.

As the holder of the Robert P. Bauman Chair of Strategic Leadership at London Business School, Costas Markides' role is to create innovative educational approaches that shape the next generation of strategic leaders. 

He received his MBA and DBA from Harvard Business School and served as the Faculty Director of Executive Education at London Business School until 2016. 

His expertise includes strategic innovation, business model innovation, diversification and international acquisitions. 

A skilful professor, he won 5 awards recognizing his excellence in teaching and innovation in learning over the past ten years. 

He is the bestselling author of Fast Second: How Smart Companies Bypass Radical Innovation to Enter and Dominate New Markets and Game-Changing Strategies: How to Create New Market Space in Established Industries by Breaking the Rules.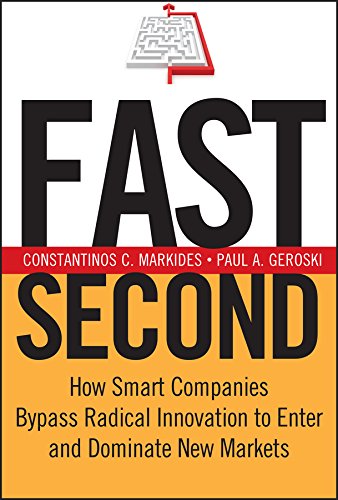 Fast Second illustrates how to determine which new markets have the potential to be successful and how to move into them before the competition does, when to make a move into a new market, how to scale up a market, where to position a company in the market, and whether to be a colonizer or a consolidator.
Game-Changing Strategies presents practical ideas on how established firms could not only discover new radical business models but also grow them next to their existing business models.
His forthcoming book is entitled Architects of Change and is set to launch in April 2021. The new book explores how individuals could design innovative solutions to social problems in ways that make them easily scalable.
Costas is currently serving on several editorial boards of strategic management journals among which is Sloan Management Review, the research-based magazine published at the Massachusetts Institute of Technology (MIT).
Have a long term strategy, especially in a fast-changing world; listen to the customer, but don't always do what they say; don't feel threatened by disruptive innovation; promote innovation in the face of core resistance; and, finally, do your best to bridge the know-do gap.

COSTAS MARKIDES
Do you want to get your company ready for an amazing 2021?
Access now
BRAND MINDS Business Strategy Masterclass for Top Executives with prof Costas Markides!
Join the Conversation
We'd love to hear what you have to say.
Get in touch with us on our LinkedIn Page, Facebook Page, Twitter, TikTok or YouTube.