Druid Chatbots Help Your Business Cut Costs and Increase Customer Satisfaction
According to the latest chatbot stats, by 2020 85% of customer interactions will be handled without a human agent.
By 2021, 50% of enterprises will spend more on chatbots than mobile apps.
Also, by 2022, they will have been saved $8 in costs from the use of chatbot conversations.
The global market size for chatbots will reach $1.3 billion by 2024.
The time to start using chatbots to cut down your operational costs and improve your customer experience is now.
Also, Millennials love chatbots.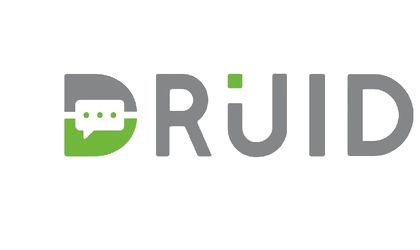 DRUID is an artificial intelligence company that develops a "no-code" chatbot design platform, which helps any organization plan, develop, and deploy chatbots capable of responding efficiently to all business stakeholders' needs.
Evaluated at EUR 5 million after a new financing round raised in February, DRUID platform is a one-stop solution which provides a scalable, secure, configurable and extendable foundation to create chatbots.
These chatbots perform a wide range of intelligent tasks, communicate with people and systems, and leverage data to drive actionable employee and customer engagements across channels.
DRUID Chatbot Platform – Features
Powerful NLP engine which focuses on interpreting the user's intent to provide information contextually based on their behaviour and preferences;
Over 30 languages available;
The platform's Connector Designer allows admins to configure any type of connection to enterprise applications (Open APIs, REST/SOAP, SQL/Oracle, MS, ERP, CRM);
White-labelled, custom logo & avatars;
Druid & UiPath integration – DRUID Chatbots bring conversation capabilities to UiPath Robots while adding enhanced cognitive services to the RPA bots; UiPath is a global software company that develops a platform for robotic process automation valued at $7 billion;
Robust and flexible architecture which runs in the cloud using Microsoft Azure infrastructure;
The platform follows the strictest guidelines for security and compliance regardless of industry, from customer information to proprietary business data.
See improved KPIs today, not next quarter.

DRUID
DRUID Chatbot Platform – Benefits
Strong connector capabilities which allow easy get/push data to enterprise apps;
100% customizable to easily deploy your brand's style;
No language barriers;
Instant benefits without having to dedicate large developer teams or time;
40 % decrease in time to contract;
45 % increase in satisfaction;
34 % reduction in costs.
How can DRUID chatbots help your organization?
DRUID chatbots are equipped with over 150 built-in skills for every industry and any role.
They can be programmed to:
Reply to questions;
Send notifications;
Deliver reports;
Track smart tasks;
Fill in forms;
Route to human.
Build DRUID chatbots for:
Your customers;
Your partners;
Your employees.
The DRUID platform provides lots of already built Chatbots and template (which can be tailored easily) in different industries:
financial services;
healthcare;
insurance;
online commerce;
marketing and sales campaigns;
self-services;
customer service;
virtual assistant for employees;
virtual assistant for flow documents.
DRUID latest news
DRUID is the proud winner of the Best Connector App at the 2019 UiPath Power Up Automation Global Hackathon and overall Hackathon 2nd Place.
The company has also been selected as a national finalist for Best Newcomer, Best AI/ Machine Learning Startup and Startup of the Year in the 2019 Central European Startup Awards.
Are you using chatbots in your organisation?
Join the Conversation
We'd love to hear what you have to say.
Get in touch with us on Facebook Group and Twitter.
Source: druidai.com
BRAND MINDS' Guide to Successful Digital Marketing in 2019
Do you want your digital marketing to be successful in 2019?
Use BRAND MINDS' Guide to Successful Digital Marketing!
The world of marketing, especially digital marketing, is fast paced and ever changing. Blink and you might just miss the next big trend.
Implement the following 8 tips for digital marketing success in 2019:
1. Use Digital as a Key Component to TTL Campaigns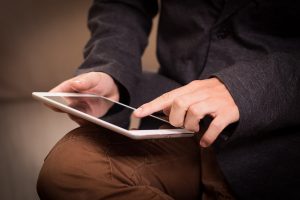 The important thing to remember with marketing today is that it's no longer just about marketing digitally. Digital marketing has transitioned to marketing in a digital world, which creates more scope for campaigns.
I believe that digital marketing should be used as part of TTL marketing campaigns, so that your message gets attention from both ATL and BTL audiences. Online or offline, all areas should be explored when it comes to positioning your brand and aligning it with your audience. This will help you to maximise your reach and generate more leads and conversions.
It's important to remember that by advertising across a variety of different platforms, you are expanding your audience. Some people believe that to be a good marketer, you should focus on one platform and do that right, but I believe that by advertising in as many places as possible, you gain increased visibility and generate stronger branding.
PR and Digital Marketing are also becoming ever more intertwined, with brands gaining exposure and building links across a variety of platforms. Co-marketing and influencer marketing are also great ways to increase reach and awareness.
[bctt tweet="Use Digital as a Key Component to TTL Campaigns" username="brand_minds"]
2. Personalisation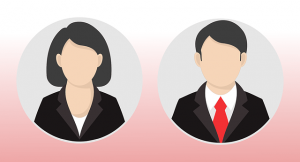 Clever personalisation is the key for effective marketing in 2019.
Gone are the days when a blanket email campaign would suffice. It is vital to segment your audience into relevant sub categories and to target the relevant cross sections with the most relevant offers and information.
Generating personal recommendations on your page is also a great way to get more sales. Link sell by showcasing popular items purchased by others after searching on the page that your user is on. If consumer behaviour is anything to go by, you should definitely see an increase in your conversions. This tailored user journey is also easy to navigate and enjoyable for your customer.
[bctt tweet="Clever personalisation is the key for effective marketing in 2019″ username="brand_minds"]
3. Chatbots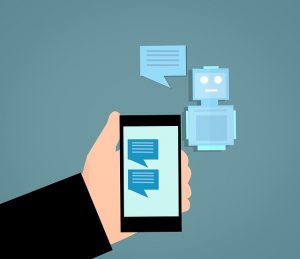 Chatbots and AI have become essential tools for online customer service. Save on time and money by implementing chatbot technology to answer FAQs quickly and effectively.
Over the next five years, the use of bot messengers will be ramping up and chatbots will perform 80% of all communication with customers. Chatbots can be connected to websites, apps and social media platforms to answer customer enquiries and to gather important user information that can be used to create better marketing strategies.
Learn more: How To Use Chatbots To Increase Sales
Grand View Research did a study in to the global chatbot market and discovered that the market had a 24% annual growth rate which amounted to $1.2 billion last year alone. 45% of end users also prefer using them as a primary mode of communication in customer service too apparently.
[bctt tweet="Save on time and money by implementing chatbot technology to answer FAQs quickly and effectively" username="brand_minds"]
4. Voice Search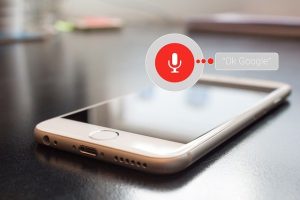 Voice interfaces are becoming an ever more common feature in modern homes and people are using voice searches and features to search quickly and to share information via soundbytes.
According to Google nearly one third of the 3.5 billion searches performed on Google every day are voice searches. Personal assistant devices are used for the majority of these searches.
Like any form of SEO, voice search gives precedence to high ranking sites. Being an authority in your industry, responsive search functions and active social channels will help to boost your ranking. According to studies content with high levels of social engagement performs well on voice search, with content with over 1199 shares on Facebook and 44 on Twitter featuring more predominantly in search.
Other factors to consider are the use of https instead of http and remember to pay attention to your snippets. You're increasing your chance of being discovered in voice search if your snippet becomes a featured one.
Take care to tailor your description of what your page is about for good ranking. Backlinko state that 40.7% of voice searches come from featured snippets which is staggeringly high. Be sure to use this to your advantage.
[bctt tweet="Optimise your website for voice search" username="brand_minds"]
5. Social Stories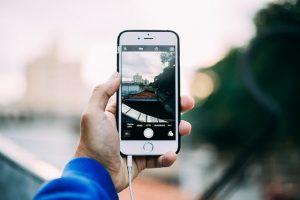 With popular culture reigning supreme, Stories have quickly become the marketing choice for savvy marketers.
Since the launch of Snapchat back in 2011, social media users everywhere have been getting to grips with advanced technologies such as filters, augmented reality, boomerangs and superzoom to allow them to get creative and to generate captivating and engaging stories for their followers.
Learn more: 3 E-Commerce Brands Using Instagram Stories Effectively
Instagram Stores and Facebook Live became pivotal tools for story-telling in 2018 and will continue to do so in 2019.
According to Instagram, one in every five organic stories prompts at least one customer message. This is probably because these ads appear native in their format and are less interruptive than other social media ads. Either way the potential is huge.
[bctt tweet="Be smart in 2019 and use Stories to your advantage." username="brand_minds"]
6. Video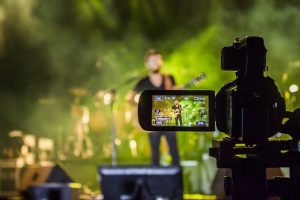 Video will continue to grow in 2019.
Live video is being used more and more to showcase and raise awareness for important brand moments. Videos have 135% times more organic reach than your typical Facebook post with 1200% more engagement than image and text posts (Forbes).
Learn more: How To Increase Conversions With Video Marketing
The stats below show the importance of video for brand:
70% of consumers say that they have shared a brand's video (via Wyzowl);
72% of businesses say video has improved their conversion rate (via Wyzowl);
65% of executives visit the marketer's website and 39% call a vendor after viewing a video (via Forbes);
52% of consumers say that watching product videos makes them more confident in online purchase decisions (via Invodo).
The important thing to remember is that several companies have created 360 videos in the past year – especially for showcasing things like weddings and interiors. This trend will continue to grow in 2019.
The full capacity of 360 video has yet to be uncovered. This is just the tip of the iceberg and what's to come will be even more exciting.
[bctt tweet="Use 360 videos to showcase your products" username="brand_minds"]
7. Micro Moments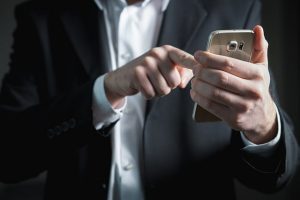 Google's research teams have uncovered a new type of consumer behaviour called the micro moment. These moments seemingly occur when people reflexively turn to a device to either learn something, do something, get to know something or buy something.
Google have coined these moments the:
I-want-to-know
I-want-to-do
I-want-to-go
I-want-to-buy
Users experience these moments 150 times a day according to Think with Google. The trick with this is to target consumers with exactly what they want at that right moment to increase conversion rates.
[bctt tweet="Leverage the Micro-moments to increase conversion rates" username="brand_minds"]
8. AR/VR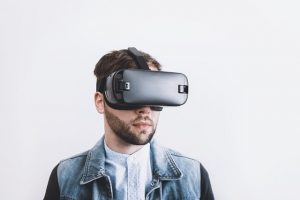 Both augmented reality – which layers virtual components on a real life backdrop, and virtual reality – which creates an entirely virtual world that can be accessed via a headset, will become a bigger part of experiential marketing in 2019.
These tools aid in the decision making process for products that need to be visualised before purchase. The AR/VR experience is incredibly beneficial for interior design, weddings, clothing and beauty products to name but a few.
Learn more: 3 Snapchat Campaigns Powered by Augmented Reality
Clothing giants Gucci and Zara have both used AR in their marketing campaigns over the past year. Gucci launched the 'Gucci Hallucination' in 52 of its stores, while Zara introduced AR screens that showcase their lookbook in 120 stores. These screens have sensors that interact with mobile devices to facilitate easy shopping in one simple click, bringing a truly futuristic element to their marketing and marking a significant increase in conversions.
[bctt tweet="Use AR/VR to shorten your customers' decision making process" username="brand_minds"]
Key Takeaways
Marketing today is no longer just about marketing digitally;
Use digital marketing as part of your TTL marketing campaigns;
Clever personalisation is key for effective marketing in 2019;
Save on time and money by implementing chatbot technology to answer FAQs quickly and effectively;
Optimise your website for voice search;
Pay attention to your snippets: 40.7% of voice searches come from featured snippets;
Use Social Stories to your advantage;
Use 360 videos to showcase your products;
Leverage the Micro-moments;
Use AR/VR to shorten your customers' decision making process.
Join the Conversation
Now that you've read our BRAND MINDS' Guide to Digital Marketing in 2019, we'd love to hear what you have to say. What will you be implementing in your marketing plan for the coming year?
Get in touch with us on Facebook and Twitter. We'd love to hear your views!
How to Gain More Leads with Conversational Marketing
Do you want to gain more leads? Here is the most successful lead generation strategy in 2018: conversational marketing!
By the end of this article, you will learn about conversational marketing and how to use it to gain more leads.
Conversational marketing – what is it?
Conversational marketing is defined as a one-to-one approach to marketing that companies use to shorten their sales cycle, learn about their customers and create a more human buying experience. The term "conversational marketing" was coined by Dave Gerhardt, the CEO at Drift, one of the leading conversational marketing platforms.
Conversational marketing –
5 features
Real-time;

Scalable;

Focused on engagement;

Personalized;

Built-in feedback loop.
Why should you use conversational marketing?
Conversational marketing means returning to the foundation of marketing: having conversations with people.
The power shift between brands and customers has changed. Today customers are in control of your brand, your products and they dictate the terms of communication. Your brand is expected to meet their needs, be available for answering their questions around the clock and have an personalised approach. Everyone likes to feel important.
Using conversational marketing, your brand has the opportunity to achieve exactly that: build trust and connections with your customers by making them feel important.
No more cold calls, lead capture forms and waiting for follow-ups
Conversational marketing is all about your customers. Put yourself in their shoes and answer truthfully: do you like answering to cold calls? Exactly! No one does.
Conversational marketing uses targeted, real-time messaging and intelligent chatbots. This means your leads will no longer have to wait for follow-ups and are able to engage with your company when and how it's convenient for them.
How to use conversational marketing for lead generation
1 Capture – 2 Qualify – 3 Connect
There are two places where you can put your chatbots on:
On your website for live one-to-one discussions;

In messaging apps: Messenger, WhatsApp, Slack, Skype etc.
Chatbots on your website
I. Capture
Capture high-value leads using chatbots. You can place your company's chatbot on your website and/or messaging apps.
Here are 4 examples of the best website pages to put your chatbot on via impactbnd.com:
1. High-intent pages
Integrate your chatbot with the pages which are indicative that your visitors may have the intention of working with you.
Such pages are:
Pricing pages,

Services pages,
Bottom-of-the-funnel landing pages,
Other pages that are relevant to your visitor's buying journey.
When your customers visit these pages you know they will have specific questions regarding your services. They may ask which one of your services will solve their problem or which pricing model is right for them. Use the chatbot to ask qualifying questions and then program it to forward the lead to the appropriate company representative.  
2. High-traffic pages
High-traffic pages are:
Homepages;

Blogs;

Articles.
Placing your chatbot on these pages means you have the opportunity to focus on providing value to as many people as possible, but you can also gain valuable feedback on what is and what isn't working.
3. High-intent (Negative)
Pages that show high but negative intent are your email unsubscribe page.
Your visitors are there because something is wrong with the way your company is engaging with them. Maybe your emails are too sales-oriented, or your frequency is higher than it should be. This is your opportunity to find out the reason they are unsubscribing and a chance to improve your communication.
Remember that frustration underlies your visitor's reason for unsubscribing. Giving him/her the opportunity to voice their frustrations is a great way to show them your company values them as an individual. Your chatbot may even change your visitor's mind and reconsider unsubscribing.
Do you want to keep your subscribers happy?
Read our article Stop making these 5 email marketing mistakes.
4. Blog Article
The blog is your company's tool for brand awareness increase and trust-building. Let's say you have just read a blog article on influencer marketing. This article sparked a question but you don't want to go back to Google and search for an answer because it is time-consuming.
Why not ask the author of that article in real-time? When it comes to putting bots on educational content, it's all about enabling people to learn better and understand more.
The result will be a visitor who trusts you more!
II. Qualify
The latest study on B2B lead generation has found that the lack of quality leads is the second challenge marketers struggle with (source: bopdesign.com).
If this is the case for you, then a chatbot can step up to the plate and solve this problem. How? By asking questions that qualify the respective lead.
It's time effective and allows you to engage with qualified leads only.
III. Connect
The chatbot doesn't replace your sales or customer experience team. It functions as an intermediary between the lead and the appropriate company representative. View the chatbot as an assistant: instead of manually booking the appointment with your lead, the chatbot is doing it for you.
Chatbots in messaging apps – the power couple of lead generation and sales
Facebook studies found the following statistics related to Messenger usage behaviour:
53% of people are more likely to shop with a business they can message (

"Facebook Messaging Survey" by Nielsen);

20 Million businesses message with people every month (January 2018, Facebook);
2 billion messages are sent on Messenger between people and businesses each month.
So long business email marketing, phone calls and SMS! Messaging apps are the royalty of modern-day communication. If your company is not using them, you are missing sales opportunities.
Do you want to learn how to use this power couple to your advantage?
Read our article How to use chatbots to increase sales.
Conversational marketing – benefits for your company and customers
For your company:
A new source of leads;

Shortened sales cycle;

Increased sales pipeline;

A new source of information about your customers and how they are using your products;

Increased brand awareness.
For your customers:
Supports your company be customer's top of mind;

Real-time assistance to their needs;

Real-time answers to their questions;

Trust building;

You create a more human buying experience;

Enhanced user experience.
Conclusions
Conversational marketing is not a new concept. Driving conversations about products and services is the main function of marketing. It's not the goal of marketing strategy that changed, but the tools marketers can use to achieve that goal: chatbots and messaging apps.
The secret of a successful marketing strategy is closely related to customer experience. Give your customers what they need, use the tools they are already using, listen to them and make them feel like they are valuable assets for your company.
How to Use Chatbots to Increase Sales
Making a sale today means communicating with a very demanding and digitally savvy customer. Customers expect businesses to deliver tailored experiences and meet customers' demands with the right information at the right moment, as this Google report states. We are living in an on-demand environment!
One business rule of thumb is to go where your customers are.
But where do customers go when they want to talk to each other?
Latest statistics may surprise you: they turn to messaging apps instead of email, sms or phone.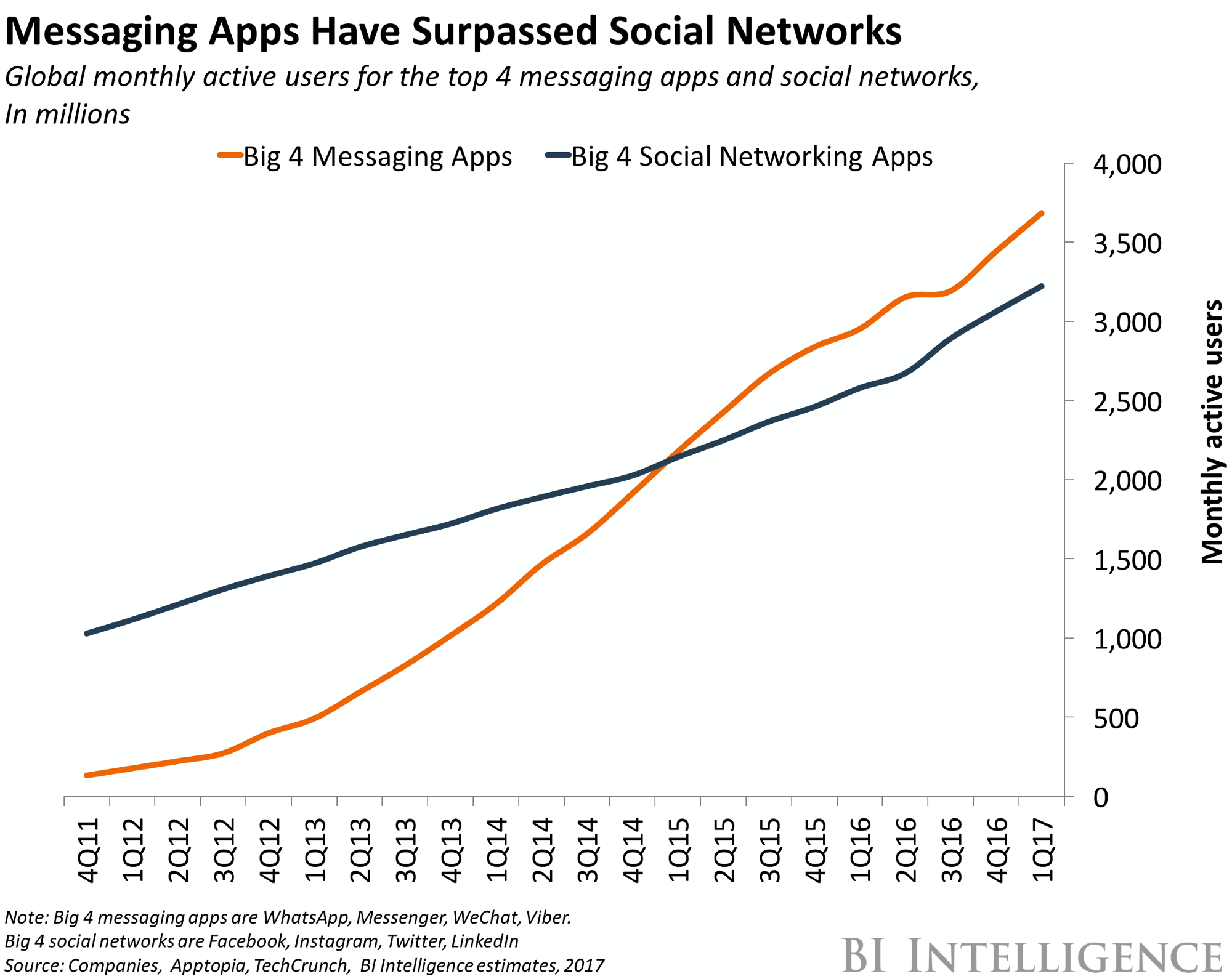 image source: BI Intelligence
This article will help you understand more about chatbots, how to use them to increase sales and discover 3 examples of brands using chatbots.
Chatbots – what are they?
Chatbots are bots that businesses can program to achieve various objectives. Chatbots are software that interacts with users, answers queries, manages particular requests etc. Chatbots are powered by AI and NLP technology which allows chatbots to talk to the user in a conversational format. Also chatbots can assist the user with graphics like images, buttons, menus etc.
The 2016 Facebook Insights Report reveals 5 very interesting statistics regarding customer behaviour:
Over 1 billion people use Messenger to connect with businesses every month;
63% of business owners said messaging from customers has increased over the past 2 years;
56% of customers would rather message a business than call for customer service;
61% of customers like personalized messages from businesses;
47% of shoppers are open to buying items from a bot.
As the percentages mentioned above show, communication has moved to messaging apps. From a sales perspective, talking to a person is a great way to gather information about your business's buyer persona, his or her interests and likes, where this person is in your company's sales funnel.
Your customer service executives can handle a few dozen of customers' inquiries a day during business hours. But can they accommodate a few hundred a day? How about answering messages outside the 9-5 program or during the weekend?
That's why chatbots can become a very powerful and useful tool for businesses.
Chatbots – what can they actually do?
Chatbots have become increasingly important as brands are using messaging applications to reach consumers.
Here is what businesses can use chatbots for:
24/7 customer support;
Keep track of your store's inventory;
Inform customers when a product they were searching for is back in store;
Assist with managing your online store;
Collect customer data: interests, previous purchases, searching history etc;
Help identify qualified and unqualified leads;
Send marketing or informational materials;
Help move leads through the sales funnel.
How can your business grow by using chatbots?
Chatbots are revolutionizing the customer experience and helping businesses achieve marketing and sales objectives at a lower cost than traditional advertising.
Your business can benefit from using chatbots as follows:
Lead generation & collection
A study conducted by Sprout Social found that brands ignore almost 89% of messages that require a response; the consumers expect a reply within four hours, but they receive it after a 10-hour wait. Enough to make them lose interest and turn to other brands.
Retargeting for each step of your sales funnel
Chatbots store a buyer's history; this means that whenever that particular buyer visits the store again, the chatbot can suggest products with the caption "You may also like this".
Is your business using email messages to upsell and cross-sell? You may want to switch to messaging apps instead of email as a tool for delivering your messages.
HubSpot made an experiment to find out which tool was better for their business: Facebook Messenger or the good-old email?
What they found was really surprising: the message delivered through Messenger had an average open rate of 80% and an average click-through rate of 13%!

hubspot.com
3 examples of brands using chatbots
My Starbucks barista:
Order your coffee by text or voice;
The chatbot tells you how much your coffee costs and when it is ready.
Mastercard Facebook Messenger:
Can help the user break their expenses on categories (how much the user spent on coffee for example), stores (McDonalds's, Starbucks etc.), cities etc.
The user can setup alerts;
The user can instruct the chatbot to make payments.
Color Match for Sephora Virtual Artist via Facebook Messenger:
The bot helps users match their lipstick shade to outfits;
The user sends her selfie photo and try on any lipstick in Sephora store;
The user can browse products in Sephora store and make purchases inside the bot app.
Benefits of using chatbots for your business:
Improve conversion rates;
Increase open rates and click-through rates;
Decrease cart abandonment;
Increase customer satisfaction;
Boost traffic and sales;
Optimize buyer personas;
Efficiently push customers down the sales funnel;
Drive brand awareness.
Expert's statement
We asked Vlad Mustiata (CEO & Founder) and Madalin Preda (CMO & Founder) at DEQOD & ChatX:
Are chatbots "absolutely necessary" or "we can do without"?
This is what they told us:
As chatbots developers, we truly believe that they will have a big impact in the future, maybe even bigger than the smartphone. All the industry is looking forward for the first chatbot or virtual assistant that will be used by people on a daily basis, but that requires two things:

1. Further development of the technology (Natural Language Processing / Natural Language Understanding, Voice Recognition, Sentiment analysis )

and

2. Finding use-cases where chatbots can provide a better User Experience than what a Mobile App or Website can offer now.

If you want to be one step ahead of the competition, we recommend to start using chatbots as one of your 'pocket aces'.
Instagram stories, AR, short-term content and chatbots – to be watched in 2018
Until now there has been a lot of talk about the Millennials, about how present they are in the digital environment and what type of content they prefer. After them comes strongly the Z Generation, meaning the people born between 1995-2012, that will represent 40 percent of the consumers' market in 2020.
The manner in which they are changing the rules of the game and re-configuring the experiences with the brands is analyzed in the report Digital Recap 2018, created by The Bridge – Golin's social media & digital hub – and the blogger Alex Ciuca (Hoinaru), available on www.digitalrecap.ro.
In the new Digital Recap we took a look at 2018 in which the relevance, measurement and analysis will count more than ever. The last year's trends in content, storytelling, influencers and communities are refining and re-defining themselves in a new communication equation in social media. How memorable is in fact the ephemeral content and how are the brands adapting themselves to the new messages' temporary reality, through what are the influencers differentiating themselves from the content creators and how is the social media influencing the buying power on this year's digital agenda," said Irina Roncea, deputy managing director, Golin.
Found at its seventh edition, the report presents the evolutions and trends in the digital environment, offering at the same time predictions and recommendations for the brands that want to be relevant for the new generation of consumers.  
The star remains in 2018 the Instagram Stories, a channel that already attracts massive investment at a global level – almost 25 million companies worldwide publishing stories on Instagram. At the same time the Augmented Reality brings new changes in the interaction between brands and consumers, therefore it will rise the mix of offline-online experiences through viral elements added in real time to a store visit or while looking over a flyer. Also on a growing trend is the Virtual Reality, powered by the diversity and rising accessibility of the VR glasses' models.
The ephemeral content represents an excellent manner of attracting and keeping the users for a longer period of time, if the brand is telling its story well. Insta Stories can contain teasers of product launches,
making ofs from their creation, exclusive content that can be discovered only in Stories, awards for fans and new communication opportunities with them. From its launch and until the present, the time spent by users in stories has been growing with 28 minutes, while 1 in 5 stories from a brand has been receiving a private message as response. Those are the reasons for which we believe is very important that the things a user sees bring him/her a plus value, in a way or another: to be useful and /or to be funny. A brand that will make its user feel privileged and rewarded for the times pent on its page will for certain have a future," said Roxana Ionescu, Senior Digital Manager Golin.
Another visible trend for 2018 are the chatbots. Their number grew significantly in the last years, especially with the launch of the Facebook Messenger, in 2016. Therefore, 80 percent of the businesses are already using or planning to use them until 2020, while the global chatbots market is expected to reach USD 1.23 billion in 2025.
How 2017 looked in terms of numbers:
Facebook has 2 billion users monthly;
Time Warner invests USD 100 million in shows and ads on Snapchat;
EUR 2,7 billion has to pay Google for a UE fine regarding a series of wrong doings on the comparing prices' software of Google Shopping;
3000 people are hired by Facebook to check the posts and the videos reported as being hate speech or related to crimes;
Intel paid 15,3 billion for the acquisition of Mobileye.
EUR 1,7 million are invested by eMAG in the Zitec company;
NBC holds 25% of Euronews;
Amazon spent USD 13,7 billion in order to buy Whole Foods;
The American company Equifax lost 143 million accounts.
Biggest digital trends in 2018
For the last five years, the agency Ogilvy creates an annual report which aims to spot the key trends in digital and social media marketing that are likely to be important in the coming year. The report contains the agency's predictions from the previous year and every trend includes actual, actionable recommendations for brands. In 2018, for its fifth report, Ogilvy included also a section that reflects on five years of trends, and looks at the big stories the agency's representatives have seen play out since they started writing the report.
The report can be seen here and it features five big trends to watch for in 2018: Augmented Reality, The End of Typing, The Tragedy of the Commons in Influencer Marketing,The Amazon Awakening and Seriously Serious. 
In our turn, we've talked with two specialists on the Romanian digital industry and we found out their predictions and thoughts.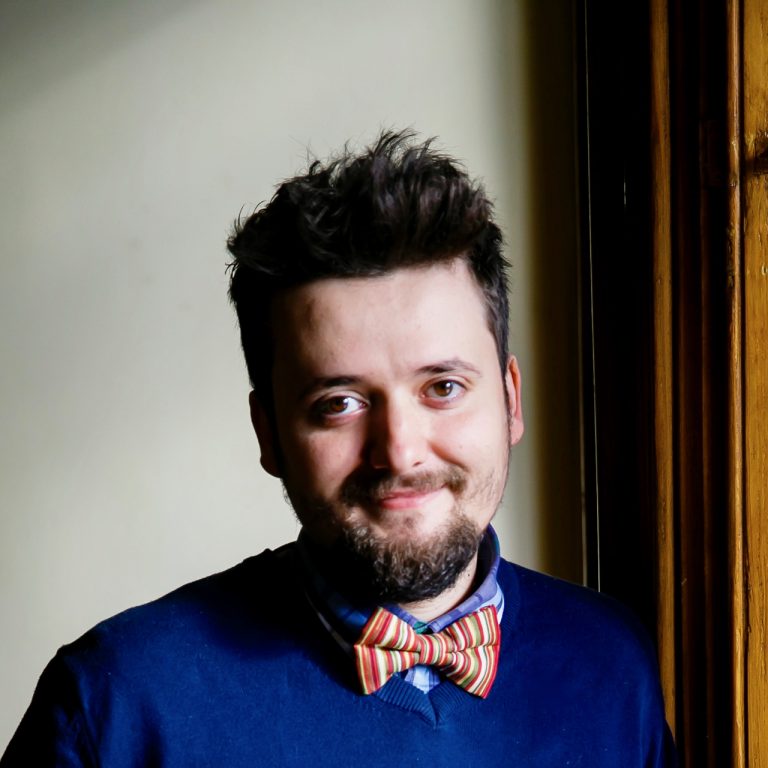 Flavian Cristea, Digital Strategist Grapefruit: 
– What do you believe will be the biggest digital trends of 2018?
The biggest digital benefits for customers will come from conversational interfaces and specialized artificial intelligence. These technologies enable customers to use natural language to interact with companies and their assets. We will be seeing more and more cases of making a bank deposit by messaging a chatbot or ordering products from the internet by using digital assistants such as Google Home or Alexa.
We are seeing specialized artificial intelligence and mixed reality as being the main drivers of digital change inside companies. These technologies are used to strengthen the capabilities of the employees, getting more out of the same individuals. It's a complementary relationship, where the technological aspects fill in for the weaknesses of the humans and the other way around. Blockchain is also a technology that migrated from cryptocurrency to other businesses such as banking and trading, opening new ways of communicating, controlling and tracking information.
– What are they influenced by and why?
The user wants the barrier between the digital and reality to disappear. This desire appears out of the wish of the individuals to interact in a more natural way with everything they use. It's easier to ask "How much money do I have in my account?" than to go inside a banking application and check your account. It's also more natural to interact with objects with your hands than with your mouse.
Another obvious influencer is the progress we have achieved in the fields of artificial intelligence and virtual reality. The fact that these technologies are also researched and developed in an open way is a great contribution because everybody can experiment and share what they learned in the process.
– What is Grapefruit advising its clients this year?
We advise our customers to find contexts inside their company to experiment with each technology mentioned above. It does not have to be a big project. Just big enough that, if successful, it can become a pilot project for a bigger digital change.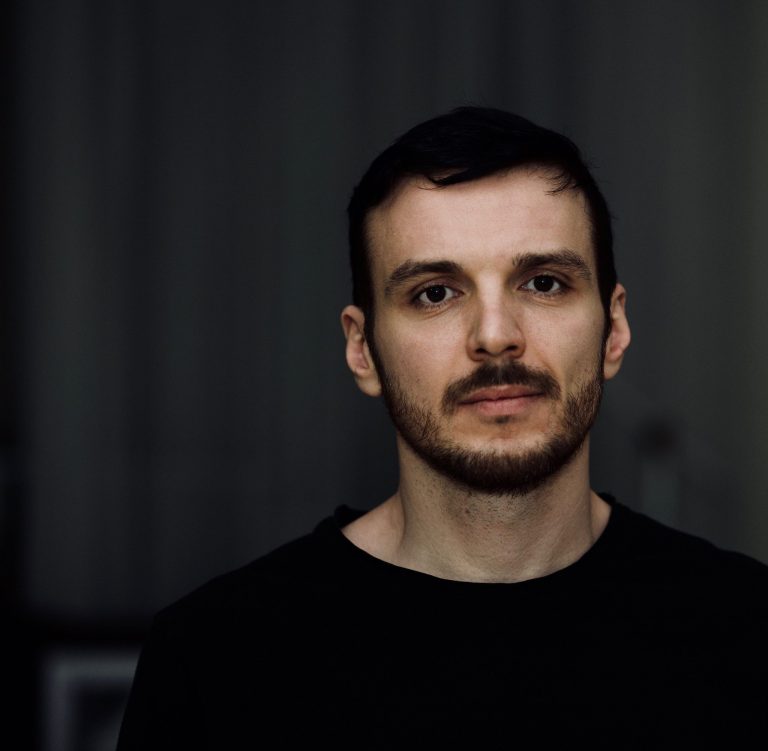 Andrei Balan, Head of Strategy MRM McCann
– What do you believe will be the biggest digital trends of 2018?
Two things I'd look for in the following year are the access and sharing economy spreading to different aspects of our lives and micro targeted content.
– What are they influenced by and why?
Let's start with the access and sharing economy. The basic idea here is the digital environment contributes to a steep increase in the number and intensity of desires. The overall digital connectedness lets us know about products and services virtually instantaneously. It also provides us with unprecedented insight into other people's curated live, so we get to know what everyone has and does. These are both vectors for wanting more things more intensely. Moreover, things like retargeting contribute to turning these desires into quasi-obsessions. But what happens when the number and intensity of desires increases much faster than the financial means to support them? It builds up to phenomena such as the access economy, the sharing economy and then the democratization of all sorts of things and services. For example, why own music when you can just rent and listen to it? Also, people now get to travel to more distant places because Airbnb allows them to cut accommodation costs and invest more in transport. This is a simple example of touristic democratization enabled by the sharing economy.
Now let's talk about micro targeted content. As it is becoming clearer content is winning the battle with online advertising, we're starting to look more into what, how and why it works. Using real people, famous or not, to provide credibility to content is already something everybody does. The next base is micro targeting, or micro community-tailored content. This means building certain variations into a marketing campaign that make it more relevant for each segment of the public. And then using media targeting to reach each community with the proper variation.
– What is MRM advising its clients this year?
Our advice? Have no fear in riding the trends. I know countless people who regret not investing early in cryptocurrencies. I myself am one of them. The same thing goes with all trends: ride them early enough to be among the ones who profit most.
Top trends in shopper marketing in 2018
With a more and more savvy consumer and digital and technology re-shaping it, shopper marketing became in the last years almost a science, relying a lot on research and customer observation. While in the US, the Shopper Marketing magazine developed a very strong research on this year's trends that can be read here, we asked 3 local advertising specialists to give us their thoughts as well.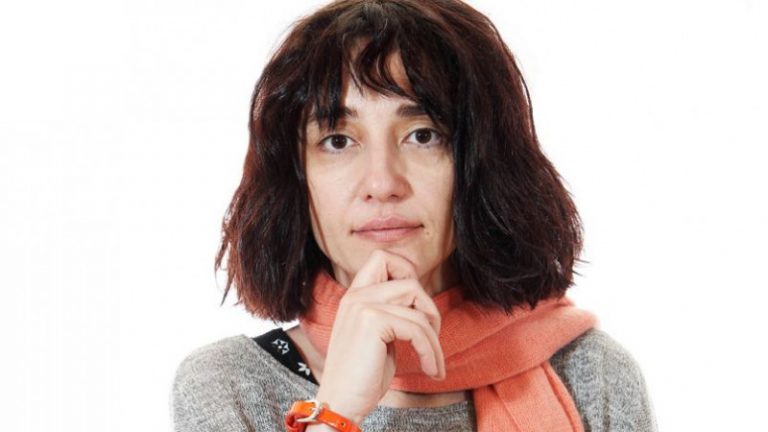 Cristina Oncescu, Head of Strategy pastel
What do you believe will be the biggest shopper marketing trends of 2018?
I don't know if they are the biggest, but they are certainly hot in 2018:
There are many in-store technologies that can be used to provide a personalised shopping experience. NFC (Near Field Communication) chips, QR codes, iBeacons and Visual Light Communications are just some of the emerging technologies used. These, when linked to previous shopping histories via a loyalty app for instance, can provide disruptive yet compelling interactions with the shopper as they enter the store.
From voice to chatbots, going through messenger apps, one-to-one communication is on the rise. Being available and being helpful, when the shopper needs you, is making the difference.
The use of Augmented Reality on mobile devices provides an engaging way for marketers to reach their target audience – it's quick, easy and very interactive. With the integration of AR on iPhones, it will be easier for marketers to engage larger audiences during their path to purchase.
What are they influenced by and why?
Technology, and especially mobile, led shoppers becoming more and more omnichannel. Now, this is an actual behaviour that the shoppers engage in (of course in a subconscious way). Web, mobile, social, apps – it's all just shopping to consumers. The separation between retail channels is growing even more blurred by the day. Can they return online products in-store? Can they check if the store has their size and colour on their mobile phone before they leave their homes? Consumers expect a seamless experience across all channels.
What is pastel advising its clients this year?
Great content will always engage. Have an interesting, consistent story and a seamless experience throughout the whole omnichannel path to purchase.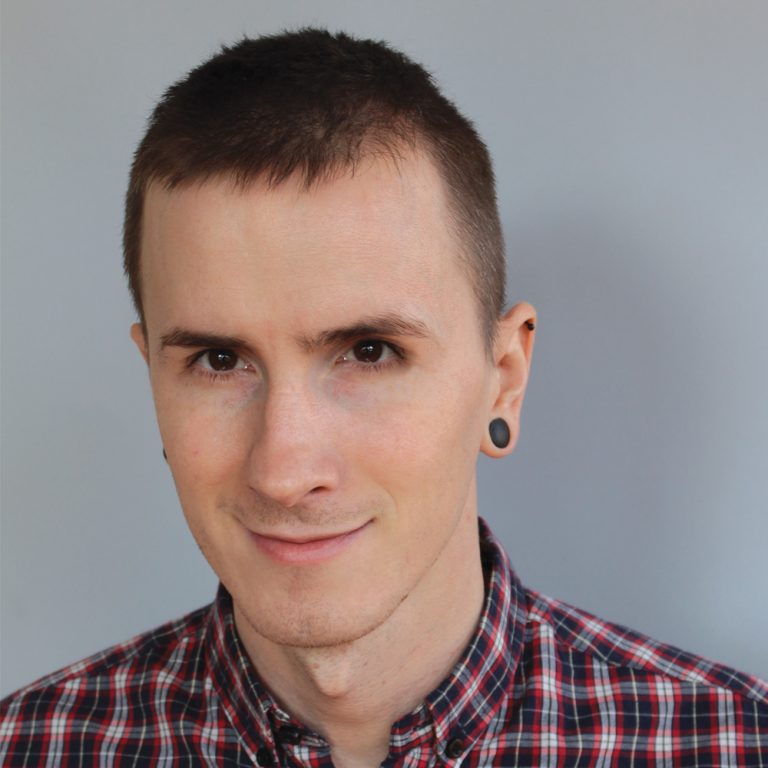 Anton Gherca, Chief Innovation Officer at g7
What do you believe will be the biggest shopper marketing trends of 2018?
We believe that shopper marketing is an area of brand communication that has been kept largely untouched by the digital revolution that is reshaping the advertising industry for the past 10 years. So we expect that "digital BTL" will start gaining momentum, as today's practices are deeply engrained in traditional approaches of point of sale communication. We think that we will see more connections between social media and shopper marketing, and geofencing and point of sale promotions, with the aim of delivering a more integrated omnichanel shopper experience.
What are they influenced by and why?
Like many things in advertising, the move towards a more "digital" shopper marketing approach is driven by the consumers themselves, or more precisely, by their lifestyle. As of 2017, the penetration rate of smartphones in Romania is 70%, while 41% of the population are already mobile social users. Peer-to-peer ridesharing like Uber makes people understand the benefits of the sharing economy,  on-demand services like Netflix put them in the driver's seat while the wide 4G coverage makes them want everything now. This means people are getting more and more accustomed to having everything at a push of a button and they expect higher levels of service, increased transparency, embedded interactivity and all in all a better customer experience out of everything.
I know this sounds like a bunch of buzzwords cramped togheter in one sentence, and our agency has never been in the "buzz" business, but the reality is that the shift in consumers' lives is happening with or without us. I think the bottom line is that today's shoppers are just expecting something more out of marketing communications. More relevance, more engagement, more customization. This doesn't mean that we, the shopper marketers, can't still get away with the old "buy one – get one" or "scratch this to win a prize that you don't even want" mechanics. But wouldn't that be a pity?
What is g7 advising its clients this year?
Our agency has embarked in a digital transformation journey and once set in motion, it can't be stopped. We will continue an initiative started in 2017, of hosting periodic innovation workshops together with our clients for identifying the opportunities put forth by today's technology, and see where that gets us. Still, there are a couple of areas we keep tightly in our focus: Proximity marketing, Loyalty management and Gamification. We work towards integrating in an organic manner these three capabilities in the approach our clients are already used to: honest creative work, deep understanding of shopper behavior and solid deployment in the retail ecosystem.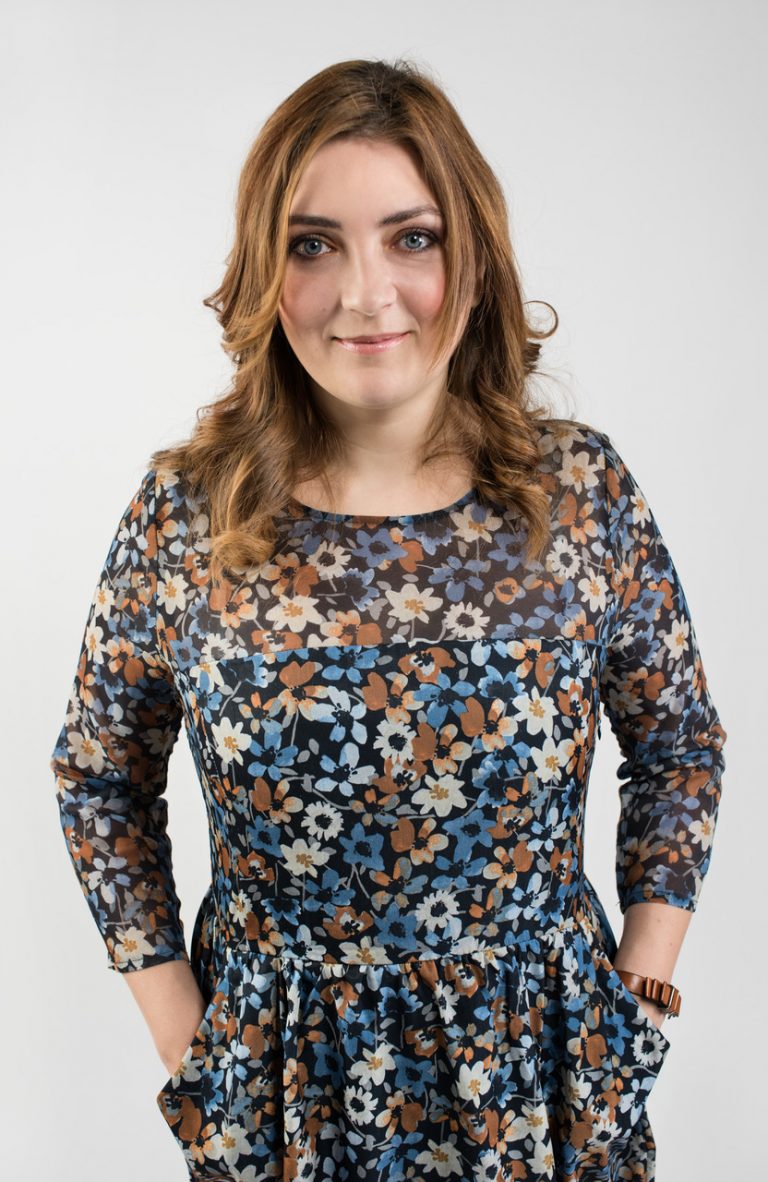 Ondina Olariu, Business Director Geometry Global
"Fragmentation, increased competition and e-commerce are key words for 2018 and beyond in our region. After seeing a huge expansion, somewhat even inflated for some of the retail players, we will witness a new battleground, named proximity. As global retailers keep expanding, we will live through a great variety of formats, more flexibility and adaptation to micro-retailing needs. Proximity will be influenced as well by the increasing degree of urbanization, as well as the new generations of shoppers, more dynamic, digital savvy and format switchers (in Romania, 25 cities cover 31.3% of total population and 55.6% of urban population – source:  INS, Romania, 2017).
And when we say flexibility and adaptation, think beyond format, as we see discounters aggressively stepping in the services territory, while share of consumer spend reached 68% in services vs 32% in goods in 2016 (source: Kantar Global Trends 2018). Goods subscription – meaning bundle goods as a service is something that we preached our clients for a couple of years already and it's approaching it's turning point in 2018.
E-commerce in Europe is predicted to reach 10% of total retail (source: Kantar 2018 Global Predictions, WPP Data), with a clear future towards what we call omni-channel, especially since gen Z takes the scene as newest shoppers. At global level we see the switch and struggle of most pure e-commerce players in becoming physical as well, to the level where blogs impersonate the physical space in temporary shops where experience blends with sales, while in Europe we are taking steps into developing the brick-and-mortar into e-commerce, especially for FMCG area, which are the most shopped for categories. Retailers will continue or start monetizing opportunities through their own apps, following the evolution of more mature markets, such as Spain (+210% in app sessions growth in the last 2 years) or Germany (+130%). Here again, it seems that pure digital players have a degree of advancement, since digital-first retail apps saw more that 2x the average sessions / user each month and saw stronger growth in the last 2 years. (source: App Annie 2017 retrospective report). This means we will see accelerated growth for digital players apps, as the new arrivals from physical retailers will need to extract good lessons and apply on fast track.
Blending online and offline expresses also in automation, such as automated cashiers. As retailers will increasingly see value, watch for a retail unemployment crisis, especially in more mature markets. The proliferation of private labels will increasingly force out brands from the physical shelf. Most of these private labels continue to be supported as brands rather than price options, from food to fashion (see Esmara for Lidl and Tex for Carrefour) and home appliances (eg Carrefour Home consumer electronics). Health and Wellness is an increasingly appealing theme, for both brands and retailers. Watch the shelf space growth in store, as well as the latest positioning of certain private labels, trying to capture value and exploit the trend.
As a shopper agency, we are not only advising but already working with our clients on the omni-channel shopper journey models, including retailer strategies and new channels opportunities in this process. We build with them strong e-commerce fundamentals for the Romanian market and expand to e-commerce experiences and integration of channels for more mature markets. We operate with an increasingly complex model that includes data management and A/B testing applied to shopper initiatives and integrate thorough shopper knowledge in every solution we bring to the table. Bonus: an emerging trend, still less visible to this market is the return to D2C (Direct to Consumer). It will be highly influenced by retailers' behavior, however, more brands become conscious they cannot rely exclusively on retailers and distributors in building their relationship with shoppers and consumers, therefore they'll be trying to find ways to cut it short to them and bypass the "official" channels."
A little ABC about Chatbots
A chatbot is a computer program that conducts a conversation via auditory or textual methods. Often designed to convincingly simulate how a human would behave as a conversational partner, chatbots are typically used in dialog systems for various practical purposes including customer service or information acquisition. Some chatterbots use sophisticated natural language processing systems, but many simpler systems scan for keywords within the input, then pull a reply with the most matching keywords, or the most similar wording pattern, from a database.
"Today, many of the world's leading brands are turning to AI and cloud platforms to create chatbots that can assist customers with a wide range of tasks, at a higher level of emotional intelligence and understanding than ever before. According to Gartner, by 2018, 30 percent of our interactions with new technologies will be through 'conversations' with smart machines," wrote www.optus.com.au.
In early 2016, "Facebook Messenger welcomed bot functionality with open arms in an attempt to keep more Facey members in the app for as long as possible. As with most first attempts at new tech, it was slow to start and didn't always provide a natural and seamless interaction. However the initial bumps in the road have been ironed out and the bots continue to become more intelligent, learning with practice and time,"explained www.amaysim.com.au.
The best media mix for your brand in 2017
The media market is changing under our eyes, each year bringing something new. It's more than obvious that, even if you are representing a smaller brand, it's not enough to rely on a website or social media page alone if you want to be competitive in the marketplace. Moreover, the media channels that used to work very good for you two or three years ago may very well not be the best ones to use anymore.
According to Initiative and their report Media Fact Book 2016, in Romania the TV continued to be in 2015 the rising engine of the media market, having a push of volumes of 7 percent compared to 2014 and reaching the EUR 212 million margin. Other channels that grew were the online (a boost of 12 percent and reaching EUR 57 million) and the radio (a 5 percent boost, until EUR 19 million). The OOH remained stable at EUR 28 million.  Moreover, Initiative estimated that the media market would reach in 2016 EUR 351 million this year, following a 6 percent growth. The evolution on each channel is similar to the one in 2015 – the TV market will grow with 6 percent, the online with 12, the radio with 5, while the OOH will remain the same and the print would continue to drop still with 10 percent. In this context, the approaching of the digital next to the TV in the consumers' preferences are, the amplitude that the mobile took, the influence of the multi-screening or the forever bigger importance of the content's quality has over the rise of the media budgets.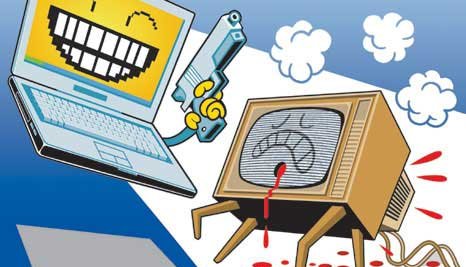 source: Linkedin
With a well-chosen media mix, you can build the kind of name recognition and buzz for your company that isn't possible with single-pronged approach. A mixture of owned, paid and earned media will help ensure your marketing efforts are reaching your target audience.
Consumers want brands that are useful and accessible, and most of all, entertaining. Marketers will continue to pull out all the stops to counter declining ad receptivity. In 2017, we'll see more branded content and less regular advertising. Get ready for more native content, short and long form video, branded filters, and emoji and PR stunts. But it won't end here. The specialists forsee that the marketers will forge ahead with new technologies such as 360 video, augmented reality, virtual reality and artificial intelligence (chatbots performing customer service and sales functions), making the landscape ripe for new creativity. Marketers will also closely monitor effectiveness as studies start to show which formats consumers find annoying and intrusive, particularly on mobile.
These advancements create new challenges for marketers. Far from a controlled consumer view of a brand (TV, outdoor, instore), marketers will face multiplatform, multi-device, in and out of walled gardens, all differently experienced by every consumer. Geotargeting will be seen as a commercial opportunity and Snapchat itself is using geofilters to let people know where to find a Snapbot vending booth. Brands will move quickly into customized/personalized creative content, delivered in a targeted way via programmatic buying. We will see more sequential content as marketers consider using retargeting for a more strategic and persuasive catenation of consumer messages.
In a media landscape of ongoing dramatic change, advertisers will more aggressively adopt multiple media alternatives to reach and connect with their audiences throughout 2017. Synergies will become more important than any single channel and the collective weight of all channels put together. Marketers will be focused on understanding the role each media plays within a broader plan and how they rub off to produce synergistic effects. The concept of synergies has been around for some time but what has changed is the planning aspect and the application of a discipline to the selection of channels to maximize its impact. Cross media studies conducted by Kantar Millward Brown show that globally 25% of media effectiveness has been attributed to synergies, and nearly 40% in APAC. These numbers are not only growing but increasingly we are seeing non-TV synergies emerging as advertisers and agencies start to get their heads around this. The two broad parameters needed to leverage synergies are – creative synchronization and media duplication and phasing.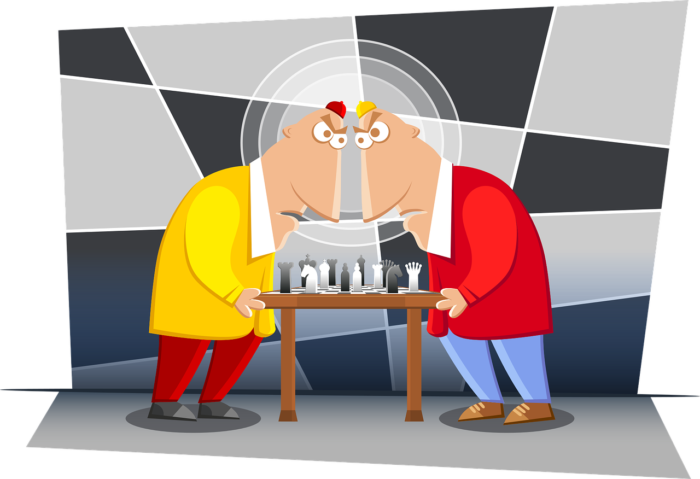 source: Digital Land
"A "big idea" is important for creative synchronization to occur, but it's also about adapting the message to the medium and following a common theme across a campaign. For example, it's unlikely that a 30 second TV ad will work as well on YouTube or Facebook because these media have different characteristics. But they offer opportunities for forming different kinds of relationships that meet consumer needs at different times and occasions. Optimising media duplication and phasing can go a long way in driving synergies but as a first step, marketers will need to ensure that every medium has a role to play within the broader media mix. Roles will be in terms of driving 'reach and or frequency' or various aspects of how people think, feel and make decisions about the brand," said Straford Rodrigues, Media & Digital Director, APAC at Kantar Millward Brown.
Therefore, every brand needs to create its media plan accordingly to its target, expectations and business plan. The strategy is more important than ever: setting clear objectives, finding the right opportunities, integrating your message and your true content, exploring, creating, producing and measuring.
Apart from the media planning itself, don't forget the fact that the content is the KING and it needs to be as powerful, sincere and creative as possible.