4 big brands using drones for business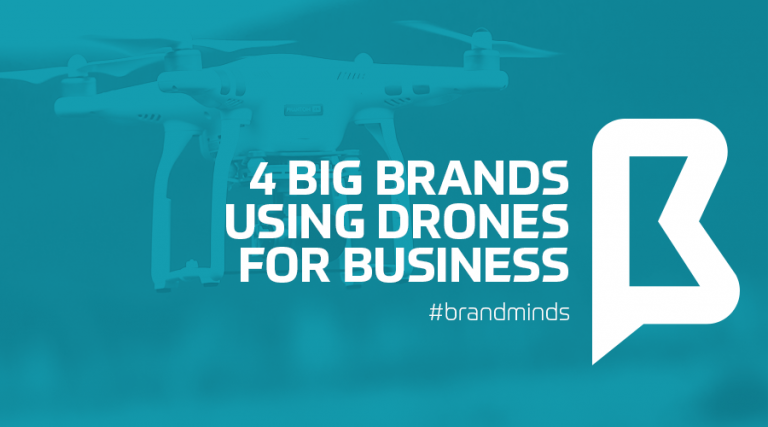 We've grown accustomed to kids and teenagers using drones for fun.
Or grown-ups using a different kind of drone for aerial selfies or astonishing videos (see here).
But how about brands using drones for business?
This article presents you with 4 brands and how they use drones to improve their business.
Here are 4 brands using drones:
Dolce&Gabbana
Fashion shows are not all about the clothes. Some fashion designers go to great lengths to make an impression upon the audience and land as much media coverage as possible.
British designer Anya Hindmarch put on a fun and colourful set made out of 50,000 dominoes for her 2013 show. Karl Lagerfeld finished his 2017 show with a rocket taking off from the runway in the Grand Palais.
The latest fashion house to enter the hall of eccentric runway shows is Dolce&Gabbana. For its 2018 eveningwear event, Dolce and Gabbana used drones to show its handbags collection. It's certainly a first for the fashion world!
AIG
AIG specializes in aviation insurance, with many of their employees in this line of business being qualified pilots.
In 2015, the company received the FAA approval to operate small unmanned aerial vehicles – drones. AIG is one of the early drone users in the industry and uses them to replace human inspectors.
Since 2015, their fleet of drones has conducted inspections for risk assessment, risk management, loss control, and surety performance for customers in the U.S. Using drones instead of human inspectors helped AIG accelerate surveys of disaster areas with high resolution images for faster claims handling, risk assessment, and payments. Drones are also beneficial in that they can reach areas that could be dangerous or inaccessible for manual inspection. Also they provide richer information about properties, structures, and claim events.
Intel
Intel's leaders believe drones are an important computing platform for the future. And they have foreseen their usage in two sectors: commercial and entertaining.
In 2016 Intel entered the drone manufacturing market by acquiring MAVinci GmbH – a private fixed-wing company with best-in-class flight planning software. The same year, Intel announced their first Intel-branded commercial drone, the Intel® Falcon 8+ System and their first drone designed specifically for light shows: the Intel® Shooting StarTM drone.
In 2018, the most notable project Intel is running is the restoration of China's Great Wall with the help of its drones and artificial intelligence technology.
Project Wing
Alphabet, Google's parent company has been testing drone delivery to people's backyards in Australia since 2014. Under the name Project Wing, the end goal is certainly ambitious:
"A new method of transporting goods that's faster, cheaper, and more environmentally friendly than what's possible today on the ground."
So far, Project Wing managed to transport successfully a first-aid kit, candy bars, dog treats, water to farmers and burritos to students at Virginia Tech.
In July 2018, Project Wing announced its separation from Alphabet.
How will the city of the future look like?
Big data, Internet of Things (IoT), artificial intelligence (AI), robots, drones, autonomous green vehicles, 3D / 4D printing, renewable energy, virtual reality (VR),leap motion, eye controlled technology are just part of the present and new technologies that are here or will be here in the near future to influence our lives.
The cities are evolving as well, by becoming Smart Cities. From Singapore to Amsterdam and Barcelona, from Dubai to Stockholm,from New York to Manchester and even Alba Iulia in Romania, information and communication technology is used to enhance quality, performance and interactivity of urban services, to reduce costs and resource consumption and to increase contact between citizens and government. Smart city applications are developed to manage urban flows and allow for real-time responses.
The smart city concept integrates information and communication technology and various physical devices connected to the network (IoT) to optimize the efficiency of city operations and services and connect to citizens. Smart city technology allows city officials to interact directly with both community and city infrastructure and to monitor what is happening in the city and how the city is evolving.
According to the IESE Cities in Motion Index 2017, quoted by Forbes, which analyses all aspects that make up sustainability and quality of life in 180 key world cities, New York is again the smartest city in the world, followed by London and Paris.
To compile the index, the authors analyze 79 indicators across 10 different dimensions of urban life: the economy, technology, human capital, social cohesion, international outreach, the environment, mobility and transportation, urban planning, public administration and governance. The results show that almost all of the dimension measured in the ranking are led by European and North American cities. The exception is technology, where Taipei rules.
In top 10 are present three other American cities (Boston 4th, San Francisco 5th, and Washington, D.C. 6th), two other European cities (Berlin 9th and Amsterdam 10th), and two Asian (Seoul 7th and Tokyo 8th).
Moreover, according to CityMetric, Singapore is also a leading example of a smart city, and is constantly evolving its "city brain," a backbone of technologies used to help control pollution, monitor traffic, allocate parking, communicate with citizens, and even issue traffic fines. "The behavioral aspect is not to be overlooked. Singapore's "brain" is attempting to modify human behavior – for example, one system rewards drivers for using recommended mapped routes, and punishes those who do not. Ultimately, Singapore's planners hope to discourage driving, and guide most commuters to making greater use of public transportation. The city is planning for 100m "smart objects" including smart traffic lights, lamp posts, sensors, and cameras on its roadways, which will be used to monitor and enforce laws," wrote Fast Future for CityMetric.
But how will those smart cities look in the future and what can we expect from them and the specialists living and creating in them? "The number of smart cities around the world is expected to grow exponentially over the next few years and by 2050, 70 per cent of the world's population will be living in smart cities," believes Nick Ismail in his piece for information-age.com.
Moreover, it appears that 2030 will bring the introduction of Connected street lights, which will stream data between millions of devices and improve city services such as light, traffic, air quality, public safety and parking. Lighting technology will be at the heart of urban life in 2030 as well, helping deliver more sustainable and better-connected smart cities. "And if that wasn't enough, by 2050 take-aways will be delivered by drones, replacing motorbikes and cars. One pizza manufacturer has already tested drone delivery and some predict these automated flying machines will fill the skies replacing the couriers of today," adds Ismail.
The future, closer to us than we might think
By 2045, the futurists, quoted by dailymail, foresee 'talking' buildings, windows being replaced by augmented reality screens and self-healing, self-driving planes. Moreover, one expert believes we may even ditch technology completely and go back to pens and paper, while another predicts candles and incense sticks will become heavily regulated over health concerns.
The predictions have been made by artificial intelligence specialists, roboticists and futurologists from Australian universities as well as experts from UK-based plant hire company Hewden. Him, with futurologist Dr Ian Pearson, particularly focused on how buildings will adapt over the next 30 years. By the middle of the century, Dr Pearson believes buildings will have artificial intelligence 'personalities' and will be able to 'talk' to people. Homes and offices will collect and process data from various sensors to flag up when repairs are needed or when the heating needs to be turned on.
But some innovations are already here, surprising us. Sony is one of the brands that keeps on giving, on several areas and industries. The brand has recently announced a new series of SD cards it is touting as " the world's fastest." The maximum write speed for the SF-G series will soar up to 299 MB/s, while the read speed will hit 300 MB/s. "For comparison, Amazon's current bestselling SD card can only handle 80 MB/s read and write speeds. The cards will be available in 32GB, 64Gb, and 128GB variations. Part of this increase in speed capability is thanks to the cards' support of the UHS-II interface, which means the cards sport an extra row of connecting pins for better transfer speeds. Sony has yet to announce pricing for these speedy cards, but they have listed them as being available as soon as Spring 2017," writes Futurism.com.
According to Business Insider, Ford of Spain collaborated with Espadaysantacruz Studio to create a crib that simulates the conditions of driving to put your baby to sleep. Called the "Motor Dreams" crib, it was created for an ad campaign for their MAX models. It features sounds of an engine, gentle movement imitating traffic, and LED lights that mimic street lights. It's all controlled by a smartphone app that can reproduce your car's movement. Ford is thinking more about a real production model. The crib will be given away in a raffle.
A skin-like biomedical technology that uses a mesh of conducting nanowires and a thin layer of elastic polymer might bring new electronic bandages that monitor biosignals for medical applications and provide therapeutic stimulation through the skin. The biomedical device mimics the human skin's elastic properties and sensory capabilities.
"It can intimately adhere to the skin and simultaneously provide medically useful biofeedback such as electrophysiological signals," said Chi Hwan Lee, an assistant professor of biomedical engineering and mechanical engineering at Purdue University. "Uniquely, this work combines high-quality nanomaterials into a skin-like device, thereby enhancing the mechanical properties." You can read more at: https://phys.org/news/2016-11-biomedical-skin-like-bandage-stretchy-durable.html#jCp
What we can for sure see is that the future really looks beautiful. Let's hope it will also make us happy.