3 Growth Hacks Spotify uses in Brand Strategy
How did Spotify use growth hacks in their brand strategy?
Spotify Technology SA is a Swedish entertainment company founded by Daniel Ek and Martin Lorentzon. They launched their music, podcast, and video streaming service on 7 October 2008. The company's title is a combination of "spot" and "identify".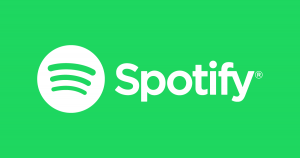 image source: spotify.com
Spotify by numbers
Spotify is currently available in 65 countries all over the world and provides access to more than 35 million songs. 
Spotify is a freemium service: it offers free basic features with advertisements or limitations, while additional features, such as improved streaming quality and music downloads, are offered via paid subscriptions.
On February 2018, the Swedish program went public on the New York Stock Exchange and its shares began trading on April 2018.
As of 2018, Spotify has 170 million active users, including over 75 million paying subscribers.

image source: techcrunch.com
Main reason for success – a disruptive product
On the music market, at the moment Spotify was launched, there were other products but they didn't cater to market's needs for music streaming services.
Spotify's Unique Value Proposition was to give users complete control and access to any song, on demand, for just $10/month, along with a free option that offered more than simple radio-style streaming—not to mention the fact that it was totally legal.
It was an instant success because it filled a market gap.
Spotify revolutionized the way people listened to music. It became popular with music streaming services consumers because it puts the control firmly in the user's hands, allowing them to select specific songs and create playlists. 
Spotify is interactive
One of its features decreased the friction of adoption: it allowed users to upload local tracks so they don't have to leave their own libraries and playlists behind in order to make the switch to Spotify.
Spotify filled the need for consumers but was able to control its growth.
Rolled-out with an invite-only system which helped the company generate buzz and increase demand through perceived scarcity.
Spotify attracted the tech-loving early adopters.
It integrates with today's shareable world: it's easy to share because each track, album and playlist has a unique URL. And it also caters to users' need to share the music with his/her friends on social platforms.
Here are 3 growth hacks Spotify uses in brand strategy
Partner Up – Spotify & Starbucks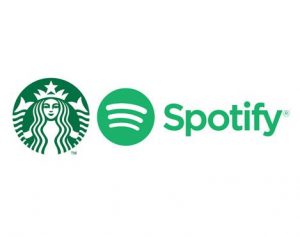 image source: news.starbucks.com
In 2016 Starbucks and Spotify became partners.
The goal of this partnership was to drive listenership to the streaming service and allow the chain coffee shops' customers to easily engage with music played at its 7,500 locations.
Through the Starbucks app, via location sharing, customers were able to favorite and add the music playing during a visit to a store. They were also able to influence Starbucks' future in-store playlists. Spotify's streaming became integrated with the beverage brand's popular mobile loyalty program, My Starbucks Rewards. My Starbucks Rewards and Spotify users earned "stars as currency" for subscribing to Spotify Premium. Customers who purchased Spotify's streaming packages were also eligible to earn more rewards points, which could have been redeemed for free beverages.
Piggyback on a thriving network – Spotify & Facebook Messenger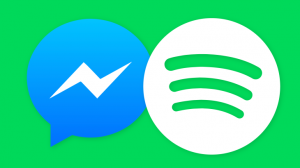 image source: techcrunch.com
In 2016, Spotify integrated with Facebook Messenger allowing people to share their Spotify songs or playlists directly within a chat box. Because each track, album and playlist has a unique URL, Spotify is sharing-friendly.
This integration accelerated Spotify's growth through referral traffic. Ultimately, millions of Facebook users also became advocates of the music platform because it filled the users' desire to share their music socially.
Data driven & User-Generated Content
'Thanks 2016, it's been weird"
Using their data insights about users' listening habits, Spotify put together their best ad campaign so far.
The campaign is called Thanks 2016, it's been weird, it was released on October 2016 and featured outdoor billboards containing funny messages based on the weird, wonderful and emotional playlists Spotify users had created.
During the course of the campaign's run, Spotify subscription growth easily broke all company records. The increase in monthly active users exceeded targets, with over 1 billion streams directly attributed to the campaign, and over half a million reactivated users.
The central focus of the campaign was customisation: Spotify wanted to re-state the freedom users have to mix up their playlists and get creative.
Did you like our article?
Subscribe to our newsletter so you can receive our content!
10 actionable growth hacks for startups
Do you want to learn how other start-up companies employed growth hacking strategies to bring their businesses to the next level?
Read our 10 actionable growth hacks list and get inspired! 
#growthhack1: use exit-intent popups to build a mailing list
Exit-intent popups are pop-ups that will identify when a user is trying to leave from your page and automatically display a last-minute offer or other forms of incentives.
The purpose of exit-intent pop-ups is to capitalize on your visitor's interest for your product or service and influence him to freely submit his email info.
Exit-intent pop-ups are a great tool for lead generation and can increase conversions.
Key takeaway

: use an out-of-the-box copy that attracts visitor's attention.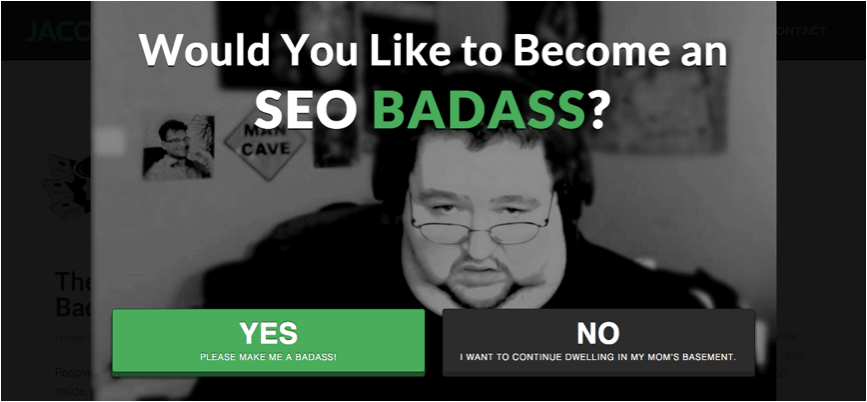 image: crazyegg.com
#growthhack2: answer questions on Quora, Reddit, LinkedIn
This growth hack is not a tool, but a long-term strategy.
If you want exposure for your startup, where better place to start than building your personal brand!
Put in time and effort to help people in your niche. Think of it as one of your daily chores and offer your knowledge and experience consistently. Position yourself as the expert in your field and your startup will garner attention and interest.
Key takeaway

: be consistent.
#growthhack3: learn about your competitors
Keeping an eye on your competition is an important part of running a successful business.
Do you want to know what your competitors are up to?
Here are three tools you can use to spy on them:  
SpyFu – a keyword research tool which provides insights into their most profitable keywords
Ghostry – a Chrome extension that reads any social media add-ons they have working in the background
BuzzSumo – a tool to help you uncover your competitors' content strategy
#growthhack4: create a survey
Consumers are fed up with company messages that are all about "our product", "our service", etc.
Treat your consumers as people and ask them questions about a specific topic of discussion that resonates with your niche.
The survey is a great way to make your consumers feel special because you shift your attention from your product to their interests, choices and likes.
It is also a great tool to increase your database and gather important information that you can use to improve and develop your product. 
Key takeaway

: focus on your customer's needs.
#growthhack5: offer a free version
Having a free version of your product with limited features, known as the freemium model, can be a super effective way to grow your user base.
It works for platforms such as Mailchimp, Canva and Lumen5. The free version of your product helps users wet their appetite for more and bring more users with word-of-mouth marketing alone.
Key takeaway

: spend enough time to make sure your product solves your customers' pain points and is truly valuable to them.
#growthhack6: out of the box offers
One of the quickest ways to see a spike in sales and traffic is by building creative offers.
If your product/service is the solution to your customer's problem, build your offer by going the extra mile. Here are a few examples:
risk reversal: free trial or money-back guarantee

bonus: add something extra

add urgency: limit the time of your offer
Key takeaway

: keep your customer's needs in mind when creating your offer.
#growthhack7: partner-up
Samsung and Dropbox have been partners since 2011. In 2014 they teamed up again to offer new Samsung devices with pre-installed Dropbox features and extra free 50GB for two years.
Key takeaway

: find partners that are relevant to your core customers and offer them value.
#growthhack8: piggyback on a thriving network
Spotify is an excellent example for this particular growth hack.
In 2016, Spotify integrated with Facebook Messenger allowing people to share their Spotify songs or playlists directly within a chat box. This integration accelerated Spotify's growth through referral traffic. Ultimately, millions of Facebook users also became advocates of the music platform.
Key takeaway

: make sure your business adds value to the network you want to tap.
#growthhacking9: referral marketing
Referral marketing means acquiring new customers at less cost when loyal customers recommend your product/services.
Dual-sided rewards encourage users to approach their contacts and engage in word-of-mouth marketing. By leveraging this approach, startups can grow tremendously within short periods.
Evernote's referral program is primarily responsible for the company's sizeable growth and financial success. New users who sign up from a referral get a free month of premium, while referrers get points they can redeem toward perks, such as up to 12 months of Evernote Premium.
Key takeaway

: make sure both the referrer and the referee receive valuable rewards.
#growthhack10: User-Generated Content
Testimonials, reviews, and comments from delighted buyers are some of the most powerful conversion drivers.
Why is UGC marketing so powerful?
Because consumers trust online reviews as much as personal recommendations and it's one of the most effective ways to build trust and social proof on social media.
Apple's #ShotOnIphone campaign is an ongoing customer content campaign at the core of Apple's marketing strategy. This campaign is actually providing for all content on Apple's Instagram account: instead of saying "look how great we are", Apple is showcasing their users' photographing skills and creativity.
Key takeaway

: focus on your customer's creativity.
Did you find our article useful?
Share it with your friends!