How will the city of the future look like?
Big data, Internet of Things (IoT), artificial intelligence (AI), robots, drones, autonomous green vehicles, 3D / 4D printing, renewable energy, virtual reality (VR),leap motion, eye controlled technology are just part of the present and new technologies that are here or will be here in the near future to influence our lives.
The cities are evolving as well, by becoming Smart Cities. From Singapore to Amsterdam and Barcelona, from Dubai to Stockholm,from New York to Manchester and even Alba Iulia in Romania, information and communication technology is used to enhance quality, performance and interactivity of urban services, to reduce costs and resource consumption and to increase contact between citizens and government. Smart city applications are developed to manage urban flows and allow for real-time responses.
The smart city concept integrates information and communication technology and various physical devices connected to the network (IoT) to optimize the efficiency of city operations and services and connect to citizens. Smart city technology allows city officials to interact directly with both community and city infrastructure and to monitor what is happening in the city and how the city is evolving.
According to the IESE Cities in Motion Index 2017, quoted by Forbes, which analyses all aspects that make up sustainability and quality of life in 180 key world cities, New York is again the smartest city in the world, followed by London and Paris.
To compile the index, the authors analyze 79 indicators across 10 different dimensions of urban life: the economy, technology, human capital, social cohesion, international outreach, the environment, mobility and transportation, urban planning, public administration and governance. The results show that almost all of the dimension measured in the ranking are led by European and North American cities. The exception is technology, where Taipei rules.
In top 10 are present three other American cities (Boston 4th, San Francisco 5th, and Washington, D.C. 6th), two other European cities (Berlin 9th and Amsterdam 10th), and two Asian (Seoul 7th and Tokyo 8th).
Moreover, according to CityMetric, Singapore is also a leading example of a smart city, and is constantly evolving its "city brain," a backbone of technologies used to help control pollution, monitor traffic, allocate parking, communicate with citizens, and even issue traffic fines. "The behavioral aspect is not to be overlooked. Singapore's "brain" is attempting to modify human behavior – for example, one system rewards drivers for using recommended mapped routes, and punishes those who do not. Ultimately, Singapore's planners hope to discourage driving, and guide most commuters to making greater use of public transportation. The city is planning for 100m "smart objects" including smart traffic lights, lamp posts, sensors, and cameras on its roadways, which will be used to monitor and enforce laws," wrote Fast Future for CityMetric.
But how will those smart cities look in the future and what can we expect from them and the specialists living and creating in them? "The number of smart cities around the world is expected to grow exponentially over the next few years and by 2050, 70 per cent of the world's population will be living in smart cities," believes Nick Ismail in his piece for information-age.com.
Moreover, it appears that 2030 will bring the introduction of Connected street lights, which will stream data between millions of devices and improve city services such as light, traffic, air quality, public safety and parking. Lighting technology will be at the heart of urban life in 2030 as well, helping deliver more sustainable and better-connected smart cities. "And if that wasn't enough, by 2050 take-aways will be delivered by drones, replacing motorbikes and cars. One pizza manufacturer has already tested drone delivery and some predict these automated flying machines will fill the skies replacing the couriers of today," adds Ismail.
Less known things that might surprise you about technology in general
One of the first Computer Science Ph.Ds was earned by a nun
Sister Mary Kenneth Keller, born in Ohio in 1914, entered the Sisters of Charity in 1932 and professed her vows in 1940. She went on to study at DePaul University, where she received a B.S. in Mathematics and an M.S. in Mathematics and Physics. n 1965, she became the first American woman to earn a Ph.D. in Computer Science. Afterwards, Sister Keller founded the computer science department at Clarke College in Iowa, which she directed for 20 years. She was passionate about providing access and information to everyone, not just computer scientists. She also envisioned a world in which computers made people smarter and learned to think on their own.
Changing fonts can save printer ink
Some say that if you use a 'lighter' font (with a lighter stroke), you'll use slightly less ink per page. Based on the assumption that you're only printing with inkjet printers that use the old style cartridges (not ink tanks, and not toner based laser printers), you'll likely save about 10 per cent ink by switching to one of the lighter fonts.
QWERTY was designed to slow you down

There are actually two theories to this. The first one starts to make sense when you look at manual typewriters. If someone typed too fast, the keys would jam. QWERTY placed common alphabets at a distance from each other and slowed typists down. Another theory is that telegraph operators designed the QWERTY layout because it was easier (and faster) to decipher Morse code.
92 per cent of the world's currency is digital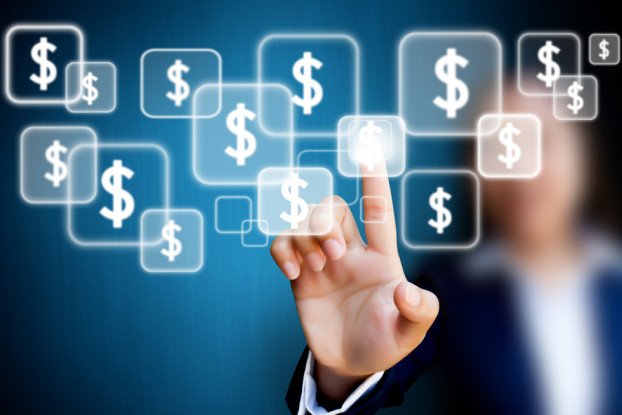 This means that most of the money you earn, transact with, use to buy goods/services and so on exists only on computers and hard drives. Only an estimated 8 per cent of currency globally is physical money. Banks store electronically too and the 92 per cent includes all kinds of transactions done using credit/debit cards and wire transfers.
Russia built a computer that ran on water, in 1936
Before the miniaturization of transistors, computers had a much more visible system of counting: things like gears, pivots, beads and levers were often used and they needed some sort of power source to function. Vladimir Lukyanov built something like this in 1936, but he used water to create a computer that solved partial differential equations. In images of the Lukyanov computer, you'll see a complex system of interconnected tubes filled with water. It was also called a Water Integrator and was originally designed to solve the problem of cracking in concrete. It's now found in Moscow's Polytechnic Museum.
The first mouse was made of wood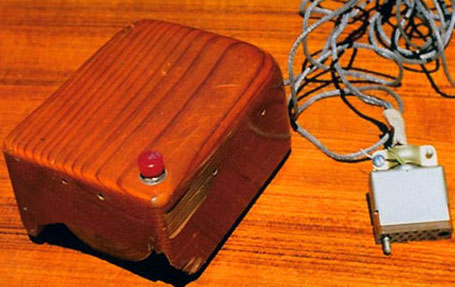 It was created by Doug Engelbart, with the assistance of Bill English, during the 1960's and was patented on November 17, 1970. According to computerhope.com, the mouse was originally referred to as an "X-Y Position Indicator for a Display System" and was first used with the  Xerox Alto computer system in 1973. Using the mouse, Douglas was able to demonstrate moving a mouse cursor on the Alto computer in  The Mother of All Demos. However, because of its lack of success, the first widely used mouse is the mouse found on the  Apple Lisa computer.
A killer may have gone free due to using Firefox
The Florida sheriff's office that investigated Caylee Anthony's death confirmed that it overlooked a computer search for suffocation methods made from the little girl's home on the day she was last seen alive. WKMG reports that sheriff's investigators pulled 17 vague entries only from the computer's Internet Explorer browser, not the Mozilla Firefox browser commonly used by Casey Anthony. More than 1,200 Firefox entries, including the suffocation search, were overlooked.
The data can be corrupted by high-energy particles coming from the space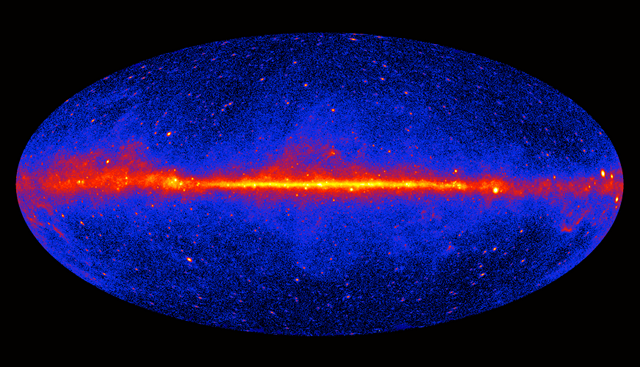 According to makesenseof.com, some scientists have suggested that  Toyota's unintended acceleration fiasco may have been caused by the interference of cosmic rays combined with inadequate fail-safes for recovering from randomly introduced errors. For most PC users, however, invaders from outer space are not the most likely source of trouble. Good ole-fashioned human error is a more common cause. Corruption usually occurs because of user error (deleting or modifying files that shouldn't be tampered with), malicious activity (malware) or routine degradation and failure of storage media (mechanical and solid state drives).
The first ever webpage still exists at its place
Invented by Tim Berners Lee, the first website went live at research lab CERN in 1990. Created by 60-year-old British computer scientist  Tim Berners-Lee in 1990, while he was a researcher at the European Organization for Nuclear Research (CERN), the website still exists today. The site's address is info.cern.ch, and provides information about the world wide web – the platform that sits on top of the Internet, where documents and pages on the Internet can be accessed by URLs, and connected to each other via hyperlinks.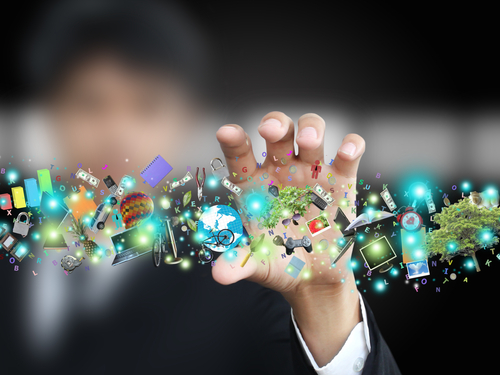 And, on a lighter tone…
In 2012, at least 17 newborn girls were named Siri
A red panda is native to the Himalayas and southwestern China. Translated, the English word for red panda is "Firefox," which is where the browser gets its name.
The world's first camera took eight hours to snap a photo.
About 1 out of 8 married couples actually met each other on the Internet.
There is a factory in Japan which can run unsupervised for 30 days at a time — it's almost entirely manned by robots.
In Mexico City, there are special bins that offer free wifi to people who properly dispose of their dog poop.
On an average day, a typist's hands fingers travel 12.6 miles.
The first banner advertising was used in 1994.
Two hundred and twenty million tons of old computers and other technology devices are trashed in the United States each year.
Crazy, full of imagination technology pieces of 2017
Virtual reality shoes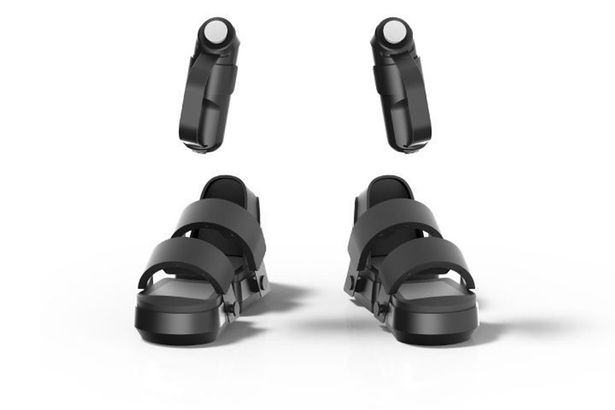 Developed by Japanese firm Cerevo, the Taclim VR shoes allow you to use your feet to interact with what you see in virtual reality. The shoes give haptic feedback and vibrations to the wearer to give them a sense of walking on the virtual surfaces they see in front of them. In enabling haptic feedback for the user's hands and feet according to images and sounds in a VR space, users become more engrossed, resulting in increased immersion above and beyond what is currently experienced visually and aurally when in a VR world. Moreover, the 9-axis sensor built into the shoes and gloves functions as an input device to capture movement to reflect actions in the VR space.
Taclim is scheduled to be available for purchase in Autumn 2017 at a price between US$1,000 to 1,500.
Hypersuit
Another extension to a virtual reality headset, the Hypersuit is a wearable simulator from French firm THEORY that gives the wearer the impression they have wings or can fly like a superhero. Intended for entertainment and gaming purposes, users lie on a movable exoskeleton platform and use their arms to control the direction of "flight", while a fan blows in their face to complete the illusion.
Moreover, it allows the user to experience completely unique sensations, including flying through the air and swimming in the deep sea. One can even have a go at being an astronaut, without the terrifying notion of actually being launched into space. The suit relies on arm movements which control the user's journey. The exoskeleton requires the user to lie down on top of it, wearing a virtual reality headset. Then, the user's real life movements control how their character moves on screen.
Hair-growth helmet 
The iGrow hair growth system from Apira Science is a helmet that blasts your scalp with a combination of red lasers and LEDs, in an attempt to stimulate hair growth. The company claims that the lasers energize and stimulate activity within the hair growing cell walls, resulting in a return to the normal function of the hair follicles.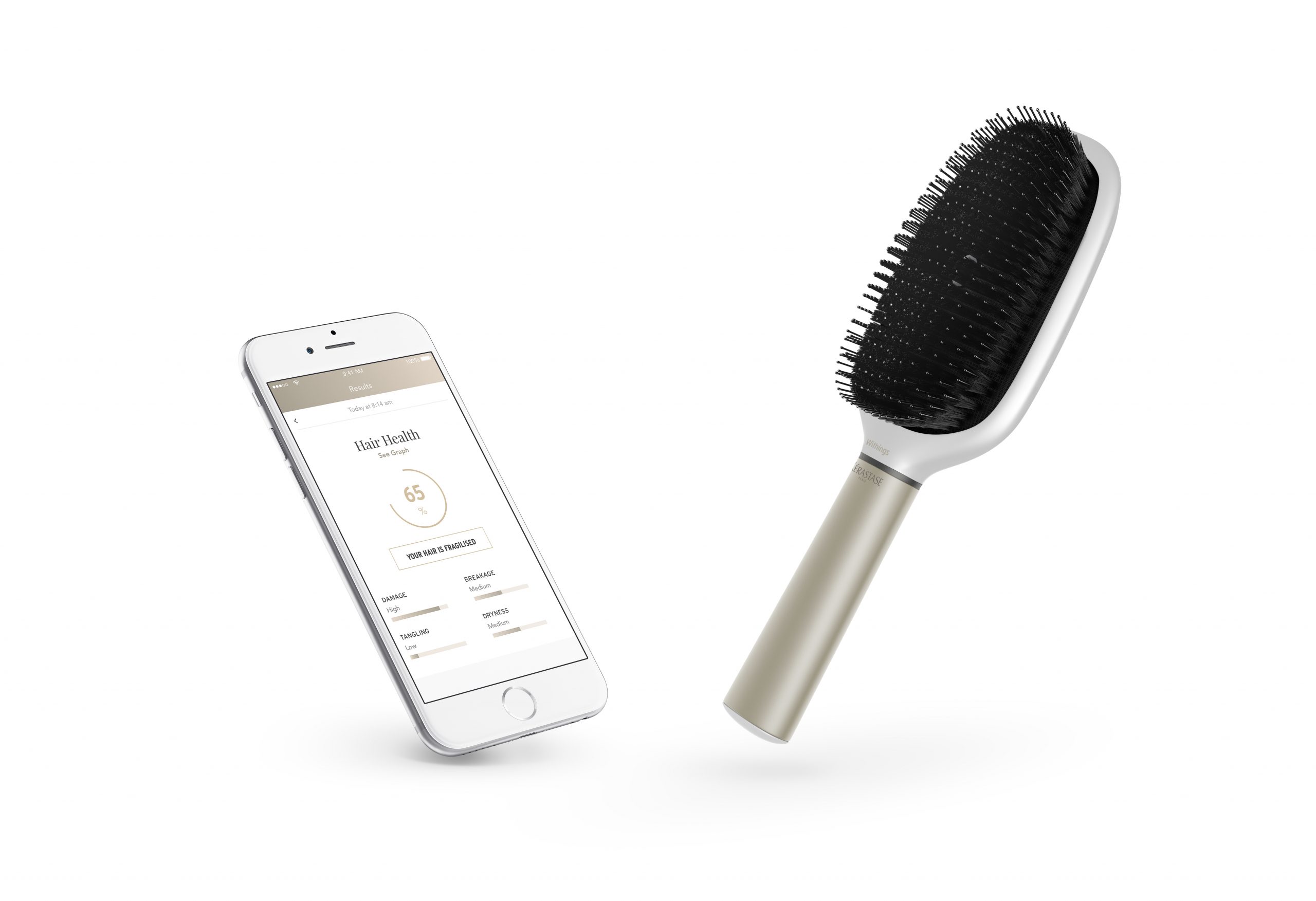 The result of a collaboration between hair care giant Kerastase, tech giant Withings and L'Oreal's Research and Innovation Technology Incubator, the Hair Coach claims to be the world's first smart hairbrush. It uses a range of sensors to spot hair damage and offer feedback to users on how to better protect their hair, including changes to brushing technique.
The Kérastase Hair Coach—with technology powered by Nokia-owned Withings—features a microphone (which listens to the sound of brushing to identify patterns); an accelerometer and a gyroscope (to analyze brushing patterns and count brush strokes); and sensors (to determine if the the brush is being used on dry or wet hair). Via connection with an app, the brush can tell a user how how often hair is brushed—and also warn consumers if they are brushing too hard. The brush vibrates to warn against over brushing.
TVs that seem to disappear
In the biggest trend to emerge, Sony, LG, and Samsung all moved the core components of their flagship TV sets to outside hardware. At Samsung, all of the ports and brains of its new models are  housed in an outside box. Sony built the guts for its top TV  into a subwoofer that doubles as a TV stand.
Moreover, quite impressive is the new  W7 from LG is just 2.5mm thick and everything that actually powers the TV is jammed into a futuristic-looking Dolby Atmos soundbar.
LG also had a prototype OLED TV that is  40 percent translucent.
Honda's self-balancing motorcycle
Honda showed off its new  Riding Assistant technology that keeps your bike balanced when it's moving at speeds less than three miles per hour. The tech will even work when the rider isn't onboard, meaning you never have to worry about your bike falling over on its side ever again.
This is still a concept, so we might never get the tech in actual bikes, but it sure looks cool.
Sony's crazy thin e-ink watch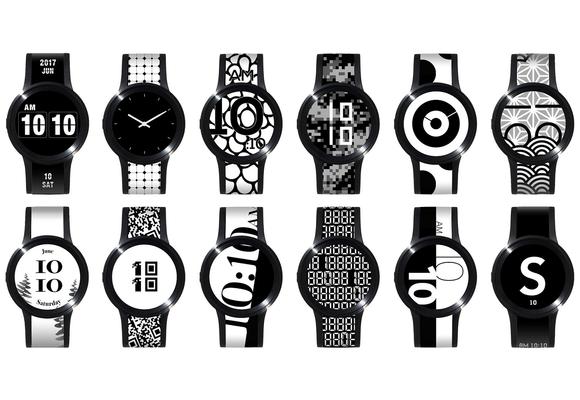 Sony showed an amazing concept for  an e-ink smartwatch. The concept can change design and color, making it possible for anyone to switch it up depending on what they are wearing or their mood. Moreover, the surprise comes also from the fact that the e-ink display is thinner than a credit card.
The FES Watch U is available in Japan already, from Sony's First Flight crowdfunding site, as well as several fashion boutiques in Tokyo. The "premium black" model costs 60,000 yen ($544), while the regular steel finish sells for 46,000 yen ($417) with a black or white strap. Both variants are considerably more expensive than the 29,700 yen original, and it's unlikely any of them will see an official release outside Japan.
Smart bed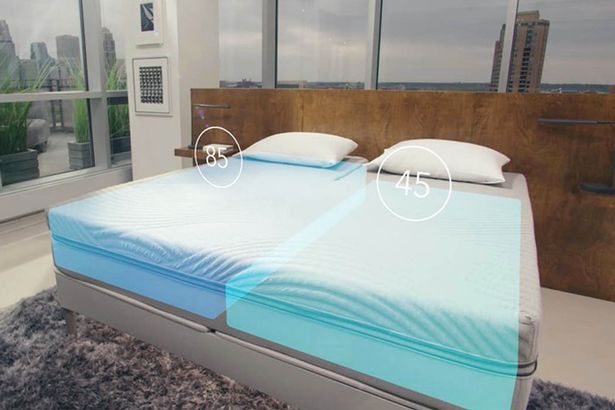 The Sleep Number 360 smart bed is designed to keep you comfortable by sensing your movements and automatically adjusting your position to keep you sleeping blissfully. It works even when there are two people in the bed, can warm your feet to help you fall asleep faster, and even raise you head to stop snoring.
According to verge.com, the 360 has three layers that are integral to making it work. There's the actual mechanics at the bottom of the bed that physically move you up and down, but there's also the air chamber, which adjusts to your position to make you comfortable. On top of all that, there's the cushion layer that makes the bed something you'd actually want to lay on.
Levitating speaker
 LG's PJ9 speaker works using powerful electromagnets housed inside the accompanying "Levitation Station," which keep the speaker suspended for up to 10 hours at a time. When the battery begins to run low, the speaker automatically descends to the Levitation Station and begins to charge wirelessly with no intervention from the listener and no interruption in the music.
The device works works using powerful electromagnets housed inside the accompanying "Levitation Station," which keep the speaker suspended for up to 10 hours at a time. Its levitation is achieved through the use of electromagnets, rather than witchcraft, powerful units that support an omni-directional speaker that LG says features Dual Passive Radiator technology for "flush mid-range tones and crisp highs."