Gmail's Makeover And How It Can Influence Your Working Habbits
Google gave Gmail a big refresh that will change the way you interact with it and help you even more than before. As first reported by The Verge, the upgrade was revealed in a message from Google to administrators of G Suite accounts. The message stated that the changes would be coming to consumer Gmail accounts, as well as G Suite accounts.
The redesigned Gmail web interface is focused on quick productivity actions. Google is introducing features such as attachments chips, hover actions, and hover cards to make the static inbox experience more interactive without the need for multiple clicks. Google is also surfacing several labs features that were previously hidden in Settings > Labs, like canned responses, the ability to create multiple inboxes, and a preview pane to customize your preferences for different inboxes.
According to Fox News, Gmail is getting deeper G Suite interactions to directly create and edit Google Calendar invites, send notes to Google Keep, and manage to-do items in Tasks. "Google is also releasing new Tasks mobile apps for Android and iOS for adding and editing tasks from your smartphone to manage in Calendar and Gmail. The Tasks app is available today in the iOS App Store and Google Play Store.  Aside from the new-look web app and Tasks mobile apps, Google also announced new security features, including Gmail confidential mode, and expanded AI capabilities like smart replies and notification priority settings," added Fox News.
Here are some of the main changes and how they will impact you
Smart Replies and Smart Filtering
New AI-powered features in Gmail, like Nudging, Smart Reply and high-priority notifications, can now help you spend more time on work that matters. With Nudging, Gmail will proactively remind you to follow up or respond to messages, making sure you don't drop the ball.
Smart Reply offers pre-set, one-line replies for any email. The replies are not just standard answers, but customized according to each email, due to machine learning, that suggest responses to you, in order to help you save time. Moreover, two new features promise efficiency improvements through smart filtering. Notifications for high-priority messages help you focus on your most important work. From now on, Gmail will pay attention to frequent newsletters and suggest you give them the boot by unsubscribing if you stop opening them.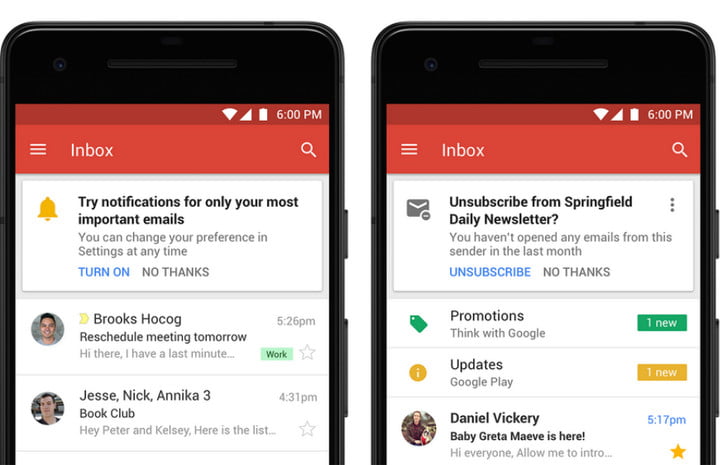 Protection from risky emails 
Built-in Information Rights Management (IRM) controls also allow you to remove the option to forward, copy, download or print messages. This helps reduce the risk of confidential information being accidentally shared with the wrong people. Confidential mode will begin to roll out to consumer Gmail users and a limited number of G Suite customers in the coming weeks (broader rollout following).
Moreover, the redesigned security warnings within Gmail are simpler to understand and give a clear call to action to employees. These bigger, bolder warnings will help you be even more informed when it comes to potentially risky email.
"When you compose sensitive email you can remove options to forward, copy, download, or print the messages. The option to protect your outgoing email with two-factor authentication — the recipient needs to log into their own email and click to receive an unlock code via SMS text to read the message you sent could help you sleep better at night if you later discover their email account was hacked," wrote Digital Trends.
Icons for Action Buttons
In the old Gmail interface, you'll find the action buttons in the inbox along with a text label. In the new interface, Google has turned these action buttons into icons — you can't read any text labels anymore. Also, this new icon menu has got two additional actions for quick access: Mark as read/unread and Snooze.
New Sidebar
It shows icons of other Google services like Calendar, Keep and Tasks. Tapping any icon expands the sidebar allowing you to quickly access your calendar entries, notes or tasks synced to your Google account. Any changes you do in these apps is synced back to the cloud and is instantly accessible on your other devices. You can also access third-party Gmail add-ons from the same side panel.
New native offline capabilities in Gmail on the web can help you work without interruption when you can't find Wi-Fi. Search, write, respond, delete, or archive up to 90 days of messages, just as you would working online, but offline.
You can use Tasks to create tasks and subtasks, and even add due dates with notifications to help you stay on track. And because Tasks closely integrates with G Suite, you can simply drag and drop an email from Gmail into Tasks to create a to-do. Tasks with due dates can also appear in your Calendar. You can download the new Tasks mobile apps from the Google Play Store or  iOS App Store today.
Different Display Modes
According to Economic Times, Google has added three view modes: default, comfortable and compact. Default view is ideal for large screens where you can open the preview of attachment in an email right from the inbox. This means you don't need to open the email itself. Comfortable view is great for laptop users – it has large text which is easy to read sans the preview option of the default view. Compact view is the same as before.
The Disadvantages of Using WhatsApp for Business
Separating personal from business may prove to be sometimes more difficult than expected, especially when using certain social media apps and tools for both purposes.
Therefore, after detailing the advantages of using WhatsApp for business, we've decided to also show you the disadvantages that come with choosing to use it on a professional level.
Looking to turn disadvantages into opportunities? Join our masterclass!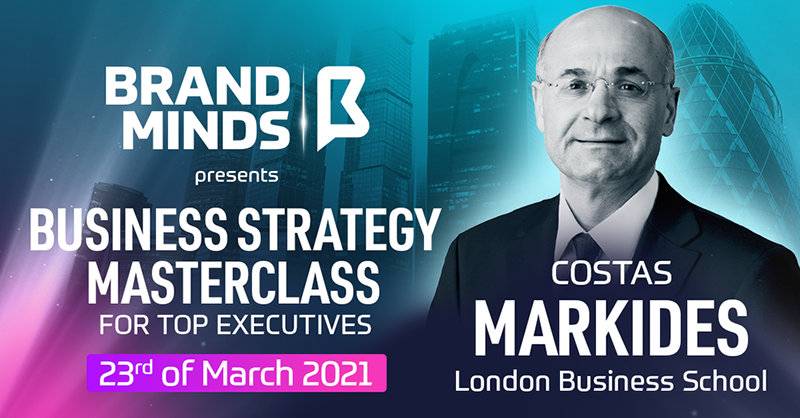 It does not provide enterprise data protection
WhatsApp accesses and stores the address books of employees, which contains confidential corporate and customer data. While the app has announced an improved encryption, it currently does not provide enterprise-grade encryption (e.g. metadata, storage on device, storage on servers, etc). In addition, free services like WhatsApp require user data to make a living. taking in account the fact that it has announced to generate revenues from businesses by allowing them to communicate to customers, it's important to understand that such a business model requires knowledge of your users and is in conflict with minimal use of personal data, general data reduction and strong data protection.
"Hidden in the legal mumbo jumbo of "Terms of Service" of a consumer chat app are the following key issues. First, consumer applications cannot guarantee that conversations or files exchanged are confidential. Second, it is also necessary to stress that chats in applications like WhatsApp are not erased, they just become hidden and archived in the database of the app (including our status updates). Companies have secrets they want to keep, whether it's because of regulatory issues, SEBI requirements, or patient confidentiality in the case of healthcare. Consumer chat applications are a ticking time bomb for business users," writes Gadgets360.
Moreover, according to cwsi.ie, in 2015 WhatsApp was ranked last by the Electronic Frontier Foundation on the subject of users' data privacy. Even more worryingly, the European Court of Justice ruled that U.S. based companies in the tech industry – specifically Facebook – do not afford an adequate level of protection of personal data for their European users. Considering that WhatsApp is owned by Facebook and the terms and conditions of WhatsApp's usage wrangle users into agreeing to have certain data passed from WhatsApp to Facebook, then this is a double blow for user privacy.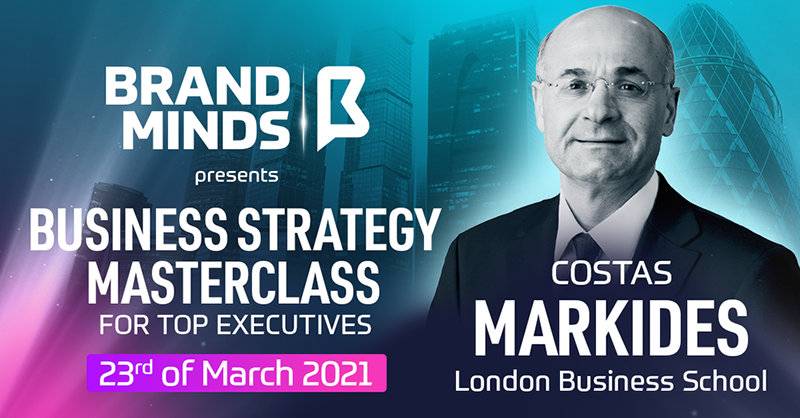 2. WhatsApp is a cloud service based in the USA
Due to the weak data protection laws and the broad surveillance in the USA, cloud services based or hosted in the USA cannot ensure comprehensive data protection required by businesses and their employees and customers.
3. It mixes private and business communication
For enterprises it is important to separate business from private communication. First, a dedicated enterprise messaging app allows faster access and gives a better overview of everything that is relevant for the internal communication, and thus increases the productivity. Second, confidential business content is protected in enterprise messaging apps, because it can only be shared with colleagues and the content distribution is under control of the enterprise IT. Third, the motivation and satisfaction of employees are improved with a professional messaging tool, since people value a separation of private and business communication.
However, even while paying a lot of attention, switching from a personal account to a business one and vice-versa can sometimes prove to be creating problems.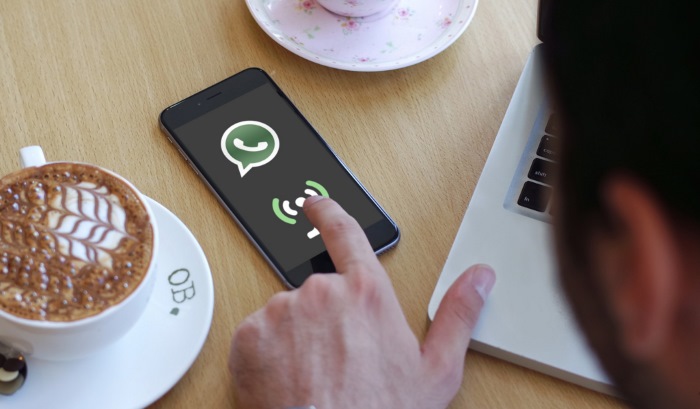 4. It does not support enterprise file sharing solutions
Businesses often use enterprise-grade file sharing solutions like Microsoft Sharepoint, Box, Business Connector, etc, which are not supported by WhatsApp at all. "Since file sharing with colleagues and teams is a regular use case, employees should be able to directly share documents from their file sharing solution via the enterprise messaging app. This helps to simplify and accelerate workflows," writes TeamWire.
5. Still having to manage the tasks
HiboxCo highlights the fact that just by messaging a group about new ideas doesn't mean they'll actually amount to anything. There have to be clear, concise tasks and deadlines in order to see projects through effectively. "Though a good place to openly discuss new ideas and innovative solutions, group chat alone doesn't get you to the finished product. Without task management, WhatsApp doesn't allow you to organize actionable to-dos needed to get the job done."
6. Lack of transparency
What most of us seemed to have forgotten is the fact that the app was meant for casual conversation. Anyone can create groups and anyone can private message anyone. "If the organization within your business needs remain as transparent as possible to those at the top, this is not an ideal situation. If multiple groups and side groups are created, that can lead to a lack of knowledge and clarity, which in turn makes it difficult for managers to know what's really going on," adds The Hibox Team.
Online identity protection – 10 simple tips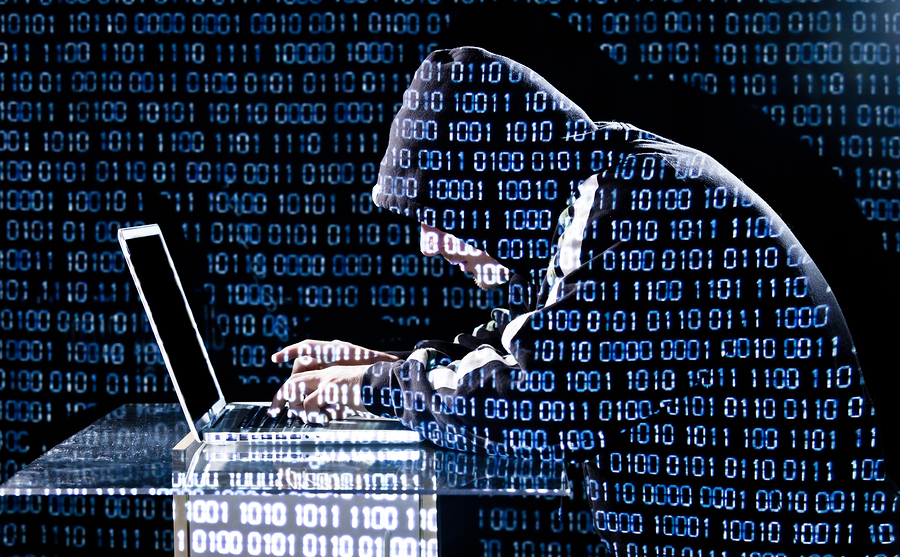 source: medibid
Up to 9 million Americans have their identities stolen each year according to the FTC , and at least 534 million personal records have been compromised since 2005 through attacks on the data bases of businesses, government bodies, institutions, and organizations. For some consumers, identity theft is an annoying inconvenience and they can quickly resolve their problems and restore their identity. For others, recovering their identity can cost hundreds, even thousands of dollars, take months to resolve, cause tremendous damage to their reputation, cause them to lose job opportunities, even influence the rejection of loan applications for school, homes or cars because would-be employers or loan companies see the damage on your credit scores.
In order to help you prevent these types of situations, here are some tips & tricks you should follow:
Protect your computer and smartphone with strong, up-to-date security software. If your computer or phone is infected with malicious software, other safeguards are of little help because you've given the criminals the key to all your online actions. Also be sure that any operating system updates are installed.
Learn to spot spam and scams. Though some phishing scams are easy to identify, other phishing attempts in email, Instant Messaging, on social networking sites, or websites can look very legitimate. The only way to never fall for phishing scam is to never click on a link that has been sent to you by someone you don't know, looks suspicious or from a third party that you didn't request the information from.
Use strong passwords. Weak passwords are an identity thief's dream – especially if you use the same password everywhere. You need passwords that are long (over 10 characters), strong (use upper and lower case letters, numbers and symbols), and that have nothing to do with your personal information (like name, age, birth date, pet)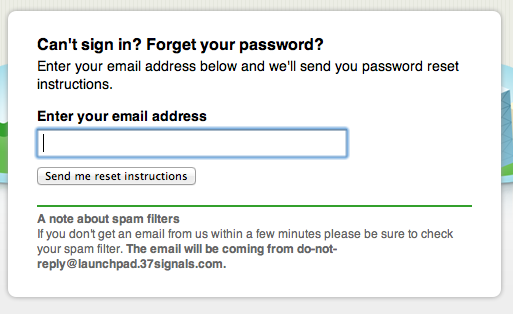 Use multiple passwords. Have more than one password for online accounts or – if it's cracked – thieves will be able to gain access to all your private data at once.
Freeze your credit. Criminals use stolen ID's to open new lines of credit. You can thwart their efforts to use your identity by simply locking (called freezing) your credit so that no new credit can be given without additional information and controls.
Monitor & review your credit scores and bank data. Look too see if there are new credit cards, loans or other transactions on your account that you are not aware of. If there are, take immediate steps to have these terminated and investigated.
Only use reputable websites when making purchases. If you don't know the reputation of a company that you want to purchase from, do your homework. How are they reviewed by other users? Do they use a secure, encrypted connection for personal and financial information?
Stay alert. Watch for common signs of identity theft like:
false information on your credit reports, including your personal numeric code, address(es), name or employer's name.
Missing bills or other mail. If your bills don't arrive, or come late, contact your creditors. A missing bill may indicate that an ID thief has hijacked your account and changed your billing address to help hide the crime.
Getting new credit cards sent to you that you didn't apply for.
Having a credit approval denied or being subjected to high interest rates for no apparent reason.
Receiving calls or notices about past due bills for products or services you didn't buy.
Exclude important personal information from your social media profile. On Facebook, that means culling any 'friends' you don't know, minimizing the details in your 'About Me' section and being selective about hitting the 'like' button, all of which will make you harder to find.

source: backtoyourcountrynavigator
Check your social media & phone privacy settings. Change all Facebook settings to "Friends Only" for all posts for a more secure profile. Facebook often makes changes to these settings and, when it does so, can even reset your secure settings. Moreover, turning your GPS location settings to "off" can also keep your family's whereabouts more private.