How to Scale your Business with these 6 Strategies
If you are an entrepreneur looking to scale your business, this article will provide you with 6 scaling strategies.
But before we talk about scaling, let's establish the difference between growth and scale.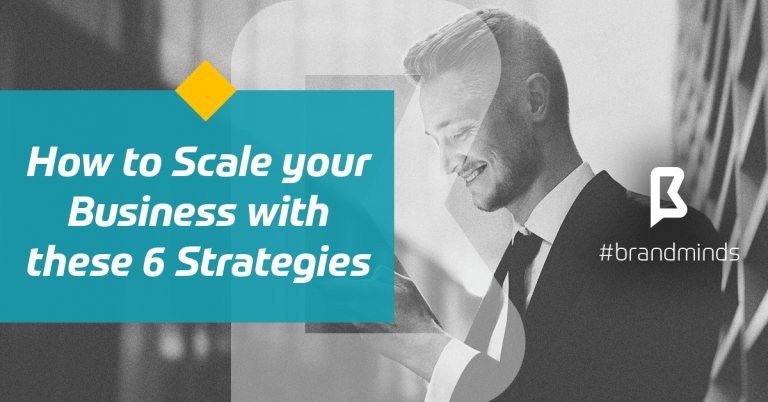 Growth vs scale
Growth means adding resources at the same rate that you're adding revenue.

Scale is about adding revenue at a rapid rate while adding resources at an incremental rate.

Scaling growth is about creating business models and designing your organization in a way that easily scales in order to generate consistent revenue growth and avoid stall-points without adding a ton of extra cost and/or resources along the way.

Edisonpartners.com
Here are 6 strategies to scale your business
1. Focus on Renewals
[bctt tweet="Depending on your business model, renewals are a smart way to scale your business." username="brand_minds"]
It's the low hanging fruit wisdom: why struggle to acquire new customers when you can generate revenue from the people who already know your brand and use your product? Latest statistics say it's five times less expensive to keep an existing customer than to attract a new one.
To boost your renewals and improve your retention rates:
Look at your subscribers from a long-term relationship view;
Adopt a customer-centric strategy and customer success;
Build your company values with your customers at heart.
How can you use email to boost renewals?
Here are 4 tips via pure360.com:
1. Start early
Don't wait until the last minute to send your renewal email to your subscribers! It's best if you start eight months before the due date. This gives you plenty of time to do some customer inquiry and request feedback:
Are your customers happy with your product?
Do they have complaints that you need to solve?
Most importantly it gives you time to warm them up before you ask them to pay again.
2. Create a drip campaign
Change your approach: turn renewals into an important business objective.
Instead of writing one email, create a drip campaign:
Write the copy of your email as carefully as any other piece of content;
Emphasize the benefits of renewal;
Incentivize your subscribers and use Cialdini's 6 Principles of Influence.
Robert Cialdini is speaking at BRAND MINDS 2019 
[bctt tweet="Use email drip campaigns to boost your renewals." username="brand_minds"]
3. Extend deadline
Extend your subscription's renewal. If your subscribers didn't renew their subscription, find out the reason. If it's a money problem, offer them a lower package; if it's your product, find out what are their complaints and solve them.
4. Turn your renewals into brand ambassadors
Once your subscribers renew their subscription, give them a celebratory card or incentivize them to recommend your product to their friends.
[bctt tweet="Brand scaling is driven by customers, not by businesses, large or small." username="brand_minds"]
2. Focus on users, not buyers
Harvard Business Review has recently conducted an online survey of more than 5,000 U.S. consumers and asked them about 50 different brands, both digital and traditional. The respondents were asked them about their perception, usage, preference, and advocacy for the brands.
Analysing the brands, the researchers observed two distinct directions:
Traditional brands focus on positioning themselves in the minds of their customers, engaging them as buyers;
Digital brands focus on positioning themselves in the lives of their customers, engaging them more as users than as buyers, shifting their investments from pre-purchase promotion and sales to post-purchase renewal and advocacy.
Here are the main findings of the survey:
Purchase brands focus on creating demand to buy the product, while usage brands focus on creating demand for the use of the product;
Purchase brands emphasize promotion; usage brands emphasize advocacy;
Purchase brands worry about what they say to customers; usage brands worry about what customers say to each other;
Purchase brands try to shape what people think about the brand along the path to purchase; usage brands influence how people experience the brand at every touchpoint;
Usage brands think of customers less as one-time buyers and more as users or members with an ongoing relationship;
Survey respondents showed more loyalty to usage brands and had stronger advocacy in the form of spontaneous recommendations to others;
Survey respondents showed a higher preference for usage brands over competitors, not just in making the purchase but in a willingness to pay a premium in price: they were willing to pay a 7% premium, were 8% less likely to switch, and were 2x as likely to make a spontaneous recommendation of the brand.
3. Focus on developing your product
Developing a great product leads to growth and scaling for your business.
So look at your product as an ongoing process of improving, testing, developing etc.
[bctt tweet="Spotify's main reason of success relies on its disruptive product." username="brand_minds"]
Spotify's Unique Value Proposition was to give users complete control and access to any song, on demand, for just $10/month, along with a free option that offered more than simple radio-style streaming—not to mention the fact that it was totally legal. It was an instant success because it filled a market gap.
Learn more: 3 Growth Hacks Spotify uses in Brand Strategy
4. Test and learn quickly
Don't be afraid to submit your product to continuous testing, evaluate your results and improve your product accordingly – apply the 10,000-experiment rule to develop your product.
Giant tech companies have been developing fast and the driving force behind their achievements is the scientific method of experimentation. Google and P&G run 7000 experiments a year, Amazon – 2000 and Facebook – more than 100,000! (source: fastcompany.com).
[bctt tweet="Apply the 10,000-experiment rule to develop your product." username="brand_minds"]
Canva's management postponed the launch of its graphic design platform to the public until they had a great product. Through testing with their core subscribers they learned that their product had to perform a very important task which was not technical – empower their users, help them overcome their belief that they were not graphic designers therefore they didn't have the skills and abilities to design.
Learn more: How Canva acquired 10 million users within 5 years
5. If possible, take advantage of social media platforms
Spotify used the power of social media platforms to scale their business.
In 2016, Spotify integrated with Facebook Messenger allowing people to share their Spotify songs or playlists directly within a chat box. Because each track, album and playlist have a unique URL, Spotify is sharing-friendly. This integration accelerated Spotify's growth through referral traffic. Ultimately, millions of Facebook users also became advocates of the music platform because it filled the users' desire to share their music socially.
6. Leverage Influencer Advocacy
Guy Kawasaki learned about Canva through one member of his social media team who was using Canva to create graphics for his posts. When the people at Canva noticed Guy's social media graphics were designed with their tools, they contacted him and so he became Chief Evangelist of Canva. The reason Guy was attracted to Canva was that it "could democratise design just as Apple democratised computers and Google democratised information".
Guy Kawasaki coming to Canva and supporting it helped the online design platform double its users' numbers.
Wrapping Up
To scale your business implement these 6 strategies:
Focus on renewals;
Focus on users, not buyers;
Focus on developing your product;
Test and learn quickly;
If possible, take advantage of social media platforms;
Leverage Influencer Advocacy.
Join the Conversation
Get in touch with us on Facebook and Twitter. We'd love to hear your views!
How to inspire innovation in your employees
According to McKinsey & Company and its global innovation survey, innovation is critical to growth, particularly as the speed of business cycles continues to increase. Most companies understand the importance of innovation, but fall short when it comes to execution. "We define innovation as creativity plus delivery, helping our clients transform their innovation performance by focusing on four requirements for innovating at scale: strategy, pipeline of ideas, execution, and organization."
Following a multiyear study comprising in-depth interviews, workshops, and surveys of more than 2,500 executives in over 300 companies, including both performance leaders and laggards, in a broad set of industries and countries, the company discovered the ingredients that lead to innovation.
Since innovation is a complex, company-wide endeavor, it requires a set of crosscutting practices and processes to structure, organize, and encourage it. The first four, which are strategic and creative in nature, help set and prioritize the terms and conditions under which innovation is more likely to thrive. The next four essentials deal with how to deliver and organize for innovation repeatedly over time and with enough value to contribute meaningfully to overall performance.
Who are those essentials? Aspire,Choose, Discover,Evolve,Accelerate, Scale, Extend, Mobilize.
Even there is no proven formula for success, particularly when it comes to innovation, McKinsey & Company's representatives firmly believe that if companies assimilate and apply these essentials—in their own way, in accordance with their particular context, capabilities, organizational culture, and appetite for risk—they will improve the likelihood that they, too, can rekindle the lost spark of innovation. In the digital age, the pace of change has gone into hyperspeed, so companies must get these strategic, creative, executional, and organizational factors right to innovate successfully.
One can read more on the subject here.
How this transfer to the employees? According to Forbes, there are three tools that can inspire innovation to the employees: giving employees the permission to learn, motivating people to go places they wouldn't otherwise go and sharing experiences across management lines. "Asking employees to keep a Best Practice Journal is another way to inspire employees to learn by observing what's happening around them. Ask your people to document examples of great performance as they see it happening out in the world and make time for sharing these observations at regular staff meetings," added Mark Murphy for Forbes.
Another set of great ideas may be found here.