3 drivers of innovation: customers, product, service
In our previous article on innovation, What are the 4 types of innovation? we talked about how employers are expecting employees to have innovation-focused skills, the definition of innovation, the difference between innovation, creativity and invention and the 4 types of innovation.
Innovation is a broad subject and therefore can be a daunting challenge for anyone trying to approach it. My solution is to place the information in categories. Organizing information in whatever way feels comfortable for you (lists, diagrams etc) improves your learning process greatly.
For the present article, let's go deeper into the conversation on innovation and answer the following questions:
What drives innovation?
What stands at the core of innovation-centred efforts?
What is the first step toward innovation?
In this article:
Customer-led innovation: customer-driven innovation, customer-centred innovation, customer-focused innovation;
Product innovation: definition and example;
Service innovation: definition and example.
The drivers of innovations are customers, products and services.
The first step on your path toward innovation should be deciding where to focus your efforts.
Are you going to focus on your customers and create products that meet their needs? Will you focus on product development?
Or find a new way to serve your customers?
Let's discover more about each innovation driver!
Customer-led innovation
Customer-led innovation is when the company finds an innovative solution to a demand arising from the customer experience & dissatisfaction with the choices currently available in the marketplace.
Examples of customer-led innovations:
The extended battery life for smartphones;
LEGO plastic bricks with tubes inside stick together thus preventing the constructions from falling apart;
Bumble, the dating platform allowing only female users to make the first contact with matched male users;
Canva, the design platform for non-designers who had neither the money nor the time to invest in professional tools like Photoshop;
Amazon's Show and Tell feature allows the blind to identify grocery items by holding each item to the Echo Show camera and asking, "Alexa, what am I holding?".
According to this paper published in the award-winning Research Technology Management journal, customer innovation "has become an essential strategy for organizational survival."
There are 3 types of customer innovation:
Customer-driven innovation
Customer-centred innovation
Customer-focused innovation
What is customer-driven innovation?
At the centre of customer-driven innovation is the customer.
The innovation is made by the customer with the organization having a coordination role. The end result is an innovation that is dynamic, impossible to control and difficult to get to the market. The entire process is time-consuming and requires high levels of interaction between the customers and the organization.
What is customer-centred innovation?
Customer-centred innovation is about innovating with customers.
At the centre of this type of innovation are the customer AND the organization. The role of the organization is that of the communicator. This type of innovation is open, difficult to control and coordinate. The main challenge: there's no shortage of ideas; the difficulty stands in the organization's ability to develop them.
What is customer-focused innovation?
Although it's called customer-focused innovation, at the centre of this type of innovation is not the customer, but the organization alone. A customer-focused innovation is where the organization innovates for the customer.
The organization discovers customer needs and seeks to satisfy them by expanding the choices available within a product category.
The organization is the innovator. The innovation is closed, easy to control and coordinate. The main challenge of this type of innovation is that it requires an ongoing process of customer analysis.
Here are all three types of customer innovation in one picture: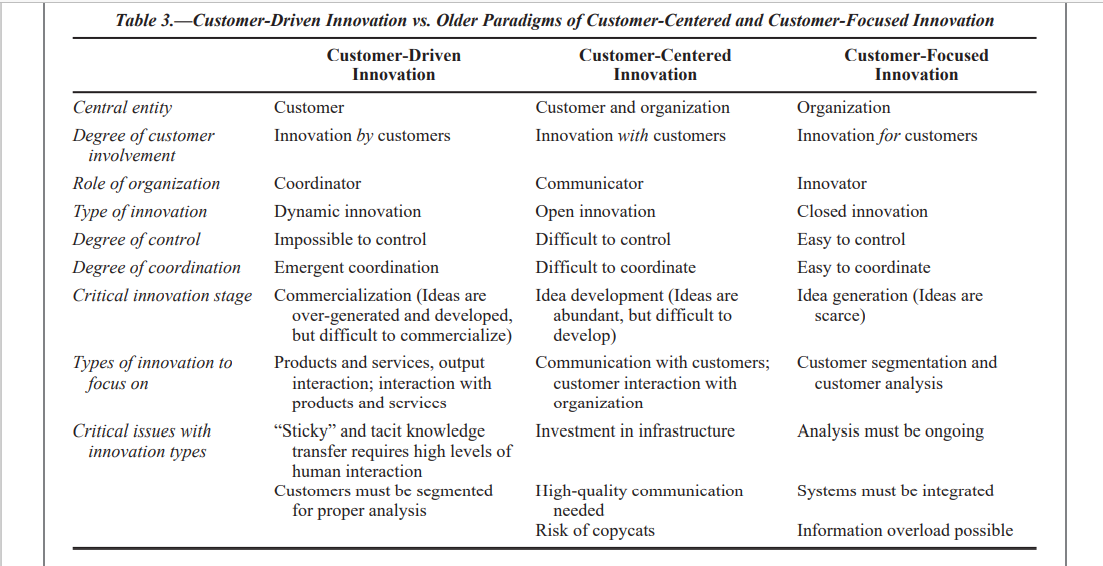 ServiceNow

– customer-led innovation example

ServiceNow is a platform that lets people automate workflow in a business. The company was ranked #1 by Forbes in its 2018 World's most innovative companies list.
ServiceNow delivers digital workflows that create great experiences and unlock productivity. This is the future of work. Behind every great experience is a great workflow.
The company was founded by Fred Luddy in 2004. In an interview with Forbes, Fred Luddy says he's never had an original idea but has always paid close attention to anybody doing, struggling to do or wishing they could do it differently.
In his opinion, the company must "deeply, deeply, deeply understand customer needs".
Also, technology must be used in the service of the employee. In keeping with his words, he met with over 500 customers and asked every one of them these questions:
What are your most important priorities? What keeps you up at night?
And regarding ServiceNow, what are we doing well? And—very importantly—where can we get better?
Product innovation
Product innovation is the development and market introduction of new, redesigned, or substantially improved goods.
Apple

– Product innovation example

When you say product innovation and development, you say Apple.

The $2 trillion tech company has been launching new products in every one of its product lines every year since the company's foundation four decades ago.

Apple's goal is to create the world's best products which are also what consumers want. The company has set out to make only great products by constantly focusing on innovating.
Innovation is making things better and not just merely changing. And that requires a depth of fall which is well beyond merely changing something.

Tim Cook
Service innovation
Service innovation is changing the way you serve your customers to create greater value for them and deliver more revenue for your organization.
It's about providing customers with an amazing and improved experience that wasn't available before.
L'Oreal

– Service innovation example

L'Oreal is one of the most innovative companies in the global beauty market.

As per the company's 2020 Research, innovation & beauty tech report, L'Oreal has invested 964 million euros in Research & Innovation.

The beauty company has embraced the digital revolution as early as 2012. Since then L'Oreal has integrated technology to serve customers better and more efficiently.

One example is the brand's use of Augmented Reality and Artificial Intelligence to virtually try on its products.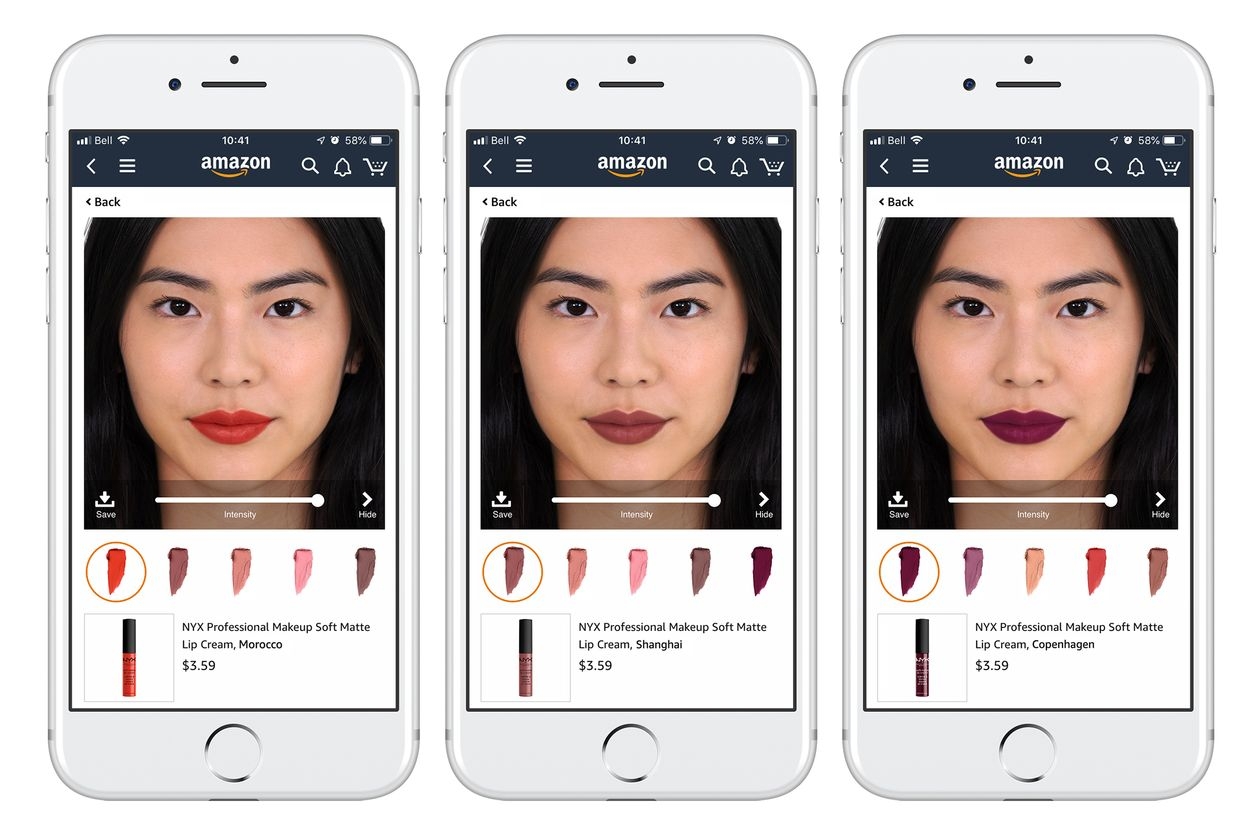 At CES 2020, L'Oreal unveiled Perso, an AI-powered at-home system.
The device delivers on-the-spot skincare and cosmetic formulas that optimize for increasing levels of personalization over time.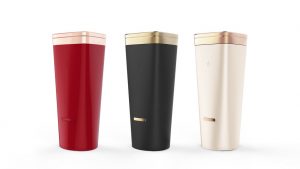 Here's what Nicolas Hieronimus, L'Oréal's Deputy Chief Executive Officer had to say about the company's innovation goals:
Building on our deep scientific heritage and leadership in innovation, L'Oréal is once again leveraging advanced technology to create smart beauty products and services that answer the needs of our consumers and offer them near-limitless personalization and precision.