3 essential strategies to increase website traffic
Looking to increase website traffic? Leverage the power of these 3 essential strategies:
Blogging
Social media
Influencers
1. How to leverage the power of blogging to generate website traffic
To generate website traffic you need content and blogging is the most effective way to create content.
Is blogging easy?
No, it's not, but companies with blogs generate on average 67% more leads per month than companies that don't blog.
It is a well-known fact that Google loves fresh content so companies that publish new content consistently have a lot to gain and I'm not talking about traffic alone.
Successful companies like HubSpot or Salesforce have grown into content publishing powerhouses. They put out several blog articles a day filled with valuable insights, how-to's and other recommendations for marketers and sales professionals.
Companies like these two either have a 5-6 writer in-house team or hire freelance writers. Another solution is to welcome guest posts. No matter which option they went with, they have a well-planned editorial calendar for at least 6 months in advance.
It's totally understandable if your company cannot publish five articles a day, not every company has the human and financial resources of Hubspot and salesforce.
You can start by publishing one article per day. You don't have a content writer on your team yet? No problem!
Find industry experts or influencers in your niche who are looking to increase their personal brand and invite them to contribute guest blogs.
It's a win-win situation: contributors boost their visibility and reputation, and your blog benefits from increased traffic from prospects you could turn into leads then customers.
Now that you have writers generating content, it's time to ensure your published content shows up in Google search results and gets clicked on. In other words: it's SEO time!
SEO recommendations

to get your content to show up in Google search results and get clicked on

1.Keywords with high search volume vs keywords with low search volume

Before jumping into writing content, Nadya Khoja, Chief Growth Officer at Venngage and experienced B2B marketer recommends marketers to determine the search intent of their B2B audience.

Nadya says marketers shouldn't choose keywords based solely on search volume. When it comes to B2B, marketers should choose keywords and terms that are first and foremost relevant to their audience even if they have a lower search volume.

"Popular searches in your industry will attract more B2C consumers, whereas focused keywords that have a higher value, but a lower search volume, usually fall in the B2B realm.", says Nadya.

2. Put honey in your titles

The most important element of your blog article is not the contents, but the headline. If the headline is not attractive enough, no one will read the contents.

Think of the headline as honey: it's sweet and nutritious and bears cannot resist but eat it whenever they find it.

What does a "sweet" headline look like?

A compelling headline:
offers a solution to the reader's problem;
includes an engaging qualifier (i.e.: smart, amazing, easy-to-implement, top, essential, the latest etc);
is clear on what solution does the article provide (i.e.: recommendations, insights, takeaways, tips, trends etc);
provides a number (i.e.: 7 recommendations, 25 takeaways).
To help you get really good at writing enticing headlines, use Headline Studio, a Chrome tool that scores your headlines and teaches you how to optimize them.
3. Serve readers with a 3-course meal type of content
Health experts recommend never eat until you are full, eat until you are no longer hungry.
It's sound advice to prevent overeating related health issues, but that doesn't apply to content.
Your goal as a content writer is to serve the reader with a 3-course meal type of content.
This type of content satisfies the reader's appetite in such a way that they don't need to look anywhere else for delicious content.
It is relevant to the reader and provides valuable information in various forms: how-to, top, round-up, case study, interview or original research.
When the content is valuable, it will get included as a source in other pieces of content and therefore attract further traffic.
2. How to use social media to generate website traffic
For most websites, Google is the first source of paid and organic traffic. Social media comes in second, with Facebook driving the most traffic for business.
Depending on your business, the second social media platform is either LinkedIn or Instagram.
And you should also check out Pinterest because according to the latest reports, each pin can drive up to 2-page visits and 6 pageviews and lasts up to one week compared with Twitter and Facebook whose updates last for 24 minutes and 90 minutes respectively.
Going back to Facebook, what should you write in your post to get your followers to click on the link and visit your page?
Never ever post the link with no copy and expect your audience to click through to your page. It's unprofessional!
What you need to do is to write a compelling copy that piques the interest of your audience.
Use questions to challenge their assumptions and stoke their curiosity then direct them to your link to find the answers.
3. How to generate website traffic with influencer marketing
The latest stats say influencer marketing strategies focused on branding or engagements generate 8x ROI and according to 71% of marketers, the quality of customers and traffic from influencer marketing is better than other sources.
Influencer marketing is powerful but how should you leverage the power of influencers to generate website traffic?
Here are the main dos and don'ts.
Don't limit the influencer to sharing a photo holding your product. It's unprofessional and most of the time it doesn't work! Yes, I'm repeating myself to grab your attention.
Do have your team and the influencer brainstorm ideas for creative and fun campaigns. The influencer should fall in love with your product and find ways to convey this feeling to their followers.
Which strategy are you using to increase website traffic?
Share in the comments!
Join the Conversation
We'd love to hear what you have to say.
Get in touch with us on our LinkedIn Page, Facebook Page, Twitter or TikTok.
Mighty Networks, the community platform that helps you drive business revenue
You've spent months, maybe a year or two to grow your Facebook Group. Whether you provide coaching, tips and tricks on how to lose weight or recommendations that help people get hired faster, you've been there for your group's members day in and day out, giving value while keeping the trolls at a distance. Suddenly you realize managing your Facebook Group has turned into a full-time job. The group is a valuable resource for its members but is generating costs and little to no revenue for your business.
What if there was a better way to grow an engaged community and also drive revenue from it?
I recently came across Mighty Networks when someone in my LinkedIn network mentioned it in a comment as a community-focused platform.
Hm, I haven't heard of Mighty Networks. What is it? Let's find out!
Mighty Networks, the community-focused platform that helps you build your business
Create a Community-Powered Brand with Mighty Networks from Mighty Networks on Vimeo.
Mighty Networks enables entrepreneurs, organizations, and companies to create and grow a community-powered business. It is a platform where you can bring your community, online courses, and memberships together in one place.
You can build a landing page for your business, publish articles, share content and create an online course platform for your audience.
What do you get when you choose Mighty Networks?
Mighty Networks offers its users three plans they can choose from: the free plan, the business plan ($81/month) and the community plan ($23/month).
Being a pay-to-get-access community is actually a plus because if it's free, the commitment isn't there. When people pay a membership fee, it's an investment and both parties, the Mighty Host (that's how businesses on Mighty Networks are named) and its paying members are much more likely to engage, add value and contribute to their communities and the growth of their members.
Here are some of the features you get depending on your chosen plan:
Personalized activity feeds for members
Topics, articles and direct messaging
Choose from public, private, and secret privacy options
Use your own domain name for your Mighty Network
Message ALL members (reach 100% of your members whenever you want)
Polls and questions
Organize events locally or virtually with text chat, Zoom, Facebook Live, or Crowdcast integrations
Notify ALL members of any post you make or activity you think is important
Access detailed analytics on every member, every post, and all activity
These are just a few features, check the complete list.
Also, it's important to mention that Mighty Networks is 100% ad-free, GDPR compliant, SEO friendly and mobile-first.
What else should you know?
Unlike the experience on Facebook, there are no distractions on Mighty Networks, no cat or baby videos that the algorithm pushes in front of us which makes maintaining focus a big challenge for everyone.
Mighty Networks doesn't encourage distraction, it encourages focus so it's better for your business.
Also, you may have noticed in the features mentioned above that with Mighty Networks you can message all members of your community, something you can't do on Facebook Groups unless you become friends with every one of them.
What else can you achieve on Mighty Networks that you can't with Facebook Groups? The goal of this article is not to do a comprehensive comparison with Facebook Groups so I invite you to find out by yourself.
Over the past few years, businesses have come to realize that being on Facebook had become a pay-to-play game. The algorithm is set up so that businesses need to pay Facebook to show one post to all their page followers. That is not the case with Mighty Networks.
The company's 2017 news release says that Mighty Networks employs proprietary algorithms and smart technology built from the ground up for interests.
Businesses that have shifted their online community from other community-focused platforms have seen a higher engagement rate and the interactions much more meaningful, than on other platforms (source).
What differentiates Mighty Network from other community platforms?
Here are the main differentiating factors:
Members are connected by their location, by the topics they choose and the categories they define
Content and conversations never get lost
Everything for an interest is in one place
I would also add that your personal data is not sold to third-parties for revenue generation.
Here's how you can drive business revenue depending on your chosen pricing plan:
Charge for access to your membership site or group
Charge for access to your online courses
Becoming a Mighty Affiliate
You can set up payments within your Mighty Network and charge a one-time purchase or a subscription purchase. Stripe is the payment processor on Mighty Networks and you can charge a max price of $999.
Conclusion
Mighty Networks could be a good solution for your business if you:
Are looking to build an online membership
Have grown disappointed with Facebook (and there are plenty of reasons to)
Are looking to have a course platform and community all together in one place
Are trying to facilitate the conversation with your customers or user base
Are looking to get involved and to learn more about what your community may need
Are struggling with keeping your users on one platform
Want to personally email your audience
Join the Conversation
We'd love to hear what you have to say.
Get in touch with us on our LinkedIn Group, Facebook Group or Twitter.
#Romanovs100 – Digital Storytelling At Its Best
This article explores one of the best examples of digital storytelling I've seen lately – #Romanovs100.
Whether in spoken or written words, people tell stories to share knowledge, inspiration and to feel connected to the other members of their community.
We're now in the digital age.
How has storytelling changed?
How do brands make use of the available digital tools to tell stories?
Here is the best example of digital storytelling – #Romanovs100.
Nicholas Romanov holds a special place in the history of the Russian Empire. He was the last Tsar and had a tragic and violent death at the hands of the Bolsheviks who executed him, his wife and his five children on July 17, 1918.
To pay tribute to the Romanovs, the Russian TV channel RT created and produced #Romanovs100.
#Romanovs100 is an educational project designed to bring to light a part of Russian history which has been erased from the history books by the Soviet rule.
The inspiration for this project came from the Romanovs themselves – they were pioneers of photography. In the early 20th century they owned the world's first portable Kodak cameras and captured almost every meaningful event in their lives.
Fortunately, the Romanov archive has been preserved. The team unearthed over 4000 photographs which detailed the family's private life.
Let's see how

#Romanovs100

came to life!
Campaign Goal:
Tell the story of the Romanovs, the Russian Empire's last royal family with the purpose to educate the audience on decades of unknown history.
Campaign Tools:
+4000 turn of the Century black and white photographs taken by the Romanov family members.
Campaign Strategy:
Combine the visual language of photography with the digital reality of social media.
Campaign Mediums:
Website: https://romanovs100.com/
4 social networks: Facebook, Instagram, Twitter, YouTube with each account showcasing its own narrative, format and content.
10 Creative Directions:
1. Facebook
180° retro images in spherical view, 3D immersive experience.
2. Instagram
Two accounts, one of the royal dog, Joy.
3. YouTube
42 short documentary-style videos
4. Twitter
Five accounts featuring "real-time" blogs by Tsar Nicholas II himself, his wife Alexandra, their family doctor and their four daughters collectively referred to as OTMA (Olga, Tatiana, Maria, Anastasia).
We've played bezique with Nicky as usual until 10:30pm, then I went to sleep. Now they say we have to get up and go downstairs. Is this an evacuation? #Romanovs100 pic.twitter.com/OdZoPMTpRi

— Alexandra Romanova (@EmpressAlix1917) July 16, 2018
Alexei also plays endless games of draughts, bezique and chess with mama and papa. His leg is getting better, but very slowly #Romanovs100 pic.twitter.com/ZhLTkIYVlC

— The Romanov Sisters (@OTMA_1917) July 8, 2018
5. AR photo album
A limited print edition of the project using AR technology to create an interactive history book.
Romanovs100: AR family photo album (Extended version) from #1917LIVE on Vimeo.
6. Video teasers
Using 8mm & 16mm retro cameras and authentic stage props, the team reconstructed several of the Romanovs' original photographs, setting the still images in motion.
#Romanovs100: The Snow Tower (TRAILER #1) from #1917LIVE on Vimeo.
7. Ambrotype posters
Photo teasers using 160-year-old ambrotype photography technique.
How it's done:
#Romanovs100: 19th century photo technique in action from #1917LIVE on Vimeo.
The ambro-photograph:
8. Original soundtrack to illustrate the project in YouTube and Facebook videos, teasers and trailers.
9. VR animation
A music video combining photos & VR Animation.
10. Colourization contest
Fans and followers were invited to enter the world's first-ever digital colourization.
History in color: Romanovs100 digital colorization contest case study from #1917LIVE on Vimeo.
Campaign Results:
25 million impressions;
55,000 fans and followers;
+1 million post engagements;
+1 million video views;
500,000 minutes watched;
#Romanovs100 on Twitter grew 2000%.
Global media coverage:
Sky News, BBC Newshour, History Extra, The Sunday Telegraph, Quartz, Daily Mail, Tatler, Culture Trip.
Awards:
Best Images at the 2019 Shorty Awards;
Silver at the 2018 Clio Entertainment Awards;
Nominee at Social-Best Photography & Graphics at the 2019 Webby Awards;
Merit at the 2019 ADC Awards;
Most Innovative Use of Social at 2019 The Drum Social Buzz Awards;
Best Original Content Series at the 2019 Digiday Media Awards Europe.
Join the Conversation
We'd love to hear what you have to say.
Get in touch with us on Facebook Group and Twitter.
Hootsuite: 5 Top Social Media Trends for 2019
2018 is coming to a close and marketers are already trying to get ready for the 2019 social media marketing.
We are firm believers of the proverb Early bird gets the worm, so this article presents the 5 Top Social Media Trends for 2019 Report by Hootsuite.
Hootsuite: 5 Top Social Media Trends for 2019
Following the survey of 3255 Hootsuite business customers, the social media management platform has identified the following Social Media Trends that will influence brands in 2019.
Rebuilding trust;
Storifying social;
Closing the ads gap;
Cracking the commerce code;
Messaging eats the world.
These are the top 5 social media trends for 2019.
Let's break them down and discover what steps marketers can take to support their brands on social media.
1. Rebuilding Trust
Brands get human as the circle of trust on social media tightens.
According to Edelman's 2018 Trust Barometer, 60% of global consumers no longer trust social media platforms. After the Cambridge Analytica scandal, trust in Facebook dropped by 66%.
The impact of social media trust crisis has been seen in the following users' behaviours:
Tighter Circles of Trust
People are increasingly conscious of who they are interacting with on social media and retreating to smaller circles of influence.
The Need to Rethink Influence
Due to increased scepticism, brands need to shift their mindset from seeking reach to partnering with the people, publications and the communities with real authority. Also brands are urged to create communities with smaller more valuable audience group by sharing insightful content and getting the people to talk to one another.
The Evolution of Engagement
Smart brands are focusing less on reach and more on creating transparent quality engagement. Hootsuite even found that the meaning of engagement itself has shift from clicks to behaviours that have a clearer impact on brand value and long term ROI.
Here are Hootsuite's recommendations for brands looking to rebuild trust:
Create a branded hashtag aligned with community values;
Create Facebook groups to allow your customers' have conversations in a safe environment;
Partner with micro-influencers who have influence in niche communities, allowing them to connect with customers at a local level;
Run monthly Facebook Live Q&A.
Learn more about Facebook groups: Why You Should Create a Facebook Group for Your Business
2. Storifying Social
Stories are growing 15x faster than feed-based sharing.
According to Techcrunch, Facebook Stories are set to overtake newsfeeds within the next year.
Social media is pivoting from text-based platforms originally designed for desktops to truly mobile-only networks that allow people to capture in-the-moment experiences.
The impact of Stories:
The rise of Lo-Fi
Hootsuite found that less polished more realistic stories actually perform better than heavily edited videos built with CTAs. It's because they feel more intimate and spontaneous, more user-like.
1-1 Format vs Scale
Scaling the 1-1 format is still a challenge.
Uncharted ROI measurement
We will see new tools in the form of APIs that will help ROI measurement of Stories.
Here are Hootsuite's recommendations:
Create Story-specific content;
Use the Stories Highlight feature;
Add UTMs to your links to track success;
Experiment with AR and custom GIFs in Stories.
3. Closing the Ads Gap
More competition on paid social forces marketers to up their game.
Hootsuite found a 32% increase in ads spend and marketers are producing more ads than ever before.
The challenge is more ads create rising costs and competition: 61% increase in Facebook CTR, 112% increase in Facebook CPM. Also Millennials and GenV-ers regularly skim over ads or use ad blocking tools.
You may be paying your way into someone's feed but there is no guarantee that he or she is going to pay attention.
The impact of the ad gap:
Investing in creativity to rise above the noise
Only the most engaging ads will covert.
Personalization (without data or privacy backlash)
Create personalized ads but without feeling too intrusive or creepy when it comes to use of data (Spotify being a case in point).
Learn more: 3 Growth Hacks Spotify uses in Brand Strategy
Mastering new social advertising formats
Marketers can now use ads in Stories. It's challenging to advertise in such a highly personal context, marketers need to find ways to create ads that don't annoy users.
Hootsuite's recommendations:
Understand and target the right audience;
Invest in high quality content;
Repurpose concepts from top-performing organic content;
Embrace new ad formats;
4. Cracking the Commerce Code
Improved social shopping technologies (finally) fuel sales.
Social shopping technologies are bridging the gap between social media and e-commerce especially among young buyers comfortable with online shopping.
A latest statistics found that 70% of China's Gen Z'ers now buy directly from social.
Here are the most known shoppable technologies:
Instagram's shoppable posts now allow users to make purchases without ever leaving the app.
Facebook Marketplace is used in 70 countries by more than 800 million people.
Pinterest buyable pins are used by 55% of customers to find and shop for products.
This year on February, Snapchat launched its merchandise store to drive brand loyalty and to explore potential for an in-app commerce platform for other brands (source: TechCrunch.com).
Here are 3 directions brands need to focus upon:
Instagram shoppable posts;
The new role of mobile video in shopping;
The promise of live streaming.
Hootsuite's recommendations to boost your sales:
Set up shoppable Instagram posts;
Share your products in action;
Livestream your product demos;
Experiment with AR to showcase your product in real-life scenarios.
Learn more: The 5 Instagram Trends That Will Define 2019 – Planable
5. Messaging Eats the World
Customers demand better 1-1 social experiences.
Top messaging apps now eclipse traditional social media users worldwide.
People are spending more time on messaging and less time sharing news on social.
Top messaging apps collectively count nearly 5 billion monthly active users.
The shift from public from private spaces will have a profound impact on consumer expectations:
90% of customers would like to use messaging to communicate with businesses;
69% of respondents in USA said that directly messaging a brand helps them feel more confident about the brand.
The impact of messaging:
Consumers retreat to private spaces
Consumers don't want more ads; smart brands will use messaging for high value conversations.
The need for unified inboxes
Because messaging volume increases, unified inboxes are a cross-channel platform attaching, routing and responding to all messaging inquiries.
The rise of AI and bots
AI and bots will take on the most repetitive activities so human workers can focus on complex high value exchanges.
Hootsuite's recommendations for brands to leverage the power of messaging:
Enable Facebook Messenger;
Use messaging apps to streamline customer service queries;
Set up bots for FAQ;
Run campaigns that incorporate messaging apps.
Learn more: How to Use Chatbots to Increase Sales
Join the Conversation
Get in touch with us on Facebook and Twitter. We'd love to hear what you have to say.
How to Skyrocket Your Startup's Brand Awareness Using Social Media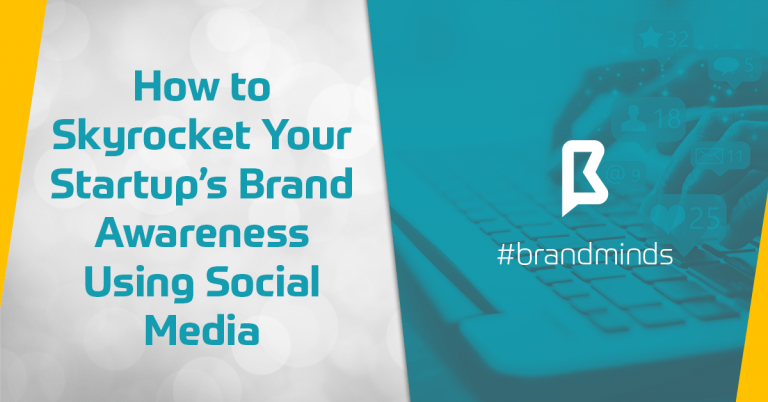 Anyone can sell. But not everyone can create an awesome brand that people actually respond to for years and years.
Nike sells — but what's kept them at the top of their game all these years is their brand.  Being a brand means making a proper, long-term connection with people to the point where they trust you. In 2018 and beyond, one of the most cost-effective and authentic ways to raise awareness of your brand is via social media. It's where your customers are, after all, and it's much cheaper than hiring a brand agency.
Social media can be dicey, however. People go there to be social. They don't want to be sold to. If you market your brand incorrectly, you could turn them away.
So how do you skyrocket your startup's brand awareness using social media without putting people off?
In this article, we walk you through 6 steps you need to take.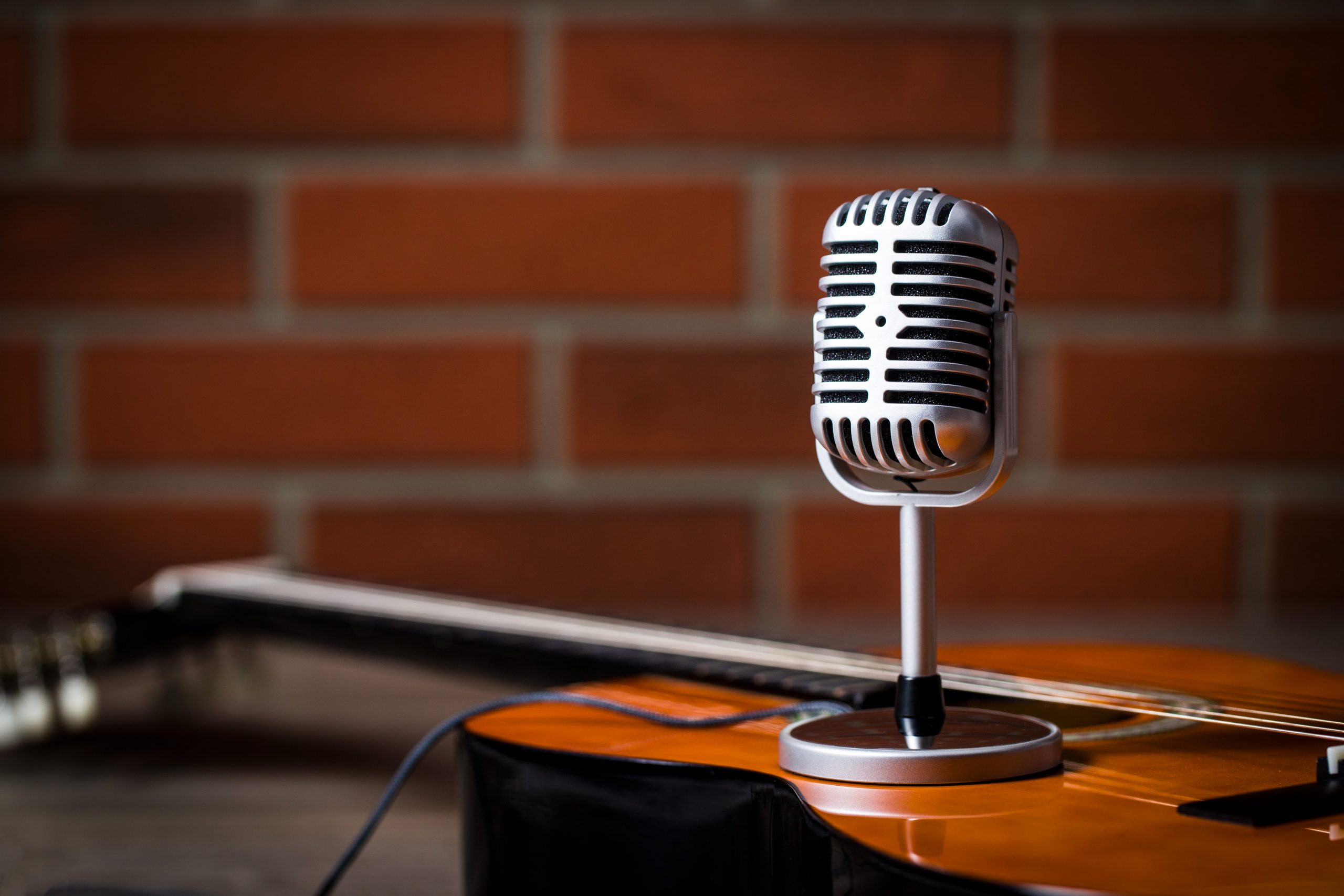 1. Find Your Voice
In life, we get nowhere until we find out voice or feet. Until we answer the question, "who are we and what are our values?" we'll keep making the wrong decisions.
It's the same when it comes to your brand on social media. Until you find your voice, your message won't hit the spot with your intended audience.
To help you define your voice, you need to look at your values. What does your brand stand for? Are you edgy and confrontational? Or are you family-oriented?
Take a look at your target audience, too. What's their voice and would voice would they respond to?
Your voice will impact how you create all your messages on social media. It will give you consistency, and it will resonate with your audience better.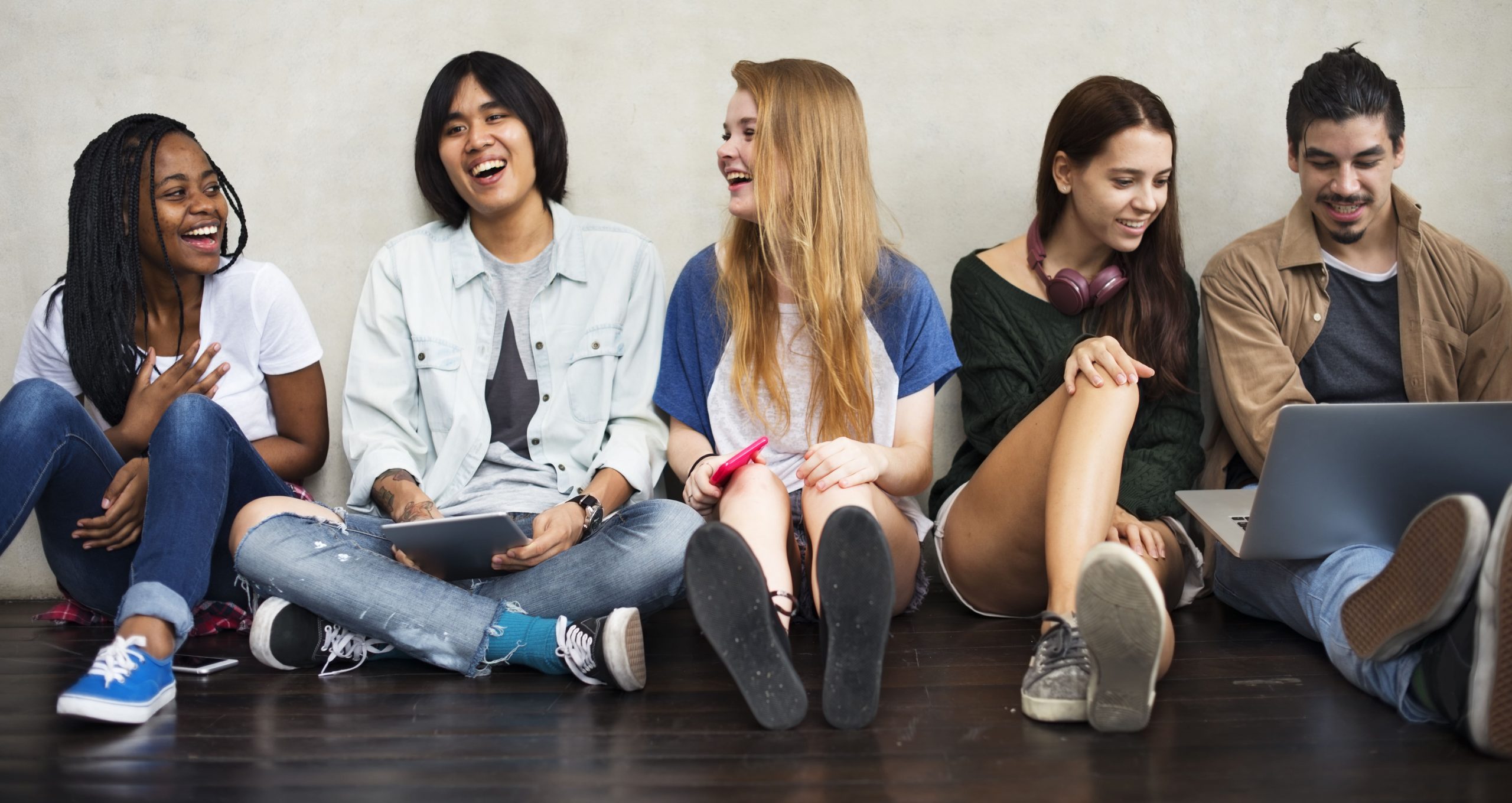 2. Be Friendly and Be a Part of the Conversation
Remember that people use social media to be social. This is basic stuff, and if you overlook it you'll find it hard to make that all-important connection with people.
For now, forget about selling. Forget about the CTAs and the links to your landing page. Instead, focus on making a connection with people by being like them.
To that end, make your messages friendly, conversational, and positive. Engage people with questions, show empathy and — where possible — entertain them.
Keep things light, avoid too many promotional messages and refrain at all times from corporate language.
Don't shy away from humour or slang. Just be natural and focused on building relationships.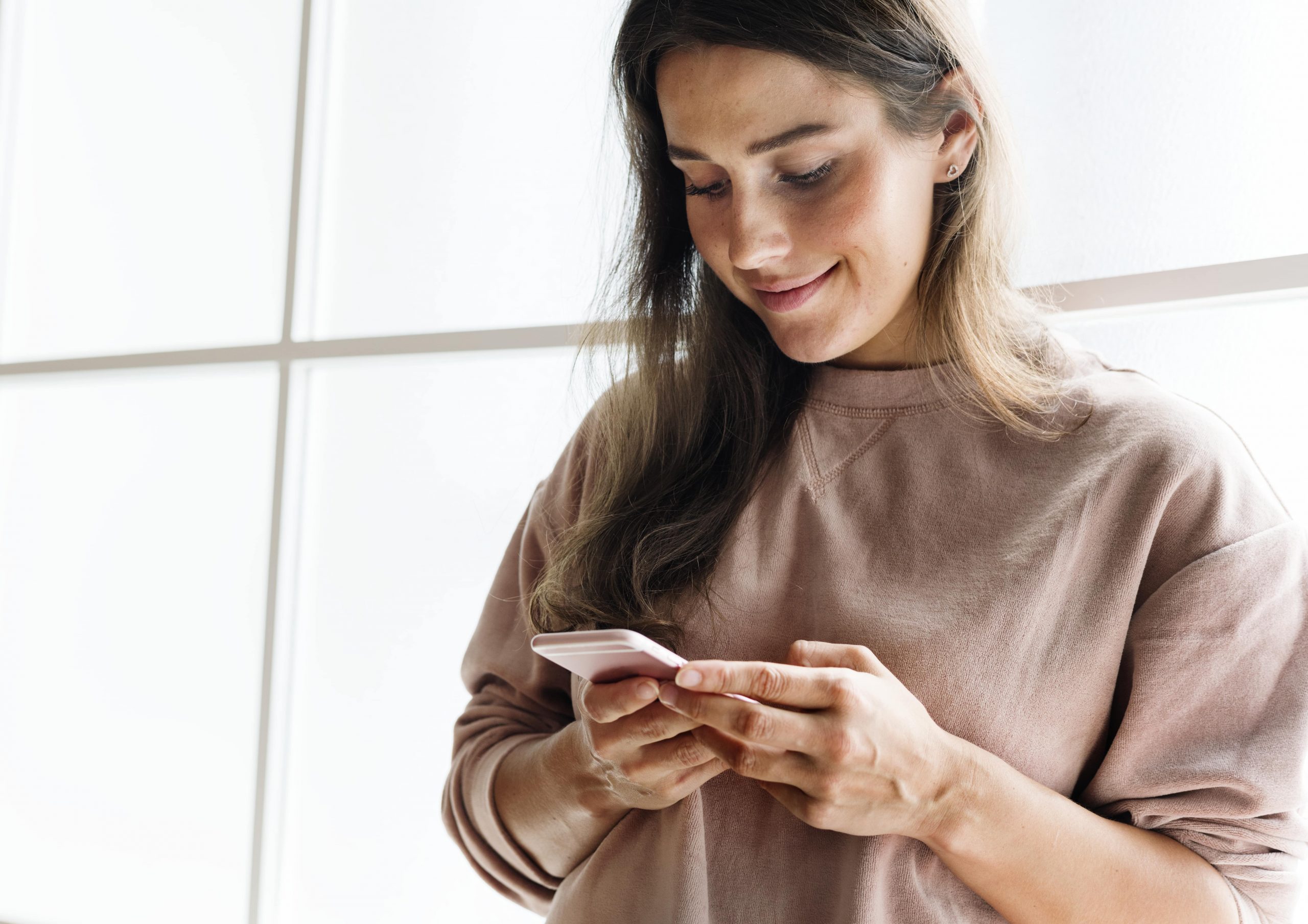 3. Make Your Profiles Easy to Read and Understand
Who are you and what does your startup do?
Moreover, where can we go to find out more?
These are basic questions that you should answer in 2-3 sentences in your social media profiles.
When people click on your profiles, these 3 questions are the first ones they want answering. By answering them, you're educating your audience about who you are and what you do, and you're also giving them something to do by including link to your website.
Your profiles should be informative and educational, and you should also include a relevant profile picture.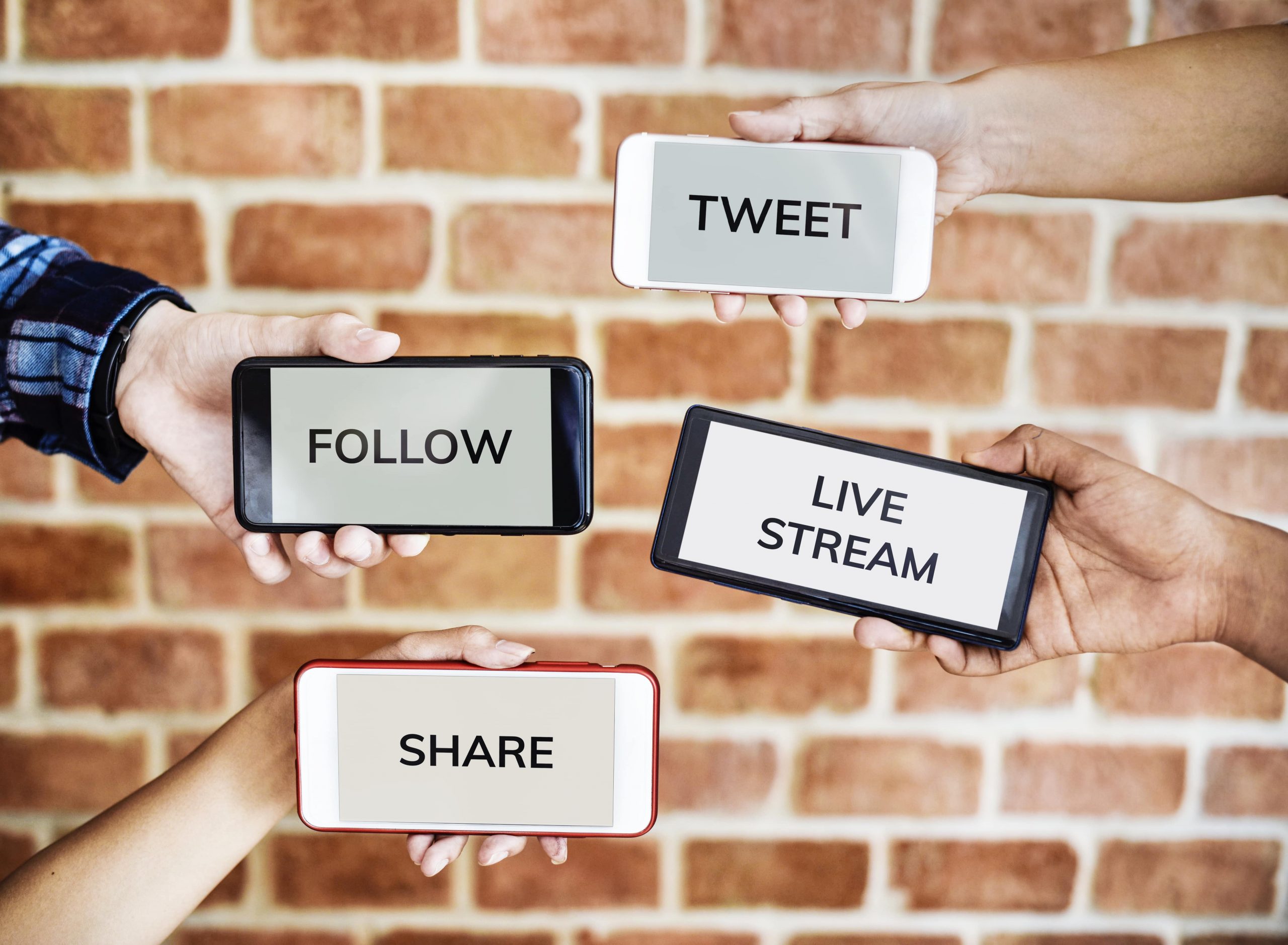 4. Know What To Post and Where To Post It
There are several social media platforms you can use, from Facebook to LinkedIn. Not every single startup needs to be on each platform, and it's also important that you know exactly what type of content audiences on specific platforms react to.
For example, the content you post on Facebook will be different to the content you post on Twitter. Facebook is a great place to post videos and content that solves your audiences problems, while Twitter is great for posting statistics and data, as well as infographics. It's also a great place to engage with customers one-on-one, answering their queries.
The better you are at optimizing content for each social media platform, the easier it will be to skyrocket your startup brand's awareness.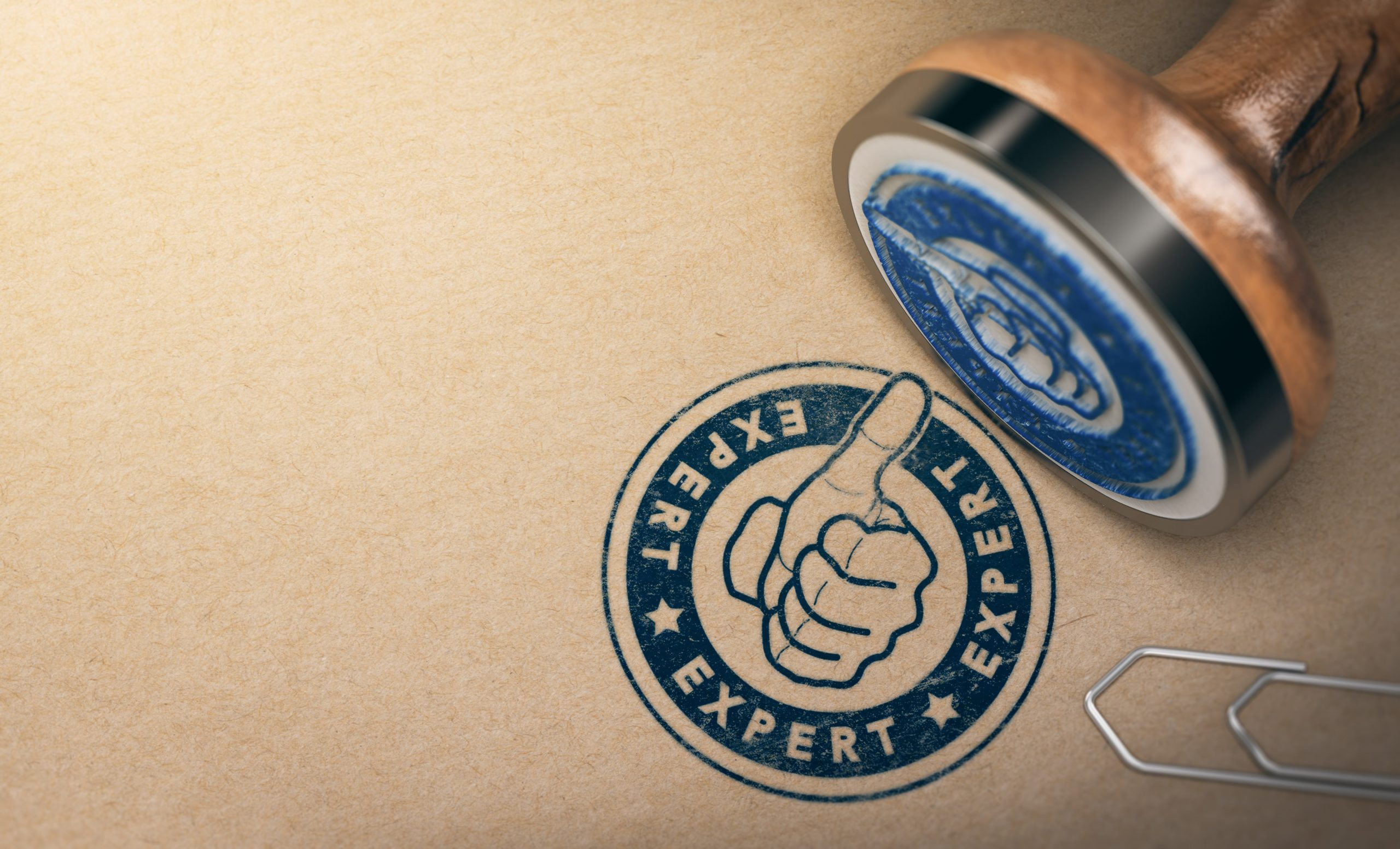 5. Create Value
People respond to valuable content. Research has shown that long-form content is shared more times than short-form content. Long-form content is defined as content that contains more than 1,200 words, and which offers in-depth answers to a specific problem.
The reason it's shared so much? Simply because it offers value.
Forget going in for the sale for the moment and focus on providing as much value as you can to your social media audiences. What problems can you solve for them today? How are you going to solve them?
Don't expect anything in return from this — just give and give. The more you give, the more receptive people will be to your brand. Over time, they will learn to trust you, and they'll see you as the go-to expert in your niche.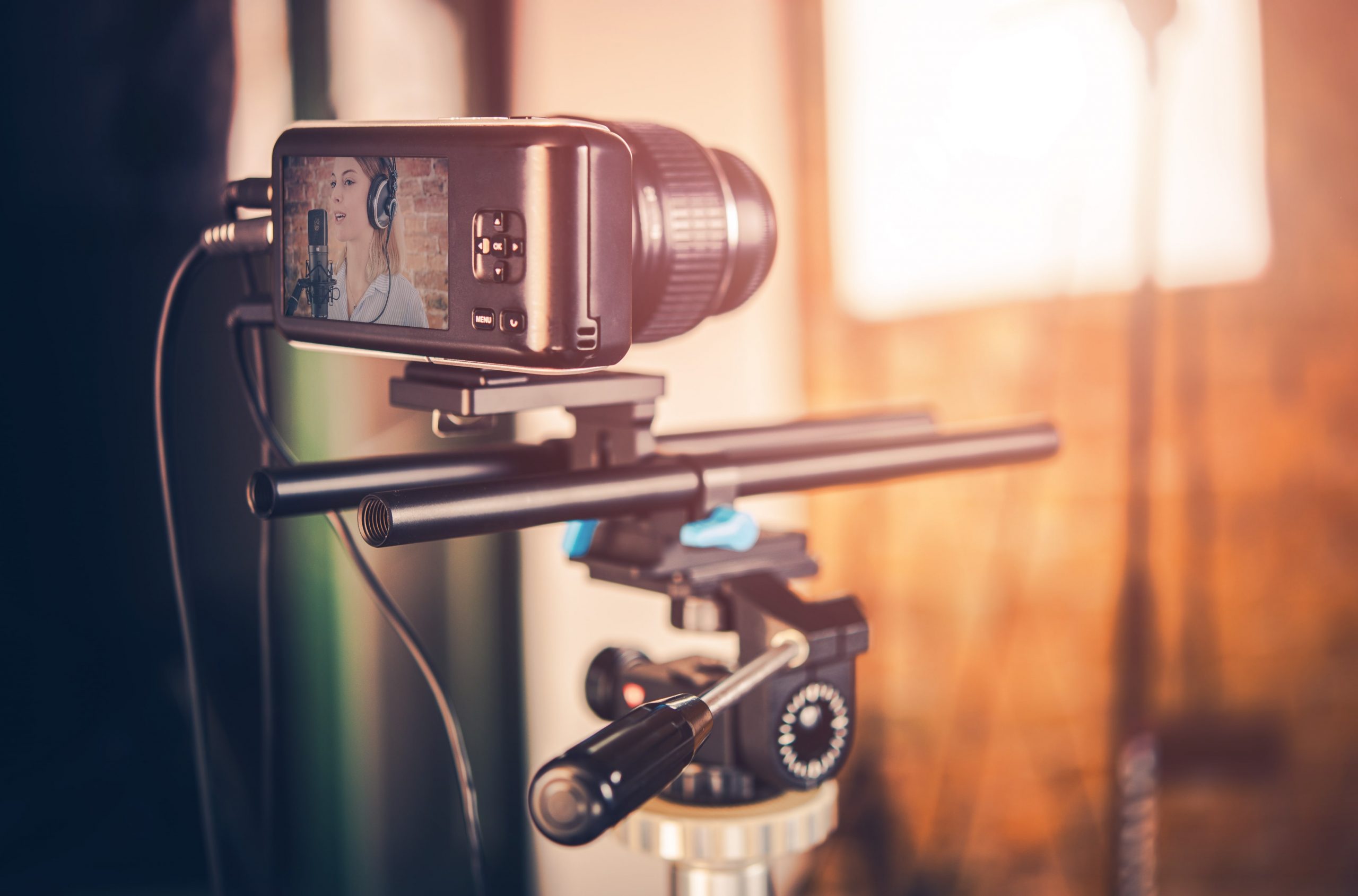 6. Skyrocket Your Brand Awareness With Videos
1/3 Instagram users watch videos on Instagram Stories each day, while the social media platform also recently launched IGTV. This allows you to post content to your own channel.
Meanwhile, we consume over 100,000,000 hours of videos on Facebook each day.
One of the best ways to use videos to raise awareness of your brand is to live stream. This might be an interview with an expert, or it could be a Q&A session that you hold on the fly. Live stream works because it's interactive (people can leave comments that you react to), it's engaging, and it shows that your brand is authentic. You are live and in the flesh — you're the real deal.
Conclusions
These are 6 ways to skyrocket your startup's brand awareness using social media.
Once you've found your voice and understood what your audience wants to see, it's then a case of creating as much value as possible while engaging and connecting with your audience.
Forget the sale for now and focus on building relationships.
If you do this, your brand will grow so much that prospects are more likely to turn into loyal, long-term customers.
Top 5 social media platforms you never knew about
Are you looking for business deals, investors or opportunities for growth?
Have you grown tired of LinkedIn?
Then it is time you learn of other business-focused social media networks.
Here is our list of top 5 social media networks that you can use to grow your business:
Viadeo – where professionals meet
Viadeo is an online business-based social networking site that helps business people, mostly Europeans, connect with one another. As of 2014, the site had 65 million members mainly business owners, entrepreneurs and managers. Its interface is available in 11 different languages: Dutch, English, French, German, Italian, Spanish, Polish, Portuguese, Russian, Simplified Chinese and Turkish.
By displaying how each member is connected to any other member, Viadeo visualizes the small-world phenomenon.
The platform offers personal profiles, groups, discussion forums, event coordination, and other common social community features. Basic membership is free, but many core functions, like searching for people with specific qualifications or messaging people to whom one is not already connected, can only be accessed by the premium members.
Xing – for a better working life
Xing is a European career-oriented social networking site for enabling a small-world network of professionals. The company claims that it is used by people from over 200 countries.
This professional social networking site offers features that are similar to LinkedIn's features, with its main users based in Switzerland, Austria and Germany. However, it is unique in the sense that it enables closed group discussions between the members of a certain company or business.
Xing also offers the system for closed communities, called Enterprise groups with their own access paths and interface designs. The platform serves as the infrastructure for corporate groups, including IBM, McKinsey, Accenture and others.
Opportunity – Welcome to the land of opportunity
Opportunity is a business network that uses a matchmaking algorithm to connect you with other professionals who can provide employment, sales, networking and relationship opportunities.
Its members can discover sales leads and employment opportunities, post jobs and build relationships, both personal and professional. Here are a few statistics: 1 billion opportunities discovered, 85 million professionals referred and connected and members from 190+ countries worldwide.
Ryze – expand your influence with Ryze
Ryze helps people make connections and grow their networks.
You can network to grow your business, build your career and life, find a job and make sales. Or just keep in touch with friends.
Members get a free networking-oriented home page and can send messages to other members. They can also join special Networks related to their industry, interests or location. More than 1,000 organizations host Networks on Ryze to help their members interact with each other and grow their organizations.
PartnerUp – your partner in business!
Are you searching for people and resources for business opportunities?
If your are, PartnerUp is just the social networking site you need to be on.
From co-founders and business partners to executives and board members, anyone who joins is bound to get the most out of this one.
PartnerUp allows users to connect with top people in a niche within a particular geographical location and make custom searches pertaining to job specifications. Yet another interesting feature of PartnerUp is that it favours entrepreneurs who are looking for advice and gives its users the opportunity to advertise their products or services.

Did you find our article useful?
Share it with your friends!
How live blogging at events can help your brand
Live blogging is a great guerrilla marketing tactic that can help you grow your following and voice in the media, taking advantage of the event's audience and speakers. When you live-blog, you can get attention in the moment from people attending the live event and even a bigger audience,adding the people that couldn't attend the event,but were interested in the subject.
According to socialmediaexaminer.com, live blogging can focus on: an entire event, several connected sessions or presentations, a single presentation, a behind-the-scenes look into the event.
Lisa Barone, vp of strategy at Overit, explained for Ad Week how a person can make the most of live-blogging as part of a strategy to develop brand influence.
Do your homework. Before you start signing up for events, Barone said it's important to understand your audience, the people important to your brand and find the events those people are attending.
Have a plan. Barone said it's easy to send someone to a conference and tell them to cover what happens. You'll get better, more targeted content if you create a plan. What sessions should they attend? What topics do you want to focus on? Are they live-blogging every session they attend or write one recap post?
Make the right connections. Don't wait until you arrive at the event to start connecting with people. If part of your plan is to interview speakers, make that connection ahead of time and schedule time before they speak.
Promote your attendance. If people don't know you're at an event, they won't look for coverage from you. Barone said, "don't wait until the event to let people know what you're doing."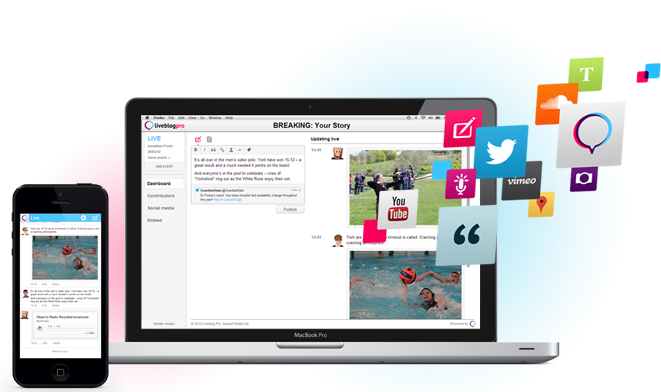 Moreover, other facts that we consider need to be taken in account are:
Engaging with the audience as often and early as possible
"Getting your audience involved not only elevates their voice, but also empowers your messaging. You can also start creating various touch points with your audience by creating brand awareness videos and social-media sharing contests that encourage people to talk about your event. You can even use a little incentive like a give-away or advance content from speakers. Once you have an idea of the type of content you want to create, it's best to lay it all out. Content calendars can help program content from your event throughout the year so you know how each piece fits together," explains Nate Bird for visual.ly.
Teasing your session. If you are speaking at the event, you may want to write about your session also before it occurs. Not only is this is a great way to repurpose content that you have spent a lot of time creating, but it also builds anticipation for your session.
Encouraging the audience to share on their social channels using the dedicated hashtag.
More ideas one can find here.
How has the rise of technology changed the advertising?
As anything that had touched or been in contact with, the rise of the technology changed or at least had a great impact on. From the launch of the e-mail, the boom of the Internet and social media, to the new channels that arrived and are changing everyday, technology plays an enormous role in our business lives. A role that deserves to be acknowledged and appreciated.
Looking to use technology disruption to your advantage? Join our masterclass!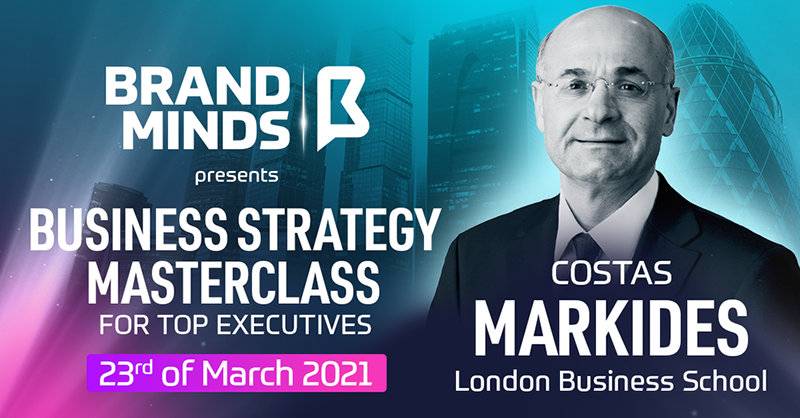 Some of the most important ways in which technology has changed and impacted the advertising scene are:
1.The video and content video popularity
If  10-20 years ago it was all about the TV, with the internet and the rise of platforms like YouTube, Facebook, SnapChat , video advertising has become increasingly widespread and its content's importance grew along with it.  As people become accustomed to watching videos, static images such as traditional billboards can seem dull by comparison. People are also getting savvier and savvier and how what to expect and ask from the advertising they receive. Therefore, they are not waiting anymore, they are reacting, creating their own media and interacting with the existing one in new, innovative ways.
2. Video blogging
It is not even about blogging anymore, but about video blogging and video bloggers taking control of the social media and its endless opportunities offered. The speed with which the new, extremely performant smartphones, tablets, notebooks are launched helps the content and video creators be even better, faster and smarter in their communication. The advertising campaigns are involving them more and more and making them part of the whole 360 communication, even stars for some of their campaigns targeting a younger audience. Therefore, instead of being only a one dimensional flow of communication, the latest campaigns are showing all kinds of new smart and innovative approaches.
"For a time, the digital age meant that free advertising was everywhere. Social media channels, pioneered by Facebook, have brought back the idea of paying to play. In other words, you have to dedicate a small budget to reaching people via social media.(…) The digital age has heralded an era where everyone can join the advertising dogfight. Yes, those with huge budgets still have an advantage, but it's no longer the decisive advantage of before. Even the smallest companies have good reason to play," wrote AJ Agrawal for Forbes.com.
3. The rise of some is the demise of others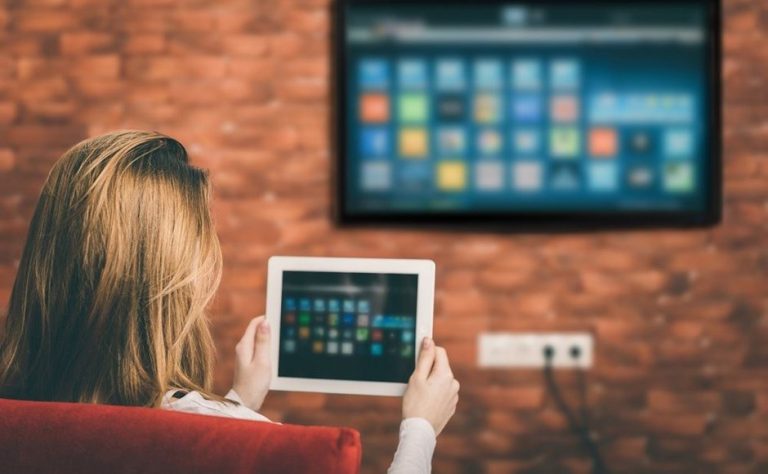 Along with the rise of digital and mobile, channels such as print media and radio are decreasing in their audience and reach, being forced to thing outside-the-box and find new ways to keep them from disappearing. Even TV is not the king anymore in some parts of the world, where the digital investments are conquering the top spot.
4. Message personalization and new targeting tools 
Nowadays, every client and consumer wants and demands to be touched by the advertising campaign, to feel like the messages are personalized for him / her, that they are addressing him/ her and him/ her problem and desire particularly. Something that due to the new technologies and the digital growth is becoming more and more possible.
Behavioral profiling has gone viral across the internet, enabling firms to reach users with specific messages based on their location, interests, browsing history and demographic group. "Ads can now follow users from site to site: a customer who looks online for flights to Frankfurt will be inundated with German holiday offers. Conversant, a digital-marketing firm, uses an algorithm to deliver around 800,000 variations of an ad to its big clients' prospective customers to make it as irresistible as possible. Kraft, a food company, monitors online opinions on its brands in an office which it calls <<the looking glass>>," wrote Business Insider.
Moreover, in the classic advertising model, firms used to place ads with media that brought together the audiences they were after. They would go for business executives in the Wall Street Journal, for example, or youngsters on MTV. But now advertisers no longer have to rely on media as proxies for consumers, because they have more tools and data to target precisely the people they want to reach.
5. Programmatic is the new KING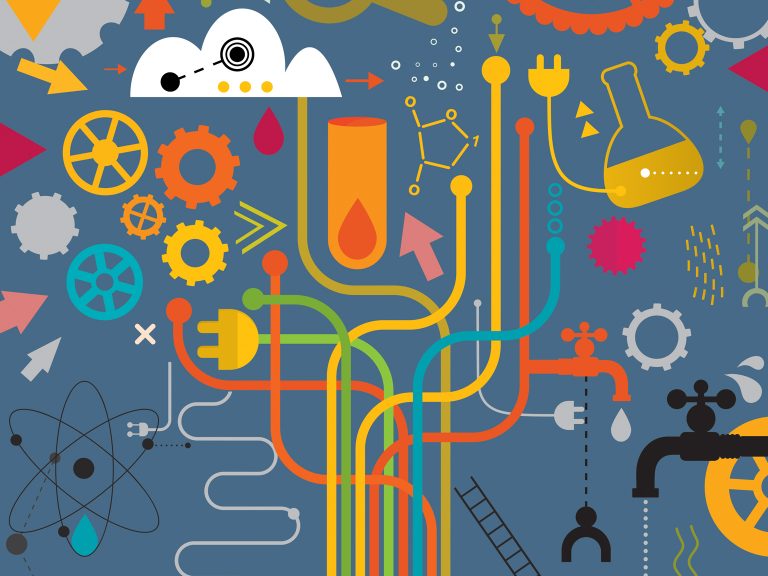 Programmatic buying represents a new system for targeting consumers precisely and swiftly with online adverts or DOOH. Publishers, advertisers and intermediaries can now bid for digital ads electronically and direct them to specific consumers as fast as they want to. Programmatic media buying allows the "owner/brand" to tailor a specific message and creative to the right person, at the right time in the right context – using audience insight from the brand (the customers you want to target) around the kind of audience they want to target. This methodology should deliver far more precision and personalization of messaging and media, resulting  in more efficiently targeted campaigns, and less of the "spray and pray" methodology of digital advertising – which is less targeted and based on sheer volume (mainly of impressions).
More on the subject one can read here.
Is it illegal or not to regram?
Copyright is always an issue than one posting on social media should be careful of and pay attention at. Due to the fact that Instagram doesn't include the ability to regram directly within the app, many people have feared that this practice of sharing other people's content is actually a violation of the Instagram terms of service (TOS).
Moreover, there was a statement published some time ago that was saying that in the Instagram's terms of service sharing content other than your own was a violation of the platform's terms. Therefore, regramming was a violation.
But, according to socialmediaexaminer.com, Instagram has updated their TOS to state that you're responsible for any content you post on Instagram. Sections 7 and 8 speak directly to the types of content you're responsible for. And one can read the most current version of Instagram's terms here.
So what are the steps that somebody must take in order to make sure they are not breaking any laws or rules?
Get permission from the owner to share his / her content. You can do that either by commenting on their post letting them know that you want to share their photo or video with your audience. Then you can ask if you can have their permission to repost it. You can also send the user a Direct Message asking the same thing. Once they give you response in writing, giving you permission to repost the picture, then you'd be allowed to repost the picture. If they don't respond, don't use it. Asking is not enough. You need actual consent.
Still according to socialmediaexaminer.com, there are two types of consent: implied and explicit. Implied consent is when users post content with the expectation that it may be regrammed (when the company or the brand has a running campaign with a certain hashtag that wishes it will bring along the wished target and, at the same time, is looking to engage them and make them share the info and get other people involved as well). Explicit consent is when the original content creator gives you direct permission to repost their content on your Instagram account.
2.  Get attribution to the original user. Don't forget to credit the person or the brand you are getting your information from.
3. Use the Repost for the Instagram app. Available for both iphone and android devices, repost for Instagram makes it easy to #Repost your favorite photos and  videos on Instagram while giving credit to the original Instagramer. The benefit of using this app is that it will add a watermark to the image with the original post creator's Instagram username. This makes it clear that the content is regrammed and provides attribution to the original creator.
4. There are now also a variety of platforms and services designed for brands to ask users if they can use their content. According to Debbie Miller, on her article on agorapulse.com, one example is a Content Rights Solution designed by TINT who creates a variety of social display tools. "The solution allows you to discover content relating to your brand, request the proper permissions from the author of the image via social media, and track which images to which you have rights," explained Miller.
More on how to protect yourself legally you can read here.
The digital out-of-home advertising is already blooming
The share of global advertising spend going to out-of-home (OOH) advertising remains stable at 6 percent, shows 'Why Out Of Home Performs', a joint study by Magna Intelligence and Rapport, IPG Mediabrand's out-of-home agency, into OOH's continued growth and impact. The report was based on findings from an analysis of the global OOH industry and OOH advertising in 70 countries. This is largely down to major investment in digital OOH (or DOOH), which is growing in every environment and has seen unit numbers jump 70,000 to 300,000 worldwide in two years, and revenue increase by 30 percent.
Digital OOH is boosting advertising revenues by creating more opportunities for marketers in premium locations like airports or malls, thus increasing the revenue per panel multiple times. Although digital units account for only 5% of the global OOH inventory, they already generate 14% of total advertising revenues. In fact, DOOH already accounts for 30% of revenues in some markets like the UK and Australia, and the global share is predicted to grow to 24% globally by 2021.
"With the explosive growth of digital-out-of-home (DOOH), the diversified lifestyle touch points it reaches, and the veritable mountain of mobile driven audience data, we are best positioned to accurately, and in real-time, track audiences and deliver contextually relevant messages through out-of-home media. OOH's sustained growth on a global scale will further enable us to create engaging consumer experiences," said Mike Cooper, Global CEO Rapport.
source: Campaign Asia
"The digital-out-of-home market is a return to advertising's roots, quietly shifting the industry by way of re-imagining the classic advertising experience. Nearly $4.5 billion is expected to be spent on DOOH advertising in the U.S. by 2019, an increase of approximately $1.2 billion from 2016. Zenith forecasts that DOOH will grow faster globally than all other buying methods, and PricewaterhouseCoopers predicts that DOOH advertising revenues will overtake traditional media spend in 2020, growing at a rate of 15% a year for the next four years," writes AdAge.com.
According to MAGNA, OOH advertising is now a $29 billion market, responsible for approximately 6% of the $500 billion global advertising spending. However, OOH market share increases to 10% to 12% in some countries, including France and Russia, compared with other media categories including Internet, TV, print and radio. OOH market share has remained stable in the last five years, hovering around 6%. However, as part of its increasing importance in the media mix, OOH market share has increased from 8% to 10% of traditional media advertising spend, which includes TV, print, radio and out-of-home, among other categories.
MAGNA Intelligence, in partnership with Rapport, conducted an in-depth survey in 22 key markets including Argentina, Australia, Belgium, Canada, China, Denmark, France, Germany, India, Italy, Japan, Malaysia, Mexico, Netherlands, Norway, Philippines, Russia, Singapore, Spain, Thailand, United Kingdom and the United States. The objective of the survey was to assess OOH advertising's sustained growth and impact during a period where offline marketing budgets are stagnating and other media categories are struggling.
Moreover, MAGNA showed in another study launched in June, that in the USA, Out-of-Home (OOH) advertising is expected to grow +2% to $7.9 billion in 2017, including cinema. MAGNA reduces its 2017 growth forecast following weak first quarter advertising sales, which grew by just +0.3% in a sudden slowdown, as seven of the last eight quarters had shown year-over-year growth of +3% or more. The 1Q17 stagnation occurred as a result of several key verticals reducing spend, including both automotive and food & beverage, which both experienced double-digit declines. This offset the continued growth from tech brands (e.g. Google, Apple, Hulu and Netflix) that have driven OOH sales over the last two years.
The DOOH market encapsulates everything from digital billboards to screens in elevators to screens on jukeboxes. Unlike internet or mobile advertising, it allows advertisers to reach target audiences in a specific, real-world context. Instead of interrupting an internet user's online experience with an ad, it's focused on marketing to consumers when they are "on the go" in public places or in transit. Due to its specifications, the technology has the opportunity to give to its target the message in a format that's automated, dynamic and interactive.
"The DOOH space presents a major opportunity for creatives, technologists and consumers alike. We see DOOH's effectiveness in the numbers: the 2016 Nielsen OOH ad study found 91% of U.S. residents age 16 or older, who have traveled in a vehicle in the past month, noticed some form of OOH, and 79% noticed OOH in the past week. The same Nielsen digital billboards study found 71% of digital billboard viewers find those ads to stand out more than online ads. Ultimately, the emerging digital-out-of-home market is groundbreaking in its interactive technology, but it's also a return to advertising's roots and the original purpose around advertising: to provide an engaging and useful service to the public," writes AdAge.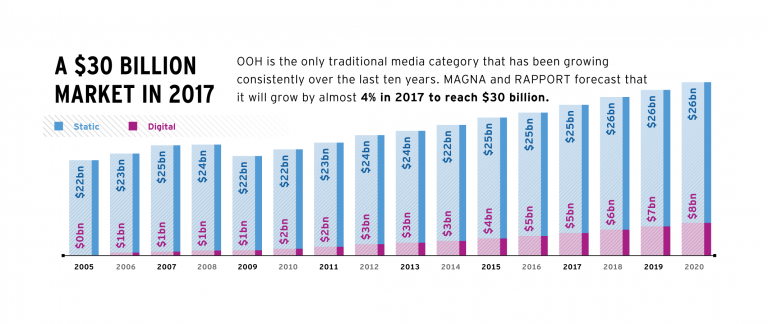 Globally, in 2016, the OOH market was worth $28 billion in net advertising, according to Magna's report, and is predicted to grow by 4 percent per year to reach $33 billion by 2021. Behind this growth is an ever-more concentrated supply-side market, in which the top international OOH media owners are continuing to expand their influence: the six main global vendors (in order of 2016 revenue size, JCDecaux, Clear Channel, Outfront, Lamar, Stroer and Exterior) now control almost 40 percent of the whole market. By 2021, the report predicts small, but significant changes, in the environments most used for OOH. Use of billboards, currently the top revenue-generating segment and performing particularly well in India, Russia and the US, will drop 4 percent from 45 to 41 in the next five years. Street furniture and transit, meanwhile, are due to grow, respectively, from 31 to 34 percent and from 14 to 15 percent as local authorities become more willing to partner with OOH vendors. A series of major contracts—typically over 10 years long—in big cities are also in the process of renewal, the first time this has happened in the era of DOOH and programmatic opportunities, which partly explains DOOH's recent giant revenue leap.
According to APAC, while the US is the largest OOH market, valued at $7.1 billion last year, APAC countries Japan ($4.7 billion) and China ($3.1 billion) come in at second and third position and per capita spending on OOH amounts to a record $38 per year in Japan, compared to $22 in the US. Singapore spends the second highest amount per capita at $36 a year. In the Philippines, meanwhile, OOH accounts for one of the highest percentage shares of overall ad spend in the world, at 15 percent compared to the global share of 6 percent. Singapore (12 percent) and Thailand (9 percent) also exceed the worldwide average.
Singapore's OOH ads have the highest reach range of any other APAC market, with a penetration of 70 to 80 percent of the relevant population, due to its concentrated levels of urbanisation. Australia's have the second highest, reaching 60 to 70 percent, but neither matches the reach of OOH ads in Argentina, which are considered seen by a huge 85 to 95 percent of the population.
In Australia, DOOH represents more than a third of total OOH spend, which the report attributes to a sophisticated advertising market and a population relatively concentrated in a few urban centers.
In China, the total OOH spend about matches other markets, it is one of the top five global markets in terms of penetration of digital, led by the transit segment. By 2021, MAGNA predicts that digital growth will have doubled, while OOH growth will be stagnating, partly due to lack of interest in non-digital inventory.
"OOH's natural convergence with other digital media has hurt most other ad forms. OOH complements digital media by amplifying and enhancing it. This phenomenon has brought additional ad revenue to OOH, while most other media have experienced revenue losses as a result of the growth in digital.OOH has benefited from other new technologies, too, such as social media and mobile. Many OOH media campaigns are now picked up on social media, which greatly amplifies the total viewership. When consumers are on mobile devices, OOH is typically one of the last ad forms they're exposed to just before important path-to-purchase decisions," explained Steve Nicklin, Vice President of Marketing, OAAA, for  billboardinsider.com.
The innovative opportunities provided by the digital platform have provided the OOH industry with new thinking and new ideas. Moreover, in the USA, as shown by the  USA Touchpoints/RealityMine study, OOH and Today's Mobile Consumer, consumers spend more time with OOH than any other form of advertising media except TV. The findings are supported by the  2016 Nielsen OOH ad study that found that 91% of US residents age 16 or older, who have traveled in a vehicle in the past month, noticed some form of OOH, and 79% have noticed OOH in the past week. Their research also discovered impressive levels of engagement, with 82% of billboard viewers reporting they look at the advertising message at least some of the time; and over one-third looking at the billboard ad each time or almost each time they noticed one. The  Nielsen digital billboards study found 71% of digital billboard viewers find them to stand out more than online ads.
OOH is expanding to brand new environments. Digital screens have allowed OOH advertising vendors to penetration niche environment allowing to reach young urban population that is otherwise hard to reach by traditional media: offices, elevators, taxi, gyms, bars, retail etc. The "Digital Place-Based" segment offers targeting capabilities and programmatic opportunities. Moreover, OOH becomes addressable and experiments with programmatic. Initially developed to automate the trading of online display ads, the programmatic technologies are now being used in to buy and optimize ad campaigns on connected DOOH units.
Programmatic techniques not only optimize the workflow of media-buying but help brands deliver the right ad in the right place and at the right time, using consumer data and mobile location data. Giving advertisers the ability to plan, buy, optimize and measure the effectiveness of their outdoor campaigns through an online platform represents the natural evolution of OOH's technology-driven transformation with many vendors developing Private Marketplaces (PMP).
Besides that, DOOH is going social. "There are two main avenues DOOH is being used to complement social campaigns, either through integration or through content creation," says Neil Morris, founder and CEO of UK-based creative production house Grand Visual.
10 Things you might not know about Robin Sharma
For nearly 20 years, many of the most well-known organizations on the planet, ranging from Nike, GE, Microsoft, FedEx, PwC, HP and Oracle to NASA, Yale University and YPO have chosen Robin Sharma for their most important events, when nothing less than a world-class speaker will do. More about him you can find next. 
1.He believes you really don't have to make sudden changes or frightening optimizations to raise your game and revolutionize your life. Instead, just master each day, by simply devoting to delivering a few micro-wins that, over time, elevate you to a place called wow. And a league called legendary.
2. He offered 60 tips for a stunning great life that include pieces of advice such as: get serious about gratitude; expect the best and prepare for the worst; plan a schedule for your week; get a mentor; hire a coach; find more heroes and be a hero for someone, etc. More you can find here.
3. Sharma's books such as The Leader Who Had No Title have topped bestseller lists internationally and his social media posts reach over six hundred million people a year, making him a true global phenomenon for helping people do brilliant work, thrive amid change and realize their highest leadership capacities within the organization so that personal responsibility, productivity, ingenuity and mastery soars.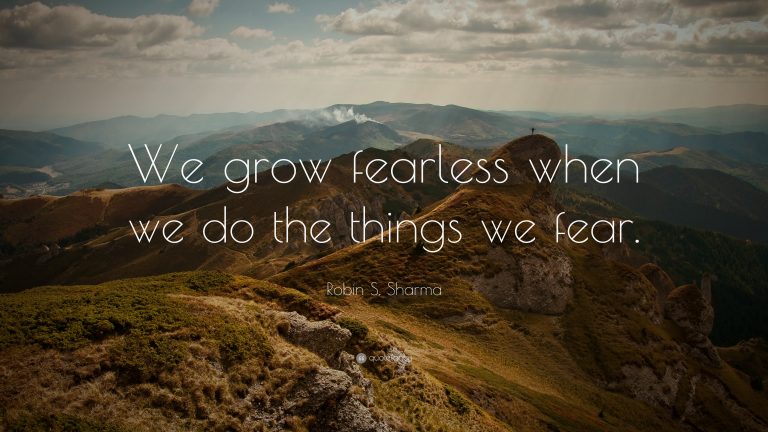 4.  He has been ranked as one of the Top 5 Leadership Gurus in the World in an independent survey of over 22,000 business people and appears on platforms with other luminaries such as Richard Branson, Bill Clinton, Jack Welch and Shaquille O'Neill.
5. Robin Sharma is one of the world's premier speakers on Leadership and Personal Mastery. As a presenter, Sharma has the rare ability to electrify an audience yet deliver uncommonly original and useful insights that lead to individuals doing their best work, teams providing superb results and organizations becoming unbeatable.
6. According to him, fear ruins more bright lives than you might imagine. Each of us, by virtue of our very human nature, has the potential to Lead Without Title and achieve great things that elevate everyone around us by our model of possibility. But the chattering voice of fear in our heads stops us from playing big.
7. He loves the word leadership. It makes him think of Mandela and Gandhi. Gates and Edison. Mozart and Beckham. Bono and Bieber. It's a word that he has been passionately building the past 20 years of his life around, reminding so called ordinary people that they are called to lead. And create. And contribute. And win.
8. According to him, the job of a leader is to grow more leaders. "If you're not building more leaders, then you're not leading, you're following. Your job (regardless of whether or not you have a title) is to help people do work they never dreamed they could do. Your job is to inspire people to own their talents, express their gifts and do the best work of their lives. That's part of what it truly means to lead".
9.  One of the quotes that changed his life is: "I learned this, at least, by my experiment: that if one advances confidently in the direction of his dreams, and endeavors to live the life which he has imagined, he will meet with a success unexpected in common hours." – Henry David Thoreau, Walden: Or, Life in the Woods.
10. Sharma believes that one should make time every day to reconnect to his / hers highest ideals and boldest dreams. Without hope, people perish.
Mobile advertising to pass the $100 billion mark for the first time
Digital media has now surpassed linear television to become the No.1 category in advertising revenues. Within digital, the majority of advertising sales (54%) is now generated by impressions and clicks on mobile devices. The data are gathered from Magna Advertising's Spring Forecast, June 2017. Globally, media owners advertising revenues are projected to grow by +3.7% in 2017, to $504 billion. This is a noticeable drop compared to 2016 which displayed a record +5.9% growth rate. Global advertising growth is expected to re-accelerate to +4.5% in 2018, with the return of even-year events (Football World Cup in Russia, Mid-Term U.S. elections, Winter Olympics in South Korea).
Online advertising sales will grow by 14% this year while offline ad sales (television, print, radio, out-of-home) will decrease by -2% (last year was flat), but it will pass the $200 billion mark ($204 billion) to become the #1 category globally, with 40% of total ad sales vs 36% for television. Within digital, the majority of advertising sales (54%) is now generated by impressions and clicks on mobile devices.
The star of these years, the mobile advertising will be passing the $100 billion mark for the first time this year ($110bn), while the video and social formats will continue to drive digital advertising growth (+30% or more) with paid search growing double digits again (+13%) to remain the number one format (almost half of digital ad sales). The two digital-native advertising formats or environments (search and social) now represent a combined 70% of total digital ad spend and will capture 85% of the net growth this year. For the second year in a row, social video formats (counted as "social" by MAGNA) will represent a major driver to digital spend, attracting major consumer brands in the social environment where, until recently, there was not significant spend in this category.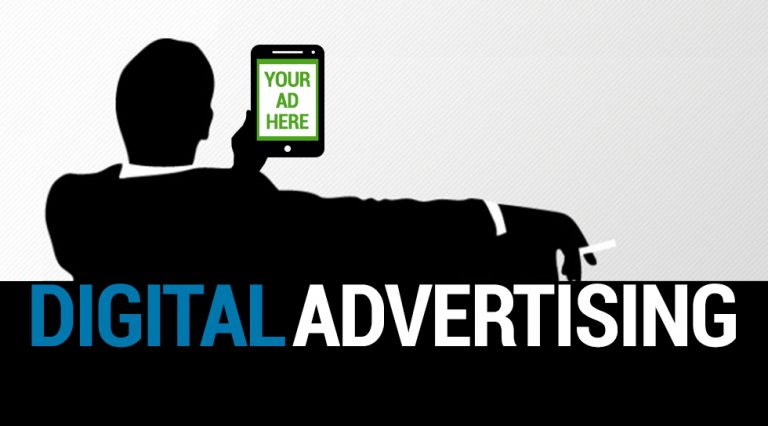 While this is slower than last year's 51.6% mobile growth rate, it represents $27 billion of incremental mobile advertising spend, which is in line with last year's $28 billion of incremental mobile spend. Mobile isn't losing any momentum; growth rates are only declining because of the increasing base of mobile advertising spend. This strong growth contrasts with desktop growth, which is expected to shrink by -2.2% this year. This is the second consecutive year of negative desktop advertising growth, and it is expected to continue to decline for the foreseeable future. Within digital, search advertising is by far the largest portion of spend; search is expected to grow by 13% this year to reach $99 billion, or just under half of total digital advertising budgets. This growth represents 30% mobile search growth, and desktop search shrinking by -3%. Mobile search advertising has passed the halfway point to become the majority of search advertising spend, with 55% total share expected this year. Furthermore, the incremental $11 billion of search advertising spend represents over 40% of total incremental digital dollars. Search has been especially strong because of both continued new product innovations such as search re-marketing and customer match lists, along with the growth of non-core search such as Alibaba product listings. Furthermore, search advertising continues to be strong because of its position in the advertising funnel and the ease with which search activity can be connected to customer behavior and sales. Looking forward, search advertising will remain robust, growing around 10% annually to reach $140 billion by 2021. At that point, it will be larger than newspaper, magazines, radio, and OOH combined.
Equally important within digital advertising is social media, which is expected to grow by +32% this year to reach $42 billion, slightly ahead of prior expectations for +29% growth. Social advertising is the fastest growing portion of digital spend, and like search, this is because of mobile platforms. 85% of total social advertising dollars are coming from mobile devices, the highest share of any digital sub-format. Furthermore, social's 31.6% growth rate represents $10 billion of incremental spend. This is nearly as much as can be found in search advertising despite social being less than half the total size. Growth comes both 10/17 from increased social usage and penetration, as well as new product innovations, including social video, and increasingly dense ad loads on social media. Looking forward, mobile advertising will continue to be dominant in social: by 2021 it will represent 93% of total social media sales. Impressively, search and social combine to represent more than the total of incremental dollars across all media formats (offline media and shrinking digital formats like banner display are net losers; search and social are the growth engine for global ad spend). Video advertising is growing nearly as quickly as social media; growth this year is expected to be 30%, which will bring total video advertising spend to $23 billion. While desktop video is still showing growth at +14% (unlike most other desktop formats), the engine for online video ad spend growth is mobile (+56% growth expected to bring mobile share of video spend to +45% this year). Mobile video will match desktop next year as the mobile video experience, wireless broadband penetration, and mobile video content continues to improve. By 2021, online video advertising will have passed the $50 billion mark globally, and digital video will represent more than 20% of total video viewing (TV and online video). Banner display and other digital advertising formats (email advertising, online classifieds etc.) are stagnating, with both expected to shrink by around -3% this year. Not only have brands found better outcomes using other digital formats such as search, social, and video, but display inventory is also on the decline. Standard banner online real estate is being replaced by video and other rich media formats.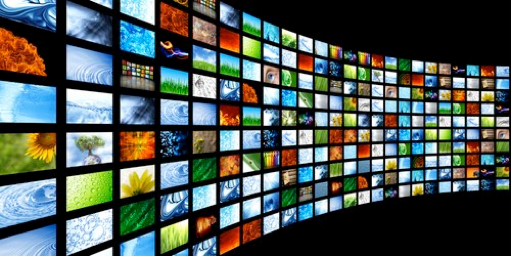 "The record level of growth in 2016 globally, outperforming economic growth, was caused by marketers willing to embrace the new opportunities offered by digital media (search, social, video, programmatic) on a larger scale, while anxious to preserve their share of voice on traditional linear television, despite rising CPMs costs. In 2017, both digital and offline growth will slow down. Online advertising sales will nevertheless continue to grow by double-digits in most markets (globally +13%), but television ad sales will decline (-1%) due to softer price increases, ratings erosion and the lack of global sports events," declared Vincent Létang, EVP, Global Market Intelligence at MAGNA and author of the report.
In the UK, online advertising sales will grow by an average 10% through the region, to $42 billion. Digital advertising now represents almost 42% of total advertising in Western Europe, slightly above the global average (40%). The fastest-growing formats will be social media (+37%) and video (+19%) while paid search spending will grow by 10%. Ad revenues from static banners will decrease by 5%. In terms of platform, mobile will capture all the growth (+36% to $19 billion). Mobile ad sales will represent 43% of internet ad sales by the end of 2017, which is slightly below the global average or APAC average.