Blue Ocean Strategy: How to differentiate from the competition
On this page:
Definition of Blue Ocean Strategy – What is Blue Ocean Strategy? Who created Blue Ocean Strategy?
Differences between Red Ocean Strategy and Blue Ocean Strategy in business and leadership
3 brands that have differentiated from the competition, generated new demand and found a new market
How to create a blue ocean for your company through value innovation
What is Blue Ocean Strategy?
Every entrepreneur wishes their company was the only one in the market. No competitors, having all the customers to themselves. King of the castle ruling unchallenged over the country.
While for most entrepreneurs this dream is only wishful thinking, for some it's reality.
These entrepreneurs (and we will talk about three of them later) have led their companies to great success by applying Blue Ocean Strategy.
Blue ocean strategy is the simultaneous pursuit of differentiation and low cost to open up a new market space and create new demand. It is about creating and capturing uncontested market space, thereby making the competition irrelevant. It is based on the view that market boundaries and industry structure are not a given and can be reconstructed by the actions and beliefs of industry players.
Who created the Blue Ocean Strategy?
Blue Ocean Strategy was created by management thinkers Chan Kim and Renée Mauborgne.
Both Chan and Renée are Professors of Strategy at INSEAD, one of the world's top business schools, and co-directors of the INSEAD Blue Ocean Strategy Institute in France.
In 2005, Chan Kim and Renée Mauborgne co-authored Blue Ocean Strategy. The book shows the results of a study of 150 strategic moves spanning more than 100 years across 30 industries. The authors' conclusion is that lasting success comes not from battling competitors but from creating blue oceans – untapped new market spaces ripe for growth.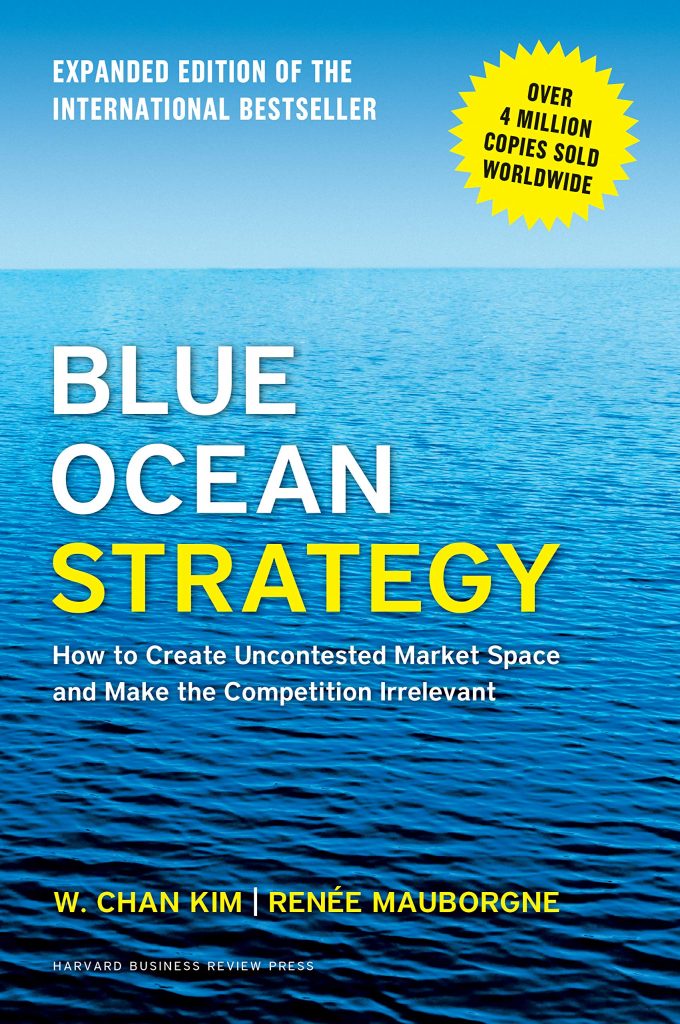 Since its first edition, Blue Ocean Strategy has been revised and expanded in 2015 and has become a bestseller with over 4 million copies sold in 46 languages.
The book is recognized as one of the most iconic and impactful strategy books ever written and is the recipient of numerous distinguished awards. Both authors received widespread recognition for their work in the form of various awards and distinctions.
Apart from their careers in academia, Chan and Renée have been employed in an advisory capacity by prestigious organizations. Kim is an advisory member for the European Union and serves as an advisor to several countries and Renée served on President Barack Obama's Board of Advisors on Historically Black Colleges and Universities (HBCUs) for the president's two terms.
In 2019, Thinkers50 named Chan Kim and Renée Mauborgne the #1 Business Thinkers in the World.

How to grow your business with 1 strategy framework
Differences between Red Ocean Strategy and Blue Ocean in business and leadership
In Blue Ocean Strategy, red ocean is a metaphor for the known market space encompassing all the industries in existence today. Remember the documentaries that showed the audience what happens when a large number of sharks feed at the same time, in the same place? It's called a shark feeding frenzy event and it turns the ocean water red with the blood of the fish the sharks are feeding on.
Blue ocean is the metaphor for the unknown market space and all the industries that are not in existence today. It's the unchartered land that courageous explorers venture in to discover unimaginable riches and opportunities.
Red ocean strategy is about competition
Blue ocean strategy is about creating new demand
Red ocean strategy is a market-competing strategy where profit and growth decline while competition increases
Blue ocean strategy is taking the opportunity to grow rapidly and profitably
Red ocean strategy competes over customers
Blue ocean strategy turn non-customers into customers
Conventional leadership focuses on the cognitive and behavioural skills of leaders
Blue ocean leadership focuses on actions and activities tied to market realities
Conventional leadership has resulted in 87% global average in employee disengagement
Blue ocean leadership's goal is to unlock unrealized talent and energy in the organization fast and at low cost

3 Brands that have differentiated from the competition, generated new demand and found a new market
Cirque du Soleil
Founded in 1984 in Canada, Cirque du Soleil is an entertainment company and the largest contemporary circus producer in the world.
There's circus in the company name but the performances are not your usual live animal children focused shows.
By taking out live animal acts from their performances and focusing on creating storyline-based shows with live music and amazing acrobats, Cirque du Soleil has created a new market space and new demand: circus entertainment for adults.
More than 180 million spectators have seen a Cirque du Soleil production since 1984 worldwide. The company generates annual revenue of approximately $1 billion and its creations have received numerous prizes and distinctions, including seven Primetime Emmy Awards and a star on the Hollywood Walk of Fame.
Uber & Airbnb
Both Uber and Airbnb are great examples of the blue ocean strategy.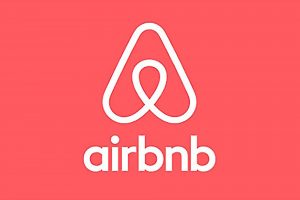 Airbnb launched in 2008, Uber – one year later.
Although operating in the hospitality industry, Airbnb doesn't own any property, it manages an online travel platform. By allowing homeowners to monetize their spaces and travellers to book them instead of hotels, Airbnb has found a new market, a big one.
The numbers speak for themselves: 7+ million listings worldwide, 2+ million people staying on Airbnb per night on average, 750+ million all-time Airbnb guest arrivals. In Q1 of 2019, Airbnb registered $9.4 billion in the total booking value.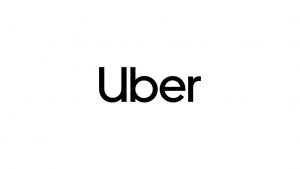 Although Uber is operating in the people moving industry, it is not a taxi company, but a ridesharing service.
The latest stats say there are 21 million trips a day taken by 111 million monthly active platform consumers located in over 900 cities across 69 countries. In 2019, the company registered $65 billion in gross bookings across all platforms.
How to create a blue ocean for your company through value innovation
Value innovation is one of Blue Ocean Strategy's tools and is defined as the simultaneous pursuit of differentiation and low cost, creating a leap in value for both buyers and the company.

10 questions to increase employee retention
The concept of Value Innovation is the cornerstone of the market-creating strategy.
Because value to buyers comes from the offering's utility minus its price, and because value to the company is generated from the offering's price minus its cost, value innovation is achieved only when the whole system of utility, price, and cost is aligned.

Chan Kim and Renee Mauborgne
But how does one achieve value innovation?
To achieve value innovation, the company looks at two factors: cost savings and buyer value.
The company makes cost savings by eliminating and reducing the factors an industry competes on and lifts buyer value by raising and creating elements the industry has never offered.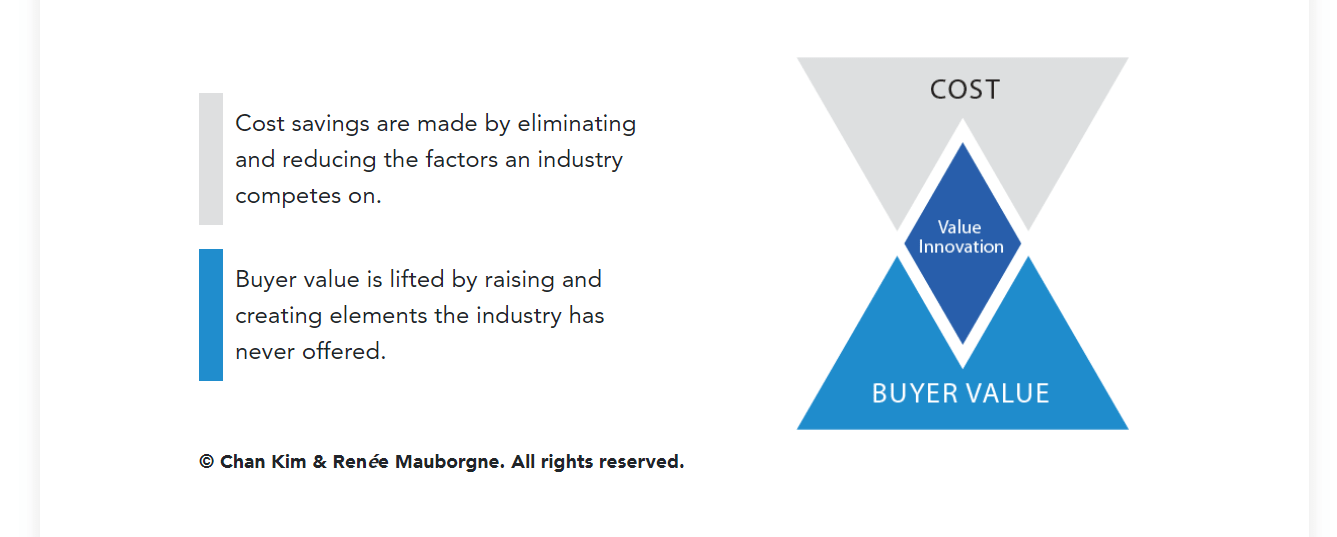 Many businesspeople believe that lowering costs and increasing value is a trade-off. It's either creating greater value for customers at a higher cost or creating reasonable value at a lower cost. Blue Ocean Strategy allows companies to pursue differentiation and low cost simultaneously.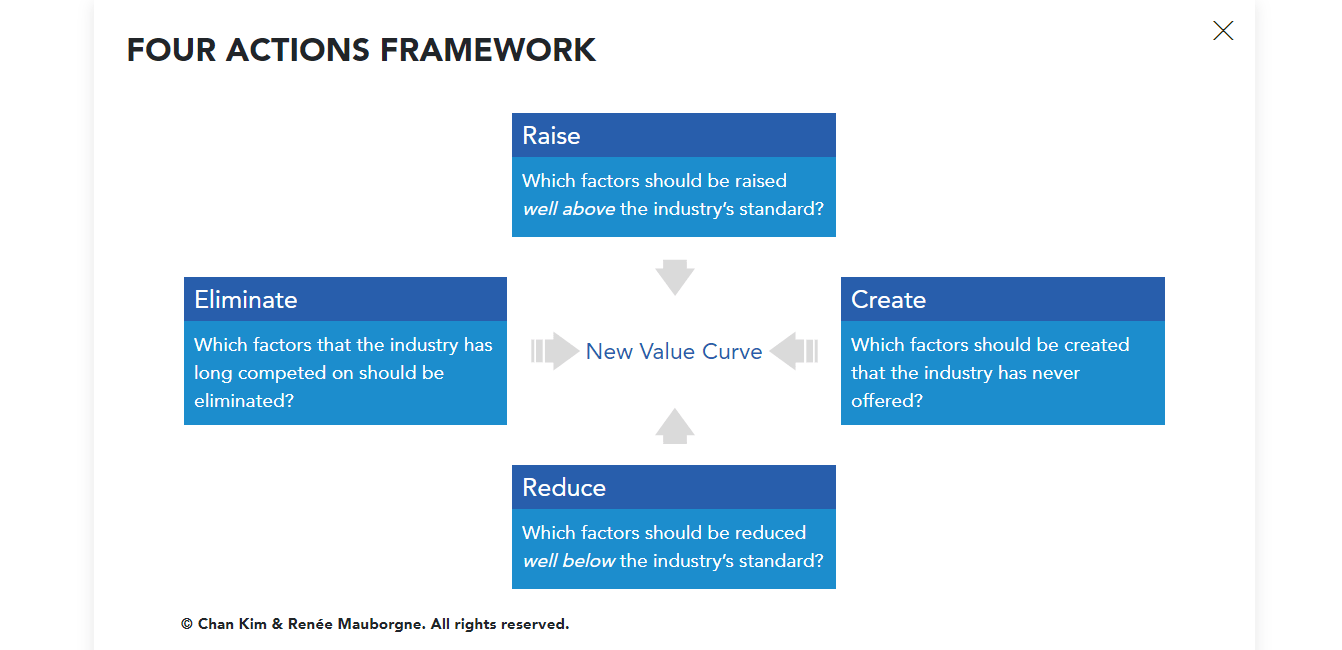 A great starting point for achieving value innovation is to answer the following questions devised by Chan Kim and Renee Mauborgne in the Four Actions Framework:
Which of the factors that the industry takes for granted should be eliminated?
Which factors should be reduced well below the industry's standard?
What factors should be raised well above the industry's standard?
What factors should be created that the industry has never offered?
In conclusion, to find your blue ocean, namely to tap into a new market, you need to perform an innovative leap in customer value at lower costs thus making the competition irrelevant.
Join the Conversation
We'd love to hear what you have to say.
Get in touch with us on our LinkedIn Group, Facebook Group or Twitter.
How to make it work for your brand with Facebook's new changes
After the new Facebook News Feed changes, all of the marcomm industry has been left wondering what are the best ways of keep on bringing success for the brands and the companies.
We are offering you some solutions that we believe will help you and your business:
Put more emphasize on the content and its value. Even you will post less frequently, try and create content that will stimulate the conversation, bringing more comments and shares.
Avoid click and engagement bait
Use Facebook Live. Live videos get the best interaction of Facebook of all the content posted and,moreover, bring instant interaction and reaction from the followers. A manner to attract more people to your live video is to announce your followers you will have a video session and when it will happen, plus add people in your video and invite people to watch. Moreover, the viewers can interact by posing open questions or by submitting questions during the live feed.
Use the "See First" option. What it happens is that when your followers activate this option they're less likely to miss your updates. All they have to do is click on "Following" and then "See First" on your page and everything is settled.
Get into Messenger Chatbots, learn about them and use them. They will allow you to nurture leads and sell.
"Businesses in the travel, finance, media and entertainment, health, and retail sectors in particular have all found success with these pocket-sized personal assistants. For example, you can open up Facebook Messenger at breakfast and ask your weather bot what Mother Nature has in store for you that day. Then you can ask your favorite newspaper bot for the latest sports or business headlines. Planning a trip? Message a travel bot for flights and hotel recommendations, to rent a car, and more. Bots use AI technology to understand your question, find the right response, and deliver it in as conversational and "human" a way as possible," wrote Rob Mathison for Hootsuite.
Learn how to use to perfection Facebook ads. Even the advertising politics are in a continuous change, mastering your ads' strategy is the way to reach the best your target.
Personalization online shouldn't be too personal
We don't like to be looked at in groups anymore. We hate the idea of being seen as one and the same as others around us. We want to brands to find a way to address us and our desires and issues with a personalized message, with an as clear as possible idea of whom we really are, each one of us. It's a reality that more and more quantitative and qualitative researches show. For example, according to eMarketer, 80% of users find emails with personally recommended products helpful – but can be turned off by display ads that follow them around the internet as they read the news or check Facebook.
"Users like it when they feel like you're helping them, not when you know where they live or publicise your purchases.Essentially, it's important to find that sweet spot where personalisation doesn't feel too personal. This personalisation works because it adds value to their experience. It helps them find what they want. It's streamlined and doesn't follow them around as the browse elsewhere. It's personal, but the user itself controls the action. If that email converts, it's because the user themselves opened it and decided they wanted to buy. It's a reminder as opposed to a salesman following them around a store, asking "do you want this now? How about now?"," said Gurmeet Lamba, chief operating officer at Sentient Technologies, for Campaign UK. 
According to Econsultancy's Quarterly Digital Intelligence Briefing: 2016 Digital Trends, the priorities that sit atop marketers' lists are tied together by their focus on the individual: personalization (31%), content optimization (29%) and social media engagement (25%) are overlapping capabilities with the customer at the center. Moreover, nearly half (46%) of respondents rank the process of creating a cross-team approach with the customer at the heart of all initiatives as 4 or 5 on the difficulty scale.
In terms of marketing, personalization is when content is tailor-made with an audience segment or individual user's characteristics or preferences in mind. This is typically based on previously collected or readily available data, such as website browsing behavior and interests on social media.
By doing so, marketers have a better chance of meeting consumer needs more effectively and efficiently, as content will be written about particular subjects or with a certain tone of voice, published on appropriate platforms, and promoted through relevant channels. This also results in easier, faster and better interactions with online audiences, which can contribute to user satisfaction, strong relationships, and brand loyalty.
A  study conducted by Yahoo finds that most consumers are not only aware of online personalization, with 78% of those surveyed expressing a desire for some type of personalized content. And, according to Piers North, strategy director at Yahoo UK, quoted by The Guardian, the greatest opportunity for marketers today lies in managing personalization on mobile devices. He admits, however, that this is not easy and he points out that access to data is the key.
Therefore, personalization should be done with a lot of attention in order to be relevant and bring true value to the table. Despite all the opportunities that might occur in the online business today, for increased personalization,  it's important not to personalize for personalization's sake – nor to become fixated on the latest tools or techniques.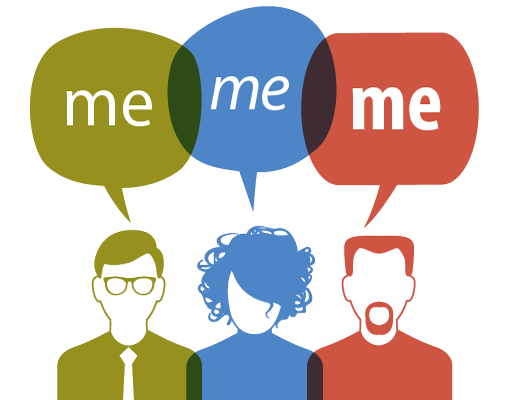 In fact, Michael Smith, marketing leader for mobile and social business at IBM, quoted by Lucy Fisher for Marketing Week, warns it is easy to chase after personalization strategies "just because you can". He says: "Customers want engagement with some brands, but not others. Whatever we do, it has to be with the customer in mind".
We leave you here , with a psychological explication about why people love and crave for customized experiences.
What is the real value of a Bitcoin?
After having increased in value from about $570 to more than $4,300 — an astounding 750% — in just the last year, the Bitcoins are becoming more and more desired by people. But what is a Bitcoin and what is it's real value? Bitcoins are a crypto-currency.  "That means they can be used like a currency, but don't physically exist like dollar bills.  They are an online currency which can be used to buy things.  They are digital cash that exist as bits on people's computers.  You can't put them in a drawer, like dollar bills or gold Krugerrands.  Bitcoins are used to complete transactions – just like any currency.  Even though they are virtual, rather than physical, they are used like cash when transferred between people through the web," explained Adam Hartung for Forbes.
Bitcoin is decentralised, which means that no single authority or institution holds or controls the bitcoins.
Bitcoins can be transferred electronically and practically instantly and have historically had low transaction fees, though this is something that has recently changed.
Mashable.com reported that Bitcoin transaction fees have soared of late, thanks to a block in the Bitcoin blockchain, which is limiting the number of transactions that can go through at any given time.
Only 21 million bitcoins can ever be created in order to protect the value of the bitcoin system. Bitcoins can be 'mined', which is the process of actually creating bitcoins, or they can be bought using regular currency.
Bitcoins can be mined using computer software and a mathematical formula designed by the Bitcoin founder Satoshi Nakamoto.
Satoshi Nakamoto is anonymous and could be one person or a group of software developers.
According to metro.co.uk, bitcoins can then be divided into smaller parts – you do not have to buy an entire bitcoin. "The smallest divisible bitcoin amount is one hundred millionth and is called a Satoshi after the founder of bitcoin. Bitcoin transactions are sent to and from Bitcoin wallets, which is where your bitcoins are stored electronically. They are completely transparent, any bitcoin transaction can be traced back to the point where the bitcoins were produced," writes Metro.
The  'the block chain' is a public ledger where every bitcoin transaction that ever took place is noted.
When it comes to its value, there is no consensus as to what exactly gives bitcoins its intrinsic value. "Some say it's the maths and technology behind it. Others say it is the effort of the miners to make the bitcoins. Investing in bitcoin is a gamble just like investing in any over-inflated industry, good or service. As it stands, if you invested $2,000 into bitcoin five years ago you could be a millionaire today," added Metro.
10 Things You Might Not Know About Gary Vaynerchuk
BRAND MINDS is The Central and European Business Summit taking place in Bucharest, Romania.
Here are 10 things you might not know about Gary Vaynerchuk
American serial entrepreneur, four-time New York Times bestselling author, speaker and internationally recognized internet personality. First known as a leading wine critic who grew his family's wine business from $3 million to $60 million, Vaynerchuk is now best known as a digital marketing and social-media pioneer at the helm of New York-based VaynerMedia and VaynerX.  Angel investor or advisor for the likes of Uber, Birchbox, Snapchat, Facebook, Twitter and Tumblr, he is a regular keynote speaker at global entrepreneurship and technology conferences.
1.No matter the amount of success and money he has at this point he is still working 13-15 hours a day.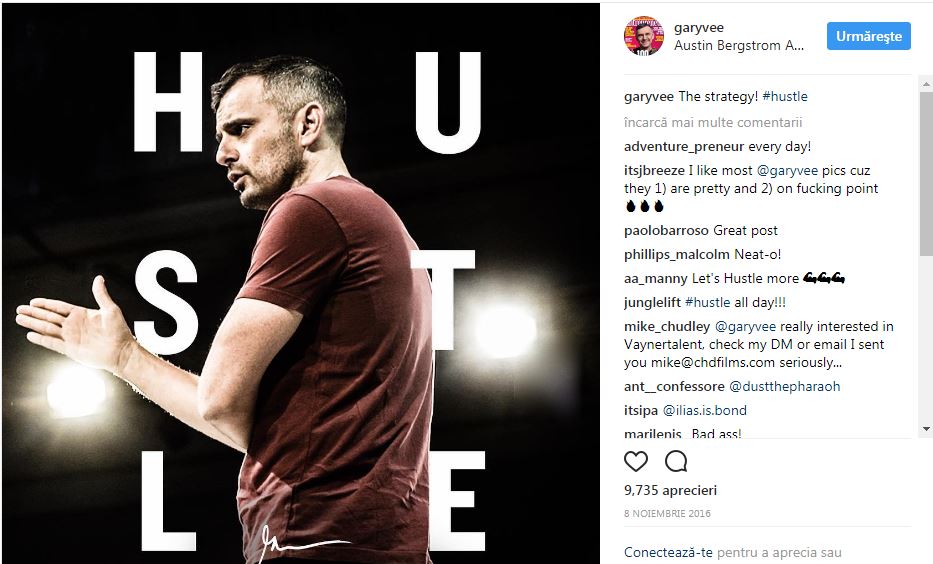 2.  He is into every aspect of his life 100 %, ready to give 51 % of the value to the other person.
3. He tries to figure out what you are going to do, before you do it
4. He's passionate with the New York Jets. His dream as a child was to become the owner of the New York Jets and it still is.
5. He's an HR Driven CEO. He is very interested in his employees' ideas and opinions and their feedback on everyday work.  He uses empathy and tries to understand "why". 
6. He believes it's in his DNA to be an entrepreneur. It's the life he breaths and loves to, every day. 
7. He doesn't care about others' opinion on him, as he knows very well who he is. "I put zero weight into anyone's opinion about me because I know exactly who I am. Can you say the same?", quotes medium.com
8. He believes that a person's friends and family can influence their success. "Maybe if you got rid of one friend or spent a lot less time with one friend who's a real drag and a negative force and added a positive person in your office … If you switched it from 80 days hanging out with your negative friend and one day with your office acquaintance who's super positive, to four days with your negative friend and 12 with this new person. I've physically watched I mentor in my organizations have a totally different life on that thesis……I think that people are keeping very negative people around them and if they aspire to change their situation, it's imperative to audit the seven to 10 people who are around you," Vaynerchuk told Business Insider.
9. He is a Judge and Adviser at the Apple's show " Planet of the Apps", alongside Jessica Alba, Gwyneth Paltrow, Will I.AM.  More on the program you can read here.
10.  In #AskGaryVee he cuts straight to the heart of the question and what it says about the person asking the question — their motivations, their fundamental assumptions and what their real question should actually be.
Are you a #worldchanger?