We are thrilled to announce that Daniel Pink, #1 New York Times Bestselling Author and Sales Expert, is joining BRAND MINDS, The Global Thinkers Business Summit!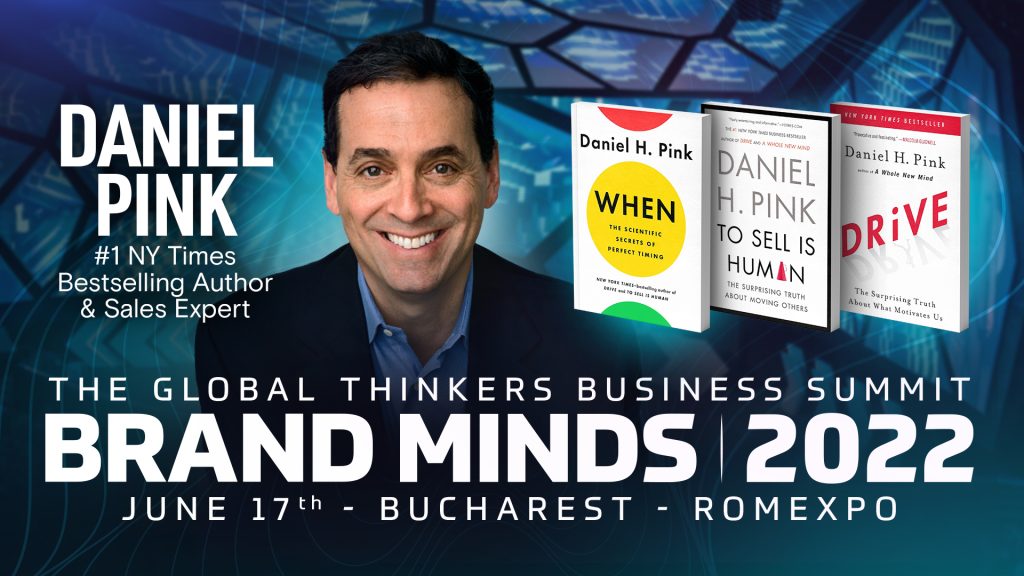 DANIEL PINK'S SPEECH AT BRAND MINDS:
To Sell Is Human: The New ABCs of Moving Others
In the classic movie Glengarry Glen Ross, Alec Baldwin tells a group of salesmen to abide by the A-B-C rule:
"A-Always, B-Be, C-Closing. Always be closing."
Business and human behaviour researcher Daniel Pink says this steamroller approach has become a relic because sales has changed more in the last ten years than it did in the previous one hundred. Today, when buyers have just as much information as sellers—along with ample choices and the means to talk back—the rules have changed.
In his entertaining and provocative presentation at BRAND MINDS, Pink will draw on cutting-edge social science and best practices from organizations around the world to reveal the new A, B, Cs of selling:
A – Attunement (taking another perspective)
B – Buoyancy (staying afloat in an ocean of rejection)
C – Clarity (identifying hidden problems and making sense of murky situations).
WHAT YOU WILL LEARN FROM DANIEL PINK
5 ways to frame messages to increase clarity and lead to action;
Why problem finding has become more important than problem-solving;
Why questioning your abilities before a sales call is more effective than pumping yourself up;
Why the most effective salespeople are not extroverts;
2 principles that can increase your sales exponentially.
GLOBAL EXPERT ON SELLING
Daniel Pink's forward-thinking ideas and blockbuster books are reshaping how organizations approach motivation, timing and talent.
His work lives at the intersection of behavioural science, psychology and business.
His findings go against common beliefs, busting myths about motivation and selling techniques.
His insights help leaders boost team performance and teach team members how to upgrade their selling skills.
+20 YEARS OF RESEARCH ON HUMAN MOTIVATION
Drawing on his extended research, Pink exposes the mismatch between what science knows and what business does.
His insights are essential for sales professionals looking to upgrade their skills and techniques to close more leads.
His newsletter, The Pinkcast, is a rich source of science-based tools and tips for working smarter and living better.
More than 170,000 team leaders and sales professionals across the entire world receive the weekly Pink newsletter.
The newsletter includes a short How-to video and Daniel Pink's thoughts about an idea that caught his attention and seemed worth sharing.
#1 New York Times Bestselling Author of To Sell is Human, When, Drive, and A Whole New Mind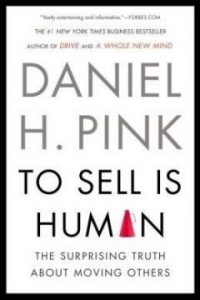 Daniel Pink is one of the best-selling authors of the last decade. His books on work, business, and behaviour have won multiple awards, been translated into 41 languages, and have sold more than 3 million copies worldwide.
To Sell Is Human: The Surprising Truth About Motivating Others offers a fresh look at the art and science of selling.
As was the case with Drive and When, in To sell is human Daniel Pink draws on a rich trove of social science to express his counterintuitive insights.
He argues that selling is not limited to salespersons; we are all in sales no matter what we do for a living. Replace selling with moving people and it's now easy to understand Pink's point of view.
To sell is human is a perceptive and practical book–one that will change how you see the world and transform what you do at work and at home.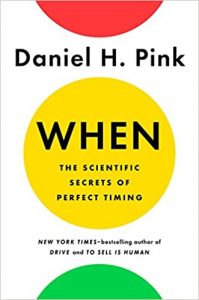 His newest is When: The Scientific Secrets of Perfect Timing. The book was an amazing success and stayed four months on the New York Times bestseller list. It was also selected as an Amazon Best Book of 2018.
In his book, Daniel Pink unlocks the scientific secrets to how we can live richer, more engaged lives, at work and at home. The perfect combination of research, stories and practical application make When an easy yet important read.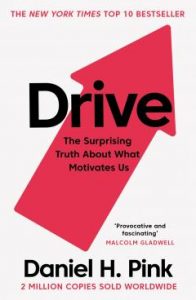 In Drive: The Surprising Truth About What Motivates Us, an Amazon.com and New York Times bestseller, Daniel Pink shatters everything you thought you knew about motivation.
Contrary to common belief, the best way to motivate people is not with the carrot-and-stick approach – money and punishment. That's a mistake. Instead, what leaders should do to boost team performance and satisfaction is to allow them to take ownership of their own work, encourage team members to improve their skills and let them use those skills to achieve a greater purpose.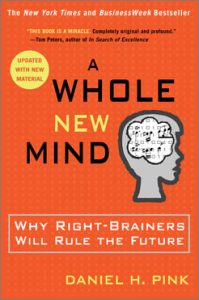 A Whole New Mind: Why Right-Brainers Will Rule the Future is a New York Times, Wall Street Journal, Washington Post and Businessweek Bestseller.
The book is an exciting and encouraging exploration of creativity in which the author shows that the future belongs to a different kind of person with a different kind of mind: artists, inventors, storytellers-creative and holistic "right-brain" thinkers.
Daniel Pink outlines the six fundamentally human abilities that are absolute essentials for professional success and personal fulfilment–and reveals how to master them.
What is Daniel Pink's next book about?
Daniel Pink's next book is called The Power of Regret and is set to launch in February 2022.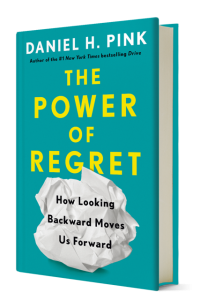 In his book, Pink draws on research in psychology, neuroscience, economics, and biology to challenge widely-held assumptions about emotions and behaviour.
Using the largest sampling of American attitudes about regret ever conducted as well as his own World Regret Survey—which has collected regrets from more than 16,000 people in 105 countries—he identifies the four core regrets that most people have.
Looking to close more sales?
BRAND MINDS is where sales professionals learn the new rules of selling.