It was a packed house at the first edition of DIGITALIUM, The Hottest Digital Marketing Conference. Marketing professionals, brand managers and digital specialists joined us to see our amazing speakers live on the DIGITALIUM stage.
And they were indeed amazing! Zach King, Sweta Patel, AJ Wilcox, Chris Kubby, Kath Pay, Nicole Yale, Antoine Dupont – they all delivered great content and valuable insights.
If you didn't join our conference, we're looking forward to seeing you next year.
But until next year, here are a few insights and tips the invited speakers shared at DIGITALIUM 2018.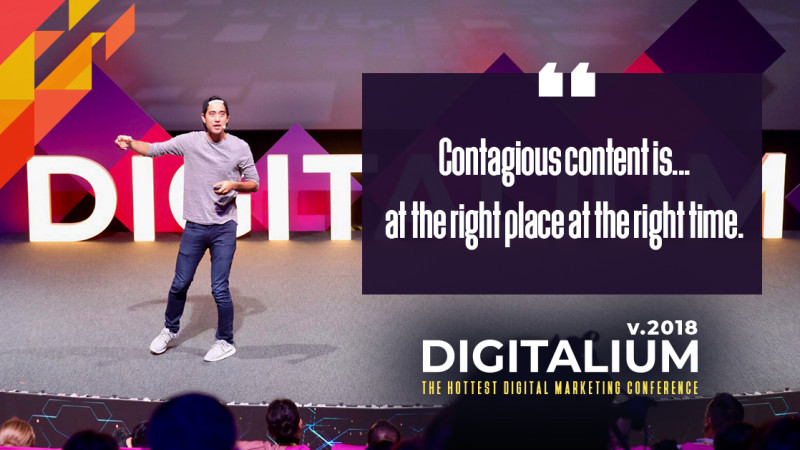 ZACH KING @ DIGITALIUM 2018 –
MASTERING VIRAL MARKETING | 2018 BRAND STORYTELLING
My story concept is real life with a magical twist

Zach King
Can you tell a story in six seconds? Zach King surely can! His magic-infused vines have entertained millions of people since his first famous video of the two cats fighting with lightsabers.
On the stage of DIGITALIUM he showed us first hand how his magic videos are done:
What's next for Zach, the King of Magic Vines?
In the near future, he wants to direct feature films, preferably action-adventure movies. He made his first film when he was seven using a home video camera so it's really no surprise that he chooses to go down the filmmaking path.
Take away tips from Zach:
He takes inspiration for his videos from life: fears, wishes, inventions and illusions;
To grow a large audience, appeal to universal themes;
To make his stories contagious he leverages curiosity and magic;
Tell your stories in such a way that transcends language barriers;
When you hear about a new platform from your friends, that's a good indication to start experimenting with it.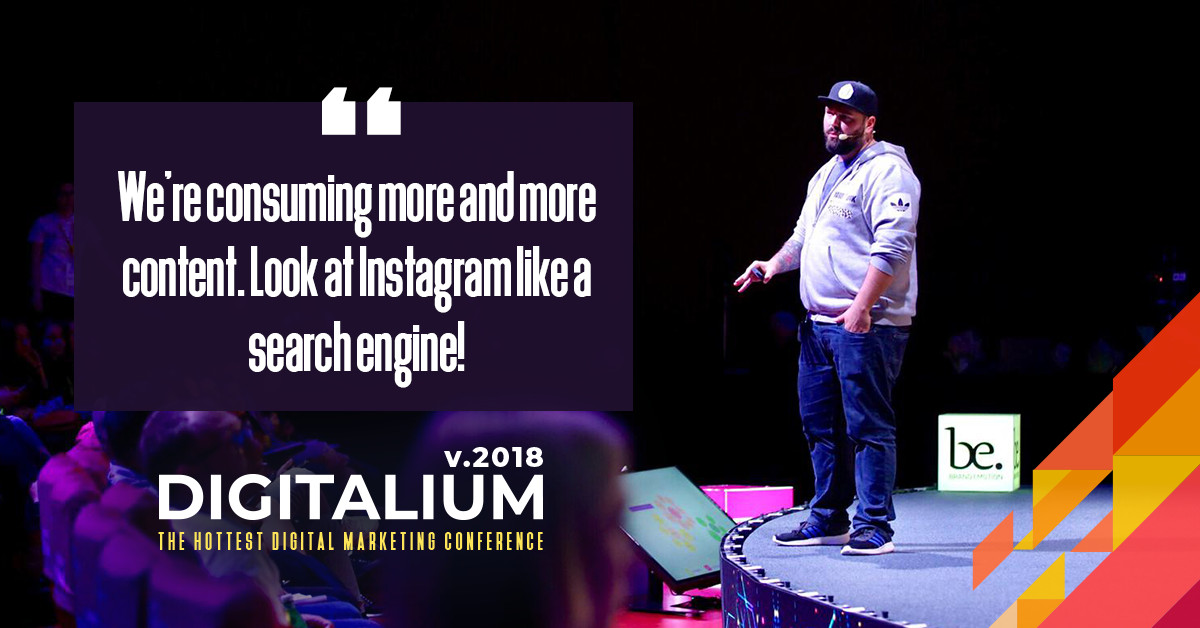 CHRIS 'KUBBY' KUBBERNUS @ DIGITALIUM 2018 –
50 TIPS AND TRICKS THAT EVERY BRAND SHOULD USE ON INSTAGRAM
I grow businesses with hustle and heart. All street. No theory

Chris Kubby
Chris 'Kubby' has been in the trenches of digital marketing for the past 20 years. He is the Founder and CEO of Kubb&co – a digital agency based in Copenhagen and an expert when it comes to helping brands become bigger, better and more effective.
Take away tips from Kubby:
Optimise your username with keywords;
Publish 3-4 times a day, whenever your audience is likely to go on Instagram;
Use location hashtags because they receive more views than other hashtags;
Be the first in your niche to use new features;
The bigger the # or sticker, the higher the likeliness to rank.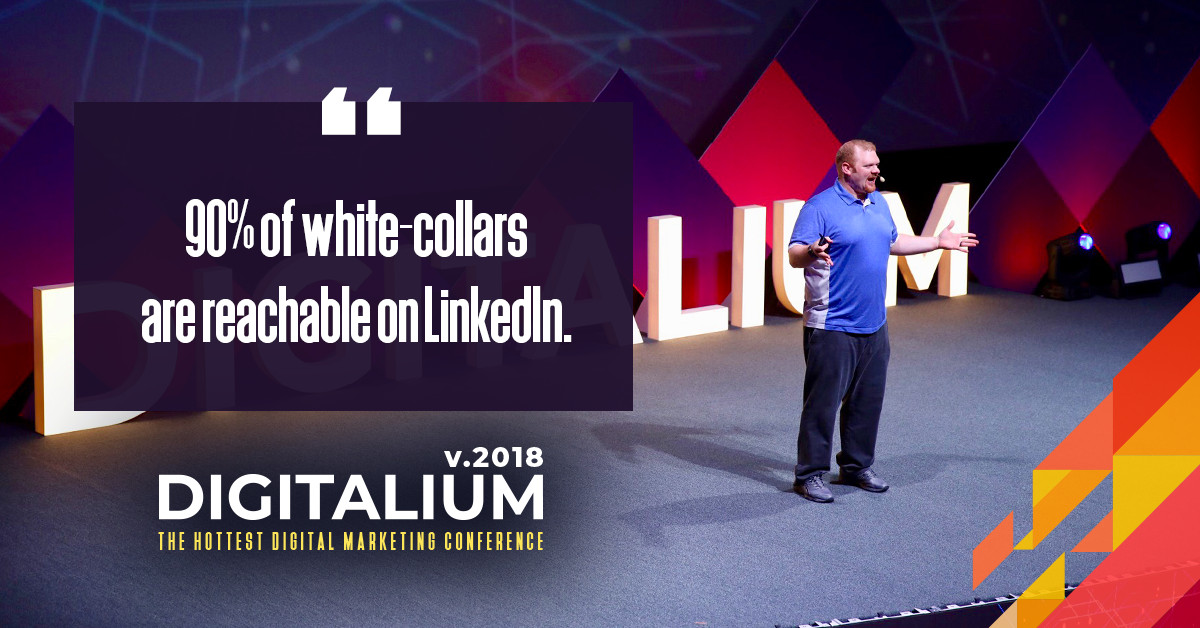 AJ WILCOX @ DIGITALIUM 2018 –
MASTERING LINKEDIN | BUSINESS STRATEGIES
LinkedIn is an exciting place to be right now

AJ Wilcox
AJ Wilcox is a LinkedIn Advertising Expert. He recognized a golden opportunity which businesses were not fully taking advantage of. So in 2014 he founded B2Linked.com which specializes in LinkedIn Ads and recently became a Certified LinkedIn Ads Partner.
Take away tips from AJ:
No more wasting impressions on the wrong type of people;
For B2B companies LinkedIn is where they can find the high lifetime value clients they are looking for;
Use the LinkedIn news feed ads which are best for gated content;
The LinkedIn lead generation form ads have higher conversion rate;
Share to stay top of mind not to sell.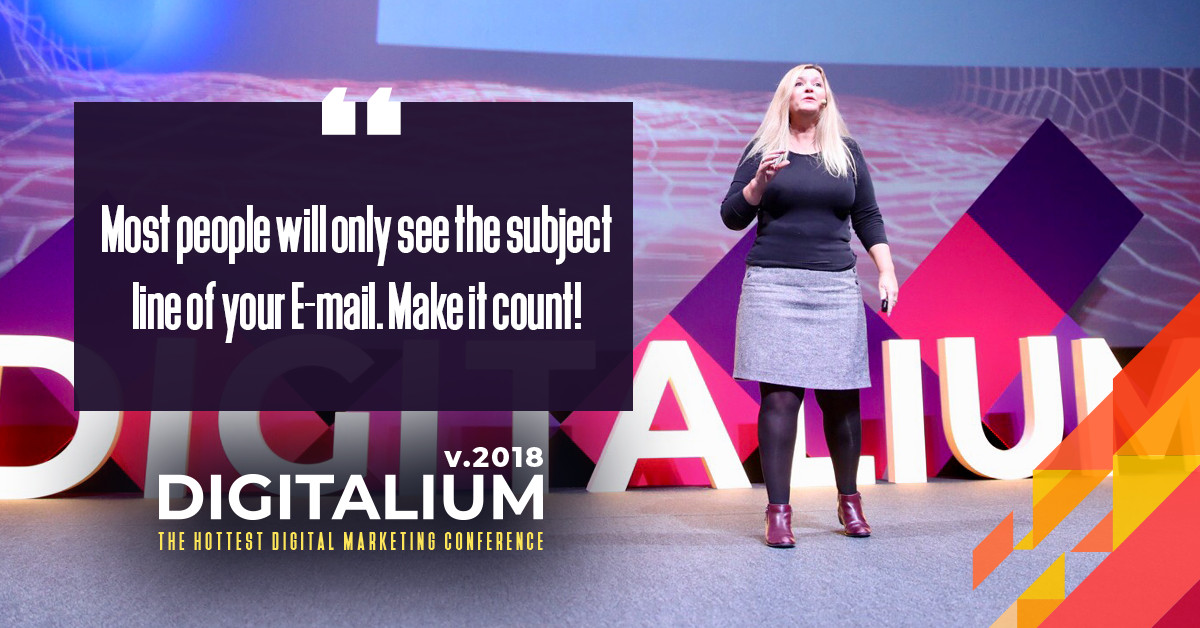 KATH PAY @ DIGITALIUM 2018 –
E-MAIL MARKETING DOS & DON'TS | CONVERSION STRATEGIES
Even an unopened email has value

Kath Pay
With 19 years experience in email marketing and 10 years as an email marketing consultant, Kath Pay is recognised as one of the UK's leading email marketing experts and conversions specialist. As Founder of Holistic Email Marketing, she devotes her time to developing customer-centric journeys using a holistic, multi-channel approach.
Take away tips from Kath:
Do use emotions to get your email recipients' attention;
Do write like a journalist: start with the benefit;
Do stay focused on the objective of your email;
Do virtually test using AI;
Do identify your objective and measure accordingly, not just open rates.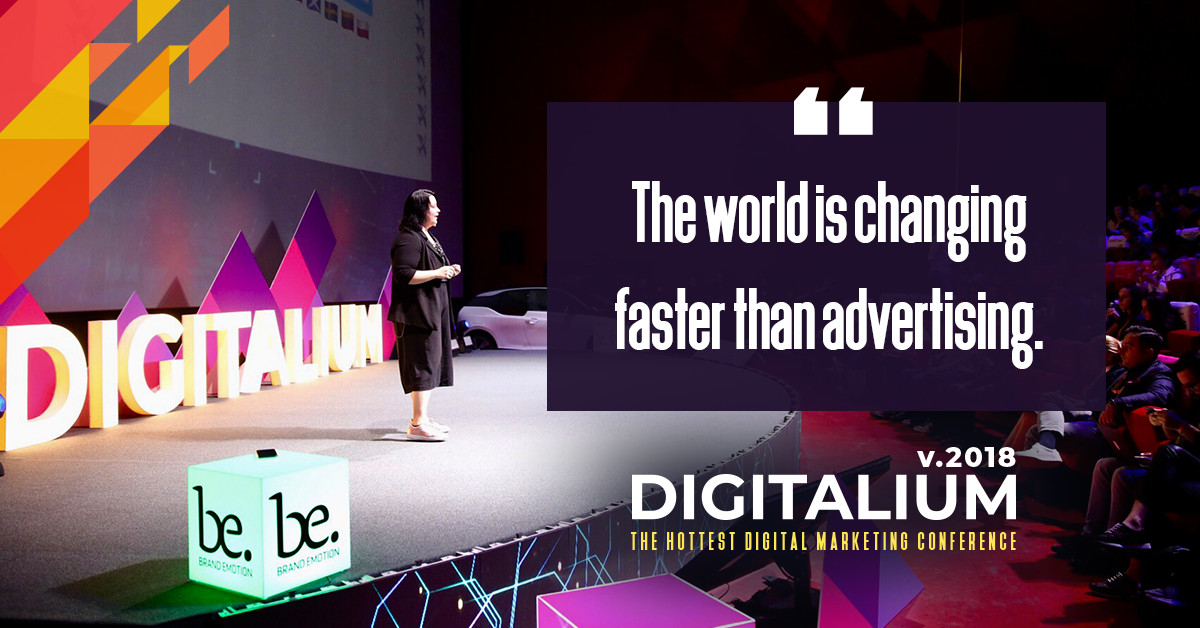 NICOLE YALE @ DIGITALIUM 2018 –
DIGITAL MARKETING STRATEGIES
Nicole has spent her career helping Fortune 500 companies develop digital strategies that drive brand engagement with high value audiences. For the past four years at VaynerMedia, Nicole has managed brand portfolios, leading clients through market challenges and the ever-evolving world of digital marketing and emerging technologies.
Take away tips from Nicole:
Companies don't understand what social media can do for them;
Choose specific platforms for specific objectives;
Get your audience to stop the browsing and immerse them in an engaging experience;
Culture is the shortcut to capture attention;
Empathy is the way to keep attention.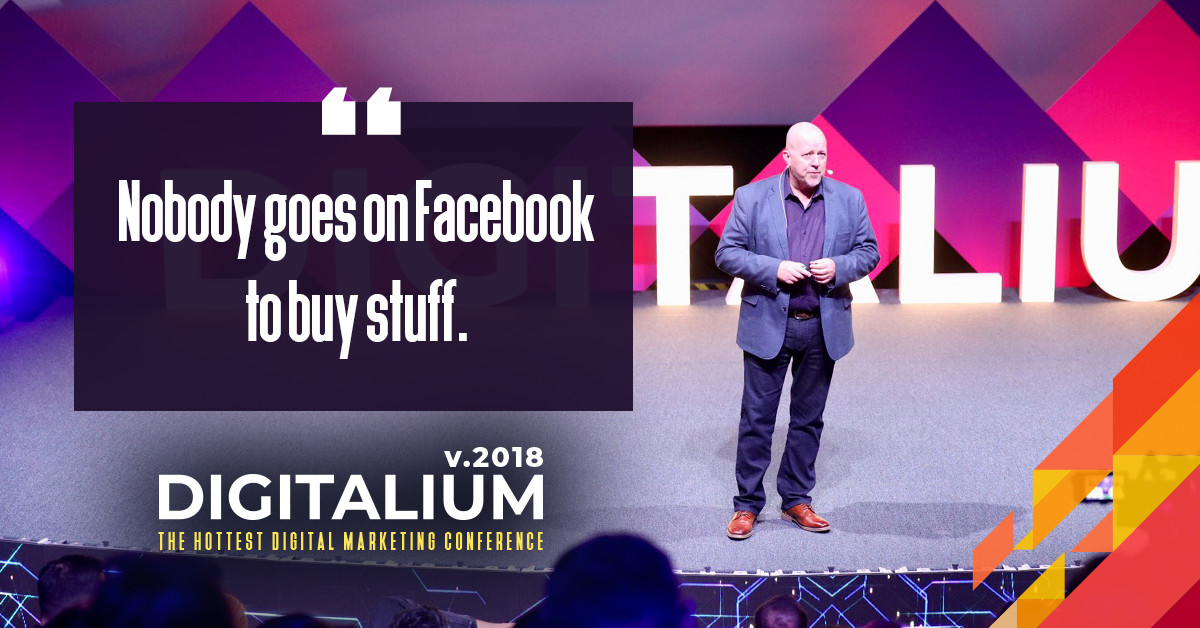 ANTOINE DUPONT @ DIGITALIUM 2018 –
MASTERING FACEBOOK | STRATEGIES THAT WORK
It's my business to make the phone ring

Antoine Dupont
With over 20 years experience, helping entrepreneurs grow their businesses, Antoine has put every marketing technique to the test. He is the CEO and founder of Katapult Marketing, a company that creates websites for business owners, which generate leads and increase their credibility.
Take away tips from Antoine:
Companies assume wrong about what people want to see on Facebook;
There's no intent to buy on Facebook;
It's not about volume, it's about engagement;
The Facebook algorithm is designed to hide boring stuff;
Video receive 18x times higher engagement.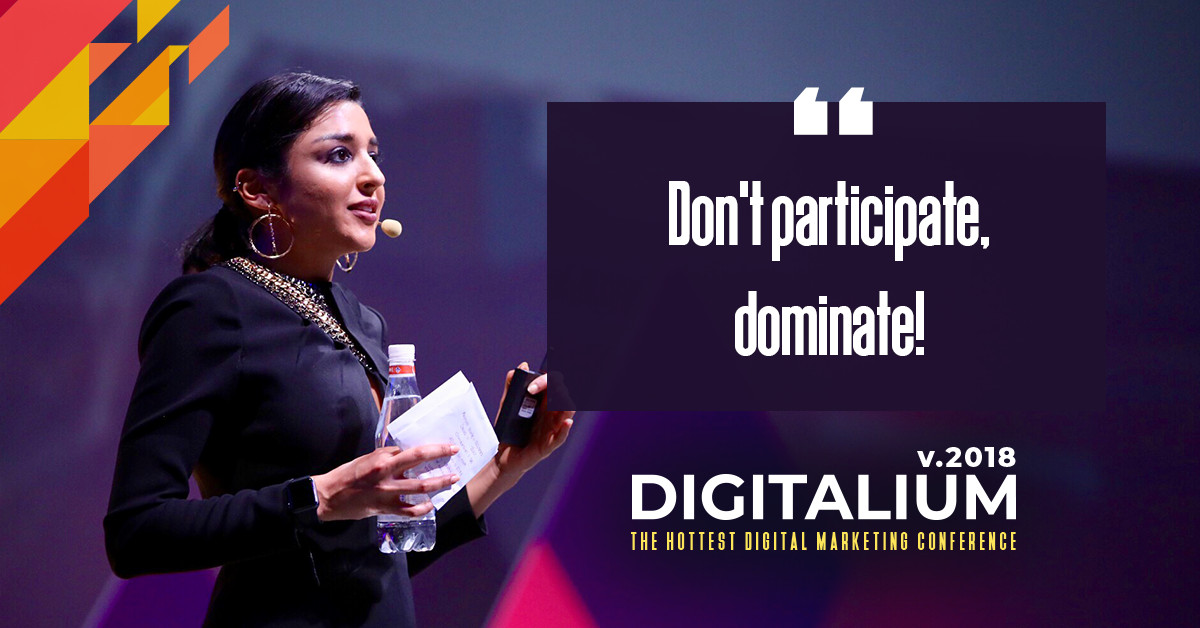 SWETA PATEL @ DIGITALIUM –
THE REASON MOST SILICON VALLEY STARTUPS FAIL AND THE ONE THING THAT CAN SAVE THEM ALL
I'm passionate about turning strangers into interested customers.

Sweta Patel
Sweta Patel is a startup marketing advisor and founder of Silicon Valley Startup Marketing. She has consulted for more than 200 early-stage startups and high-growth companies. From the failures to the successes to the burnout, she has seen it all.
Take away tips from Sweta:
Invest in technical infrastructure, tracking and marketing automation;
Free tools will cost you more in the long run;
Experiment with chatbots – it may make the difference between 6 leads a week to 400 leads a week;
Analyse your campaigns once every three months;
The best way to improve on your products or services? Use them!
More highlights on the event are on DIGITALIUM's Facebook Page & Instagram Account. Make sure you take a look for a more insightful idea of how the experience was and keep an eye on digitalium.ro to catch the updates on the following event.
Originally published on Iqads.ro