One of the world's largest auto shows returns with 1,000 vehicles December 1-10, 2017 at the LA Convention Center. Therefore, we decided to show you our top 10 of someof the coolest,hi-tech cars shown at the event. In no particular order, we present…
1.Toyota Adventure Concept (FT-AC)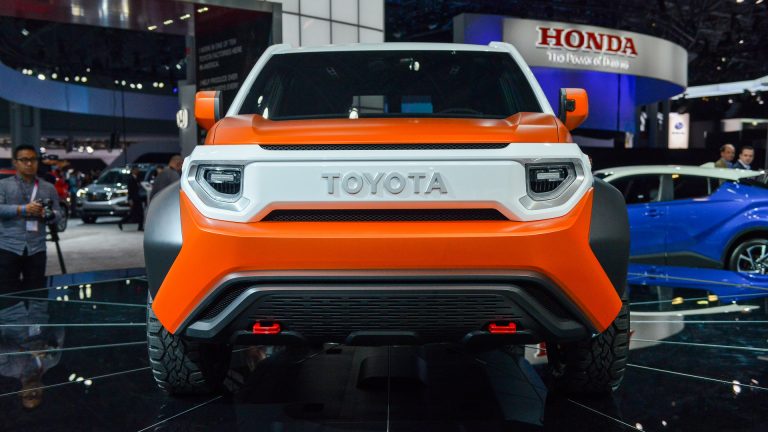 source: Motor1.com
According to PCMag, is meant to appeal to adventure-seeking millennials. "It blends hybrid fuel economy with off-road capabilities so drivers can go green while off the grid, and combines features like a retractable bicycle rack and a safari-style roof rack with cool tech tricks such as fog lights that can be removed for use while camping and a camera system that can record outdoor activities, which can be uploaded to social media accounts via a Wi-Fi 
hotspot
."
2.Mercedes-AMG Project One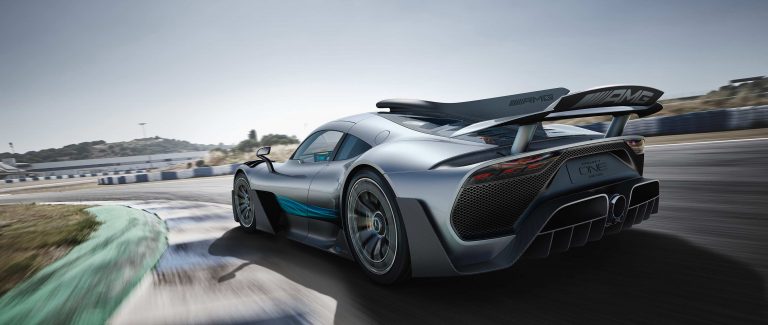 The high-performance plug-in hybrid drive system of the Mercedes-AMG Project ONE comes directly from Formula 1, and was realised in close cooperation with the motorsport experts of Mercedes-AMG High Performance Powertrains in Brixworth. It consists of a highly integrated and intelligently networked unit comprising one hybrid, turbocharged combustion engine with a total of four electric motors. One has been integrated into the turbocharger, another has been installed directly on the combustion engine with a link to the crankcase and the two remaining motors drive the front wheels.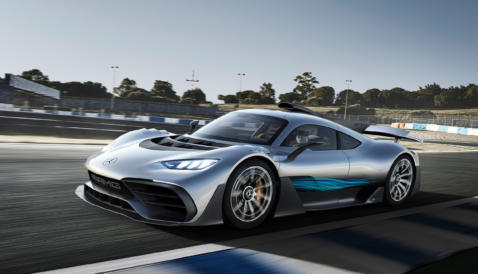 The 1.6-litre V6 hybrid petrol engine with direct injection and electrically assisted single turbocharging comes directly from the Mercedes-AMG Petronas Formula 1 racing car. To achieve high engine speeds, the mechanical valve springs have been replaced by pneumatic valve springs. The vehicle is mid-engined (ahead of the rear axle) and it can easily reach speeds of 11,000 rpm, which is currently unique for a roadgoing vehicle. However, for higher longevity and the use of commercially available Super Plus petrol instead of racing fuel, it remains significantly below the F1 engine speed limit.
3.Volkswagen ID Concept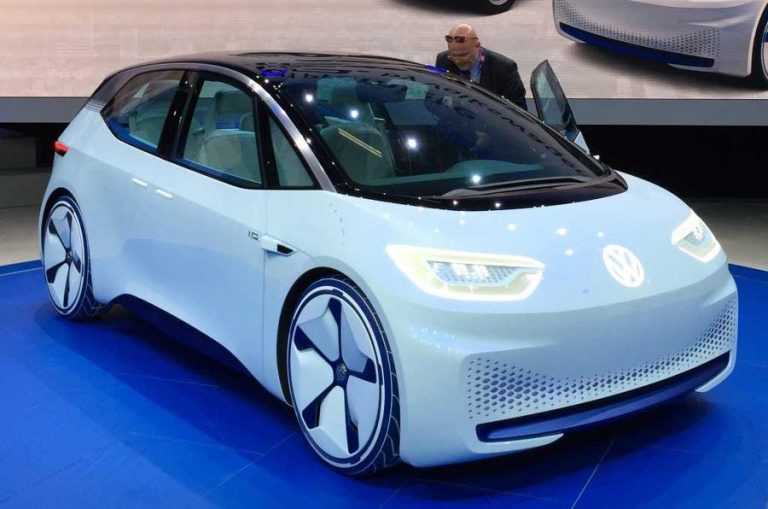 With a claimed range of between 249 to 373 miles, the Volkswagen I.D. can be recharged wirelessly to avoid the hassle of having to plug your EV in at night or at work. There's also the option to plug the I.D. into the mains as with current EVs, with the German brand claiming an 80 per cent re-charge takes 30 minutes. It was also the first Volkswagen to be engineered for fully autonomous driving, which VW says will be available to customers from 2025, by which it hopes to be selling one million electric cars per year globally.
"Visually, the I.D. adopts a completely new design language that will be exclusive to VW's future range of EVs. The front end is completely blanked off as the 168bhp electric motor that powers the car doesn't require the same cooling as a conventional combustion engine," writes autoexpress.co.uk.
4.2019 Chevrolet Corvette ZR1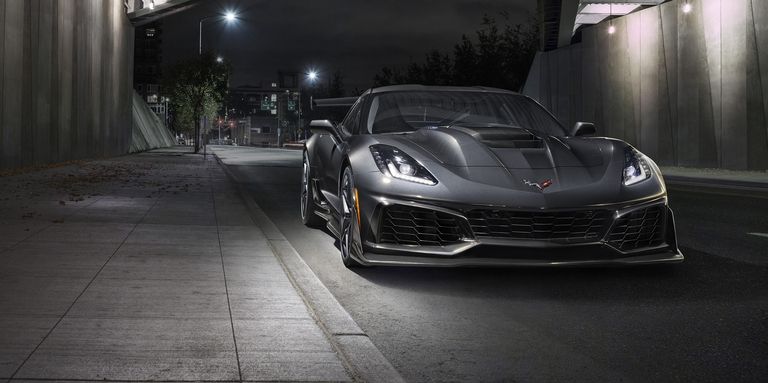 source: http://www.roadandtrack.com
The Corvette ZR1's unique aero package is central to the coupe's 212-mph (341 kph) top speed. Its standard, stanchion-mounted Low Wing generates road-holding downforce with minimal drag, enabling the benchmark top speed. An adjustable High Wing is part of the new $2,995 ZTK Performance Package, which also includes a front splitter with carbon-fiber end caps, Michelin Pilot Sport Cup 2 tires and specific chassis and Magnetic Ride Control tuning. It is designed to help generate faster lap times through maximum grip in the corners, with up to 950 pounds of downforce. The top speed is lower with the High Wing but still exceeds 200 mph. Complementing the ZR1's aero advantage on the way to 212 mph is the thrust generated by the exclusive LT5 6.2L supercharged engine, which is rated at an SAE-certified 755 horsepower (563 kW) and 715 lb-ft of torque (969 Nm). A seven-speed manual transmission and a ZR1-first paddle-shift eight-speed automatic transmission are offered with it. Preliminary testing has shown 0-60 mph in under 3.0 seconds and the quarter mile in the high 10-second range when the engine is equipped with the eight-speed automatic.
5.Mazda Vision Coupe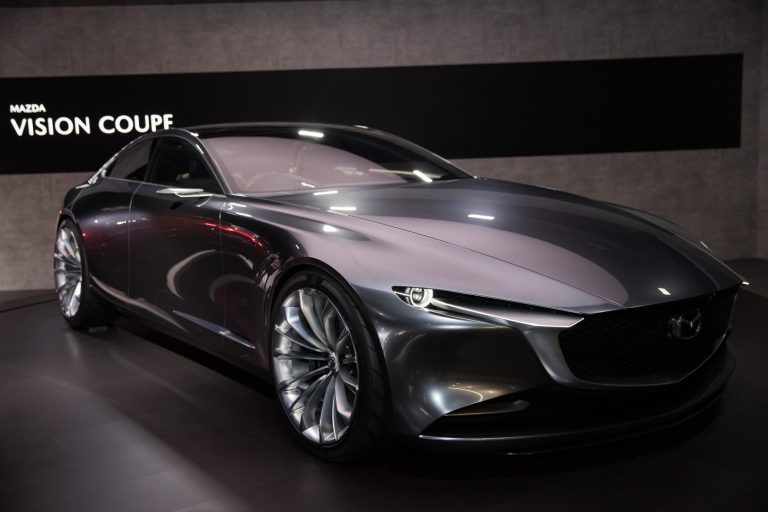 The VISION COUPE, a large, grand touring vehicle, highlights "Mazda Elegance," a term the global design team uses in complement to the "Mazda Premium" direction the brand is taking as it elevates its vehicles and their positioning. "Mazda Elegance" focuses on a less-is-more approach to design, distilling lines to just what is essential, letting the light interplay with the body of the car.
6. BMW i Vision Dynamics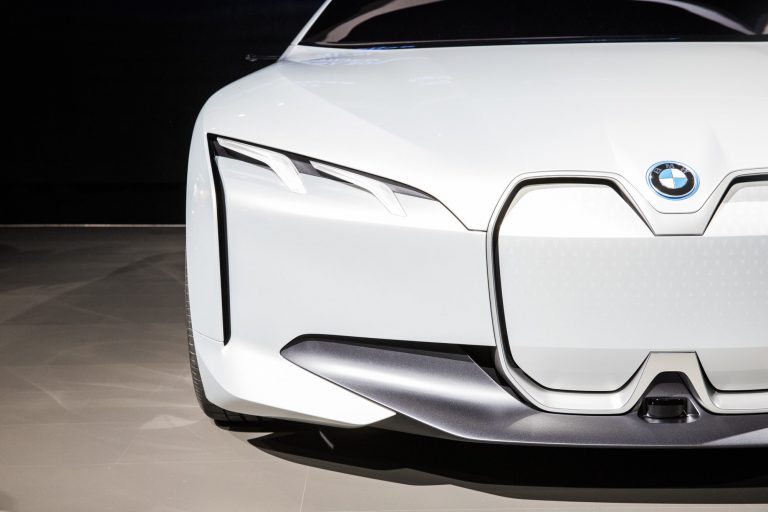 The BMW i Vision Dynamics is an all-electric, emission-free four-door Gran Coupe that accelerates from 0-60 mph in 4.0 seconds, has a top speed of 120 mph with a range of 373 miles. The BMW i Vision Dynamics combines electric mobility with the core values of BMW – dynamism and elegance – and demonstrates how the product range and design language of BMW i can be further incorporated into other models. The new characterization of BMW i's iconic window profile is a standout feature of the BMW i Vision Dynamics, offering all passengers equally striking views out of the vehicle to lend a shared driving experience – a factor that will become increasingly relevant as semi- and autonomous driving become closer to commonplace.
7. Acura NXS GT3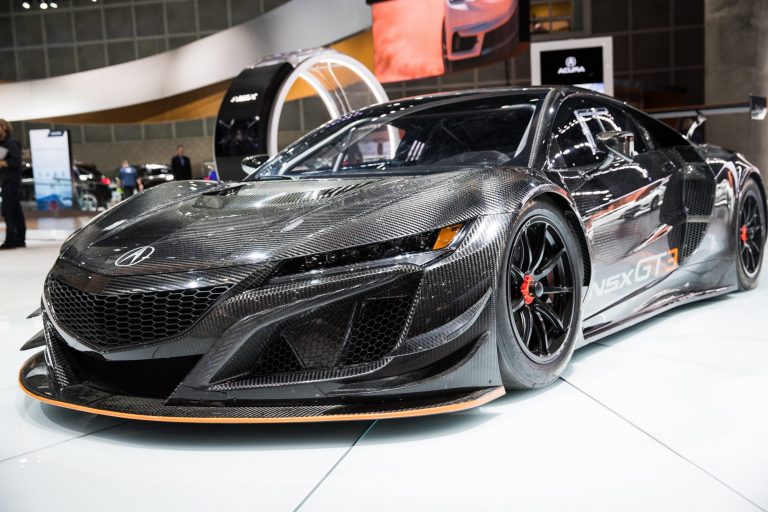 According to Acura's website, when the second-generation NSX was approved for development, its engineers put pen to paper with racing in mind. The production car and its GT3 sibling were created in tandem with a shared vision: a sophisticated supercar with bare-knuckles racing chops. Development began in Japan and Europe, where the first NSX GT3 was built and prepped for testing on their legendary race circuits. From there, it moved to Santa Clarita, California – headquarters of our North American race engineering group – for further development and final testing.
The NSX GT3 is optimized for high-speed aerodynamics – its larger front cooling intakes, underbody diffuser and large rear wing are the most obvious adjustments – but the NSX family resemblance is clear. And beneath the skin, the GT3 shares the same clean-sheet design, multi-material space frame that gives ultimate rigidity to the production car.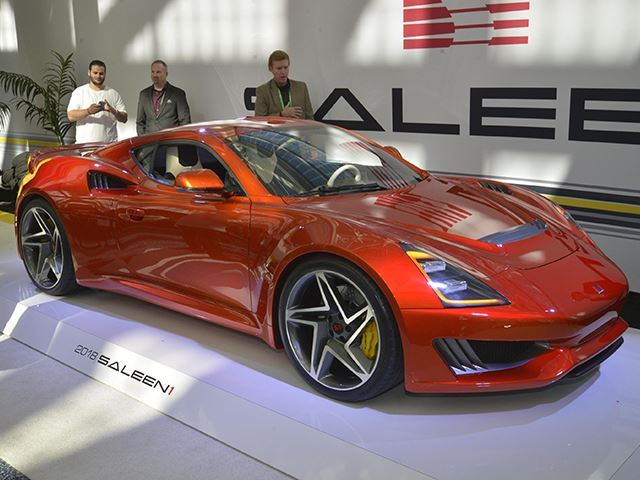 According to Saleen, quoted by roadandtrack.com, the S1's aluminum tub and carbon fiber body give it a curb weight of just under 2700 pounds. The automaker claims it'll do 0-60 in 3.5 seconds, a quarter-mile time in the low 11-second range, and a top speed over 180 mph. Additionally, thanks to a wishbone suspension and Continental performance tires, the S1 will be able to pull an impeccable 1.2gs of lateral acceleration, Saleen says.
The S1 will start at $100,000; the tuner began taking $1000 pre-orders at the show today. North American deliveries are expected to begin in late summer 2018.
9. Jaguar I Pace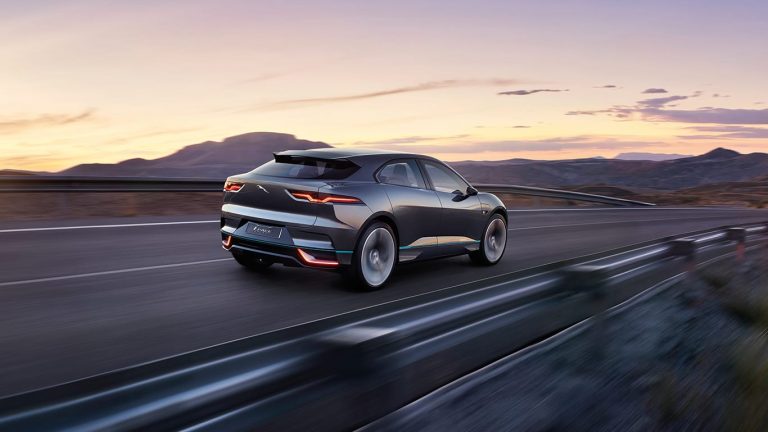 A true Jaguar above all else, I‑PACE Concept represents a pioneering future in electric vehicles. "The challenge was to design and build an electric vehicle that's distinctively and unmistakably a Jaguar – a vehicle that will demonstrate that an electric vehicle can be a driver's car and excite the senses," said Ian Callum, Director of Design.I‑PACE Concept's dramatic, distinctive look, with aerodynamic bonnet scoop, flush door handles and bold air ducts, maximises the electric vehicle's range and helps it slice efficiently through the air.
10. Project Redscape REDS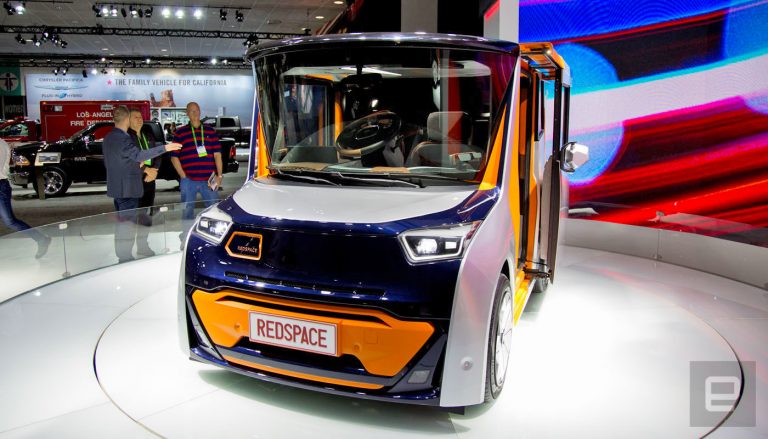 source: https://www.engadget.com
Project Redspace's REDS is an EV commuter vehicle that doubles as an office. REDS stands for "Revolutionary Electric Dream Space."  The design was conceived from the ground up to fit into a small space, but to leverage that space as effectively as possible. The car  has a chair that swivels 180-degrees and a fold down desk and has a modular offset seating solution with the chairs not directly behind each other for more leg room and those seats can be moved about the cabin. The doors slide like a minivan instead swinging out like a traditional car. Moreover, the roof is a giant solar panel to help keep the EV charged up. It will also support wireless charging.