Marketers are Jack-of-all-trades. Aside from ingrained creativity, marketers need to acquire and develop a slew of skills and abilities to do their jobs properly, from creating a beautiful image to a short video, writing compelling headlines and doing keywords search etc. It's challenging.
To help you overcome challenges, I've put together the following list of digital marketing tools.
19 digital marketing tools you should start using now
1. Exploding Topics – Find exploding trends before they take off
Knowledge is power. Successful marketers are always looking for ways to keep themselves in the know with what's going on on the digital front.
What are people searching on Google? What keywords are starting to take off?
Writing evergreen content is great, but writing content that is relevant right now is also useful.
That's what the Exploding Topics platform is all about: finding exploding trends before they take off.
Exploding Topics was developed by co-founders Brian Dean, founder of Backlinko and Josh Howarth and launched in December 2019.
How does it work?
The platform uses advanced technology to analyze millions of searches, conversations and mentions across the internet. It then identifies topics in three categories: regular, peaked and exploding.
I searched for trending topics in marketing for the past month. With 1K monthly Google searches, conscious consumerism has already peaked, fast fashion is holding steady with 18,1K searches, while searches for ahrefs, the company which provides SEO tools and software suites for companies have been exploding with 33.1K a month.
See below another example: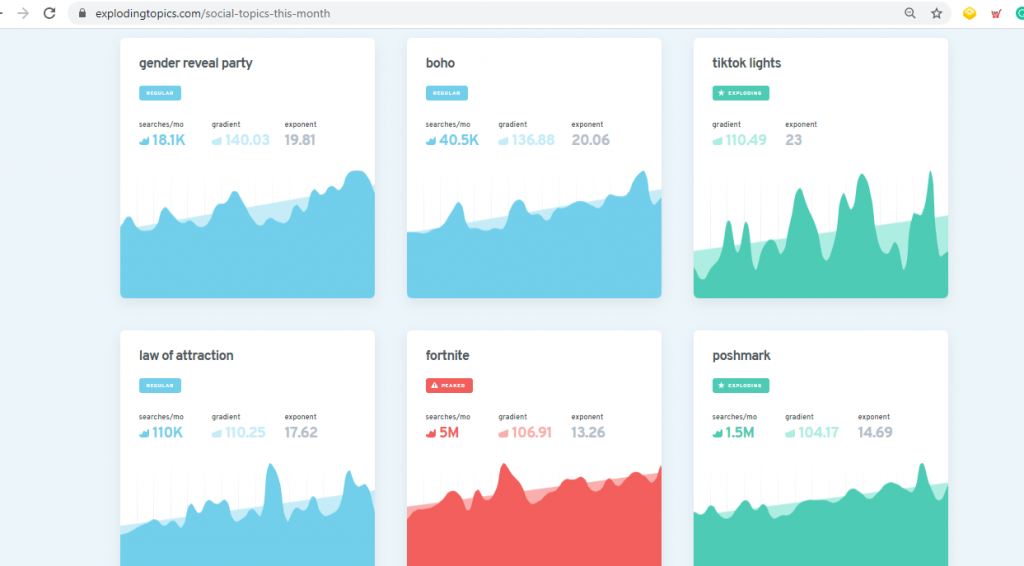 2. Zest.is – A knowledge-building platform for self-learning marketers
In the brilliant novel The Hitchhiker's Guide to the Galaxy, there's a spate of technology developed by extraterrestrial cultures. One such piece of technology is the lemon helmet, a sort of thinking cap powered by lemon juice which enables the person wearing it to concentrate.
That's what I think of whenever I talk about Zest.is, a knowledge-building platform for self-learning marketers worldwide. Fifteen minutes of browsing on the Zest platform is like putting on a thinking cap: I can come up with a minimum of seven topics for my next articles on marketing-related challenges. And come to think of it, Zest's logo is a section of bright yellow Dali-inspired lemon, so go figure!


I should also mention that Zest.is is a great tool for generating website traffic for your content if your content meets the quality standards of Zest.
Here's the latest case-study: By leveraging Zest's Content Boost feature, Whatagraph, an automated marketing solutions tool managed to obtain MQLs and SQLs for as low as $4 and $44 respectively which is 15x less than what the average cost through other referral platforms.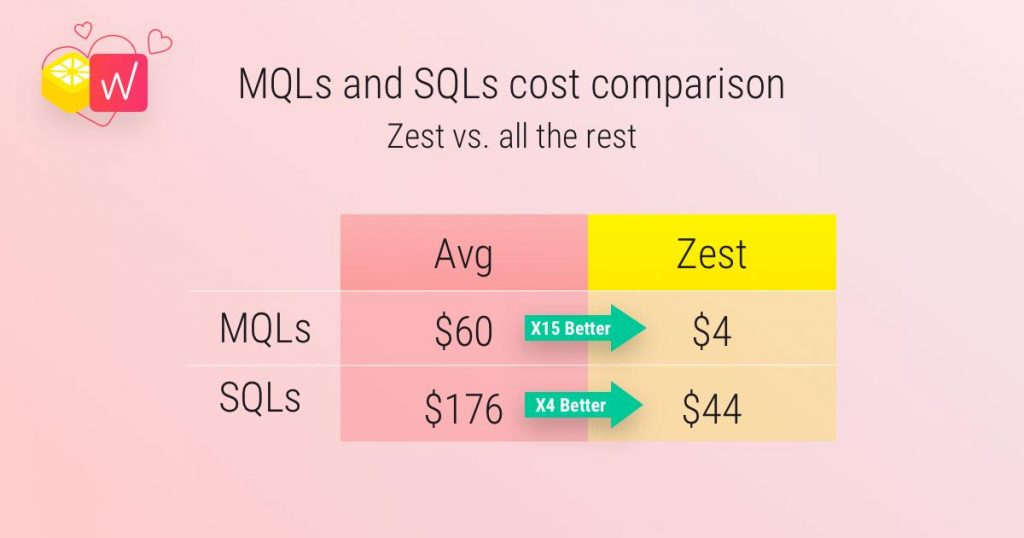 The Zest community has crossed the 100K user mark, and I am certain that Yam and Idan, the co-founders of Zest have many more surprises in store for marketers.
Read my interview with Yam Regev, co-founder of Zest here.
3. Canva – Beautifully designed images for non-graphic designers
Producing content is one of the responsibilities of marketers no matter the industry they are working in. Every marketer should be able to create content that is both relevant, visually appealing and social media-ready. There are many tools marketers can use to create beautiful content, and Canva is one of them.
Founded in 2013, Canva counts 15 million users in 190 countries and last year, the platform was valued at $2.5B with new funds according to Techcrunch.
Over the past few months, Canva extended its platform with new tools allowing users to download designs as animation, GIF or video, add stock music to images etc.
To support businesses, and anyone looking for ways to navigate through this period, Canva provides users with a toolkit full of free, flexible and professionally-made templates, and creative resources.
For employees working from home and trying to lift their spirits, Canva has launched a background creator tool which allows users to create and customize their own Zoom background.
4. Lumen5 – Turn content into video
If an image is worth a thousand words, then the video is the ultimate way to tell your story and drive organic engagement and reach.
With Lumen5, you can turn your content into a video or start fresh while the platform's AI-powered technology helps you storyboard your ideas.
Founded in 2016, Lumen5 is a video creation platform designed for brands and businesses to produce engaging video content for social posts, stories, and ads. Users can choose from various professional themes, layouts, transitions, graphic styles and a rich media library.
400,000+ businesses are now using Lumen5.
5. Coschedule Headline Analyzer and Email Subject Line Tester
You've written a great piece of content (blog, PDF, infographic, video, email etc.) but no one is going to read it if your headline doesn't influence the reader to click on it.
Your content needs a powerful hook. CoSchedule, a marketing management software, has created two online tools: the headline analyzer and the email subject line tester.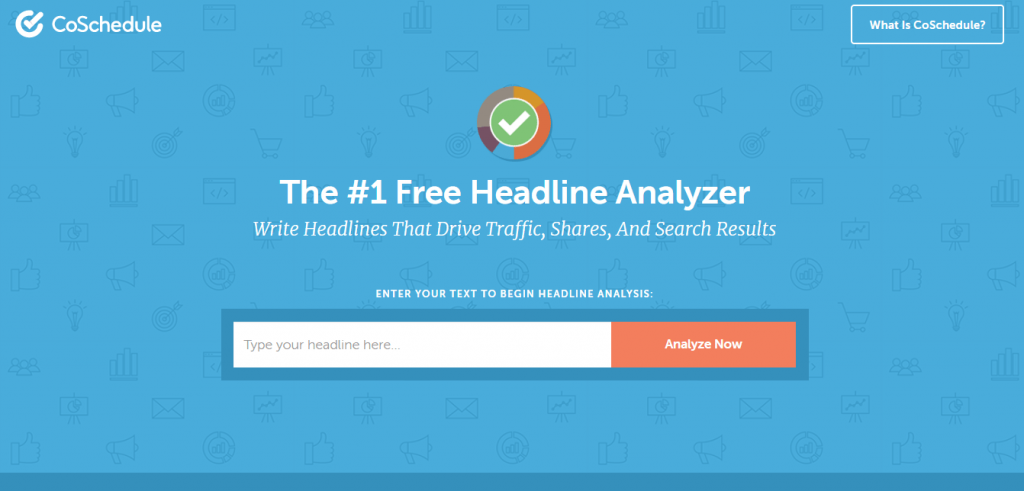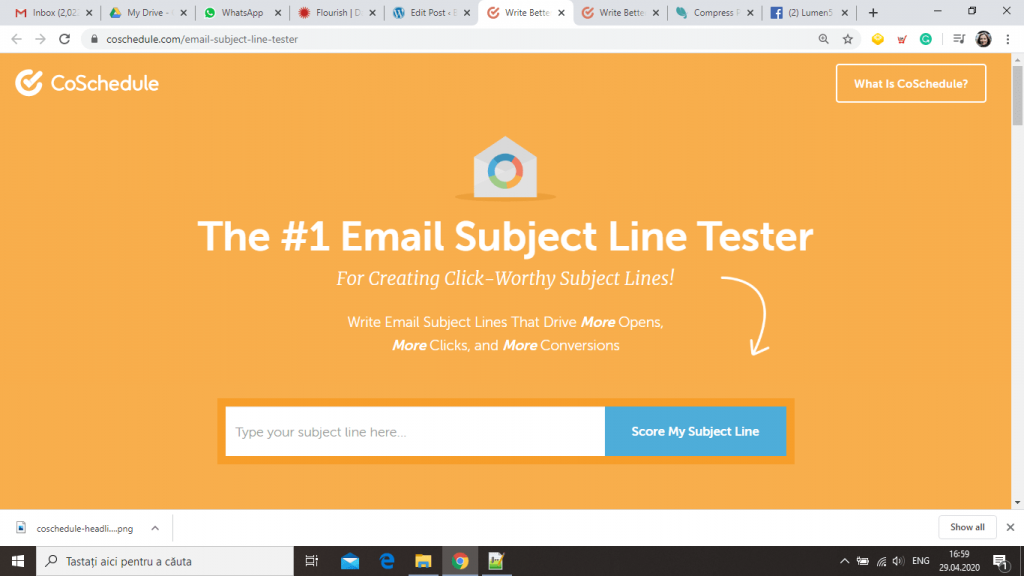 Use the headline analyzer to drive more traffic and search results and the email subject line tester to increase email marketing opens and conversions.
6. The GoToWebinar.com organizer and presenter
GoToWebinar is a communication and collaboration tool developed by LogMeIn, one of the world's top 10 SaaS companies. The company has been named a Leader in Gartner's 2019 Magic Quadrant for Meeting Solutions.
With 2.7 million webinars hosted every year with GoToWebinar, the platform provides users with everything they need for great webinars.
Almost every company is now hosting webinars to keep the business afloat and customers engaged. If you plan on hosting a webinar soon, first check out this organizer to ensure your webinar is a success.
7. SparkToro – A search engine for people's digital habits
SparkToro helps marketers discover the publications & people that influence any group of people online. If you worry about personal data, don't. SparkToro collates information about people's digital habits but removes any personal identification.
Here's how SparkToro co-founder Rand Fishkin (who co-founded the successful SEOmoz.com back in 2004) describes how his tool works:
Our system builds a database of anonymized profiles by crawling hundreds of millions of social accounts and websites, building connections between those that appear to be the same entity, and then searching across this dataset for profiles that match your query's criteria.
If you're doing research regarding your customers' interests or want to update the existing research report with the latest information, SparkToro is the tool you need. What podcasts are your customers listening to? SparkToro can answer that. What websites they visit or YouTube channels they subscribe to or the words and phrases your customers talk about most often in their public shares.
SparkToro is a two-year work product that launched to the public only a week ago, on April 22.
Read more about this tool and the story behind it and its launch amid the coronavirus pandemic in Rand Fishkin's announcement blog.
8. GlideApps.com – Build your app in five minutes, no coding needed
With Glide, you can turn spreadsheets into beautiful, easy-to-use apps without code in just minutes.
The platform provides users with customizable templates that they can use to build their app.
Is Instagram the social network you check first thing in the morning? Now you can create your own Instagram "for work, school or just for fun" as the Glide website puts it.
Or maybe you need to record your expenses – Glide can help you with that.
Or maybe you want to jazz up your employee onboarding process.
With this tool, you can create an employee directory app where you can add a calendar of upcoming birthdays or an employee onboarding guide.
Glide Apps was founded in 2018 and has raised a total of $3.8M in funding. Check out Glide for more templates.
9. Captivate.fm – Helping podcasters develop their skills
Captivate.fm is one of the products developed by Rebel Base Media, a U.K.-based company focused on creating technology and education that helps podcasters develop their skills and influence.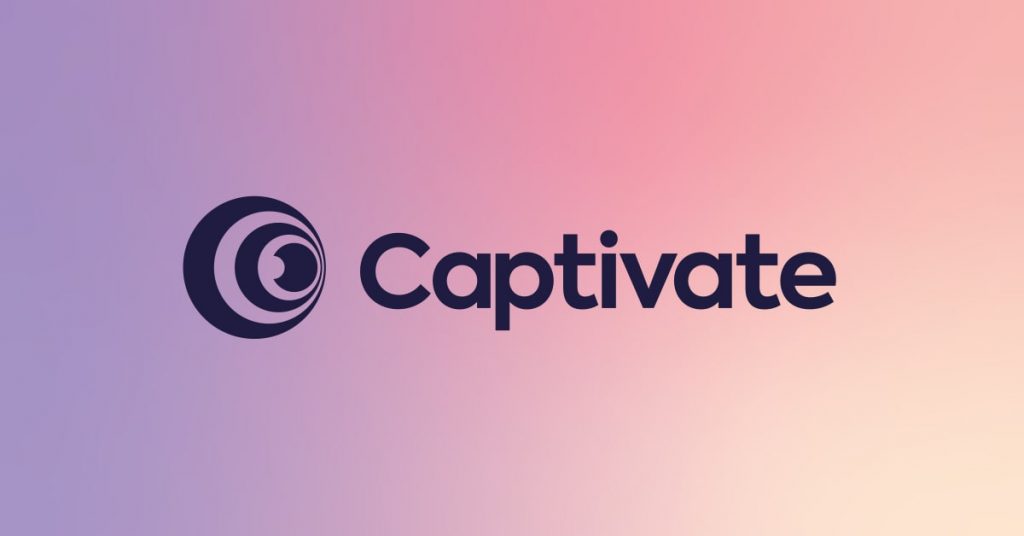 The company's co-founder and CEO is Mark Asquith who fell in love with podcasting in 2013. Together with his team, Mark has been developing several podcasting tools and platforms such as Podcast Websites, Poductivity, Poduct Success Academy and Captivate.fm. Last year he opened the first dedicated podcast recording studio in Sheffield, the U.K. Check out Captivate.fm here.
10. Hey.com – A radical rethinking of email by the team at Basecamp
Hey.com is Basecamp's new email service, "a redo, a rethink, a simplified, potent reintroduction of email. A fresh start, the way it should be."
Hey.com has been designed to address 25 fundamental issues. Here are some of them as described in the Hey manifesto: you can screen your calls but you can't screen your emails; people write you now, but you often want to reply later; long threads may only contain one important paragraph; cleaning up, or getting to zero, is a constant, wasted effort etc.
This new email service was set to launch in April 2020 but with the coronavirus pandemic turning our world upside down, Basecamp founders Jason Fried and David Heinemeier Hansson have decided to push back the release until later this year and allow employees to get through these difficult times without the pressure of launching a new product.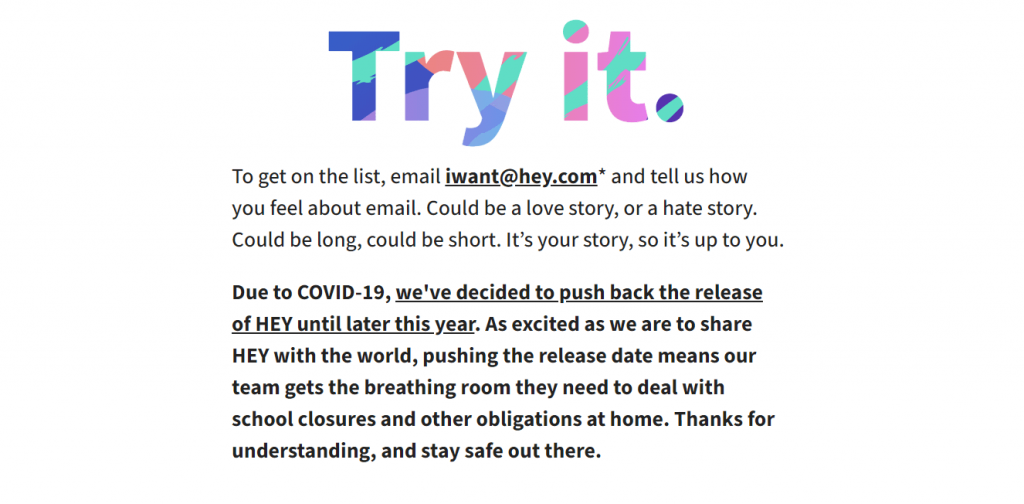 If you'd like to receive a demo of Hey, send an email to iwant@hey.com in which you are invited to tell your story with email. Read more about Hey here.
11. Kochi.ai – A manager's personal AI coach
Kochi.ai is a manager's personal AI (Artificial Intelligence) coach.
The app was launched in August 2019 and was updated on April 22, 2020 to meet the needs of managers working from home in COVID-19 time.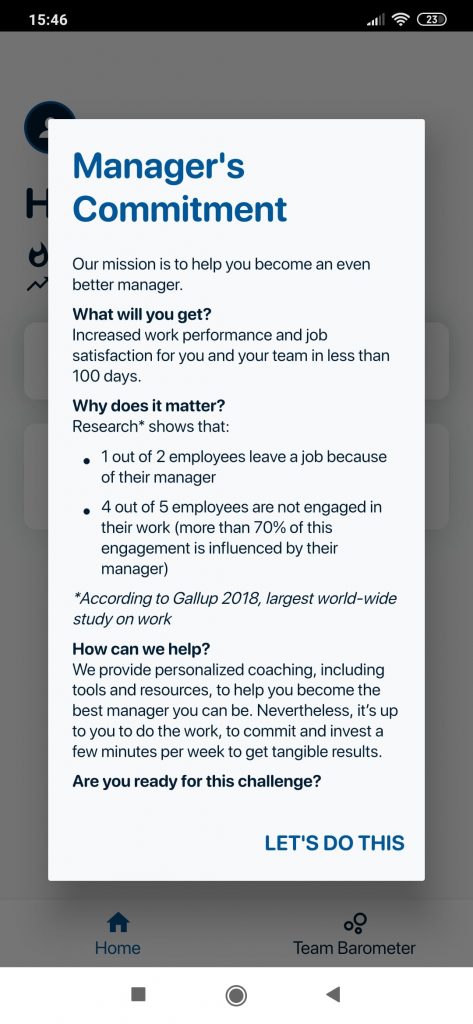 The app helps users maximise performance and job satisfaction for them and their team by providing personalized coaching, including tools and resources.
The user is provided with 15 learning cards which correspond to 15 key areas that determine what make a great manager. At the end of each card, there's an exercise which helps the user apply the learnings in their job. By completing all 15 learning cards, the user is given access to the personalized AI executive coach.
Aside from the learning cards, the app has a feature called Team Barometer. Team Barometer is a short weekly survey that the user can send to their team in order to understand their morale and get feedback on improving the ways they get work done.
12. Getintention.com – Scroll less and do more
Getintention.com is a Chrome extension which helps you pause distractions so you can scroll less and do more.
How does it work? When you visit a distracting site, Intention intervenes for a chance to change your mind. To continue, tell Intention how long you'd like to unlock distracting sites. When your time limit runs out, Intention pauses your browsing to restore your focus.
No one can work eight hours straight so little breaks are welcome to allow your mind to rest. Intention helps you do exactly that: set breaks whenever needed (every 1-3 hours maybe) and for how long you want them to last so your 15-min browsing doesn't turn into an hour of mindless scrolling.
13. Kamua.com – From landscape to vertical in minutes
Video is a great medium brands can use in their marketing campaigns. But video editing as any video editors would tell you is hard and time-consuming. Depending on the length of the footage and the client's creative requirements, editing a video could take several hours. Experienced video editors say editing could take about 3 to 4 times the video length. And if you need to share the video on your brand's social channels, it's like doing a brand new video for each of them because each channel has different video sizes.
Do you need to get your YouTube video onto IGTV?
You can use AutoCrop, one of Kamua's features to convert landscape videos into vertical versions automatically in minutes.
Kamua is a browser-based tool that automates the un-fun parts of video editing.
The company was launched in January 2019 by co-founders Radu-Sebastian Amarie and Paul Robert Cary and has raised a total of $200K in funding to date.
Kamua automates multiple processes of video editing using Artificial Intelligence, freeing up creative people to focus on adding value. Request access to the Kamua platform here.
14. Paywithatweet.com – Get paid by virality
Every marketer dreams of creating campaigns that go viral.
In her article, my colleague Andrada Borda has analyzed three viral campaigns and uncovered four key factors that explain why they had spread so fast on social media.
Employing gated content was a common marketing strategy for brands looking to extend their audience and generate leads a decade ago. After having their inboxes flooded with spammy content, people are now less willing to give their email address to brands unless they have earned their trust.
But getting access to a piece of content with a tweet seems reasonable and more convenient because it doesn't involve giving away personal data.
Pay With A Tweet from Pay with a Tweet on Vimeo.
PayWithATweet allows brands to grant access to their content, special offers, or digital goods for the price of a post or a tweet.
The PayWithATweet-campaign is based on a rewarding process between the brand and its customers. Today the platform counts 40,000 campaigns worldwide, which resulted in more than 8,000,000 shares so far.
15. Fivesecondtest.com  – Test your website design
Everyone knows first impressions are important. And you don't have much time to make a good first impression.
The latest study conducted on this subject has found that people form first impressions in 27 seconds.
That's an incredibly short amount of time, not even a minute!
Now replace the new person you've just met with the first page of a website.
How long does it take to form a first impression, to get what that website is about?
A 2011 web usability study concluded that it takes a website visitor 10 seconds to make a first impression.
If you're a website designer or company owner, you would want your website to convey your message as clearly as possible and also as fast as possible. And you can achieve this goal with great design.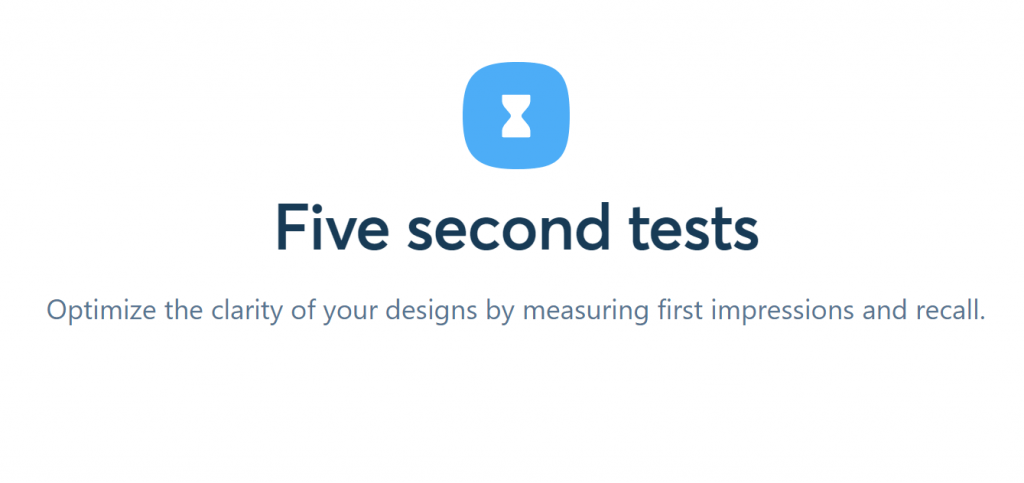 To make sure your design fulfils its purpose, you can test it on the fivesecondtest.com platform.
The fivesecondtest.com was developed by UsabilityHub, a remote, unmoderated user research platform for running user tests and design surveys. The five second testing is a form of usability testing that allows you to measure how well a design quickly communicates a message.
So before launching your website to the public, optimize the clarity of your design by measuring first impressions and recall with the fivesecondtest.com.
Also, it's worth mentioning that the hub offers free access to its testing services for those who are working directly on this pandemic.
16. Inspectlet.com – Google Analytics tells you what, Inspectlet tells you why
The website usability optimization process is an ongoing effort – it never stops. You've first tested your website design and improved it for clarity of message.
Now it's time to see how visitors use your site and how easy it is for them to find what they are looking for. No more guessing!
With the inspectlet.com tool, you can see what the visitors are doing on your website, understand their mindset and increase your conversion rate.
You can watch individual visitors use your site as if you're looking over their shoulders.
Or discover where visitors are getting confused on your site and what's getting their attention. You can start here.
17. MeetEdgar.com – A social media tool that writes your social media statuses for you
MeetEdgar.com is a social media tool that writes your social media statuses for you.
Using machine learning, MeetEdgar reads through your blog posts, landing pages etc and generates quotes for your social media updates while preserving your brand voice.
The tool can also build up a collection of evergreen content, share it and save the respective updates for later reshare if needed.
Running multiple social media accounts is time-consuming and a full-time job. MeetEdgar helps small business owners and professionals automate their social media presence and save time which they can use to focus on their professional activities.
18. Bonjoro.com – Send a personalized video message to your customer's email inbox
Email marketing done right outperforms social media in terms of reach, clickthrough rate, conversion rate and ROI.
There are many recommendations on how to optimize your emails for maximum results. One of them is to keep in mind that your email subscribers are people and they expect to read emails that have been written by a person, not a robot. They expect to "meet" the person on the other side of the email. They expect an email with a human touch.
If you are looking to give your emails a human voice, video could be the answer. More precisely, a personal video.
With Bonjoro, you can record and send an engaging video to each contact in your email subscribers list. Your contacts will be pleasantly surprised!
15,000 companies have already used Bonjoro to get results ranging from engagement boost, increased open rates, increased conversion rates and overall increased customer loyalty and advocacy.
Learn more about Bonjoro here.
19. Flourish.studio – Tell your story with beautiful data visualizations
I'm sure you have come across this type of data visualization called racing bar graph at least once.
I've seen many videos like this one circulating on social media and often wondered how difficult it would be to make them.
As it turns out, it's not at all difficult.
All you need is a spreadsheet containing the necessary data and with the help of Flourish.studio, you can have your video up and running in minutes. The most time-consuming part of this process is gathering the data.
Flourish.studio is an easy-to-use tool for the non-coders (like me!) that allows users to turn data into an engaging video that will boost your social media reach organically.
Flourish was developed in 2016 by Duncan Clark, a data journalist with a storytelling background and Robin Houston, a mathematician and developer. They started working on visualizations as a side project in 2012. Over the next few years, they worked with clients from the Guardian and Google to the WHO and LSE and won prizes at the Data Journalism Awards and the Information Is Beautiful Awards, among others.
Throughout this time, Duncan and Robin were working on an idea: a tool to allow non-coders to create high-end visualizations and stories. By 2016 they had a clear vision for such a tool and Flourish was born. Now Flourish provides users with a wide range of data visualization templates and is one of the most popular data visualization tools in the world.
That's all 19 digital marketing tools that every marketer can use to level up their skills.
I hope this list provides you with solutions that could help you overcome your challenges and also get your creative juices going.
---
Looking to learn from the best?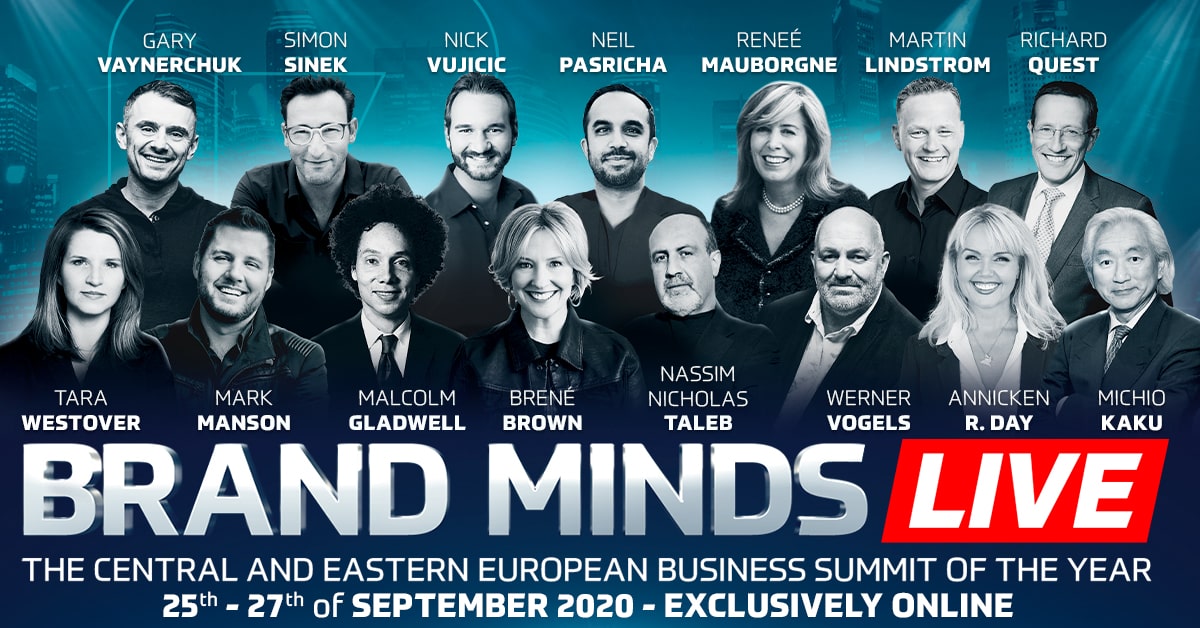 Join the Conversation
We'd love to hear what you have to say.
Get in touch with us on our LinkedIn Group, Facebook Group or Twitter.