In a world where tech innovation is synonymous with disruption,

Renée

Mauborgne goes against the mainstream and finds a new way to innovate.
Her new book is called Beyond Disruption: Innovate and Achieve Growth without Displacing Industries, Companies, or Jobs and was released in May of 2023.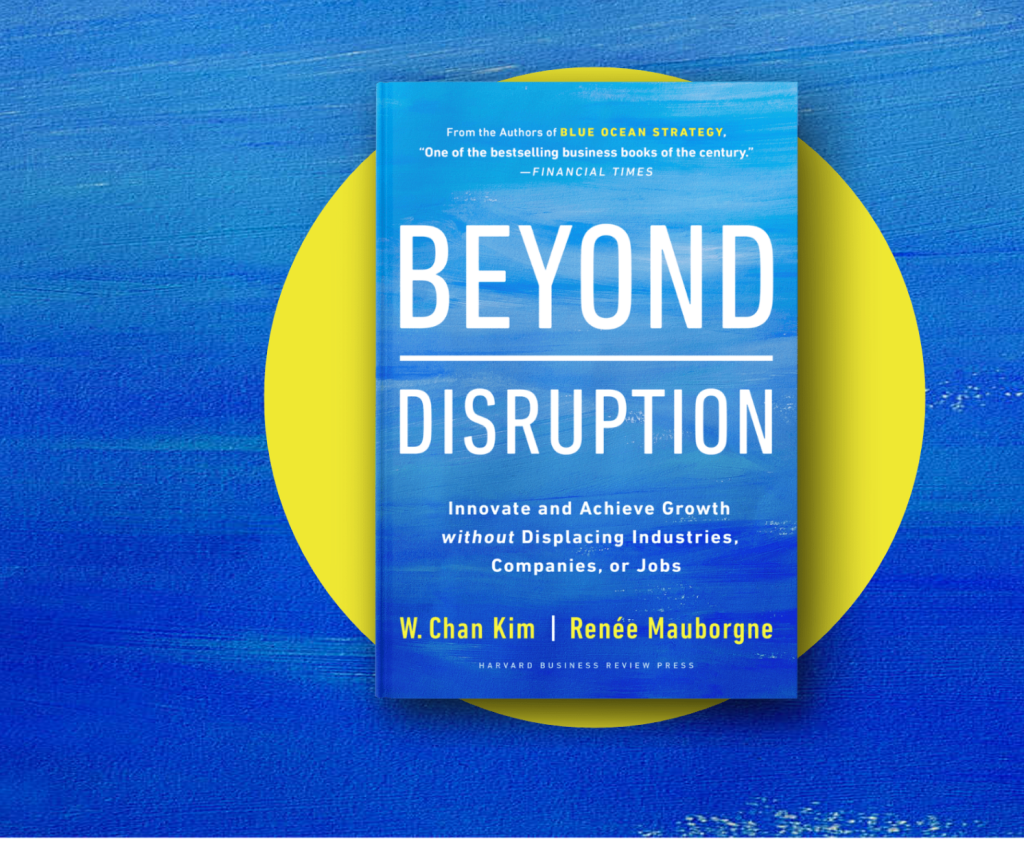 Here's why you should read it:
It's contrarian. It goes against everything we know about innovation and its consequences on the business. Disruption dominates innovation theory and practice. But disruption, for all its power, is destructive—displacing jobs, companies, and even entire industries.
It introduces a new & surprising concept. 'Beyond Disruption' redefines and expands the existing view of innovation by introducing a new approach, 'nondisruptive creation', that is free from the destructive displacement that happens when innovators set out to disrupt.
The book's insights are based on rich research. You learn about 'nondisruptive creation' from real-life examples reaching across all sectors of the economy.
Why nondisruptive creation matters to all of us and why it is likely to become even more important in the future;

How it complements disruption and how you can identify and execute on nondisruptive opportunities;

How companies can more thoughtfully pursue their growth and innovation strategies in a way that better balances business and society.

You get a practical framework for guiding your business growth efforts.
Renée

's unique business strategies have shaped the business environment over the last 30 years
I have no doubt that this book will soon become a New York Times bestseller following Blue Ocean Strategy and Blue Ocean Shift, Renée's previous bestsellers. 
Co-authored with her fellow strategy professor at INSEAD, W Chan Kim, these two books have essentially changed business, management and leadership as we know it. The business strategies and novel business concepts presented in these books are taught in more than 2,500 universities in almost all countries over the world.
Blue Ocean Strategy has sold over 4 million copies and is recognized as one of the most iconic and impactful strategy books ever written:
New York Times Bestseller

"One of the bestselling business books of the century" – Financial Times

A bestseller across 5 continents

Translated into

 

47 languages

"The most successful book on business master-planning" – The Economist

Featured on more than 300 bestseller lists across the globe

Thinkers50 Strategy Award

 

for Best Business Book of the Decade
Blue Ocean Shift achievements:
New York Times Bestseller

Wall Street Journal Bestseller

"Best Business and Leadership Books of 2017" – Amazon

"One of the biggest books of the year" – Apple iBooks
The origin story of Blue Ocean Strategy
Blue Ocean Strategy is based on a 10-year study of strategic business moves across 30 industries.
What prompted this study?
Seeing American companies lose customers and market shares, in the early 1990s, to a new competitor who was coming from outside of the country: Japanese companies.
Global competition was changing everything for companies anywhere in the world. The markets were becoming crowded. For the first time since World War II, demand didn't exceed supply. Businesses were entering a new era and the old business strategies were becoming obsolete. It was time to design new business strategies.
Renée Mauborgne's and Chan W Kim's Blue Ocean Strategy concept was powerful and research-based and was soon embraced by millions of executives around the world. But while they saw the value of the strategy, they didn't know how to adopt it. That's when Renée and Chan created 20 templates and frameworks to help businesses shift from red oceans to blue oceans.
These strategy tools are: Value Innovation, Strategy Canvas, Buyer Utility Map, Three Tiers of Noncustomers, Six Paths Frameworks, Four Actions Framework, ERRC Grid, PMS Map, Price Corridor of the Mass, Sequence of Creating a Blue Ocean, Five steps to a Blue Ocean Shift, Three Components of a Blue Ocean Shift, Three Components of Humanness, Four Hurdles to Strategy Execution, Fair Process, Tipping Point Leadership, Blue Ocean Leadership v Conventional Leadership, Leadership Canvas, Leadership Grid and Costs of Disengaged Employees.
Renée
Mauborgne is the first woman to ever secure the #1 spot on Thinkers50's list of global thought leaders
Renée Mauborgne has many notable achievements among which one of the most important is being the first woman to be named the world's #1 management thinker.
She was also a Fellow of the World Economic Forum and Davos where she drew on her rich, diverse experiences and perspectives to help accelerate progress and impact across both organizations' platforms and projects.
Here are 4 takeaways from Renee Mauborgne, on stage, at BRAND MINDS 2023.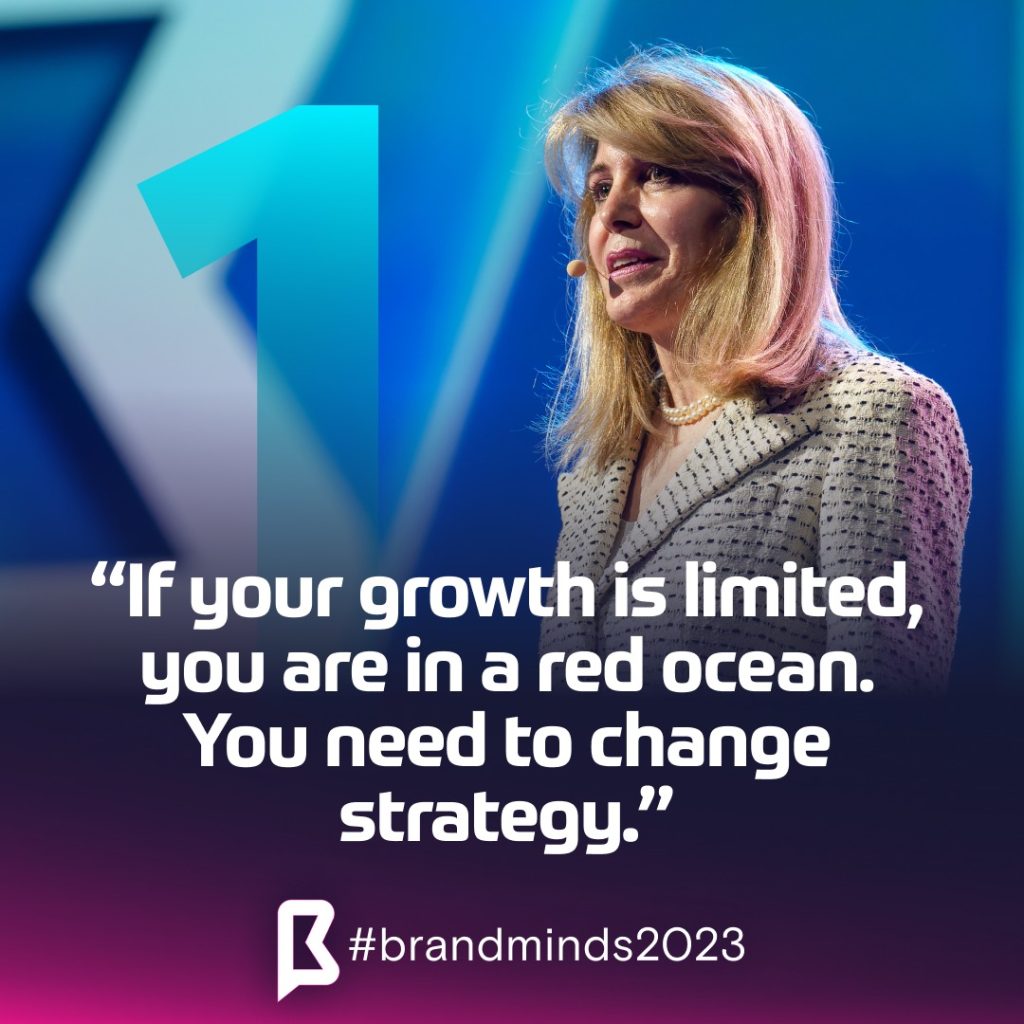 Anne-Marie Imafidon has changed the future for 60,000 girls, young women and non-binary people
Anne-Marie has founded Stemettes, an award-winning social initiative, to inspire and open up the next generation of young women and non-binary people to careers in STEM (Science, Technology, Engineering and Maths) and STEAM (Science, Technology, Engineering, Arts and Maths) sectors. Together with her team, she has developed programmes supporting ages 5 to 25. What an amazing approach to giving young people a new path in life! 
From taking apart the VCR aged 4 to passing A-level Computing at age 11: Anne-Marie's story
Anne-Marie is the best role model for the young people attending the programmes at Stemettes. She knows first-hand how incredibly powerful it is for a kid to be allowed to experiment and follow his or her interests. She made history in the UK when she became the youngest girl ever to pass A-level Computing at age 11.
She was only 20 when she got her master's in Maths and Computer Science from the University of Oxford. After that, she worked for a number of investment banks. She has 6 honorary doctorates, is the President of the British Science Association and was listed as one of the BBC's 100 inspirational and innovative women. She has achieved what others achieve in a lifetime and she is only 33.
How did this extraordinary life begin?
Anne-Marie was born in London, to Nigerian parents, the eldest of five children. Education was very important to her parents. She grew up in a progressive environment where she and her siblings were allowed to experiment with everything. One of her earliest memories is playing on her dad's computer when she was four or taking apart the VCR to see where her favourite animation characters came from.
She is one of the youngest recipients of the Member of the Order of the British Empire (MBE)
She was awarded an MBE when she was 27 for her outstanding achievements or services to UK tech. Other MBE holders are multiple Grammy winners Adele and Ed Sheeran. At 30, she was voted the most influential woman in tech in the UK by Computer Weekly.
Here she is at BRAND MINDS 2023.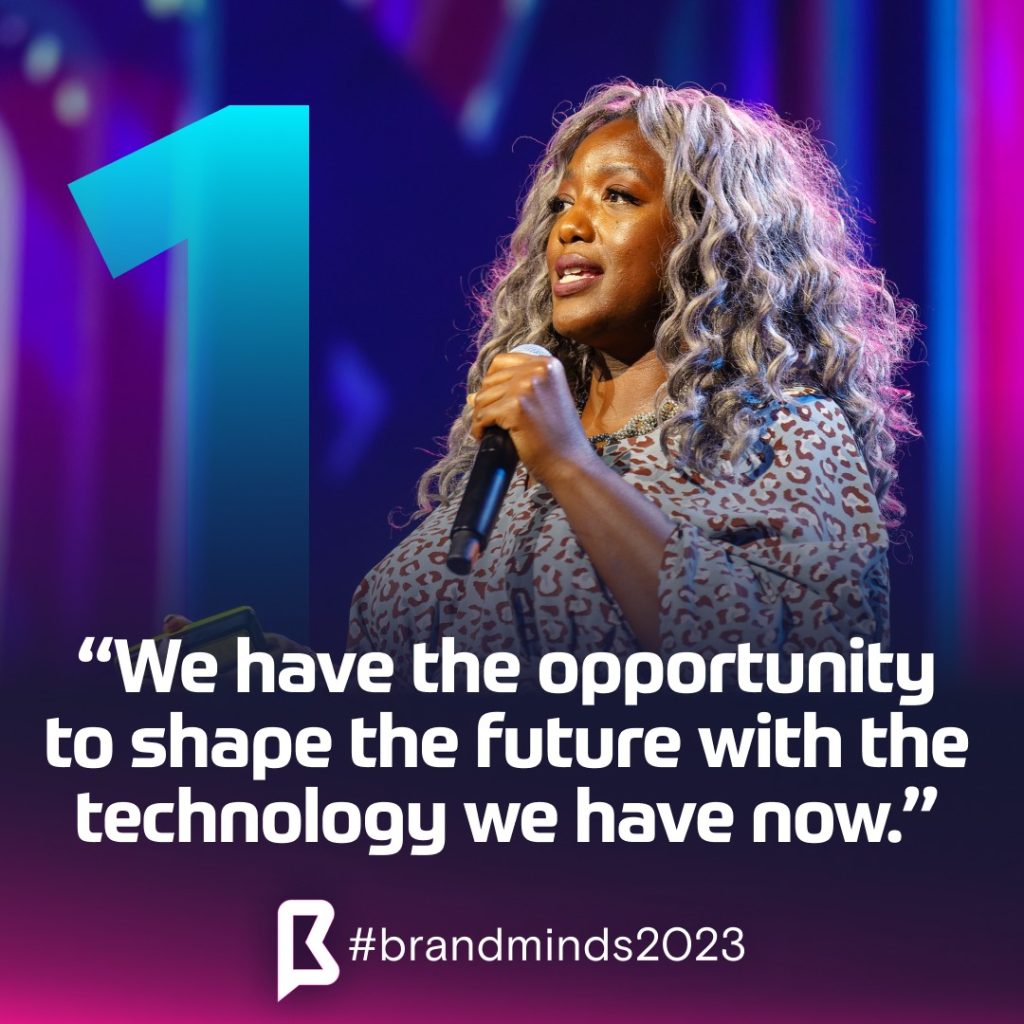 Lynda Gratton helped Japan create a better society for its citizens of all ages
'The 100-Year Life', Lynda Gratton's book about longevity and societal change was published in 2016 and earned modest sales. But when the translated version was published in Japan a few months later, it quickly went on to become a national bestseller. The country with the world's highest number of senior citizens acknowledged the issues presented in the book and recognized the immediate need to design a nationwide strategy for its people.
Shaping the society of the not-so-distant future where people live rich successful lives at 100 years old
In September 2017, Prime Minister Shinzo Abe established the Council for Designing 100-Year Life Society whose goal was to create a society in which all citizens are dynamically engaged and equally contributing to the country's development. Lynda Gratton accepted his invitation to serve on the Council and help him outline a revolutionary human resource strategy to reform the work style of the Japanese people and increase productivity.
The Council's reforms have yielded positive results: they introduced the concept of lifelong learning, future of work and increased employment rate among senior citizens.
Created the best HR programme for organisations
Lynda Gratton is a Professor of Management Practice at London Business School where she directs the program 'Human Resource Strategy in Transforming Companies' – considered the world's leading program on human resources. Her elective on the Future of Work is one of the school's most popular and in 2016 she received the school's 'Excellence in Teaching' award. For over ten years she has led the Future of Work Consortium which has brought executives from more than 60 companies together both virtually and on a bespoke collaborative platform.
Here is Lynda on the stage at BRAND MINDS 2023 and her key takeaways.