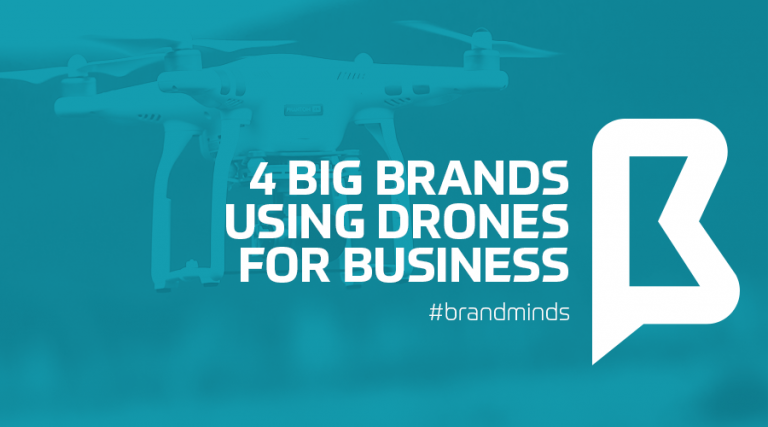 We've grown accustomed to kids and teenagers using drones for fun.
Or grown-ups using a different kind of drone for aerial selfies or astonishing videos (see here).
But how about brands using drones for business?
This article presents you with 4 brands and how they use drones to improve their business.
Here are 4 brands using drones:
Dolce&Gabbana
Fashion shows are not all about the clothes. Some fashion designers go to great lengths to make an impression upon the audience and land as much media coverage as possible.
British designer Anya Hindmarch put on a fun and colourful set made out of 50,000 dominoes for her 2013 show. Karl Lagerfeld finished his 2017 show with a rocket taking off from the runway in the Grand Palais.
The latest fashion house to enter the hall of eccentric runway shows is Dolce&Gabbana. For its 2018 eveningwear event, Dolce and Gabbana used drones to show its handbags collection. It's certainly a first for the fashion world!
AIG
AIG specializes in aviation insurance, with many of their employees in this line of business being qualified pilots.
In 2015, the company received the FAA approval to operate small unmanned aerial vehicles – drones. AIG is one of the early drone users in the industry and uses them to replace human inspectors.
Since 2015, their fleet of drones has conducted inspections for risk assessment, risk management, loss control, and surety performance for customers in the U.S. Using drones instead of human inspectors helped AIG accelerate surveys of disaster areas with high resolution images for faster claims handling, risk assessment, and payments. Drones are also beneficial in that they can reach areas that could be dangerous or inaccessible for manual inspection. Also they provide richer information about properties, structures, and claim events.
Intel
Intel's leaders believe drones are an important computing platform for the future. And they have foreseen their usage in two sectors: commercial and entertaining.
In 2016 Intel entered the drone manufacturing market by acquiring MAVinci GmbH – a private fixed-wing company with best-in-class flight planning software. The same year, Intel announced their first Intel-branded commercial drone, the Intel® Falcon 8+ System and their first drone designed specifically for light shows: the Intel® Shooting StarTM drone.
In 2018, the most notable project Intel is running is the restoration of China's Great Wall with the help of its drones and artificial intelligence technology.
Project Wing
Alphabet, Google's parent company has been testing drone delivery to people's backyards in Australia since 2014. Under the name Project Wing, the end goal is certainly ambitious:
"A new method of transporting goods that's faster, cheaper, and more environmentally friendly than what's possible today on the ground."
So far, Project Wing managed to transport successfully a first-aid kit, candy bars, dog treats, water to farmers and burritos to students at Virginia Tech.
In July 2018, Project Wing announced its separation from Alphabet.