Social media has become one of the most preferred communication mediums for brands spawning a wide variety of job roles. These job roles are changing to fit the needs of brands and their audience.
Here are 4 in-demand job roles in social media curated on Simply Hired, a job search engine that collects job listings from all over the web:
1.
Social Media Agent

(job role posted by GE Appliances)

There was a time when brands were providing customer service in-shop, during working hours, five days a week.

Now that we're living a digital life, those days are gone.

With almost 83.72% of the world's population owning a smartphone and 4.62 billion people using social media (which is almost half of the world), it's understandable that social media and other digital platforms have become the preferred medium for customers service.

People turn to Facebook to ask brands questions, post product reviews or make complaints. And they expect brands to respond swiftly and on point.

Providing stellar social media customer service within social media platforms, company websites and email are essential to the success of the respective brands.

This job role was posted by GE Appliances which sees fit to highlight its importance in this sentence: Positive interactions in these channels are significant drivers of brand loyalty.

With B2C brands, the challenge lies in the numbers. It's one thing to cater to the needs of a small customer base and another to provide customer service for millions of users like PayPal (143 million active accounts) or Canva (60 million active monthly users).

Social Media Agent – The Challenge

Social Media Agent – Essential Responsibilities
Professionally respond to and resolve inquiries to incoming consumer emails and public interactions across a wide variety of topics including, but not limited to pre-purchase inquiries, installation requirements, basic trouble-shooting, use & care information, and complaints;
Respond quickly and professionally to social channel engagements on Facebook, Twitter, Instagram, YouTube and other platforms;
Resolve consumer questions and respond to ratings and reviews of our products on the GE Appliances.com site as well as key partner retail sites;
Become proficient in using internal platforms and resources that support email, shopper questions, Ratings & Reviews, Knowledge Base, eDoc, GE Appliances websites, SMC, Salesforce Service Cloud and other systems as required;
Follow protocol and adhere to guidelines;
Achieve and maintain fully satisfactory performance.
2.
Social Media Community Activist

(job role posted by Patagonia)

Patagonia is equally famous for its high-quality sustainable outdoor clothing and apparel and its bold environmental advocacy.

It is the perfect example of how successful brands can become when they are purpose-driven. The company's mission states that "Patagonia is in business to save our home planet" and they certainly walk the talk: among its most famous actions are restoring life in the Ventura River and suing President Trump to protect Bears Ears National Monument in 2018.

Also, Patagonia donates 1% of their sales to grassroots environmental organizations (approximately $20 million annually).

Given the brand's long-term environmental activism, it's only natural that Patagonia is looking for a Social Media Community Activist.

It's also interesting that the brand is first and foremost looking for a data-oriented environmentalist, essentially a stakeholder, with strong communication skills, not a social media community manager with activism included in the overall social media responsibilities. They understand that in their case, passion drives the skillset.

Social Media Community Activist – The Mission

Social Media Community Activist – Responsibilities
Maintain and execute Patagonia's social media content calendar for Twitter, Facebook and LinkedIn;
Establish strategy and tactics to engage in conversations in Reddit threads and FB groups (and elsewhere) when the opportunity arises;
Work with Digital Operations and the Creative Studio to brief in and realize creative needs;
Leverage social media monitoring tools – native and 3rdparty – to monitor social media conversation and find opportunities to actively engage with our audience;
Track and report social media performance indicators and develop and propose strategy recommendations accordingly;
Find emerging tactics and innovative ways to bring our content to life that cuts thru the clutter in social media;
Consult with regional stakeholders on best practices and act as the community activism subject matter expert;
Partner with the greater Digital Impact Team and PR & Comms team to align advocacy and activism efforts across Social, CRM, Paid, and SMS as necessary;
Establish new performance benchmarks;
Maintain brand voice, tone and consistency under pressure;
Partner with the Social Media Manager, Community Storytelling to cross-promote stories and calls-to-action across a variety of social media platforms.
3.
TikTok & Social Media Content Creator

(job role posted by Prose)

As of January 2022, TikTok had 1 billion monthly active users worldwide.

For comparison, Facebook has almost 3 billion monthly active users and Instagram, 1.4 billion.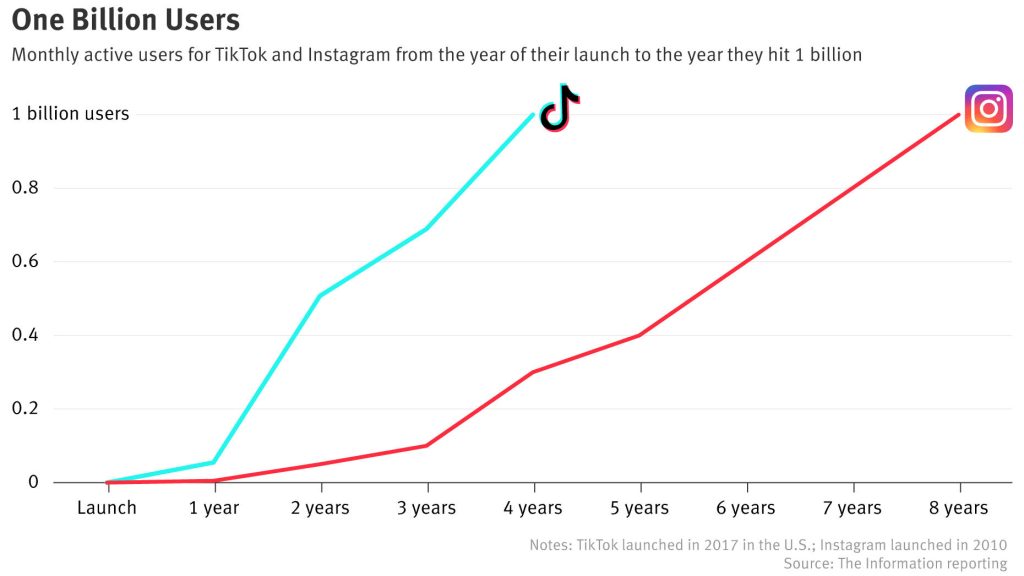 Graph source: The Information
What's relevant looking at the graph below, is that TikTok reached 1 billion users faster than any other social media platform.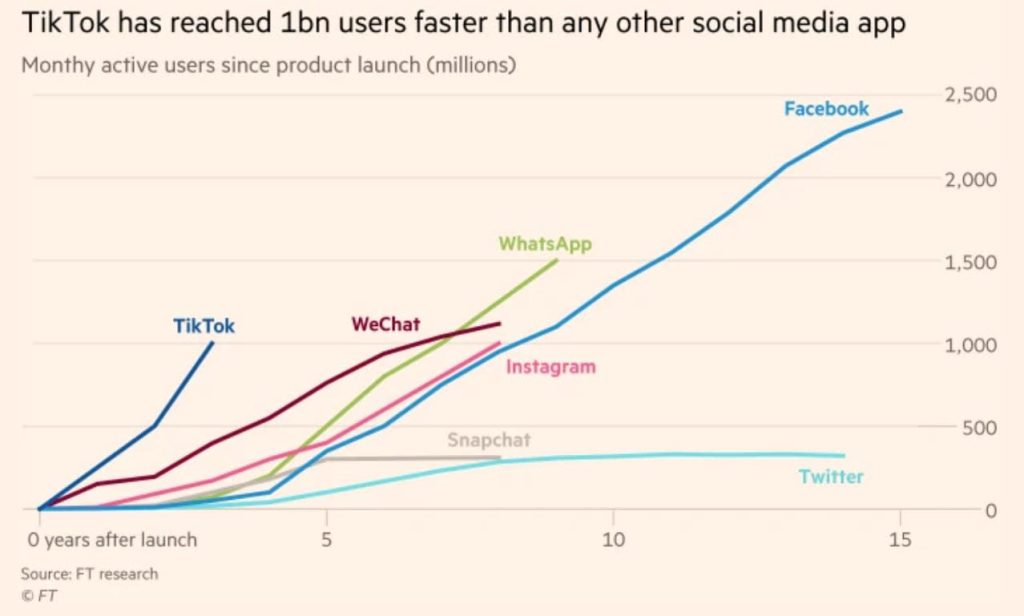 Graph source: Medium
60% of TikTok users are Gen Zers so brands catering to the needs of people aged 10 to 25 are looking for TikTok content creators. Prose is one of those brands. The brand creates custom hair care that's inclusive to all hair types, needs, and preferences using natural active ingredients.
TikTok & Social Media Content Creator – Profile

TikTok & Social Media Content Creator – Responsibilities
Concept, pitch, execute, & post daily videos to drive engagement & rapidly scale Prose's community on TikTok;
Identify relevant emerging trends before they become mainstream and execute ideas quickly to tap into opportunities for virality;
Refine Prose's TikTok tone of voice, write captions, and document platform best-practices;
Develop a monthly TikTok content calendar that supports always-on brand messaging priorities, marketing campaigns, holidays, and relevant pop culture events, while staying true to platform best practices;
Collaborate with cross-functionally to execute content that supports community building, brand awareness, and customer acquisition;
Rigorously test & learn to continually improve performance, including posting frequency, content creative optimization, caption and hashtag strategy optimization;
Review and analyze performance & competitive learnings to share actionable insights and opportunities;
Report weekly and monthly, and use data to inform content concepts and execution on a daily basis;
Formally launch and build Prose's YouTube Channel, identifying opportunities for growth through SEO and community building tactics, and maintaining channel best practices;
Own emerging social media platforms and trends, working closely with Social Media Director to evaluate the right strategic opportunities for Prose to grow our audience on emerging platforms.
4.
Meme Master

(job role posted by Lamington Co)

Memes are the entertainment form of the digital era.

Instagram said in a blog post published in 2020 that 1 million users share memes on its platform daily. Millennials and Gen Zers share memes the most spreading laughter among their friends.

Memes are perfect for raising engagement and building a community because humour makes everyone feel good and it also helps the brand be remembered (learn about the humour effect bias and how to use it in your marketing strategy).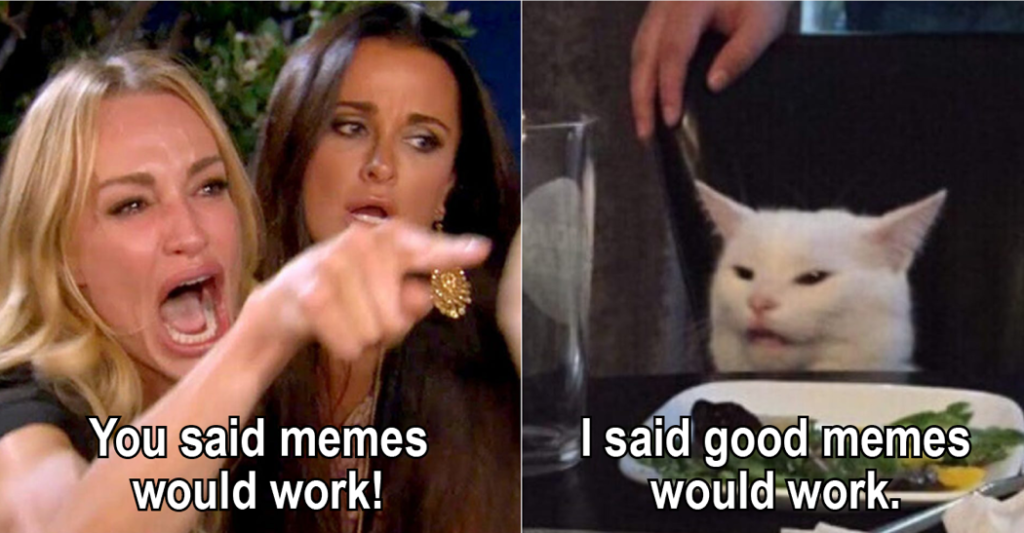 Meme source: The Content Architects
This particular job role was posted by Lamington Co, a digital marketing agency specializing in food, beverage and lifestyle brands, but it could have been posted by any brand using humour to engage with its audience.

Meme Master – Responsibilities
Identify meme-able moments and topics;
Produce and design memes (you will have graphic and video support for more complicated posts);
Collaborate with the broader social and content team;
TikTok experience and passion is a plus.
Looking for relevant marketing trends and insights?
Subscribe to our newsletter!