Your website is your house. You need to keep it clean, updated with modern appliances, working sanitary fittings and beautiful interior design.
But you didn't build your website to just sit pretty and look nice. You are working hard to attract traffic in great numbers to your website so you expect it to convert your visitors into customers.
This article will show you
5 smart and creative ways

to turn your website visitors into customers plus

1 piece of hot news from Google you will love

.

Also we have a bonus for you at the end of the article.

Let's begin with Google's latest hot news for website owners and developers! 
1. AUGMENTED REALITY FOR WEBSITE PAGES
If you ever played Pokémon Go or used any of Snapchat's filters you are familiar with Augmented Reality.
Various companies already use Augmented Reality to increase brand engagement and ultimately sales.
Ray-Ban, one of the major players in the optical industry allows its customers to try the full range of sunglasses virtually on their face without visiting their showroom. Their AR-based app is called Virtual Mirror.
Beauty U is an AR-based app launched by Cover Girl, a cosmetics company. The app scans your face using your smartphone's front camera and applies appropriate cosmetics virtually. This way the app helps you decide which cosmetic products best suit you.
And the list can go on. What is the common thread in these examples? The AR application live outside their company's website: they are app-based. So you need to build your AR experience with the help of a third-party developer, which can be costly and time-consuming. And then convince your prospects to go to your app and download it. This may require additional advertising costs.
Wouldn't it be more convenient for your prospects and your company if your AR application was hosted by your own website?
Yes, it would! Up until recently this wasn't possible.
But Google is working to change that. In June 2018, Google announced the introduction of AR for the web with its WebXR Device API for Chrome Canary. We are not going to go into technical details but you can watch the demo here:
Yes, it's not something you can go ahead and implement right away, but you can start working on it now and be the first in your industry to delight your website visitors with on-site AR experiences. Remember: the early bird gets the worm!
Now that this is out of the way, let's talk about other smart ways to turn your website visitors into customers which you can implement right away.
2. CONVERSATIONAL BOTS
Start talking to your visitors while they are on-site
In 2018, marketing is going back to its roots: getting your message across with conversation. Conversational marketing is defined as a one-to-one approach to marketing that companies use to shorten their sales cycle, learn about their customers and create a more human buying experience.
What tools do you need to implement conversational marketing?
Intelligent chatbots!
You can place your chatbots on various pages of your website: high-intent pages, high-traffic pages, pages with negative intent or any other pages that are relevant of your visitor's buying journey.
Learn more about conversational marketing and how to use conversational bots here:
How to gain more leads with conversational marketing.
Here are three chatbots and the results they yielded for their companies (info via techemergence.com):
Concierge, the chatbot of Expensify has increased five times the company's free trials;
aLVin, the chatbot of LV, a UK-based provider of financial products and services has reduced the volume of calls from broker partners by 91%;
Mya, the chatbot of FirstJob, an online-based recruiting firm, improved recruiter efficiency by 38% and increased candidate engagement by 150%.
3. CTAs WITH CONTEXTUAL COPY
All CTAs are not created equal
Depending on your industry or niche, your website can have many pages with different products, services or information. Your visitors may land on your pages looking for various information. Then why would you place the same CTA on all your website pages? You wouldn't want to sound like a parrot going over and over again Polly wants a cracker would you?
Customise your CTAs with contextual copy. Take your time to write well-crafted CTAs that draw visitors' attention by answering their needs. You know why your visitors landed on a particular webpage so you can take them to the next step on your sales funnel with smart CTAs, which offer a solution to their problems.
How to write effective copy for your CTAs via uberflip.com:
Make it about your audience, not you;
Make it emotional;
Tell them what they lose-it's psychological: people hate to lose!;
Make it catchy, smart of funny.
Take your time and write great copy for your CTAs. Test them to see what works and what doesn't. All your effort will be worth it because great CTAs can increase your conversion rates. Hubspot's personalized CTAs performed 202% better than untargeted CTAs. Now that's what I call a great success!
4. USE VALUE LANGUAGE
Tell them what they gain
Let's say your company is running a webinar and you need to build the event's landing page. What do you write on the event's landing page to convert visitors into registrants?
Here are 4 best practices:
The headline must convey a benefit to the visitor;
Stay away from benefits that are too broad, be specific on how your webinar can solve your visitor's problem;
Tell people what they will learn in the webinar: use bullets to explain key insights that registrants will gain from joining the webinar;
Tell people what they win and also what they stand to lose if they don't register to your webinar. Why? Because you are leveraging the loss aversion, a notion supported by behavioural science. This notion states that people are more motivated to avoid losses than they are to acquire gains.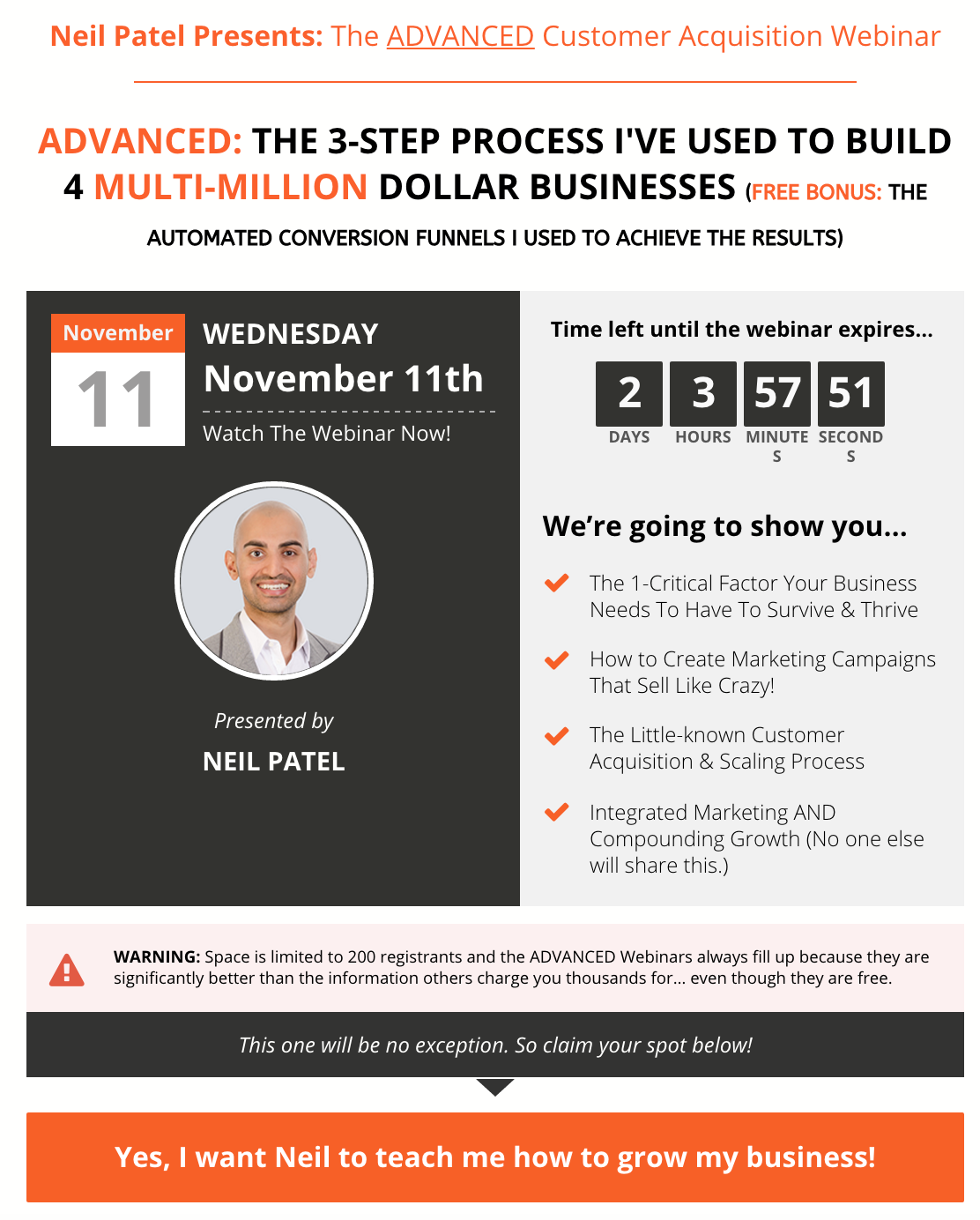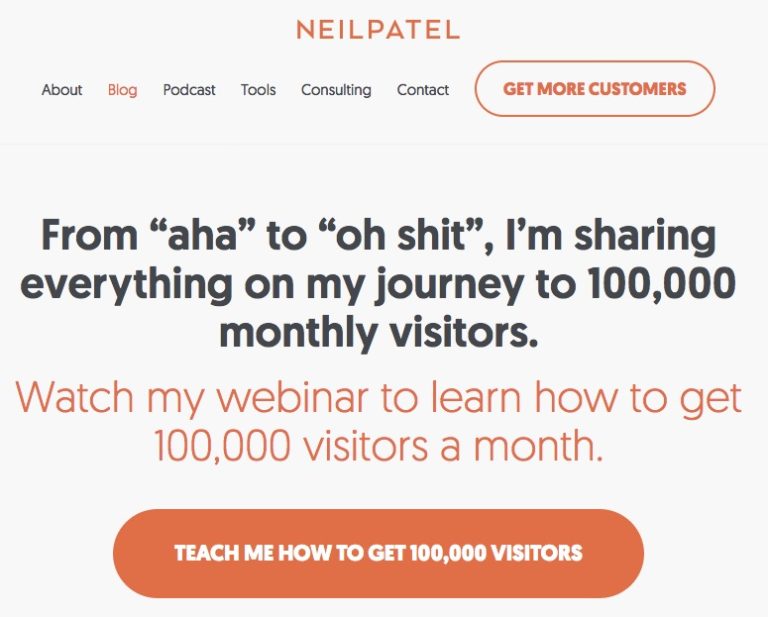 5. CREATIVE EXIT-POPUPs
Don't let them leave empty-handed
Exit popups are messages triggered by a visitor's mouse that shows he or she is about to abandon your website. These popups are opportunities for marketers to stop the visitors from leaving the site empty-handed.
In exchange for their email data, marketers can offer products (an eBook, whitepaper, coupon, newsletter, blog subscription, free trial) or discounts. Based on the latest numbers, exit popups can increase conversions by 5-10% when deployed correctly (source: ventureharbour.com).
To stop visitors in their tracks, marketers need to flex their copywriting muscles and come up with a text that draws visitor's attention.
Here are 3 tips on how to write your exit popup text:
Be Concise: no one has the time or patience to read entire paragraphs of text so keep it short and sweet;
Be Funny or entertaining: if it aligns with your brand's voice, try to find something funny or entertaining to tell to your visitor about to leave your site;
What's in it for me? Always show the visitor the value of your offer and how he/she can benefit from it.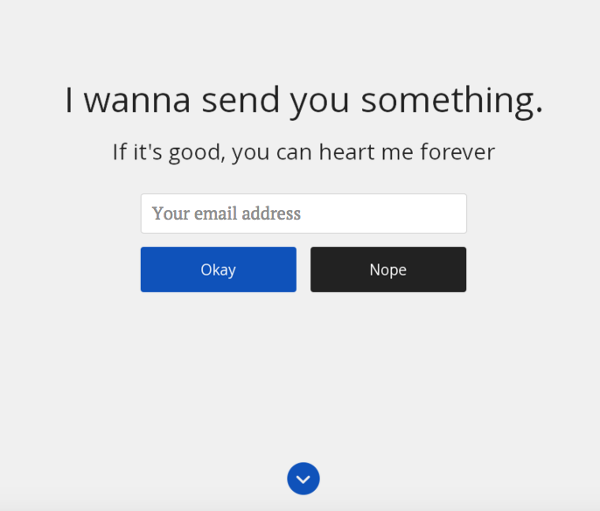 image source: impactbnd.com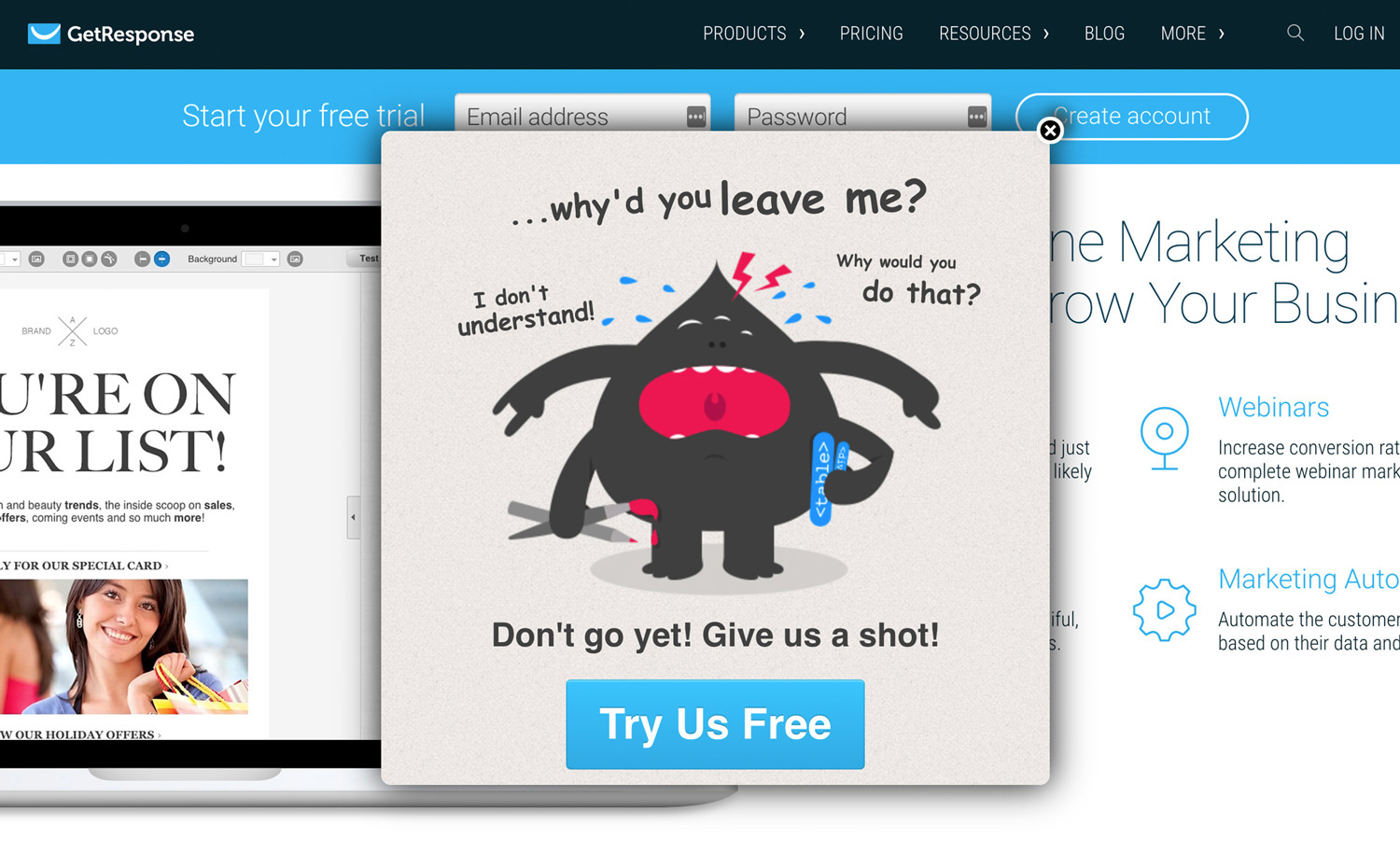 image source: unbounce.com
BONUS
Remember the bonus mentioned in the first paragraph?
Here it is!
6. LEAD GENERATION TOOLS
See which companies are visiting your website
Are you using lead generation tools?
If you're not, it's time you did.
If you are, congratulations!
There are many lead generation tools out there – as a marketer you have options galore. But when you are a B2B company, you need a lead generation tool that will show you which companies are visiting your website. We give you 3 examples of such lead generation tools in our article:
See which companies visit your website.
Let's say you made your choice and picked the appropriate tool for your company. This tool is providing you with all the info on the companies visiting your website.
What do you do next? How do you turn them into customers?
Here are 3 tips:
Send them an email that includes resources based on the pages they visited;
Trigger a live chat conversation to engage them immediately while they're still on your website;
Connect with their management on LinkedIn and start the conversation.
Wrapping up
Here are 6 smart ways to turn website visitors into customers:
Use augmented reality experiences to make a great impression;
Start talking to them using chatbots;
Encourage them to take the next step in your marketing funnel by using smart CTAs with great contextual copy;
Show them how they can benefit by using your product or service and also what they stand to lose – people hate to lose!;
Use exit popups – Don't let them leave your website empty-handed!;
Be informed on who's visiting your house by using lead-generation tools.