There's a new buzzword that has been getting the attention of startup founders and entrepreneurs in the past year.
You might have heard it: blitzscaling.
As startup founders, looking for ideas to help your organization scale is in the top 3 questions you ask yourself the moment you wake up in the morning.
But what is blitzscaling?
According to LinkedIn co-founder Reid Hoffman who wrote 'Blitzscaling: The Lightning-Fast Path to Building Massively Valuable Companies', blitzscaling is setting up aggressive growth goals and achieving them.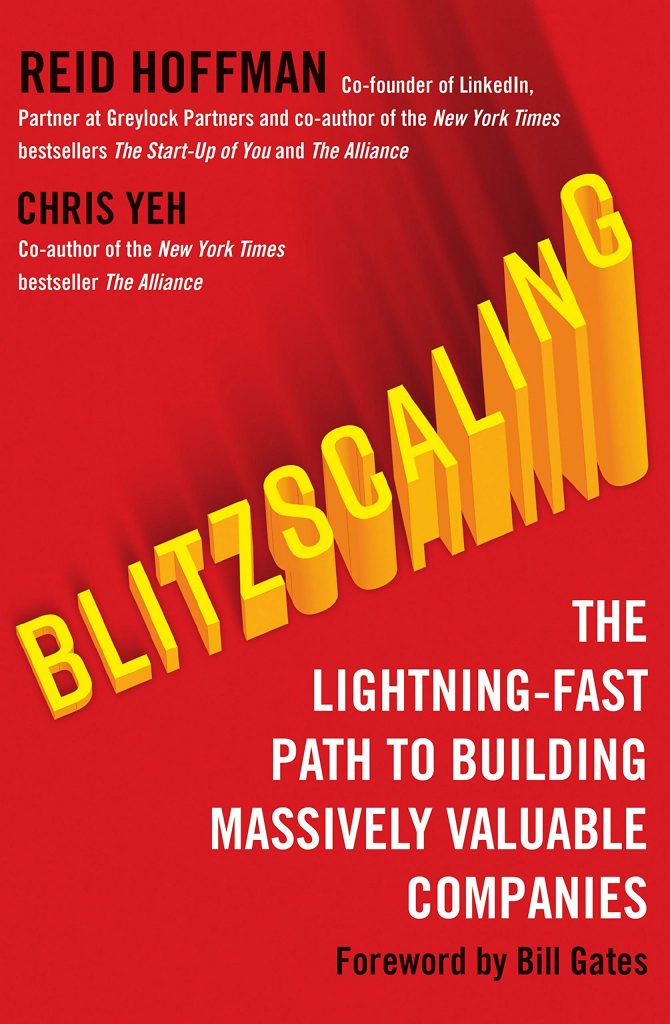 To achieve 'blitzscaling,' you have to go against common sense.

Reid Hoffmann
The book has a foreword by Bill Gates.
Here's what he says:
What entrepreneur or founder doesn't aspire to build the next Amazon, Facebook, or Airbnb? Yet those who actually manage to do so are exceedingly rare. So what separates the startups that get disrupted and disappear from the ones who grow to become global giants?
The secret is blitzscaling: a set of techniques for scaling up at a dizzying pace that blows competitors out of the water. The objective of Blitzscaling is not to go from zero to one, but from one to one billion –as quickly as possible.
6 rules to achieve blitzscaling by Reid Hofmann:
1. Embrace chaos
Throw order and stability out the window! Annual plans and clear business directions to follow? Ha! There's no such thing when blitzscaling! You need to sacrifice efficiency for speed and stability for chaos.
But don't give in to chaos, embrace it.
What's the difference?
Embracing chaos means taking steps to manage uncertainty, not allowing it to paralyze your business.
Also, it's not about charging ahead without preparation but rather making smart decisions based on your estimate of the probabilities.
2. Hire Ms Right Now, not Ms Right
A startup's usual approach to scale is hiring an executive who could scale.
If you want to get your startup to the next growth stage, that's not the right thing to do.
What you need to do is hire managers and executive who are prepared to handle the current phase of growth.
Size does matter: there's one thing managing 1000 people and another to run a 10-person company. Each situation requires a different set of skills.
3. Tolerate "bad" management
While traditional business managers strive for stability and achieving smooth operations, blitzscaling startup founders strive for agility.
There is no time for career development conversations with your employees. There is no employee analysis to form teams. All you have time for is pick them and tell them they belong to a new team.
There are many challenges you need to overcome sometimes on a daily basis. Your employees have an overview of their roles but more often than not they will have to adjust to the series of cascading changes and undertake tasks which are not featured in their roles. Reid calls them "Oh s**t!" moments. There will be many of those and your management needs to stay agile to keep the organization afloat.
4. Launch your product even if it's not perfect
If you are not embarrassed by the first version of your product, you've launched too late.

Reid Hoffman
Yes, you want your product to be perfect before launching it on the market. That's a common mistake investors often see.
It's also the main regret of startup founders – waiting too long before launching.
Your product doesn't have to have a beautiful design or work perfectly on all operating systems or displays.
Give the product to your first users and work together to improve it. Seeing how users use your product in real life is the best feedback you will ever need to make your product the best on the market.
It's better to get your product through iterations with the support of your first users than taking too long to launch a product.
'Any product that you've carefully refined based on your instincts rather than real user reactions and data is likely to miss the mark and will require significant iteration anyway', says Reid.
Not to mention the iterations made late in the product development process will be much more expensive.
The solution is to define a list of features that you think are the minimum required to enter the market. The result is called an MVP or a minimum viable product.
As investor Guy Kawasaki says in his speech The Art of Innovation about launching early: Don't worry, be crappy!
5. Choose which fires are less important and let them burn
Every stage of blitzscaling includes problems to solve, situations to address, all sorts of crises, in short – fires.
You wish you could put them all out but the truth is you neither have the time nor the resources to do that.
That's why you need to exercise the ability to prioritize. Identify which fires are the most dangerous to your organization and put them out first and delay putting out the rest.
6. Do things that don't scale
In his 2003 essay, Paul Graham, co-founder of Y Combinator advises entrepreneurs to do things that don't scale.
Here are a few examples that Paul gives in his essay:
recruiting users manually,
going out and engaging in person with users,
thinking of new ways to delight your users,
consulting which means pick a single user and act as if you were consultant building something just for that one user.
Joe Gebbia, co-founder of Airbnb says the methodology in Silicon Valley is that you have to solve problems in a scalable way. 'That one line of code has to meet the needs of tens of thousands of people'.
But that's not always the best solution to a problem.
Sometimes the best way to solve a problem is to do things that don't scale like meeting with your users in real life and spending a few moments in their shoes.
That's what the Airbnb co-founders have done at one point in the early phase of their product: they met with their users in-person.
Aside from getting valuable insight into user experience, the meetings resulted in a surprising change in users' behaviour.
They started using the word love in the same sentence as Airbnb and they became brand ambassadors talking about the platform with their family and friends.
Here are other examples via Do Things That Don't Scale:
DoorDash co-founders used to deliver hummus themselves and get direct feedback from their customers. DoorDash is now worth $12.6 Billion after new $600 million investment.
Slack founders begged their friends at other companies to try their messaging platform and give them feedback. Slack is now worth more than $20 billion. Learn how Slack grew to 8 million subscribers in 5 years.
Tinder reached 15000 early users by going on a road trip to college sororities and fraternities. The famous dating app is now valued at $10 billion.
Conclusion
What is blitzscaling?
Blitzscaling is going against traditional management rules like efficiency and risk minimization.
If you are looking to achieve blitzscaling, you are going to follow a new set of rules. These rules are counterintuitive and you didn't learn them in business schools.
Blitzscalers are startup founders that do what it needs to be done (but it's not illegal or unethical) to get their organization and their product flying.
Are you a blitzscaler?
Join the Conversation
We'd love to hear what you have to say.
Get in touch with us on Facebook Group and Twitter.