When you think of Apple as a brand – you think of INNOVATION, CREATIVITY and SOPHISTICATED DESIGN, shaped in the simplest way. When you think of iPhone, iMac or iPad, you think of a global brand. However, global brands are not created over night, but with consistency and a lot of strategic decisions that are taken with every single step.
In this particular case, Apple managed to:
Create products that most creators around the world want;

Design a lifestyle

 enhanced by the versatility of their gadgets;

Build a complex ecosystem

that is completely interconnected.
And most importantly, they succeeded in creating an incredibly engaged

brand culture.
Building a global brand takes years, organising an outstanding event requires knowledge that is applied wisely, through a few strategic decisions.
From this article you will learn more about what stands behind an outstanding launching strategy and what you should consider when creating your own. Enjoy!
APPLE INC. – EVENT LAUNCH STRATEGY DECONSTRUCT – Based on the online launch on April 20th, 2021.
ANGLES:
Pre-suasion and how Apple FRAMES the mood of the AUDIENCE in creating a certain positioning for their products;

 How they enhance the BRAND CULTURE, build TRUST and create SYNERGY with their audience;

3. How Apple leverages the fundamentals of MEMORY PALACE technique through particular scenes.
1.
Pre-suasion and how Apple FRAMES the mood of the AUDIENCE in creating a certain positioning for their products:
There's a very popular concept in the art of persuation, that Robert Cialdini is talking in his books and it's called pre-suasion.
Pre–suasion is the practice of getting people sympathetic to your message before they experience it. It's about all the things that happens before you ask someone to say yes to your proposal.
Regarding this, below you'll find the PRE-SUATION SCHEME in Apple's April 20th event. Take a look at it because we'll go through each point in particular, below: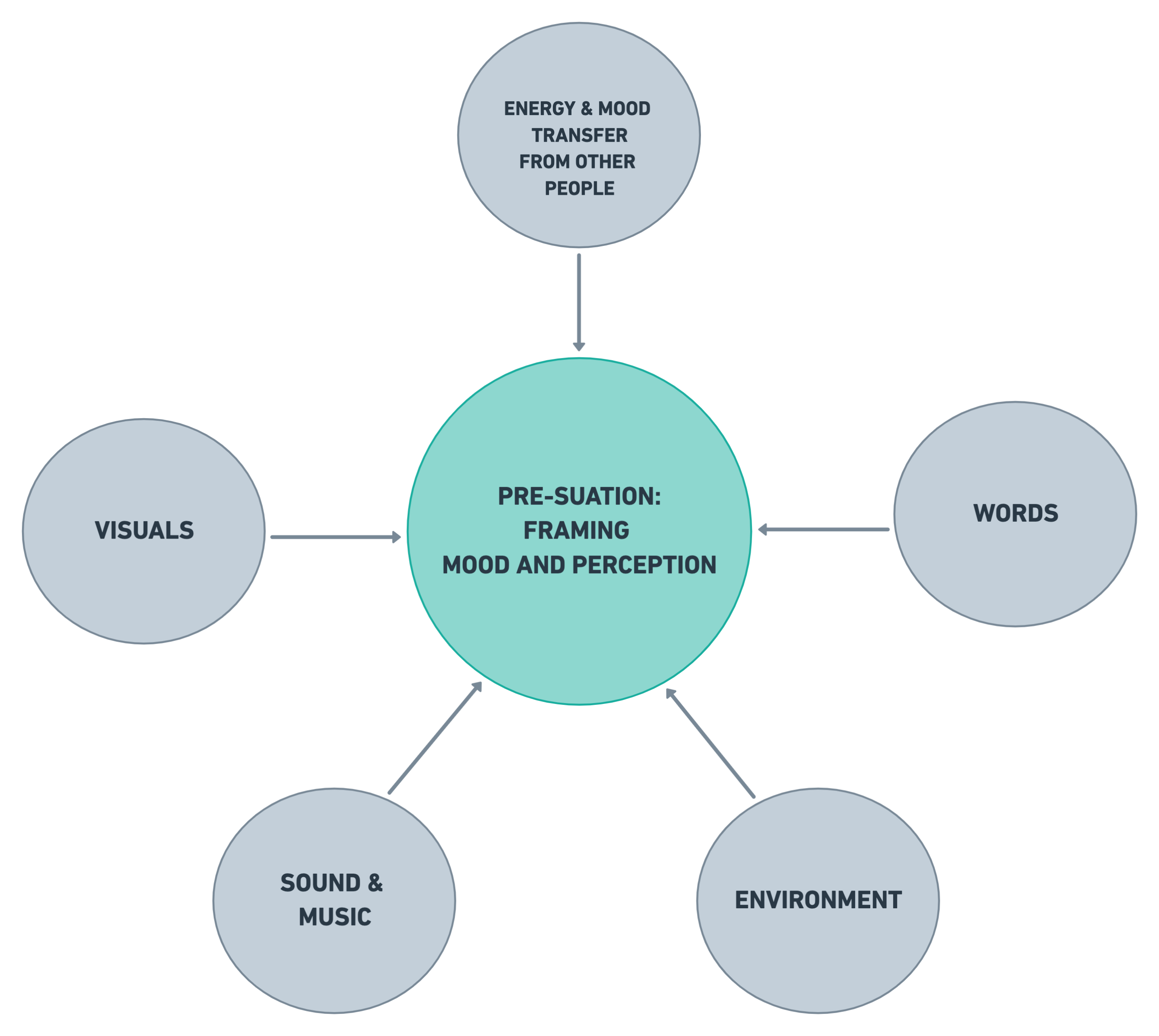 WORDS & PHRASES:
You've probably heard before that the words we use can frame how we think and act. Well, if you think about it in strategy terms, just imagine that the phrases and the words that a brand uses can frame its audience perception and buying decisions.
Apple manages to leverage this insights in an outstanding way and to emphasise this, take a look about how many times they have used certain WORDS in a 1-HOUR event and what are the PHRASES they use in their event script:
1) MOST USED WORDS:
If you look at the words (grey circles) that are repeating in the event script and you count the number of times (green circles) each of them is used in a 1-hour timeline, you understand what are the main takeaways that people leave with, after watching it. And the most imortant role in the whole script stands right at the end, with a 238 mentions in just 1 hour. Take a look below.
The perception of Apple products after watching a launching event.

2) USED PHRASES:
In the same strategic way that they are using particular words to create perception, the BRAND'S PERSONALITY is enhanced once again through powerful phrases that do the same thing. You can find below a few of them extracted from the 1-hour script:
Apple Card Presentation:
Our customers are LOVING all the benefits of Apple Card and we believe it's THE MOST SUCCESSFUL credit card launched EVER.
iPhone 12 is THE MOST POPULAR SMARTPHONE IN THE WORLD, and people LOVE its AMAZING features.
We're so EXCITED to introduce a new, GORGEOUS purple. / It looks STUNNING. / It's ABSOLUTELY BEAUTIFUL.
Apple TV Presentation:
Apple TV 4K is now built with the A12 Bionic, bringing a new level of PERFORMANCE that will b

e

a

MASSIVE

upgrade to your TV.

Apple TV 4K brings THE ABSOLUTE BEST 

entertainment experience

to your home.
The results can be

DRAMATIC

, with more natural colors and improved contrast

making your TV look better than

EVER.
iMac Presentation:
There has never

been

a more

EXCITING

time

for the Mac.
And our Mac business

has never been

STRONGER.
Our M1 products have continued to fuel the

Mac's

INCREDIBLE

growth.

M1 has been

a

GIGANTIC

leap forward

for the Mac.
It has redefined the MacBook Air, MacBook Pro, and Mac mini, SHATTERING EXPECTATIONS of what each of them can do.
Users have been ABSOLUTELY

blown away

by their responsiveness and amazing battery life.
These Macs demonstrate how M1 can DRAMATICALLY

move the Mac forward.

The all-new, completely redesigned iMac is MORE

personal

, MORE POWERFUL,

and

MORE CAPABLE

than

EVER.
And it's INCREDIBLE

from every angle.

iMac's new form is STUNNING
So you can see your content in all its GLORIOUS

detail.

Every image is BRILLIANT

and vivid.

We've taken iMac's camera, mics, and speakers to

a

whole

NEW

level

.
This camera will make you look like a rock star. In fact, it's THE BEST camera we've EVER put in a Mac.
Simply put, it's THE BEST

sound system ever in a Mac,

and we can't wait for you to hear it.
And in Apple Arcade, gaming on iMac is BETTER

than

EVER,

with

AWESOME

and

EXCLUSIVE games.
..export your favorite video projects in iMovie FASTER

than

EVER.

You're going to

LOVE the combination of M1 and macOS on the new iMac.
And Magic Trackpad,

still

by far the industry's

BEST, has a refined shape to match the new keyboard.
.. the new iMac

can

DO IT ALL..
That's DEFINITELY

magic

.
With iMac

,

the possibilities are

ENDLESS.
..iMac is THE MOST

personal,

POWERFUL, CAPABLE,

and simply

 THE MOST fun it's EVER been.
iPad Presentation:
The M1 chip is not just in the Mac, it's now in iPad Pro. And it's gonna BLOW YOU AWAY.
A-series chips to deliver a POWERFUL and responsive experience that's YEARS AHEAD of anything else.
..or Xbox game controllers, with haptics, makes playing games on iPad Pro

INSANELY

fun.
With this combination of CPU and graphics performance, the new iPad Pro is, yet again,

THE FASTEST

device of its kind.
..Signal Processor, and unified, high bandwidth memory architecture make iPad Pro more capable than EVER.
The new iPad Pro also allows users to access their content faster than EVER..
..the new iPad Pro is, yet again, the fastest device of its kind. It's BUGGER than that..
And, for our

MOST

demanding users, a new 2TB configuration gives you ENORMOUS storage capacity,..
Making it the FASTEST, MOST VERSATILE port ever on an iPad, or any other device of its kind.
This is HUGE! Super fast 5G cellular connections lets users be creative and productive wherever they are.
That's a MASSIVE increase over the 72 LEDs that were in the previous iPad Pro.
The result is an EXTREMELY high one million to one contrast ratio.
There's NEVER BEEN a display that delivers this kind of visual experience on any other mobile device.
So users can now do things they could NEVER do BEFORE.
With this AMAZING set of features, it goes BEYOND any display in the world.
When I think of M1 on the iPad, there are truly

NO

LIMITS

to what's possible creatively. The POWER that's there… It's a

MONSTER

. We can do more. We can make BIGGER canvases and we can do way more with our brushes..
Processing power is INSANE.
We're always AMAZED by the new capabilities our developers put in the hands of our users.
Of course, you can't talk about iPad Pro and not talk about the PHENOMENAL accessories..
Apple Pencil transforms iPad Pro into an IMMERSIVE drawing canvas and the world's BEST note taking device by far.
An INCREDIBLE value for such an INCREDIBLE device.
We're so excited about the new iPad Pro.
This is the most

OUTRAGEOUSLY

capable and VERSATIL

E

iPad Pro we've EVER made.
In every way, this is a GIANT leap forward for iPad.
We can't wait to get these new products into your hands and see all of

the

AMAZING

things you'll do with them

.
2) ENVIRONMENT FRAMING
Weather and light have a tremendous importance in setting a person's mood and Apple marketers know that.
Choosing a sunny day, areas that are bright and warm is always a good technique to transfer a certain mood to your audience.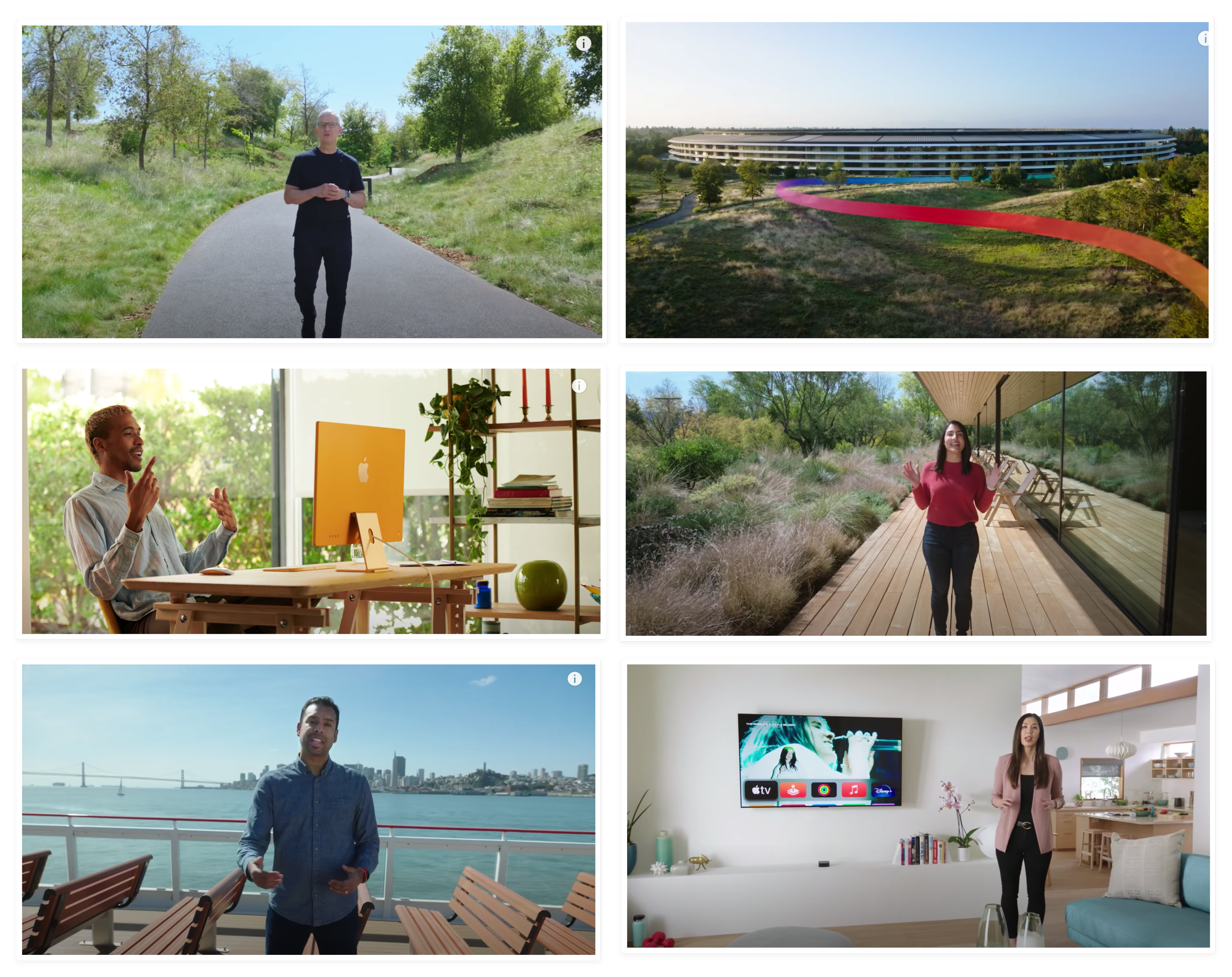 But it doesn't stop there, if you pay attention to Apple's setups, there's more – especially when it comes to the presentations of their products. Having their products on the centre stage, in a setup that makes them bigger than their presenters highlights the idea of GRANDEUR once again. The message is simple:
They are BIG, they are BOLD, they are THE BEST and you have to have them.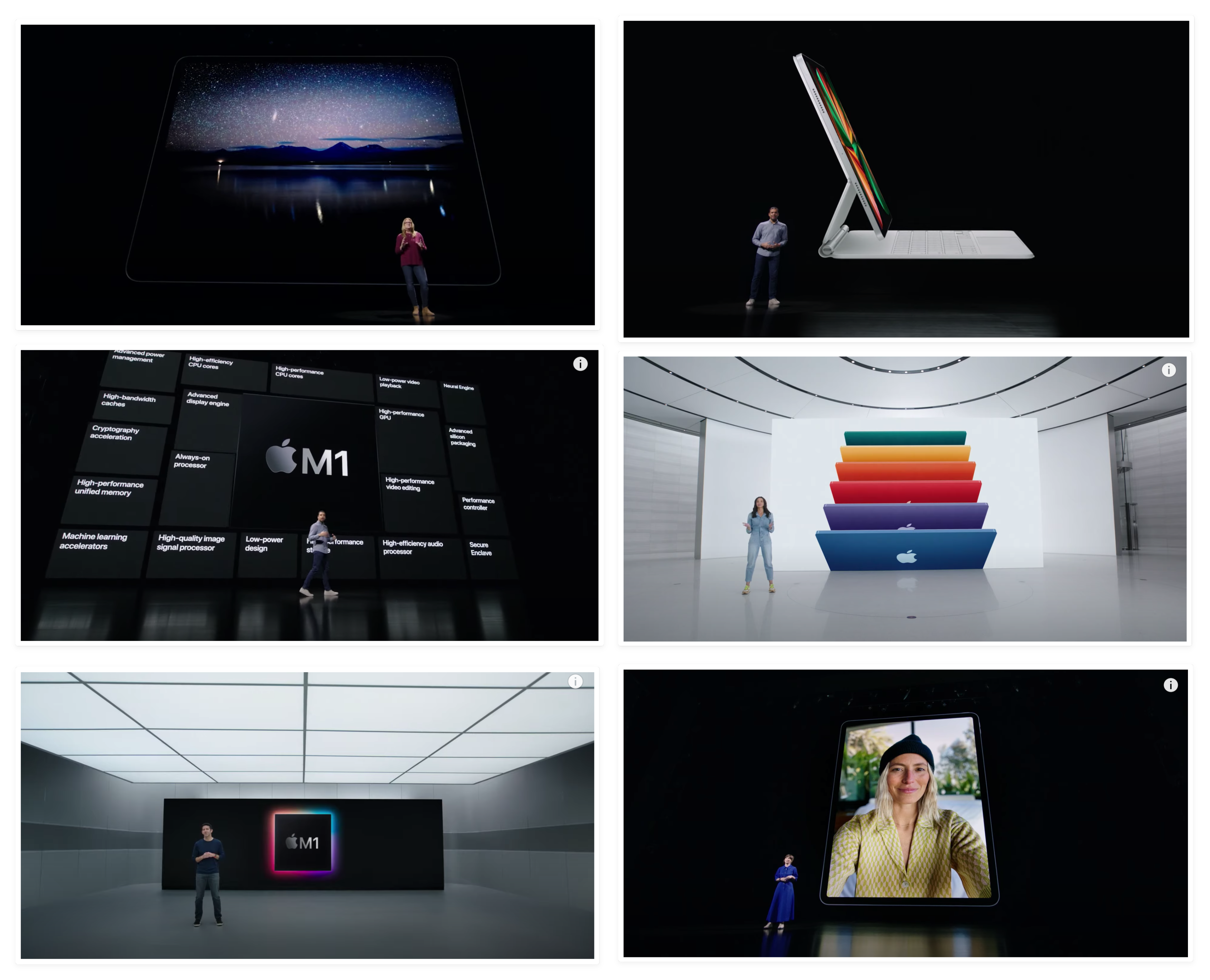 3) VISUAL FRAMING
When it comes to visuals, what we are able to see in most of Apple's launches (not just the one making this study case) is the VIBRANT COLOURS they use. Enhanced chromatic in visuals is translated as everything that has vibrant colours in our lives, weather is clothes, objects or fruits:
It means FRESH,  it means NEW, it means VIVID.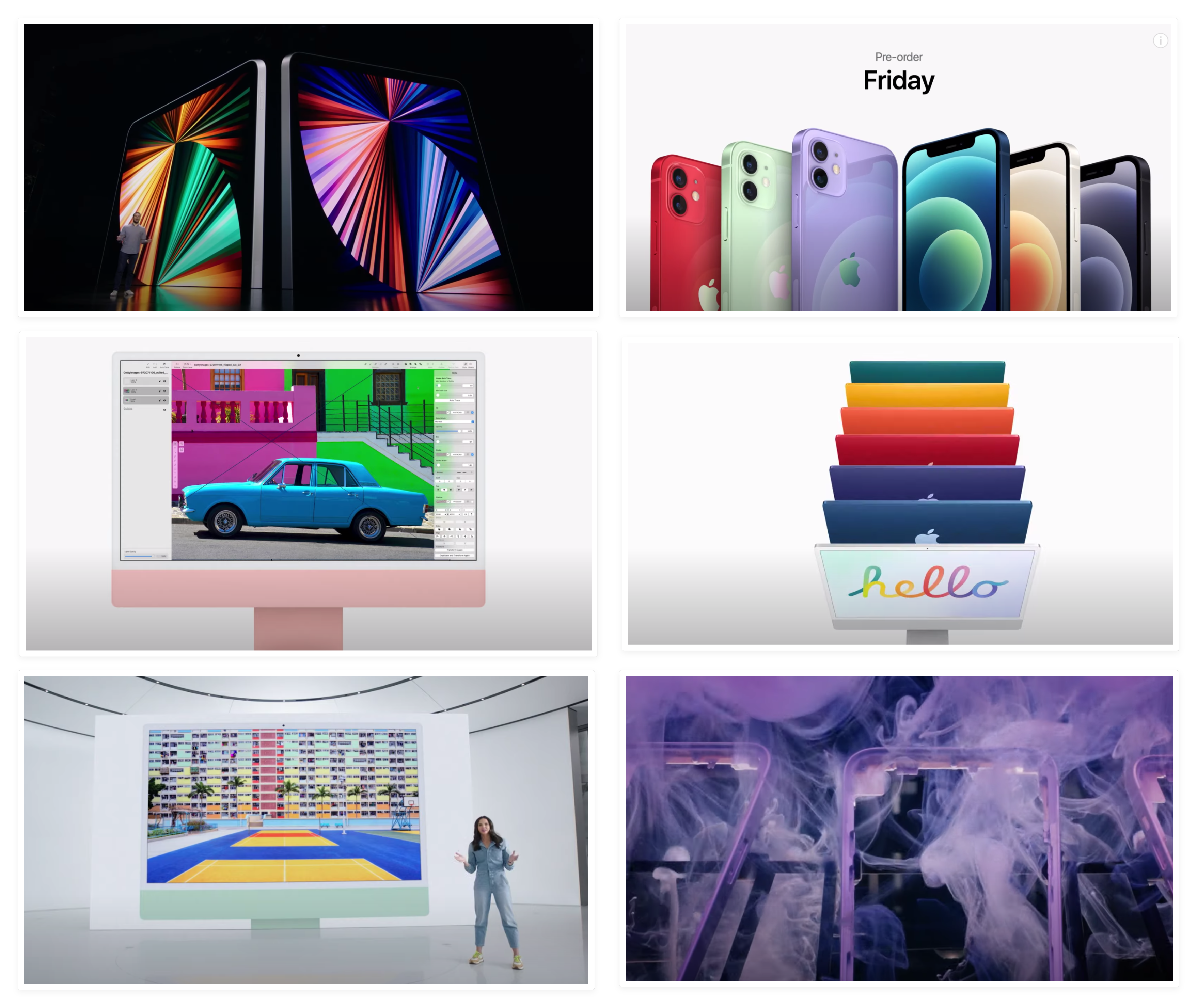 Furthermore, COLOURS appears to be also the LEITMOTIF of the event and it's translated through both graphics and sound.
The overall design elements and products: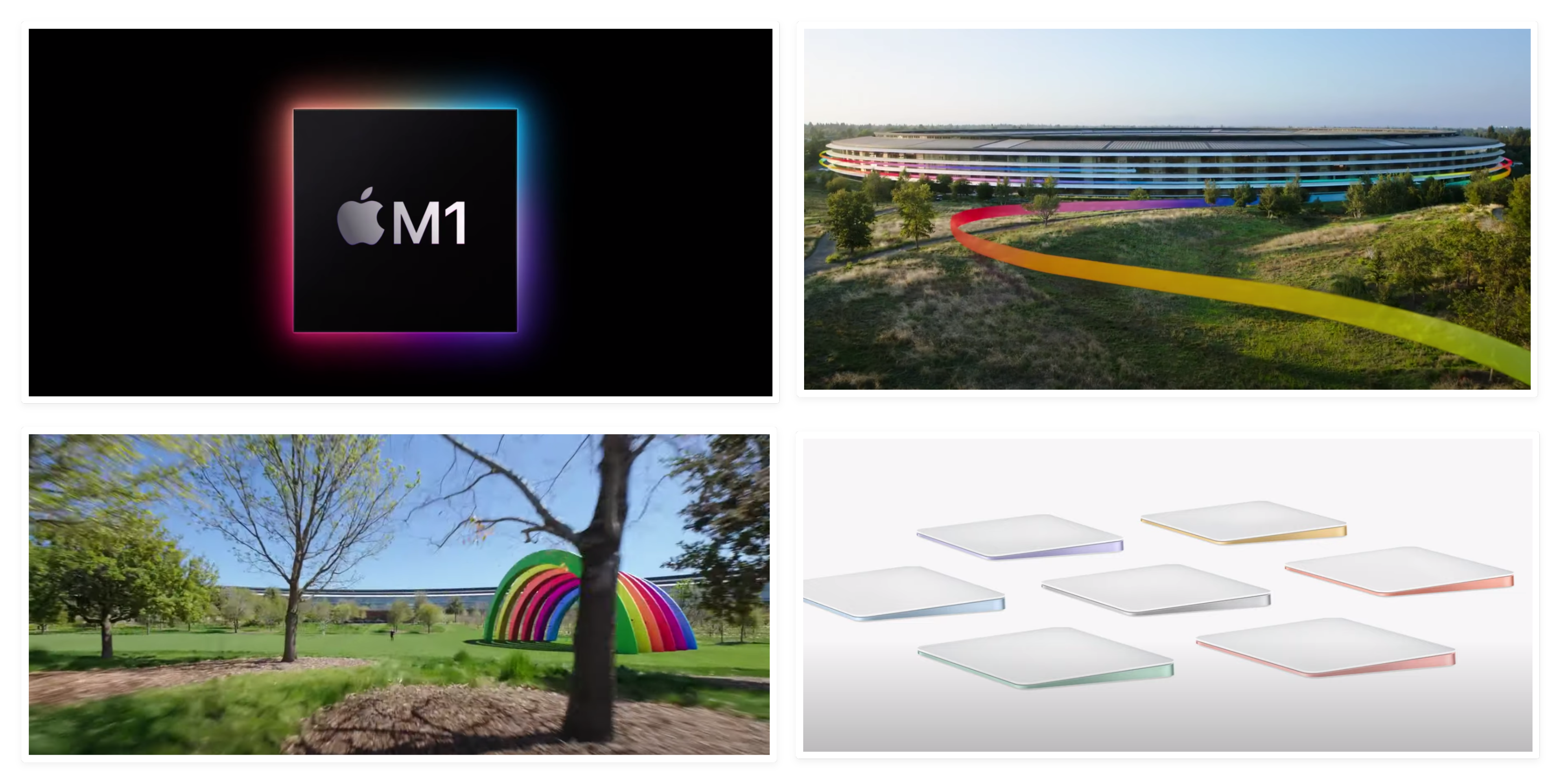 4) SOUND & MUSIC
To understand how sound effects impact the launching event, you will have to literally watch and listen to it. The underline technique stands in amplifying the whole experience through framing what people hear and they are told. It's a fundamental tactic used to mentally transport your audience closer to the state you want to create.
Besides the basic sound effects that enhance certain gestures and actions, Apple has also carefully picked the songs for the event and they are the ones mentioned above.
The themed songs:
♪

"Every Color" by Foster The People ♪
♪ "Love Looks Better in color" by Lizzo ♪
♪ Let you heart See the colors ♪ – Chemical Brothers
Take a look of the lyrics below and think if they make the audience entering a certain mood:
THE EVENT BEGINS WITH:
♪ Let you heart See the colors ♪ – Chemical Brothers
♪ Let your heart ♪
♪ See the colors ♪
♪ All around you ♪
♪ I'll be loving you, Yes, I will ♪
♪ I'll be loving you ♪
♪ I'll be loving you, Yes, I will ♪
♪ I'll be loving you ♪
NEW PURPLE iPhone ANNOUNCEMENT
♪ "The Candy Man"" by Aubrey Woods ♪"
♪ Who can take a sunrise ♪
♪ Sprinkle it with dew ♪
♪ Cover it in chocolate And a miracle or two ♪
♪ The Candy Man ♪
♪ Because he mixes it With love ♪
♪ And makes the world Taste good ♪
"♪ 'Cause the Candy Man thinks It should ♪ "
AIRTAG PRODUCT ANNOUNCEMENT
♪ "Every Color" by Foster The People ♪
♪ I can see ♪
♪ I'm caught up Drifting in your rainbow eyes ♪
♪ And I can see Every color in me ♪
♪ I can see every color in you ♪
iMac NEW DESIGN ANNOUNCEMENT
♪ "Love Looks Better" by Lizzo ♪
♪ Sick six piston ♪ 
(presenting the 6 NEW iMac models)
♪ Tiptoe kissin' ♪
♪ Catcall kittens ♪
♪ Whole milk lickin' ♪
♪ See my vision ♪
♪ Rainbow smitten ♪
♪ Nobody safe, nobody ♪
♪ You and you and you Can be my lover ♪
♪ 'Cause love looks better In color ♪
♪ Color me, color me, Color me, color me ♪
♪ Color me, color me, Color me, color me ♪
 ♪ You can be my lover ♪
♪ 'Cause love looks better In color ♪

THE EVENT ENDS WITH
♪ Let you heart See the colors ♪ – Chemical Brothers
5) ENERGY & MOOD TRANSFER FROM OTHER PEOPLE
Daniel Goleman, the world famous psyschologist, said in 2018 on BRAND MINDS stage that:
 "The leader sets the emotional state for other people."
…and the rule doesn't not apply only in leadership, but in every relationship dynamic that occur between people. We partially mirror the state we see in the people that are surrounding us. Wether is high enthusiasm, focus, or positivity, when we relate with a particular mood, part of its energy it's transfered to us.
In Apple's videos you will always find positive moods that people wear – they are highlighting aspirational states that you want and would be able to reach by acquiring their products.
The message is:
"Life's most important moments are better with Apple."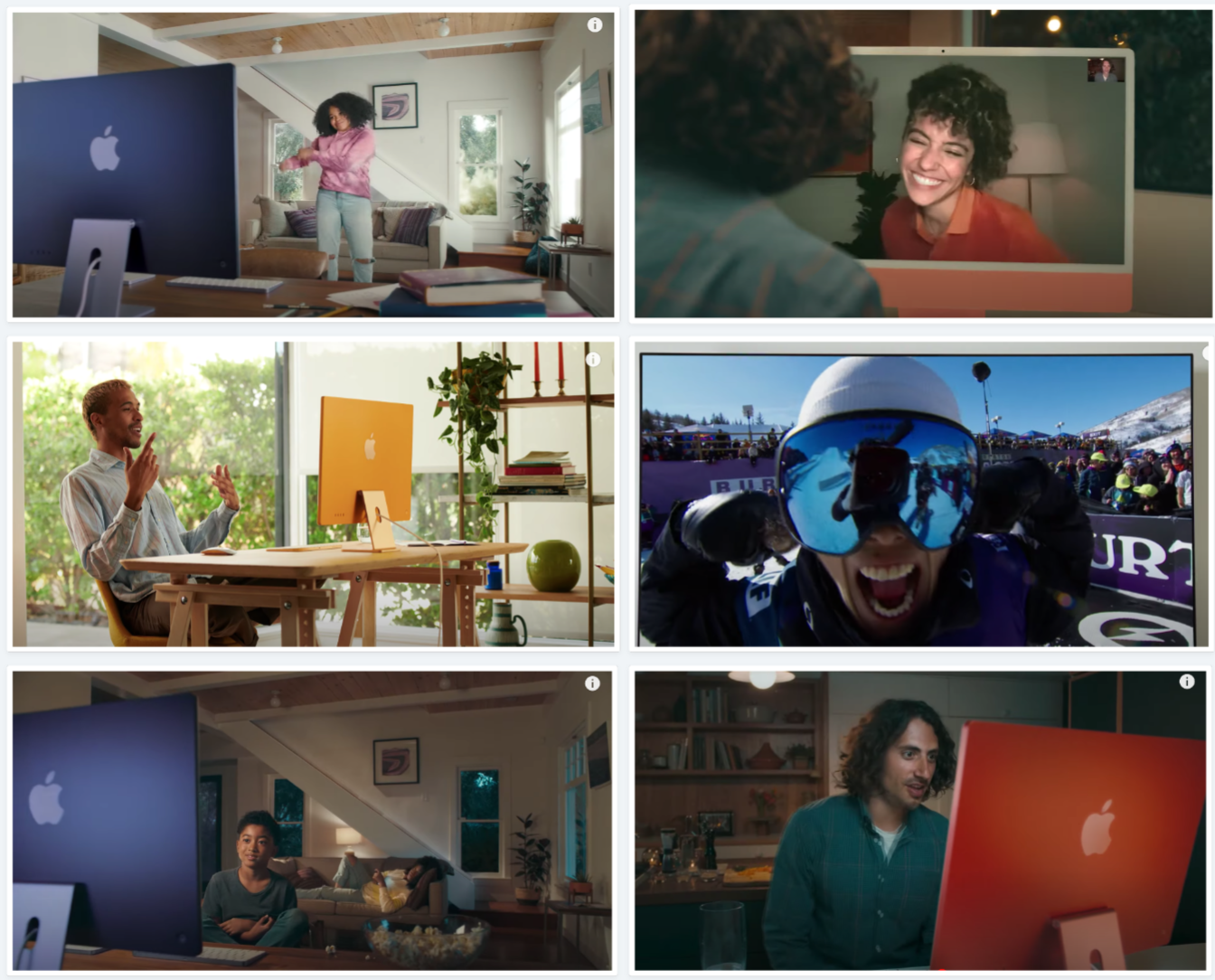 2. How Apple enhances the BRAND CULTURE, build PRODUCT TRUST and create SYNERGY with their audience:
1) BRAND CULTURE: There's no coincidence that all of the event presenters are wearing Apple watches. Brand ambassadors are basically extensions of the company they represent. Wearing or consuming the brand's products is a core requirement that builds trust in the relationship with the audience, which is fundamental. How could you trust someone that's recommending you a product if he or she is not using it themselves? – You probably experienced this through influencers' campaigns.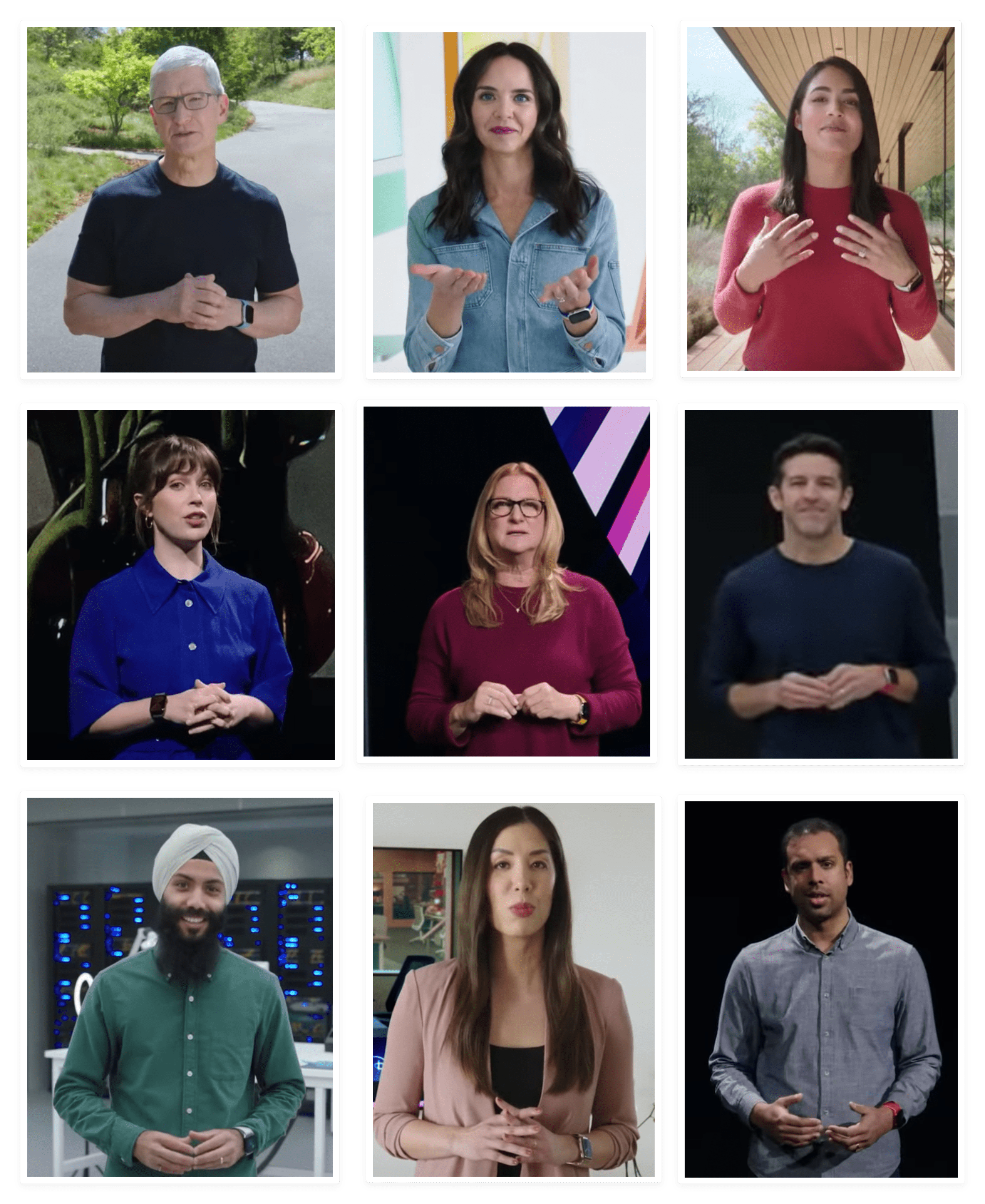 No need to mention about the gender balance we see in the brand's experts' mix, which is a reinforcement of gender equality and racial diversity. These are beliefs that are deeply built into Apple's foundation of values.
2) PRODUCT TRUST – is built through presenting the products – not using actors, but the experts that have created them. In marketing, this is a social proof tactic, called experts' approval. Look for them on LinkedIn, you will find them all. The same approach is present – this time – through non-Apple employees in the Testimonials promo for iPad Pro, here.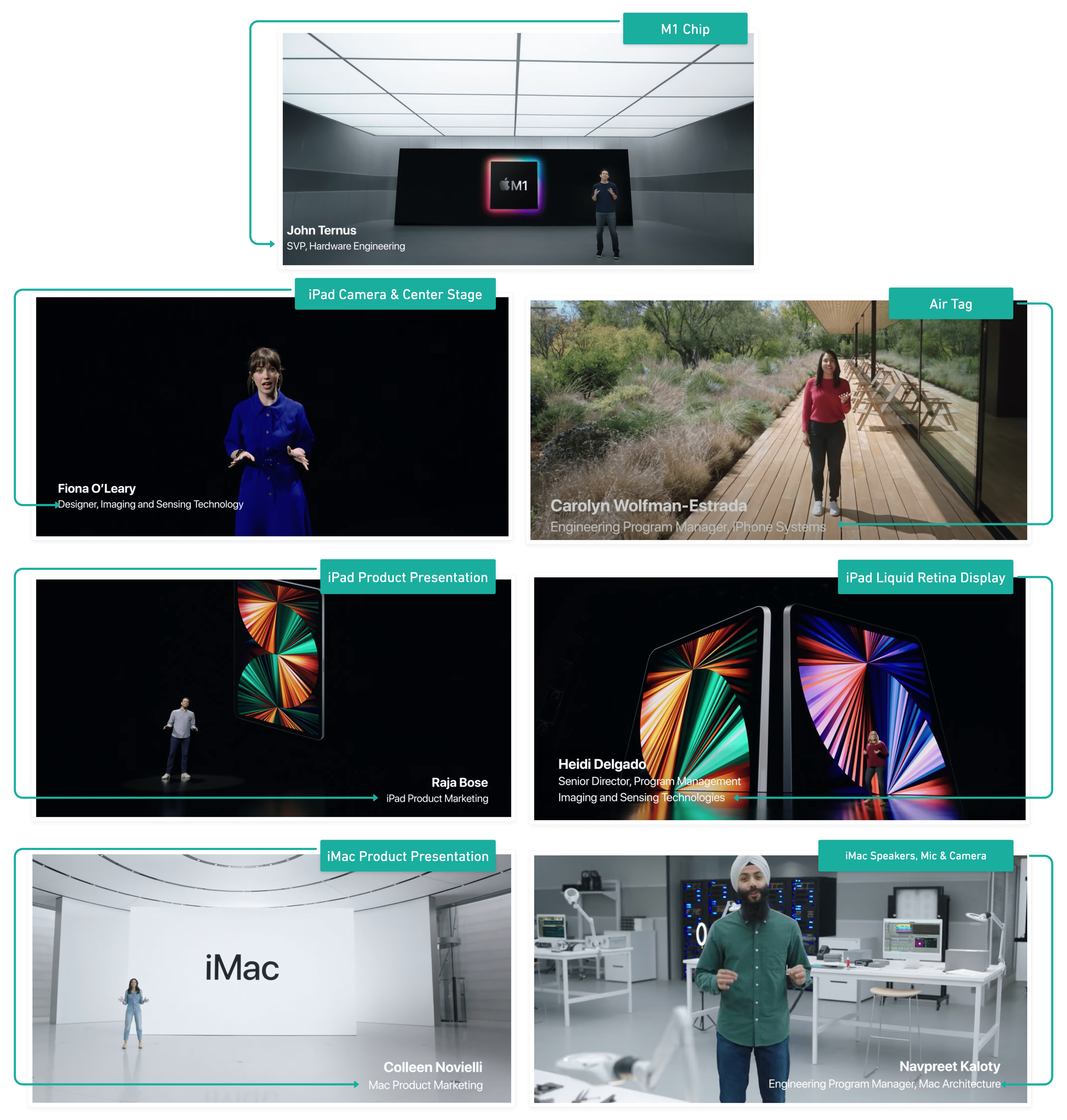 3) AUDIENCE SYNERGY: The idea of Apple products being a part of one's life is taken farther in their launching events through details most of us do not observe. However, this doesn't mean, our subconscious minds doesn't either. Take a look at the scenes below:
There is a whole chromatic setup built in a way that amplifies the idea that the iMac stands in the centre of one's life;
The boldest colour in all scenarios is the Mac's – everything else – details and accessories gravitate around it;
The characters' clothes being in tone with their Mac suggests that the product itself is an extension of their personalities.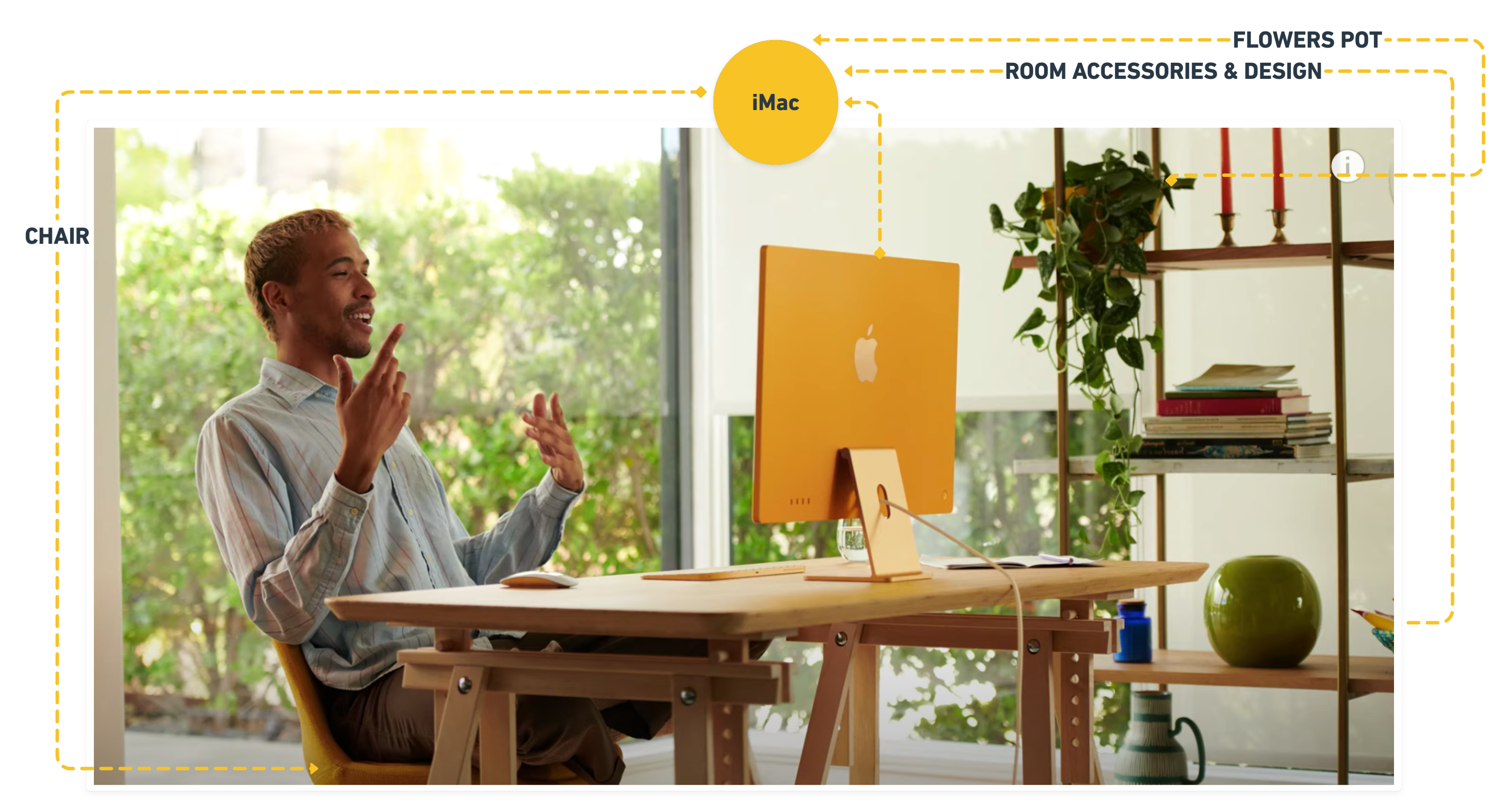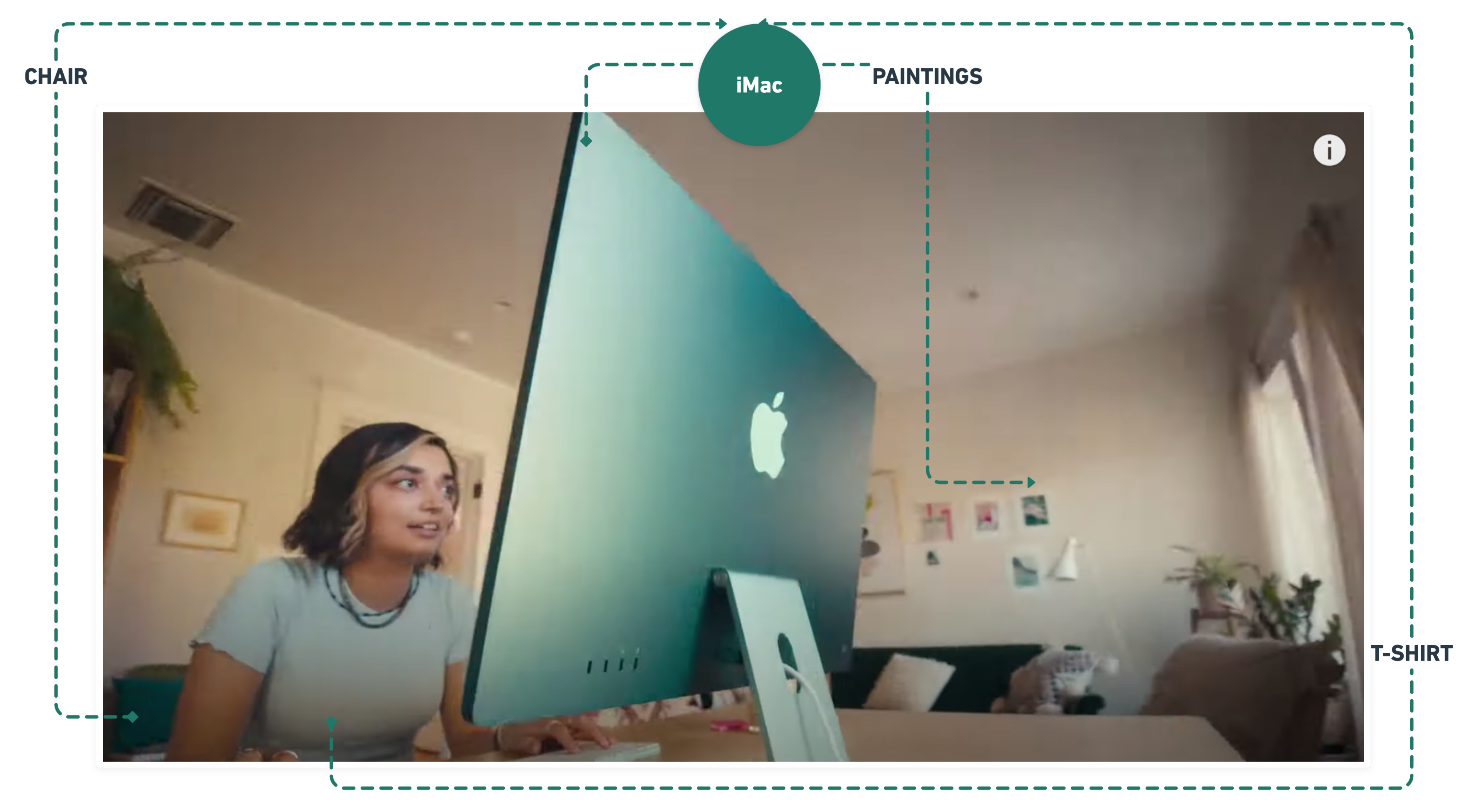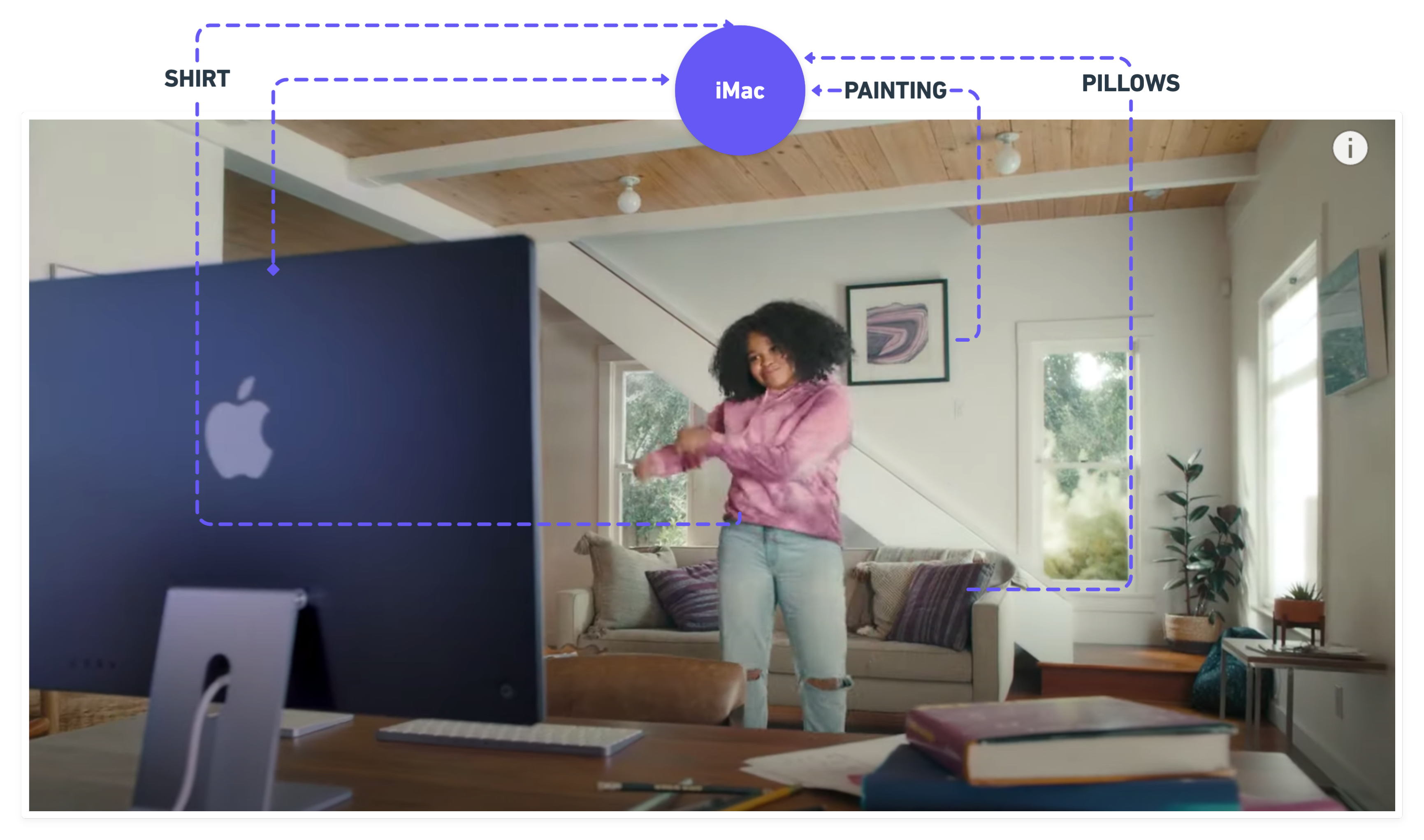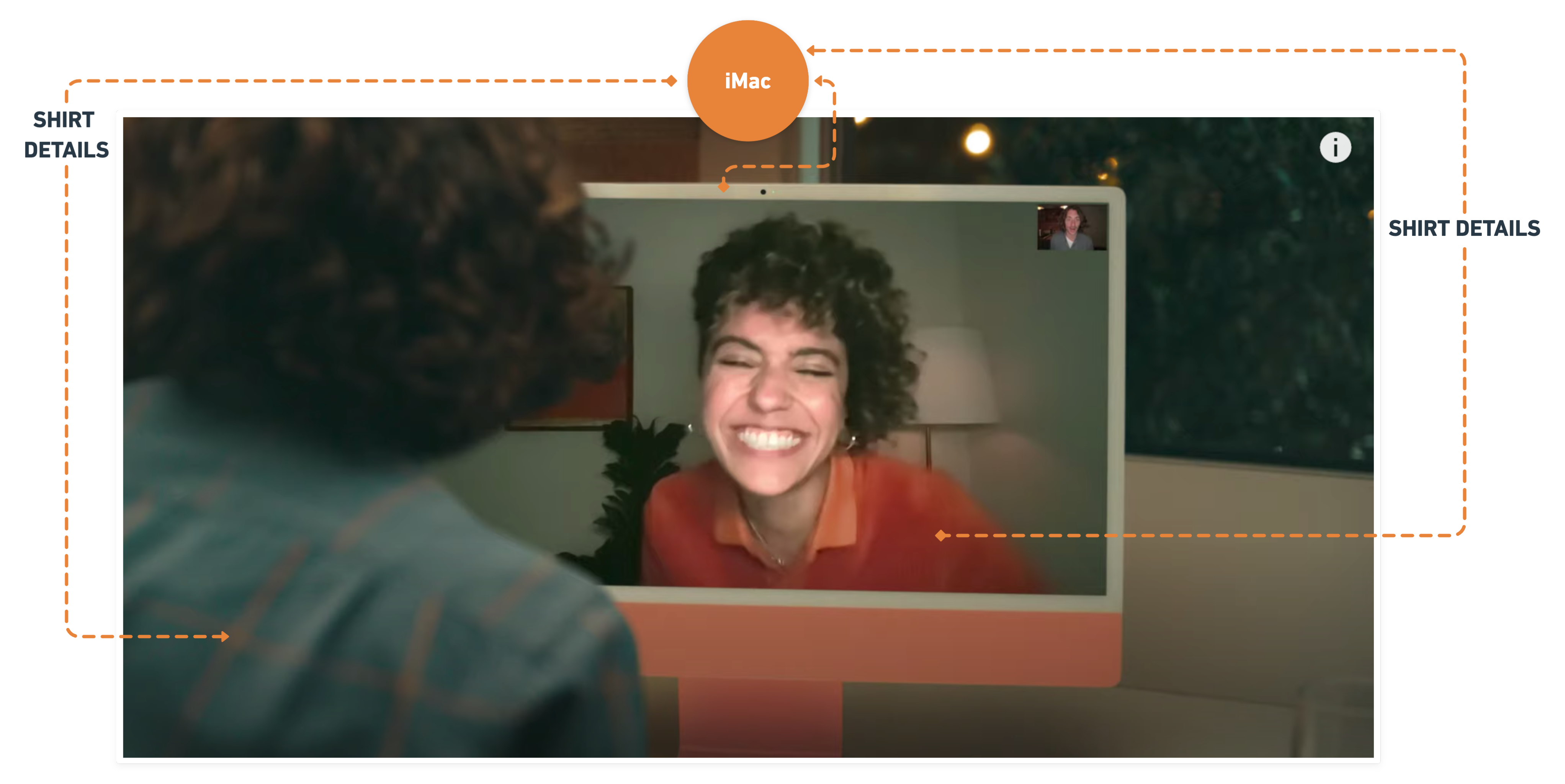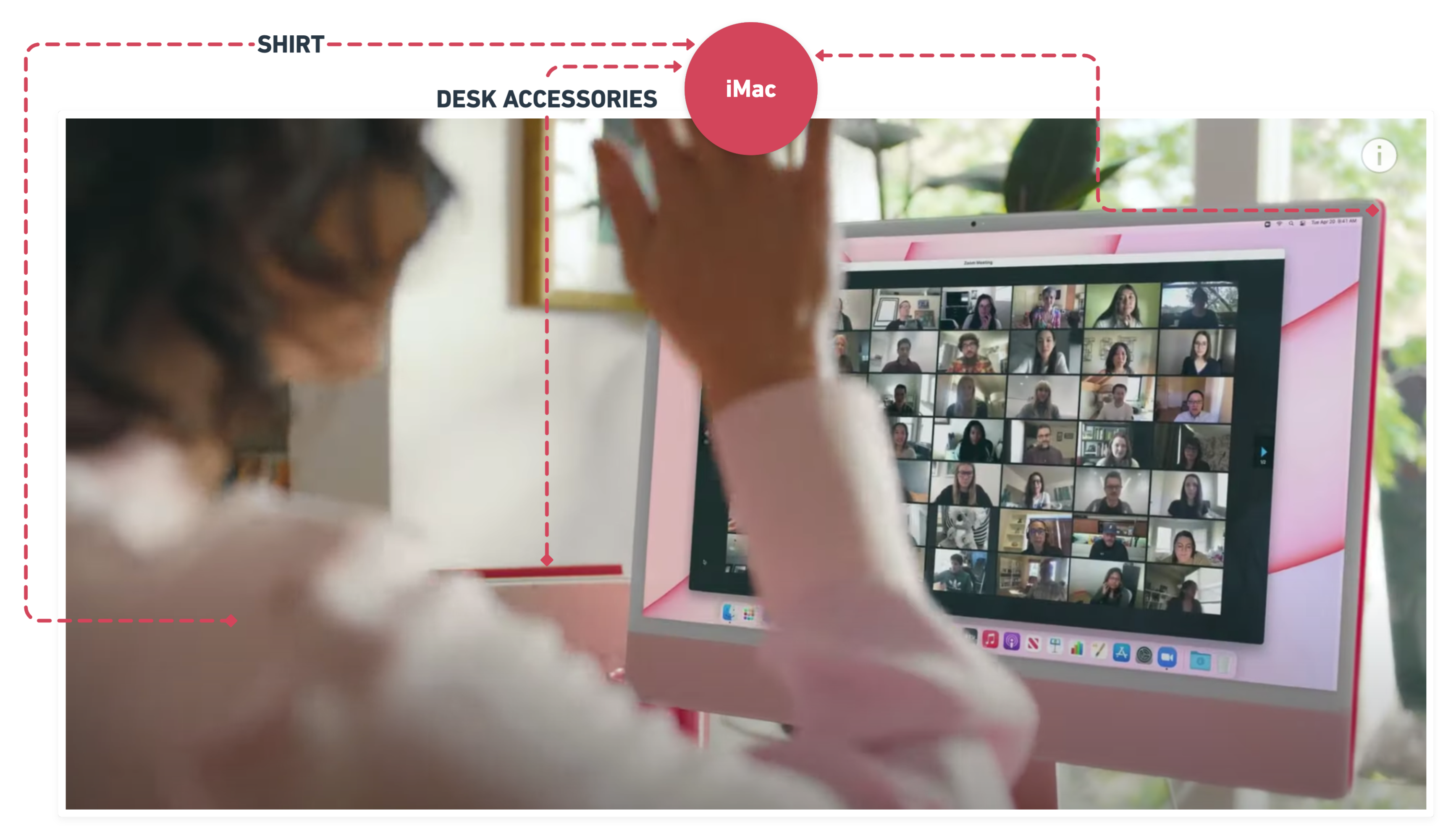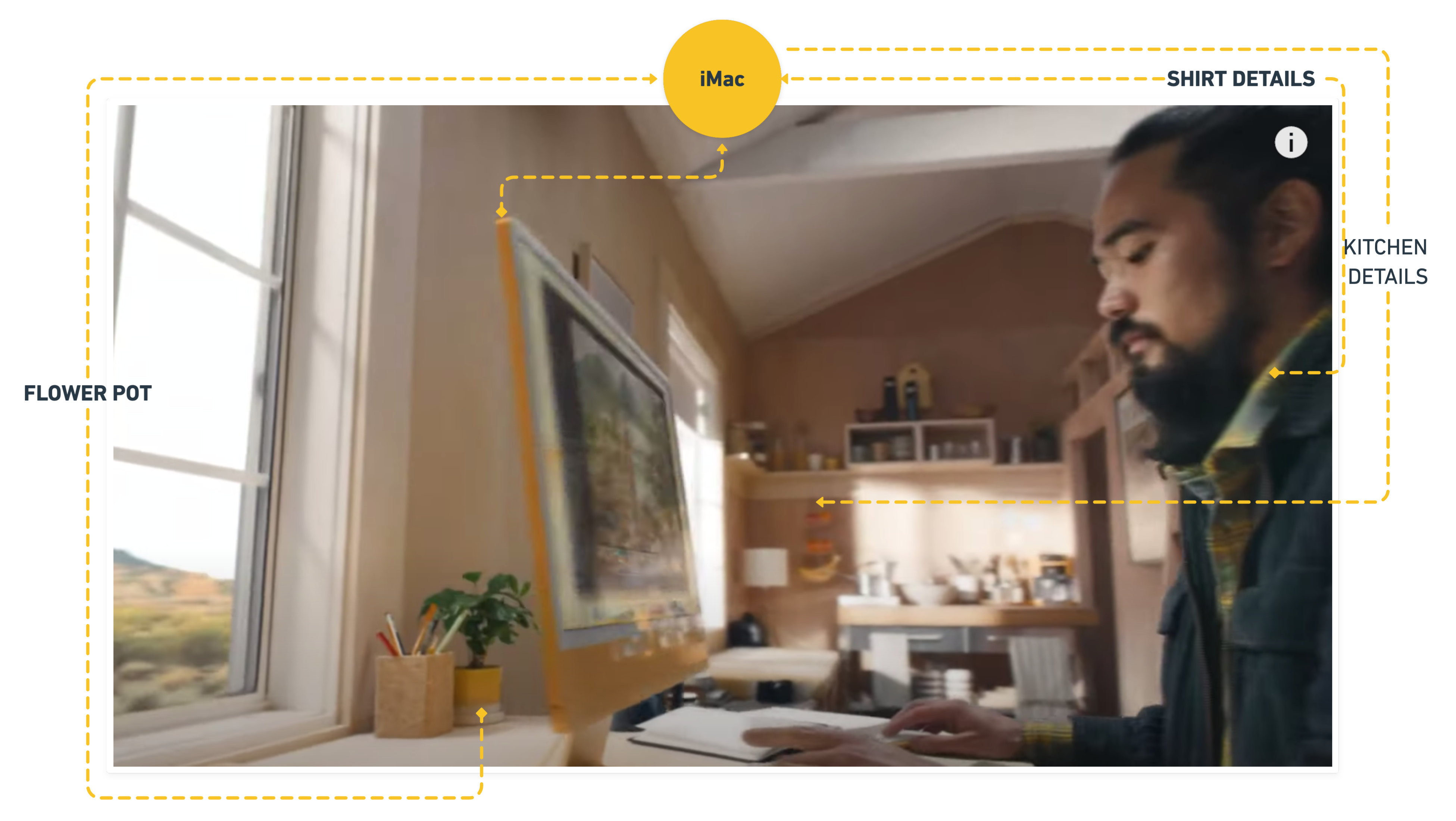 3. How Apple leverages the fundamentals of MEMORY PALACE technique through particular scenes:
The method of loci (loci being Latin for "places") is a strategy used to recall information and enhance one's memory through visualisations of familiar spaces. The method of loci is also known as the memory palace, or mind palace technique.
Now, what does this has to do with Apple's script and storytelling?  You might ask yourself how is it useful since the places they used in the video footage haven't been visited by their audience? Well, there are certain fundamental parts of this particular technique that are used in their scenes.
But before we go through it, find below the key factors in building a memory palace to better understand the concept:
Let's assume you choose to learn the KEY PILLARS of a MARKETING STRATEGY;
STEP 1: Choose a place that can be easily visualised as the blueprint for your palace. (Your HOME)
STEP 2: Walk through your palace to define a route. ( KITCHEN – LIVING ROOM- BATHROOM – DORMITORY)
STEP 3: Identify specific locations in the palace to store your information. (KITCHEN will be used for the digital campaigns information; The LIVING ROOM for social media and so on…)

STEP 4

: Integrate the information you want to remember in a crazy story that takes place in the space you allocated to it. And remember: the more creative – the more probably your brain will remember it.
Apple is using the last 2 pillars in their strategy.
We could actually mention the first step as well – if we consider the fact that the PALACE is the Apple headquarters.  There are a lot of iconic spaces they use in most of their events (2 of them below).

Getting back to their strategy, the technique is simple:
1. Each presenter covers one PARTICULAR FEATURE or PRODUCT;
2. Each time they switch the storytelling from a product/ feature to, the SCENE changes as well;
3. They enhance the memorisation of a particular product through CRAZY PROMO VIDEOS/STORIES:
⚫ See Air Tag's story here: The challenge of finding one's keys translated into an Indiana Jones type of quest;
⚫ M1 chip's importance story here: A story about espionage and the risks one is willing to take for great technology;
⚫ The amplification of iMac's place in the Apple food chain here: A metaphorical scene of a whale swimming along with the rest of the sea life;
⚫ iPad Pro's story here: Translated through a video promo projecting its power similar with a rocket launch and a smooth landing on your office with the sound effect of a parachute. Absolutely gorgeous!
4. On top of all the mentioned above, each character that is part of the event's promo videos is a projection of the audience that Apple is targeting: creative professionals and families. What's very smart about their strategy is that they are not just recreating with precision their environments, but they are also highlighting with specificity particular apps they are using.
We are basically talking about TRIPLE RELATABILITY:
Targeting through LOOKS – the way the characters are dressed to enhance personality;
Targeting through SPACE – the places that are designed to reflect the target audience's taste and interests;
Targeting through APPS – the creative processes the audience is involved with;
Take a look below to experience Apple's MEMORY PALACE in a VISUAL WAY: