Women in Automotive: whether through inventions, technical innovations, leadership, courage or inspiring successes behind the wheel – we present eleven leading women who have had a significant impact on the allure of automobiles.
Throughout the history of the automobile, female pioneers have played a key role in the successful development of the driving pleasure we enjoy today.
The inventor of the windshield wiper was a woman, as were the inventors of vehicle heating and of Kevlar fibers. Women made pioneering trips with the first motor vehicles around the dawn of the 20th century. The first circumnavigation of the globe in a car was made by a woman in 1929. The first trans driver to finish the 24-hour race around Germany's legendary Nurburgring track was a woman – who in doing so broke through into the mainstream and set herself up as a role model.
All these achievements are closely linked to the biographies of amazing women from all over the world. Read on to find out about eleven impressive characters who left their mark on the automotive industry and motor racing.
Women in Automotive: 11 female role models
Wilhelmine Erhardt
Stephanie Kwolek
Clärenore Stinnes
Mary Anderson
Bertha Benz
Margaret Wilcox
Danica Patrick
Suzanne Vanderbilt
Charlie Martin
Lella Lombardi
Jutta Kleinschmidt
1. Wilhelmine Erhardt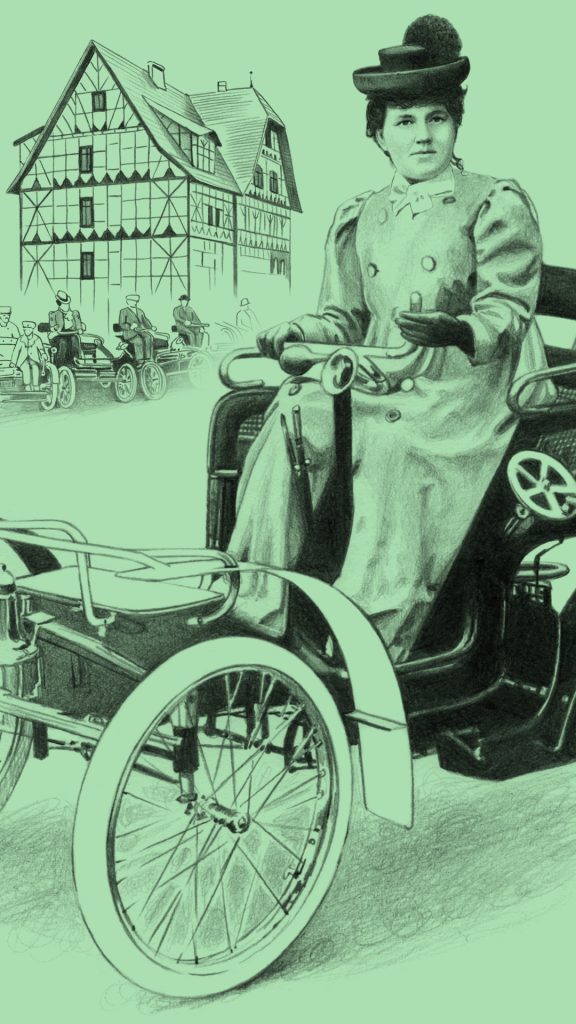 Throughout the history of the motor car, women have been there, playing key roles. Yet what we now take for granted was unusual at the beginning of the automotive age.
The emerging motor vehicles were considered a male domain. When, in the spring of 1899, the Eisenach vehicle factory in Germany set out on the first major outing with all of the motor vehicles produced so far, Wilhelmine Ehrhardt, the wife of the factory manager, was behind the wheel of one of the four Wartburg motor vehicles. She enjoyed the astonished faces of passers-by, as Matthias Doht, Chief Executive of the Automobile World Eisenach Foundation and an expert on Germany's first female car driver reveals.
Wilhelmine (August 23, 1866 – February 23, 1945) had a very confident personality, and it would be difficult to put the brakes on her enthusiasm for all things automotive. When Gustav Ehrhardt signed up with his newly developed Wartburg racing car for the first long-distance cross-border trip – from Innsbruck, Austria to Munich, Germany on July 23, 1899 – his wife would accompany him. The mountainous route from Innsbruck to Munich through the Inn Valley via Kufstein and Rosenheim was very demanding, but for Wilhelmine, it represented a welcome challenge.
Wilhelmine would have to wait almost a year for her dream of starting as the actual driver in a motor race. But her patience would pay off. On August 3, 1901, she wrote motorsports history with her participation in the Eisenach – Meiningen – Eisenach long-distance automobile trip through Germany's Hainich mountain range. Despite an inferior engine, she only narrowly missed out on the podium.
2. Stephanie Kwolek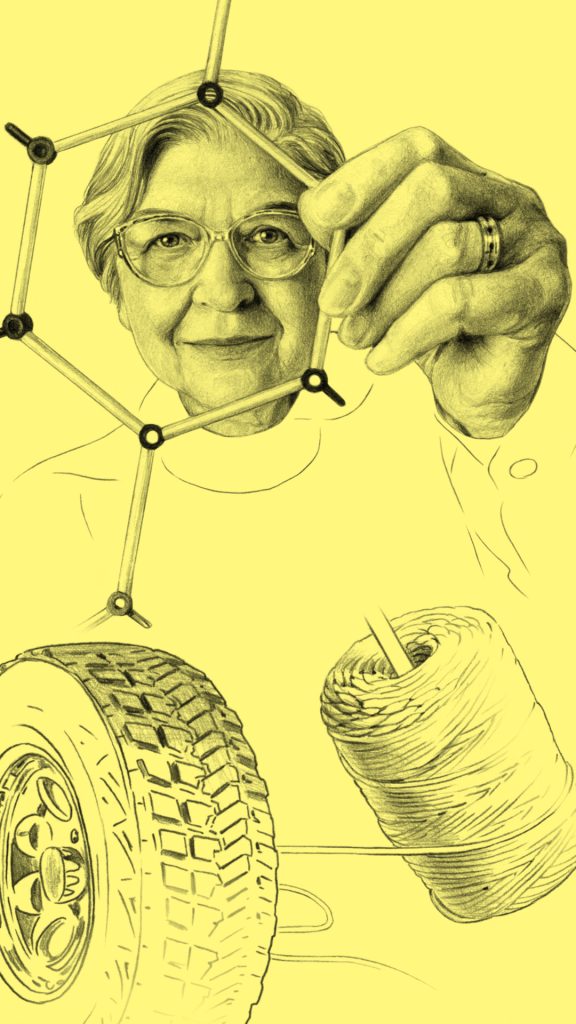 On November 22, 1968, the German Patent Office received patent application DE 1810 426, entitled "Compound and fibers or threads made therefrom".
What was specifically described in the patent was a super-fibre that is still used in fields such as automobile construction and space travel, and in bulletproof vests today. The "mother" of this invention was the chemist Stephanie Kwolek (July 31, 1923 – June 18, 2014).
To finance a medical degree, she accepted a research position at DuPont's textile fiber laboratory in Buffalo, New York. In the early 1960s, she worked on a fiber for reinforcing radial tires at the company's testing station there. The work consisted of manipulating strands of carbon-based molecules to make larger molecules (polymers).
One day in 1964, Kwolek had some trouble converting a solid polymer into liquid form. Instead of the clear, syrupy mixture she expected, the liquid was thin and opaque. She persuaded another scientist to "spin" the liquid in a rotary evaporator, a machine that removes liquid solvents, leaving the fibers behind. And this "happy accident", as she later described it, was how she discovered a material that proved to be five times as strong as steel, yet with the same weight and fire resistance.
Kevlar fibers combine flame and temperature resistance, strength, stiffness and other properties that can help make even better filters, belts, seals and other components for the automotive industry – such as tires. When used in finishing layers or intermediate structures, Kevlar fibers ensure extremely high dimensional stability, even at high temperatures and speeds, something that is crucial for high-performance tires. Further advantages are the reduction in driving noise and reduced rotational weight, which leads to a reduction in engine load. Inventions by female engineers like Stephanie Kwolek have helped to lay the foundations for the development of the automotive industry.
3. Clärenore Stinnes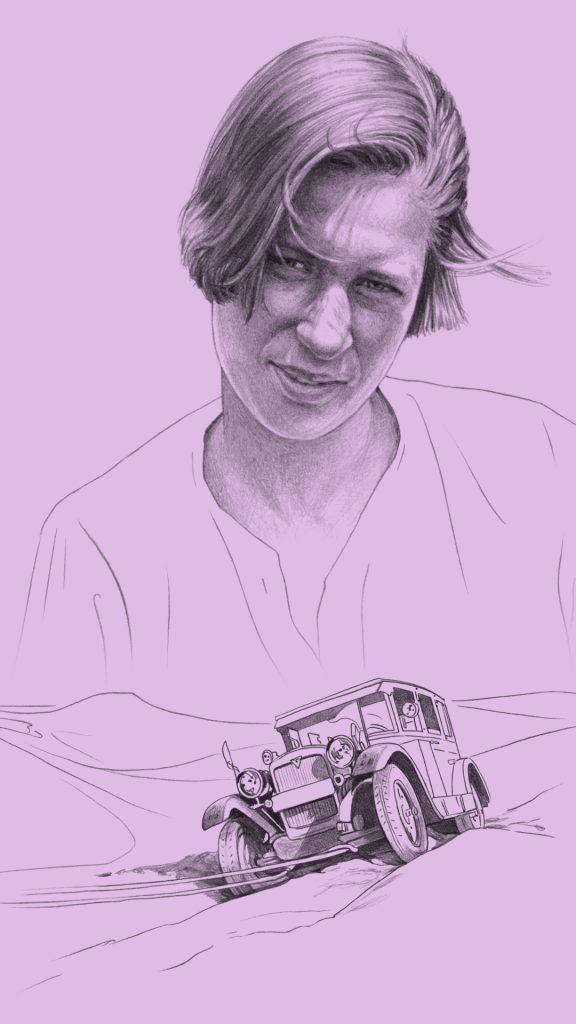 Clärenore Stinnes (January 21, 1901 – September 7, 1990) is another of the great women of automotive history.
Stinnes was a girl from a good family. She always believed that women could do what men could do: "We're not better, but at least as good," she once said in an interview.
The courageous daredevil made sure that her name was known around the globe and with it the power of women. At the age of 26, Clärenore Stinnes embarked on her greatest adventure: to be the first person to circumnavigate the world in a car. Her tour in a 34.5-hp Adler Standard 6 through ice and heat, mud and scree took 25 months. There were often no roads, maps, gas stations or workshops. The fact that this life-threatening expedition was completed was due in no small part to the stubbornness of a woman for whom turning back was not an option.
The odometer showed 29,054 miles (46,758 km) as Stinnes and her companion, Swedish cinematographer Carl-Axel Söderström, crossed the finish line in Berlin on June 24, 1929. Stinnes was the first to take the risk and drive around the world by car – through 23 countries. Leaving Frankfurt in Germany, the pair headed east: through the Balkans across the Caucasus to Siberia, through the Gobi desert to China and Japan, over the Andes and across the USA, before finally returning to Europe by ship.
4. Mary Anderson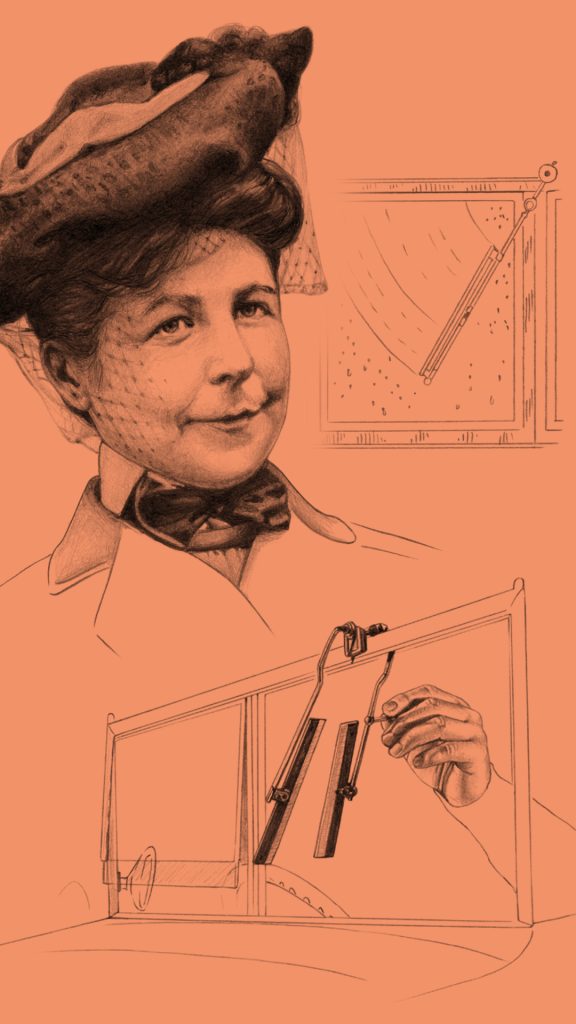 The next name in our series of role-model women in automotive history owed her invention to her powers of observation.
While navigating the streets of New York City, Mary Anderson noticed that drivers had trouble in bad weather. In rain and snow, they constantly had to get out to wipe their windshields. To the young woman, it was clear that an automatic wiper blade was needed.
In 1903, the same year as contemporaries Robert Douglass and John Apjohn, Mary Anderson applied for a patent on her invention. The only inventor with a working device, she was granted her patent. On November 10, 1903, the US Patent Office granted Mary Anderson US Patent Number 743,801 for her "Window-cleaning device" for automobiles and other vehicles "for removing snow, rain, and sleet from the glass in front of the motorman." Her device had a lever at steering wheel height that the driver could operate by hand. If the lever were operated, a spring-loaded swing arm with a rubber band would be actuated and then returned to its starting position.
On receiving her patent, Anderson tried to sell it to a Canadian manufacturing company, but the company refused on the basis that the device would have no practical use. Although mechanical windshield wipers were standard equipment on cars by 1913, Mary Anderson never profited from her idea. Nevertheless, as the inventor of the windshield wiper, Mary Anderson was one of the women who helped lay the foundations for the progress that has taken place in automotive engineering – and her engineering vision back in the day still helps every driver today to have a clear field of vision for a safe journey in any weather.
5. Bertha Benz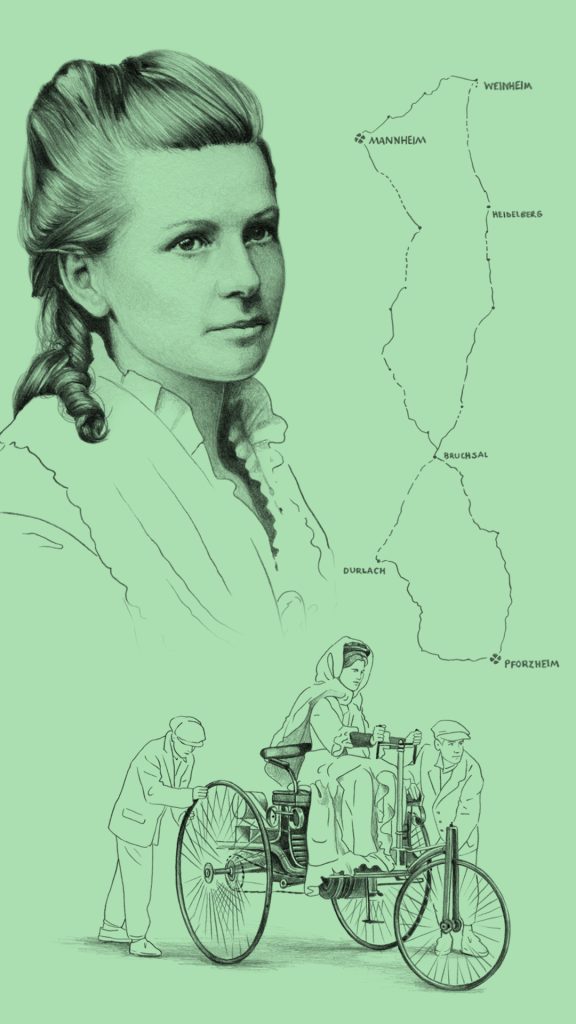 In the whole history of women in the automotive industry, Bertha Benz is certainly a leading figure and a pioneer.
It wasn't Carl Benz but his wife Bertha who ensured the success of the automobile – it was she who completed the first successful cross-country trip in a car in August 1888. What did she take with her? Her sons and a big slice of guts and self-confidence.
Let's rewind a little:
Germany's Carl Benz invented the automobile in Mannheim in 1886, before registering the vehicle under German patent number 37435. The response, however, was not as euphoric as expected. In fact, there was a distrust of this new, horseless carriage. What was he to do? At that point, Bertha Benz seized the initiative, got behind the wheel without further ado and drove the vehicle 66 miles (106 km) from Mannheim to Pforzheim.
This was a courageous undertaking, as such a journey was a real adventure at that time. There were only a handful of paved roads – most of the way she had to steer the car over uneven dirt roads. As there were no road signs either, railroad tracks helped with orientation, while a hatpin and garter belt were pressed into service for necessary repairs at various points. In the end, this tour de force was a success, with further development of the patented motor vehicle and Bertha Benz successfully promoting her husband's vehicle. The triumphant advance of the automobile could begin.
6. Margaret Wilcox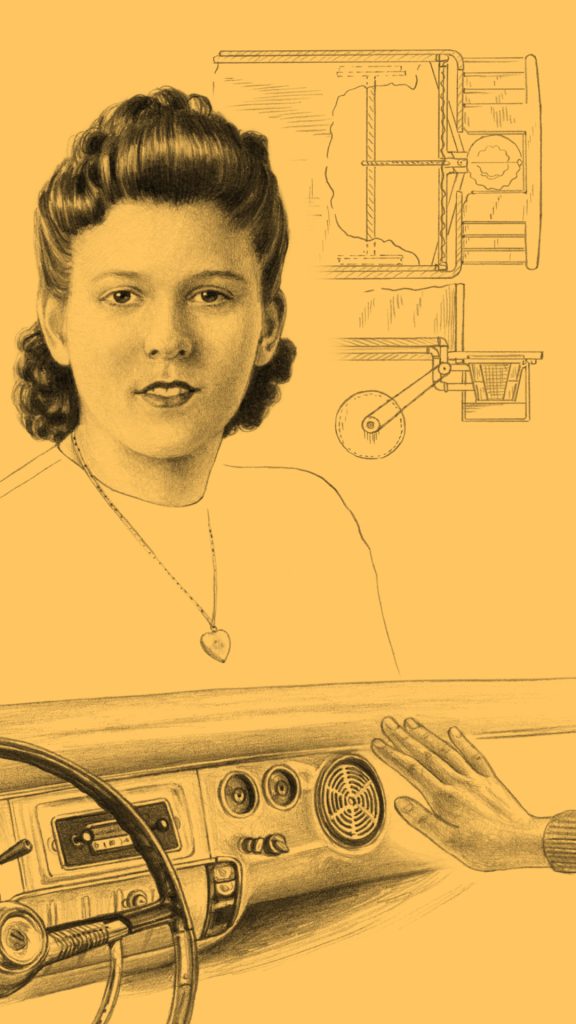 The fact that even the first automobiles could be counted as a comfort zone is down to the creative spark of an American woman.
Margaret A. Wilcox, born in Chicago in 1838, is considered to be the inventor of car heating. Wilcox was one of the first female mechanical engineers and was granted numerous US patents for her inventions.
In the fall of 1893, she applied for a patent for her invention of a car heating system, which was registered on November 28, 1893. Her system consisted of a combustion chamber under the car and a system of pipes beneath the passenger compartment through which heated water was fed.
This important invention for the automotive industry killed two birds with one stone: It made driving easier in foggy and cool weather by keeping the windows fog-free and the interior of the car at the desired temperature – which of course also made the driving experience both more pleasant and safer.
7. Danica Patrick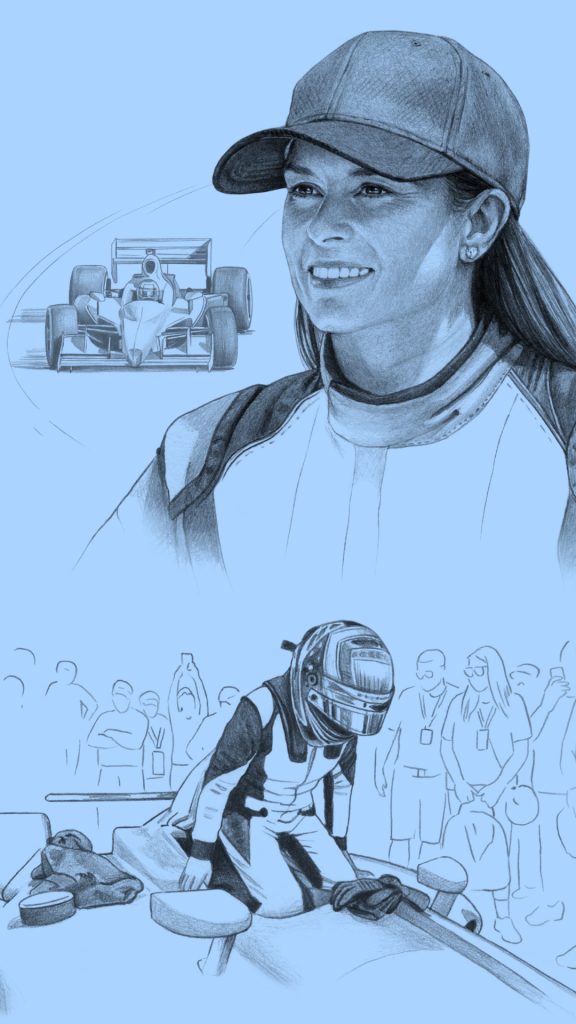 Danica Patrick has demonstrated impressively just how fast and successful women can be on a racetrack.
The female race car driver, who hails from Wisconsin in the US, is one of the most successful women in NASCAR and IndyCar motorsports. Between 2005 and 2018 she was active in both race series. Patrick contested her first IndyCar race at the Homestead-Miami Speedway in 2005. In 2008 she celebrated her first and only IndyCar win at Motegi, Japan. It was an exceptional performance. Her best overall result was ninth place in 2009 – a season when the female car racer also took third place at the Indy 500 and eighth place at the 24 Hours of Daytona race. In total, Patrick contested 116 races in the American race series over eight years. In so doing, she secured seven podium finishes and three pole positions.
Patrick continued to drive the IndyCar series until 2011 but ventured into the NASCAR schedule at the same time. After two part-time years in the Xfinity series, Patrick drove her first full-time season in America's number 2 stock car league in 2012, before graduating to the NASCAR Cup in 2013. Over seven years, Patrick contested 191 races. Unfortunately, she never managed to top the podium, but Patrick did manage seven top-10 finishes. In 2013 she also became the first woman to secure a pole position at the prestigious Daytona 500 race. Her brave decision of 2018 to quit at the right time was yet another example of her acting as a role model.
8. Suzanne Vanderbilt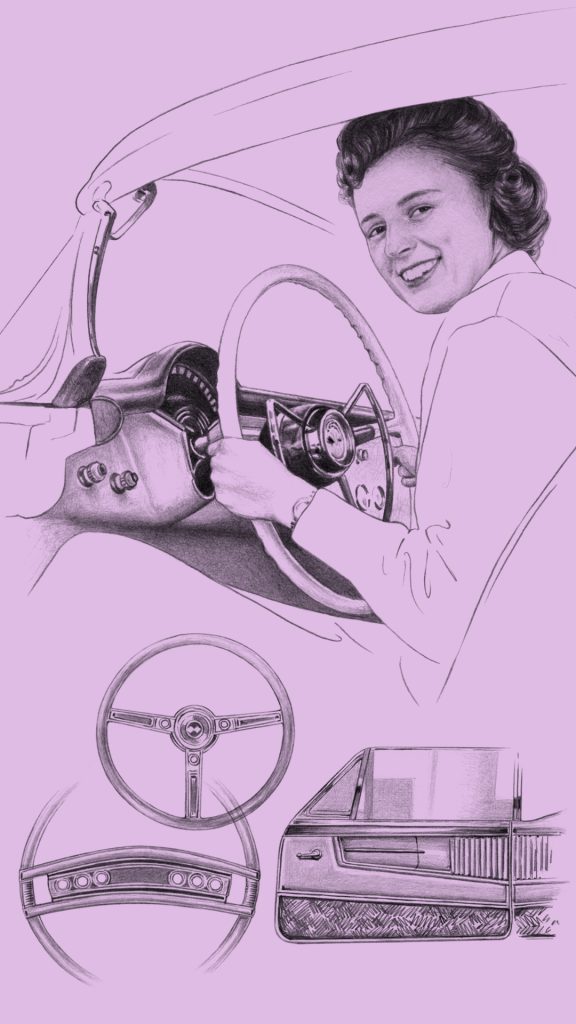 In the mid-1950s, General Motors launched its famous "Damsels of Design", a group of ten women that the automaker brought on board in an attempt to better reach new, female consumers.
Unfortunately, America's first all-woman design team was short-lived. Most of the designers left in the early 1960s after their department was taken over by Bill Mitchell, who allegedly said, "No women are going to stand next to any senior designers of mine." Despite this pronouncement and the male-dominated automotive industry of the time, one of the original "Damsels", Suzanne Vanderbilt, stayed on and tenaciously worked her way up the career ladder until she was named Chief Designer of Chevrolet's Interiors Studio in 1972.
Vanderbilt worked as an executive on small cars such as the Nova, Camaro and Chevette. Unfortunately, at the height of her design career illness forced her to cut back on work and eventually take early retirement from GM in 1977. She died eleven years later at the age of just fifty-five.
What motivated her to remain in such a demanding field?
"What keeps a designer going is that you're never satisfied, you're constantly looking for perfection, for new and creative answers."
9. Charlie Martin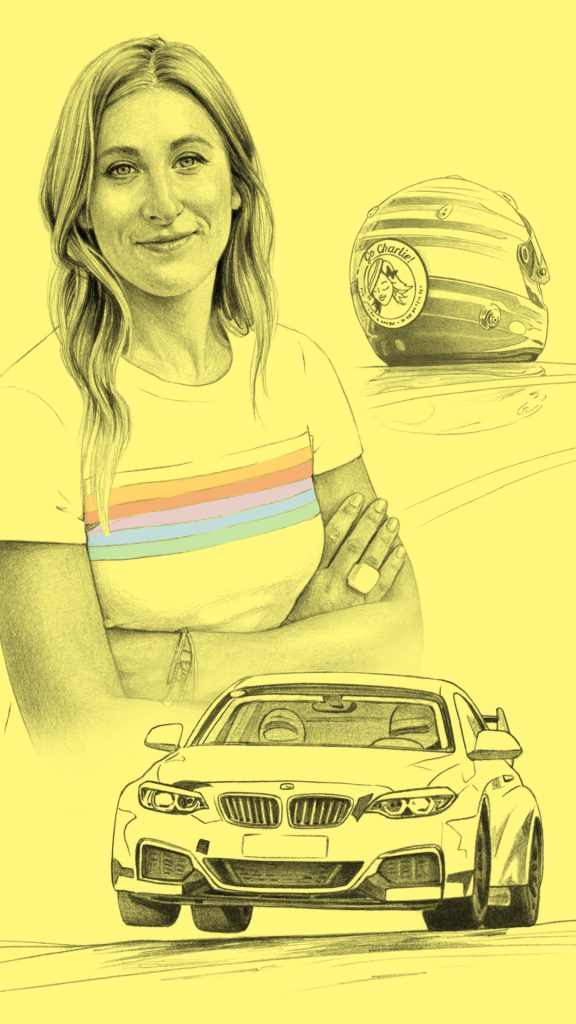 Charlie Martin made history at the 24-hour race around Germany's legendary Nurburgring track.
With her BMW M240i Racing, she finished fourth in her class on the Nordschleife (or North Loop) section of the track. Her finishing position was secondary for the 39-year-old female race car driver, however, as she was driving for a bigger goal. What drives her is proving herself as a woman in a male-dominated sport. And it's a very special goal because Charlie Martin was born as a boy in Leicester, England in 1981.
As the first transgender racing driver to finish this motorsport classic, the daring driver not only fulfilled a dream but also made herself a role model. Making a difficult decision and staying true to the course you are on takes courage.
She aims to share her courage so as to promote more diversity and change in motorsport and thus pave the way for increased female car racer numbers:
"If we have ambassadors for sport who are passionate about their values and convey the feeling that we should all be active in our own lives, then we can make a huge difference in society."
10. Lella Lombardi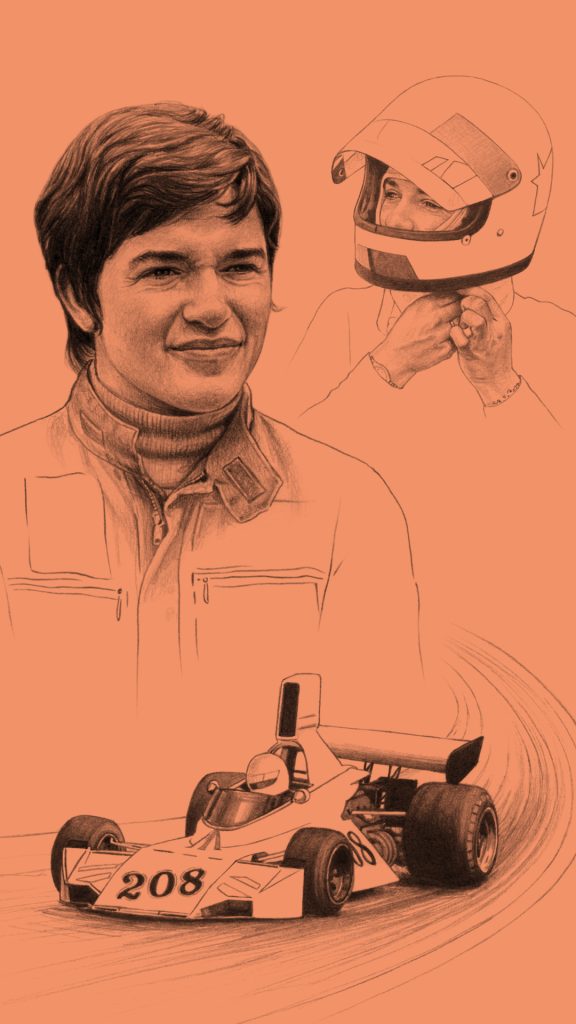 The impact of women in automotive spheres can also be seen in the history of the world's number 1 motorsports competition.
In the statistics of Formula 1, Lella Lombardi (March 26, 1941 – March 3, 1992) is the only woman to have scored championship points. The route to becoming a female race car driver for this butcher's daughter from Piedmont, Italy could certainly be described as circuitous.
Following a serious injury while playing handball, Lombardi was transported to the hospital by ambulance. She was so fascinated by its speed on that journey that she decided to try out motor racing instead of indoor sports.
Between 1974 and 1976, Lombardi drove twelve World Championship F1 races, finishing seven of them. She made her Formula 1 debut for the Allied Polymer Group team at the 1974 British Grand Prix at Brands Hatch but failed to qualify for the race. She started a Formula 1 race for the first time the following year: the 1975 South African Grand Prix at Kyalami, driving for the March team.
On April 27, 1975, the then 34-year-old finished sixth at the Spanish Grand Prix in Barcelona, earning half a World Championship point. To date, she is still the only woman to score World Championship points. She only received half a point (instead of the usual 1 point) for finishing 6th, as the race on the narrow Montjuic street circuit was prematurely terminated after a serious accident involving Germany's Rolf Stommelen, who was leading the race at the time.
Besides her half a World Championship point, Lella Lombardi also holds the record for the highest starting number in Formula 1 history. The "208" on her car at Brands Hatch in 1974 was a reference to her sponsor Radio Luxembourg, which at that time broadcast on 208 meters medium wave. This record of the reserved yet ambitious Italian, who died of breast cancer a few days short of her 51st birthday in March 1992, will not be beaten – starting numbers in Formula 1 is no longer permitted to exceed "99".
11. Jutta Kleinschmidt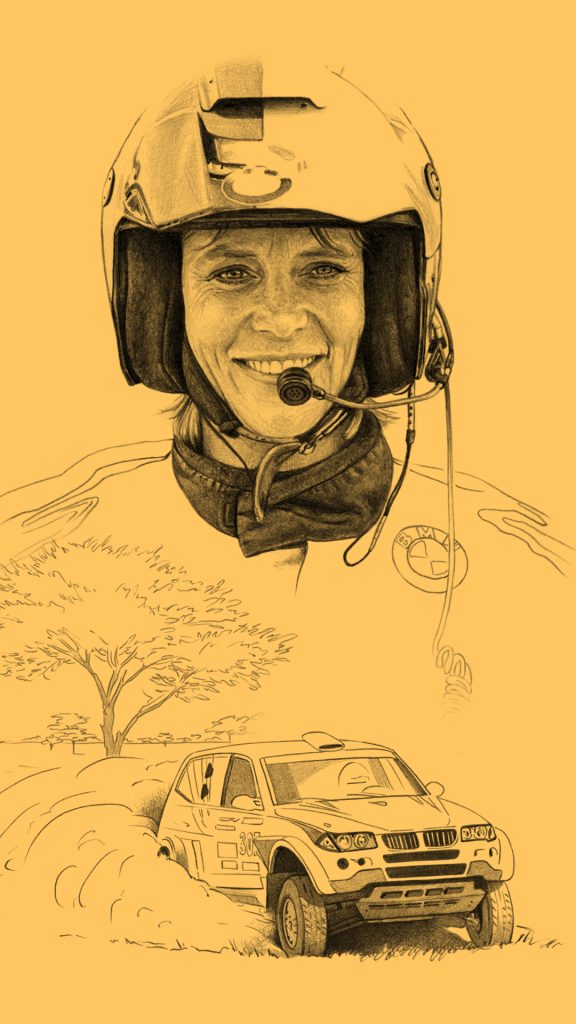 Jutta Kleinschmidt took any clichés about women in automotive settings and confidently banished them to one of the most remote and inhospitable places you can imagine – the Sahara desert.
She has been there and driven her way into the history books behind the wheel of a rally car. In 1988 she took part in her first Paris-Dakar rally on a motorbike, while in 2001 she became the first woman and also the first German to win the world's toughest desert rally. Over a race distance of 6,600 miles (10,000 km), the Bavarian headed the field by 159 seconds in a Mitsubishi Pajero. Jutta Kleinschmidt subsequently took part in the exacting cross-desert race several times in a VW, before starting the 2007 Dakar Rally in a BMW X3 CC for the X-Raid BMW team.
With her combination of courage and technical know-how, she repeatedly left her mark on the race over almost 20 years. As a guest starter in road races and as an instructor, the passionate helicopter pilot has remained loyal to motorsports to this day. In addition, the female car racer now works as a motivational trainer, giving lectures and seminars for businesses. A powerful woman role model, whatever the situation.
Author: Markus Löblein; Illustrations: Oriana Fenwick
Originally published on bmw.com.