Research shows that mobile apps convert at a 157% higher rate than the mobile web.
Yesterday, having an app for your business was nice-to-have. Today, it's a must-have.
What is Builder.ai?
Builder's human-assisted AI empowers everyone to build and operate tech products.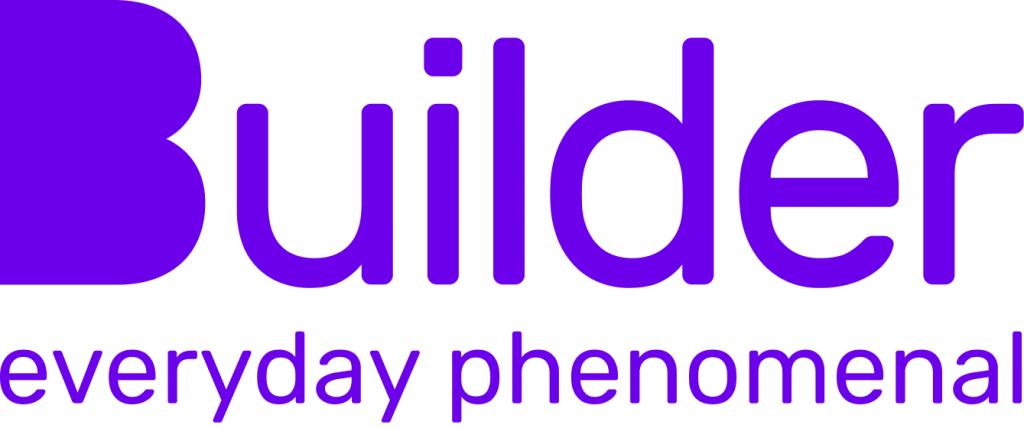 Builder is on a mission to turn ideas into developed products for everyone.
Whether you want to build something new or are already operating on the cloud, Builder empowers a single user to achieve more by doing less.
Our business is all about making building software as easy as ordering pizza. You don't need to have access to technology experts. All you need is an idea. We started this company four years ago because we were burnt by using an outsourced developer and its two engineers. We felt like if it was so hard for us, it must be so much harder for anyone else.

Chief Wizard and Co-founder Sachin Dev Duggal
Won the Hottest AI Startup Award at The Europas 2020
The 2020 Europas Awards identified Builder.ai as the Hottest AI Startup for giving businesses an easy way to go live fast at a time when every business needs to be digital.
Building your software with Builder.ai is up to 60% cheaper and 2x the speed
The company was co-founded by serial entrepreneur Sachin Dev Duggal and Saurabh Dhoot in 2012.
The startup was bootstrapped for the first three years and has grown to over 200 employees.
In November 2018, the company closed $29.5 million investment in Series A funding.
We want to empower people to create software-powered ideas so that they can fulfil their potential.
We do this by transcending the need for traditional tech knowledge, increasing the efficiency of resources human or otherwise and by creating a transparent end to end process.

Builder.ai
What can you build with Builder?
You can build almost any software with Builder, except gaming apps.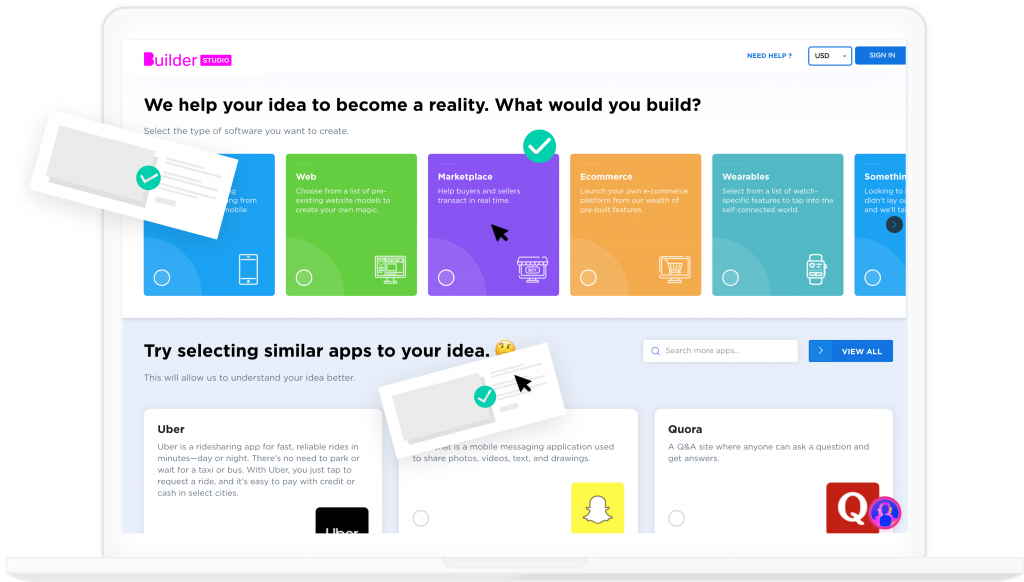 6 types of software you can build with Builder
Apps
Websites
Marketplaces
e-Commerce sites
Wearables
Cloud solutions
Do you need an Uber-type app or an Amazon-type e-commerce store?
Whichever you need, now you can get it.
Here are a few examples of apps that were built with Builder.ai: a mental health app, a medicine delivery app, a fitness app, a grocery delivery app etc.
Build your app in 8 weeks
Builder's solutions are designed to support enterprises, SMBs and entrepreneurs.
The platform makes it very easy for anyone to build software:
Select the technology/app that's most similar to your idea
Select the features you want to have in your application
Start building your app!
What makes Builder so efficient?
Builder is able to deliver your app in 8 weeks thanks to its library of features.
This library is a collection of 500 features that 60% of all apps use like login, shopping cart or Apple Pay.
Builder allows you to stack them together according to your app's needs.
Following this first stage, the platform's network of specialist developers step in and customise your software, until it fits your idea perfectly.
There are no limits on what you can build. The combination of ways to put features together is nearly infinite.
Build on projects that already exist
Builder works because it doesn't start from scratch. As Builder says, "starting from scratch is overrated".
The platform allows users to base their projects on projects that already exist. The users are provided with features common to every app (login, shopping cart etc) and are allowed to add extra features.
Every feature has been coded by Builder which makes the process of putting them together as easy as possible. Picture the features as Lego bricks – you can assemble them however you like.
Easy to assemble thanks to AI
Since we're on the subject of assembling, note that Builder makes it easy for users to assemble their apps.
The platform's human-assisted AI manages a team of over 2,000 expert software developers across the globe. This means little downtime and reduced costs for users.
These specialists deliver the user's idea efficiently, on time and without the errors normally associated with tailor-made software development.
Stay in control
Builder's dashboard allows users to watch the progress of their project and make adjustments on the go.
Get your prototype in less than 10 minutes
It's usually months before you can see how your app looks like. So why not save yourself months of meetings with your developer and get to it faster with Builder? It's also free.
Builder products
Builder Studio, the platform that allows you to build your software with no coding skills needed.
Builder Now delivers your software prototype.
Builder Care is a service that proactively updates your app so you're never blindsided by third party changes that could easily bring it all down.
Studio Store is the whole package. It allows you to build your branded app in 8 weeks, maintain it with updates, upgrades and bug fixes and provides you with the required cloud capacity to run and scale it.
Join the Conversation
We'd love to hear what you have to say.
Get in touch with us on our LinkedIn Group, Facebook Group or Twitter.