Research shows that the proper use of color increases brand recognition by 80%. It also raises the visual appearance by 93%. A further 85% of consumers buy because of color.
In the case of affordability, the visual appeal of an item is the major influence on a consumer's buying decision. "In fact, the color, make, look and feel of a product affects 93% of the buying decision. This is followed by texture which affects 6% of the buying decision and sounds and smell which affect 1% of the buying decision. Once a consumer starts walking towards an item that has his or her favorite color, the major part of the purchasing decision has already been made. When the four: color, design/texture, and smell are combined, the buying decision becomes powerful," wrote colorpsychology.org.
Color psychology is an area of research that looks at how color influences our behavior and decision-making. When used in marketing, for example, different colors can impact the way buyers perceive a brand in ways that aren't always apparent, such as how certain hues can increase appetite.

4 top rules to increase your sales
Color is too dependent on personal experiences to be universally translated to specific feelings. There are, however, broader messaging patterns to be found in color perceptions.
In a study titled "Impact of color on marketing," researchers found that up to 90% of snap judgments made about products can be based on color alone, depending on the product. Regarding the role that color plays in branding, results from another study show that the relationship between brands and color hinges on the perceived appropriateness of the color being used for the particular brand (does the color "fit" what is being sold?).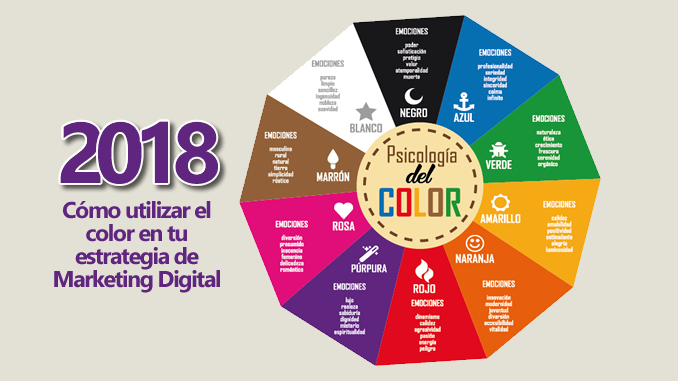 source: Marketing Digital Blog
The study Exciting Red and Competent Blue also confirms that purchasing intent is greatly affected by colors due to the impact they have on how a brand is perceived. This means that colors influence how consumers view the "personality" of the brand in question.
When it comes to picking the "right" color, research has found that predicting consumer reaction to color appropriateness in relation to the product is far more important than the individual color itself.
Psychologist and Stanford professor Jennifer Aaker found in her study "Dimensions of Brand Personality" that there are five core dimensions that play a role in a brand's personality: sincerity, excitement, competence, sophistication and ruggedness.
"Brands can sometimes cross between two traits, but they are mostly dominated by one. While certain colors do broadly align with specific traits (e.g., brown with ruggedness, purple with sophistication, and red with excitement), nearly every academic study on colors and branding will tell you that it's far more important for colors to support the personality you want to portray instead of trying to align with stereotypical color associations," wrote helpscout.net.
At the same time there are difference between how men and women perceive them. Additional research in studies on color perception and color preferences show that when it comes to shades, tints and hues men seem to prefer bold colors while women prefer softer colors. Also, men were more likely to select shades of colors as their favorites (colors with black added), whereas women were more receptive to tints of colors (colors with white added).
More pieces of information on the subjects you can find here and here.