In this article, I attempt to define and differentiate between three marketing roles: content writer, content marketer and content strategist.
It's human nature to organize information in well-defined compartments. We like it like that because it helps us avoid confusion. Marketing is about human communication which is a complex process in itself. Digital communication adds an extra layer of challenges. That's why you will find that these three roles sometimes overlap.
Without further ado, let's dive in!
Content Writer vs Content Marketer vs Content Strategist
What is a content writer? What does the content writer do?
A content writer is a marketer trained in the art of writing. The content writer is part of the marketing team and his/her job is to write digital content that caters to the needs of customers.
Content writers wield their digital pen skillfully, writing content that answers customers' questions.
They are brand's ambassadors offering customers a solution to their problems and essentially helping them achieve their goals.
Their power resides in the words which they use to facilitate the communication between your brand and your customers. They are part journalists, part copywriters, part storytellers. Content writers are always looking for the best metaphor which helps readers become leads or customers. They are always looking for inspiration and Google is their ally. They write for customers but also pay attention to keywords. If you want to make a content writer happy, tell them how much you liked their article or how useful it was.
What do content writers write?
Content writers write blogs, articles, reviews, guides, customer stories or any other long-form usually in-depth content (above 800-1000 words) that is relevant to the brand and its customer base. The corporate blogger is a content writer specialized in writing for the company blog.
Whatever the form, the content must be engaging, easy to read and achieve one or all of the following goals: educate, inform, inspire, entertain. The overall goal of branded content is to build brand awareness, build trust with the customer and create a community.
Discover the 6 attributes of excellent content.
Content writer = Copywriter?
The content writer must have copywriting skills, but he/she is not a copywriter. Their skills overlap, but the jobs are not the same.
A copywriter writes copy to drive sales or lead generation, looking for the perfect 5 to 10 words which influence the customer into taking a specific action: download a paper, click a link, subscribe to a newsletter, read an article, join a Facebook Group. They write for emails, social media posts, Google and Facebook ads, product descriptions, websites. If the content writer writes to educate, inform, inspire or entertain, the copywriter writes to influence and sell.
Copywriting – 4 Techniques to write persuasive copy
Why is content writing a vital part of your marketing efforts?
Here's a short and simple example. To attract brand awareness, you need to get customers to your website. To get customers to your website, you need Google to show your webpages in search results for what your customers are looking for.
Your customers don't search for your brand or your products/services, they search for a solution to their problems.
Your content needs to address these problems in a relevant and engaging way. That's how you earn brand awareness and build trust. These pieces of content are part of your overall marketing efforts which drive leads and sales.
Latest stats show that corporate blogging supports the company's marketing goals.
434% more indexed pages which means more chances to appear in Google search results;
55% more website visitors which means more opportunities for lead generation and remarketing;
Companies that blog generate 126% more leads than those that don't;
47% of customers have interacted with 3-5 pieces of content prior to contacting a sales agent;
61% of consumers have made a purchase based on a blog post;
70% of consumers learn about a company through their blog rather than ads (because nobody likes ads, but everyone likes a good story).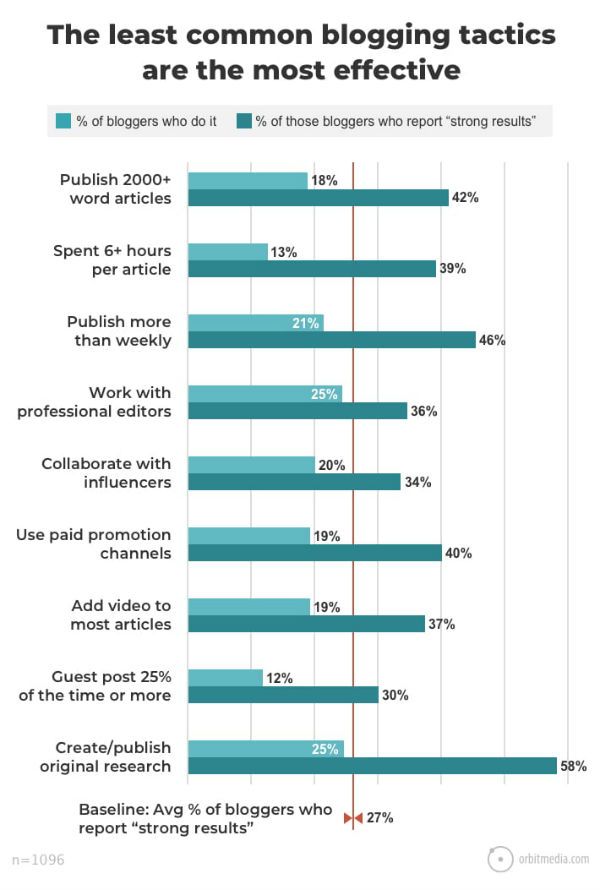 What is a content marketer? What does the content marketer do?
A content marketer is a professional who markets the brand's product through content.
The content marketer plans, creates, and shares valuable content to attract and convert prospects into customers, and customers into repeat buyers. It's also the content marketer's job to analyze content-driven results and calculate ROI.
Together with the art director and the videographer, the content marketer creates content which takes various formats: images, infographics, videos, quizzes, memes, gifs, ads, blog posts etc. These pieces of content are then shared on social media or other mediums of communication to help the company achieve its marketing goals: leads, sales, downloads, views, subscribers to the newsletter etc.
There are so many content formats, which should your brand use? There are so many channels to share content, which are more appropriate to reach customers? The content strategist decides which content the content marketer should create, which format to use, which channel to publish to and how often.
Creating new content by repurposing blog content for social media
Corporate blogs are a rich source of content ideas for the content marketer.
The content marketer can repurpose blog content and turn articles in other formats which can be shared on social media.
Here's how Gary Vaynerchuk repurposes one long-form piece of content into dozens of smaller pieces of content, contextual to the platforms that his team distributes them to.
Did you know Gary Vaynerchuk is speaking at BRAND MINDS 2020?
What is a content strategist? What does the content strategist do?
According to Kristina Halvorson, CEO of Brain Traffic, a content strategy consultancy, the content strategist is a professional who connects the company's content efforts with business goals and user needs.
Here are three definitions of content strategy written by Kristina:
Content strategy guides the creation, delivery, and governance of useful, usable content.
Content strategy means getting the right content, to the right people, in the right place, at the right time.
Content strategy is an integrated set of user-centred, goal-driven choices about content throughout its lifecycle.
Any of these definitions are correct.
Kristina also describes what content strategists do:
Create content strategy frameworks;
Establish metrics for success;
Gather information about the brand's priority audiences (to include user interviews);
Help determine which organizational/business/functional goals will drive your content-related decisions;
Analyze existing content and content ecosystems;
Interview stakeholders about their roles, experience, needs, and expectations.
Robert Rose, the founder and chief strategy officer of The Content Advisory, writes in one of his articles for Content Marketing Institute how the content strategist is different than the content marketer:
The content marketer draws the story and plans the channels that will be used to develop the customer relationship with the brand. The content strategist ensures that story, language, and management processes work consistently and efficiently across multiple teams, languages, and every publication the brand leverages.

Robert Rose
Do you have content writers on your team?
How about content marketers or content strategists? 
Join the Conversation
We'd love to hear what you have to say.
Get in touch with us on Facebook Group and Twitter.