On this page:
Fitbit 2019 company overview
Google and Fitbit – a perfect match
Wearable market size and forecast growth
On November 1, Fitbit officially announced it has entered into a definitive agreement to be acquired by Google for $21.1 billion.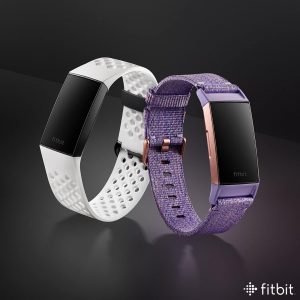 Fitbit – 2019 company overview
Fitbit is one of the top global manufacturers in the wearable technology market.
The company's mission is to motivate its customers to reach their health and fitness goals by tracking their activity, exercise, sleep, weight and more.
One of the top 3 manufacturers in its industry, Fitbit is leading the wearables category by delivering innovative, affordable and engaging devices and services. Its devices are designed to help users understand and change their behaviour to improve their health by utilizing data to deliver unique personalized guidance and coaching.
Founded in 2007 by Aatu Nieminen, Eric Friedman and James Park;
Products: smartwatches, trackers, smart scales, the Fitbit app; they track activity, exercise, food, weight, sleep;
28 million active users around the globe;
Has sold more than 100 million devices;
Awards and Recognition: Voted 2018 Tracker of the Year and Wearable of the Year by Wearable, Best Swimming Tracker by SELF, Personal Design Excellence & Innovation by Good Design, 2018 Product Design Award by RED DOT, Best Budget Smartwatch by Men's Health, the CES 2019 Innovation Awards Honoree;
It was the first in the wearable category, the first to introduce automatic, wireless syncing, and the first to provide an open API;
In October, Fitbit partnered with pharmaceutical giants Bristol-Myers Squibb and Pfizer to accelerate the detection and diagnosis of atrial fibrillation to reduce the risk of life-threatening events such as stroke;
Large community on social: 2,7 million followers on Facebook, 667k on Instagram, 62,3k on Twitter, 86.7k followers on Pinterest with 385.8k monthly unique viewers;
Fitbit has raised a total of $66 million in funding over 4 rounds and acquired 6 organizations: Twine Health (2018), Vector Watch (2017), Pebble and Coin (2016), FitStar (2015) and Switch2Health (2013).
Fitbit and Google – a perfect match
Fitbit views Google as the ideal partner to advance the company's mission.
With Google's support, Fitbit will be able to accelerate innovation in the wearables category, scale faster, and make health even more accessible to everyone.
Being acquired by the tech giant is a step forward for Fitbit, but it also bears a few risks. Such as the risk of having its users' health and wellness data used by Google to run ads. The company's management is well aware that this risk could jeopardize customer trust and addresses it in the press release:
Consumer trust is paramount to Fitbit. Strong privacy and security guidelines have been part of Fitbit's DNA since day one, and this will not change. Fitbit will continue to put users in control of their data and will remain transparent about the data it collects and why. The company never sells personal information, and Fitbit health and wellness data will not be used for Google ads.

Fitbit Press Release
In its acquisition announcement published on the company blog, Google delivers the same message to Fitbit users almost word for word:
Similar to our other products, with wearables, we will be transparent about the data we collect and why. We will never sell personal information to anyone. Fitbit health and wellness data will not be used for Google ads. And we will give Fitbit users the choice to review, move, or delete their data.

Rick Osterloh, Senior Vice President, Devices & Services, Google, 'Helping more people with wearables: Google to acquire Fitbit'
The blog's author, Google Senior Vice President, Devices & Services Rick Osterloh says acquiring Fitbit supports Google with achieving its goal: creating tools that help people enhance their knowledge, success, health and happiness.
The software and hardware manufacturer will also help Google make progress towards a second goal: introducing Made by Google wearable devices into the market.
By working closely with Fitbit's team of experts, and bringing together the best AI, software and hardware, we can help spur innovation in wearables and build products to benefit even more people around the world.

Rick Osterloh, Senior Vice President, Devices & Services, Google, 'Helping more people with wearables: Google to acquire Fitbit'
Wearable market size and forecast growth
Health wearables are all about data. Processing large amounts of data used to be impossible or difficult to achieve.
Latest technology developments like AI and machine learning changed that. Just last month, Google announced its latest achievement – the quantum computer. Although it will be many years before quantum computing translates into practical applications, it is the sign of a bright future for every industry, including wearable.
Wearable devices are a powerful growth factor in the health & wellness industry which is now worth $4.2 trillion.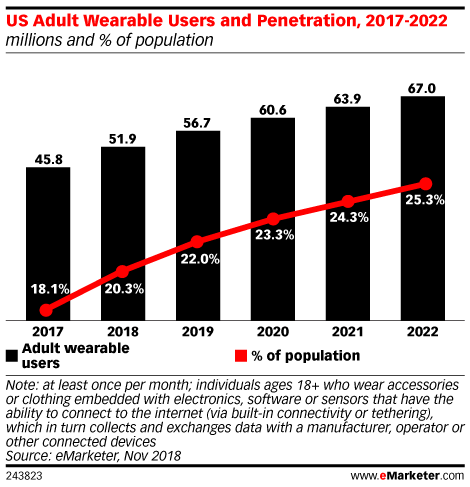 eMarketer estimates that 67 million people in the US will own a wearable device by 2022.  The smart wearable market is expected to grow by 19% over the next five years with competitors like Garmin, Apple and Samsung fighting to take a bigger slice of the pie.
Join the Conversation
We'd love to hear what you have to say.
Get in touch with us on our LinkedIn Group, Facebook Group or Twitter.