As of 2018, Slack has grown to 8 million subscribers in just five years.
Despite its huge success, this collaboration tool for teams has humble beginnings. In fact, it was a by-product called Tiny Speck that Stewart Butterfield's team had built when they were working to develop an online game. The game didn't fly; Slack is the Phoenix that rose from its ashes.
This article gives you insight into how Slack managed to become an 8 million subscriber app in such a short timeframe.
Slack is an enterprise messaging tool which is aimed at assisting team members to chat, work on projects together, and share links and more in real time.
Read our previous Growth Stories: Spotify, Canva.
Slack was developed using the following
6 growth strategies

:
1. Word-of-mouth marketing
Stewart Butterfield (CEO and co-founder) and his team began working on Slack in 2012.
Before their preview release in August 2013, Stewart and his team had begun asking friends and acquaintances working at other companies to give Slack a go and see what they make of it.
This helped the team discover how the product fitted the market and catered to customers' needs. It also helped them work on core features and basic functionality.
The word-of-mouth approach worked brilliantly because on the release day 8,000 people signed-up to Slack. Two weeks later, that number had grown to 15,000. By February 2015, when the tool was publicly available, Slack had acquired 500,000 daily active users. Within four months, this number had doubled to 1.1 million active users.
Today Slack has 8 million daily active users with 3 million paid users and counting. If you are an SEO enthusiast, here is another benefit which will make you feel warm inside: 100.000.000 organic traffic/month of which 90% is driven by word-of-mouth.
Our mission at Slack is simple: to make people's working lives simpler, more pleasant, and more productive. The experience our users have working in Slack is core to our culture and to our business success.
2. Integration with other providers
We're selling a reduction in information overload, relief from stress, and a new ability to extract the enormous value of hitherto useless corporate archives. We're selling better organizations, better teams. That's a good thing for people to buy and it is a much better thing for us to sell in the long run. We will be successful to the extent that we create better teams.

Stewart Butterfield, CEO and founder
Slack is not just a messaging app, it's a collaboration hub that brings the right people together with the right conversations, information, and tools they use at work. And to be productive and efficient, teams need to make the most of their time. So integrating with other tools that teams use on a regular basis was paramount to Slack's success.
There are more than 1500 apps in the Slack App Directory. Slack's website attracts 100.000.000 visitors/month.
Chris von Wilpert has analyzed how the integrations are contributing to Slack's website organic traffic. Here are his conclusions:
Slack ranks on the first-page search results whenever anyone searches a product with which Slack integrates;
Slack managed to achieve this by creating an individual landing page for each of its integrations;
The integrations bring in high-quality referral traffic.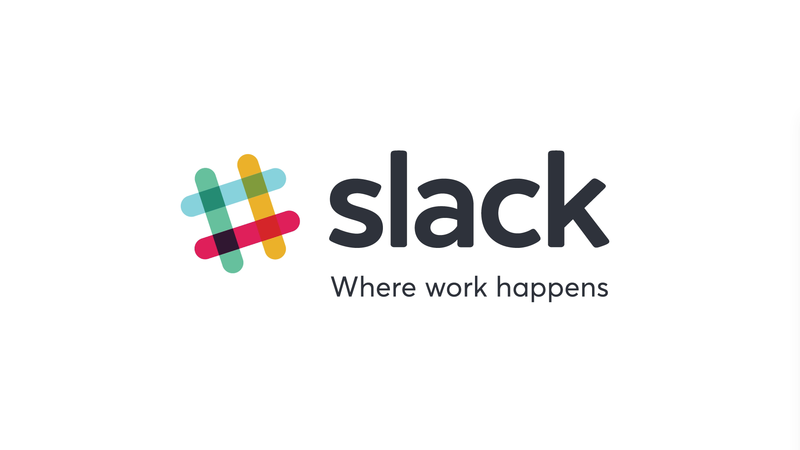 3. Content marketing
Content marketing didn't become part of Slack's growth strategy until 2014.
Unlike other companies, the team growing Slack made an interesting and bold choice: to host their company blog outside slack.com.
Slack's blog is called SlackHQ.com and it was first a publication on Medium.com, the online blogging platform. It was bold and risky at the same time, and it worked out great for Slack. The content published here took full advantage of Medium's features and was often featured on Medium's homepage in the 'Popular On Medium' section.
The blog managed to acquire over 125.000 followers, but in 2018 it was moved to slack.com.
4. Twitter
We bet heavily on Twitter. Even if someone is incredibly enthusiastic about a product, literal word-of-mouth will only get to a handful of people – but if someone tweets about us, it can be seen by hundreds, even thousands.

Stewart Butterfield, CEO and founder
Twitter is Slack's most important social media platform.
Here is how Slack used the 180-character (now 240) social media network:
Build brand awareness;
Define its tone of voice;
Keep their users up-to-date on changes, improvements, company life;
Get customer feedback;
Communicate with customers;
Prevent the Slack support team from scaling up massively: Slack's customer support team is made up of just 18 people, with a group of 6 manning Twitter 24/7.
Slack's Twitter account has 374K followers, but it is most known for being home for the Slack Wall of Love where Slack subscribers come to express their love under @SlackLoveTweets.
Read Stewart Butterfield's success story. 
5. Dear Microsoft
On November 2016, Microsoft announced it was launching their own competing product.
Slack took this opportunity to gain media attention by publishing a letter addressed to Microsoft as a full-page ad in the New York Times.
Here is the letter's first paragraph:
Dear Microsoft,

Wow. Big news! Congratulations on today's announcements. We're genuinely excited to have some competition.
We realized a few years ago that the value of switching to Slack was so obvious and the advantages so overwhelming that every business would be using Slack, or "something just like it," within the decade. It's validating to see you've come around to the same way of thinking. And even though — being honest here — it's a little scary, we know it will bring a better future forward faster.
While the letter sets out to give Microsoft "some friendly advice", it does so by highlighting the principles and values which Slack was built upon and taking a few jabs at Microsoft at the same time:
It's not about features, it's about "a degree of thoughtfulness and craftsmanship that is not common in the development of enterprise software";
Thousands of hours talking to customers;
Internal transparency and a sense of shared purpose;
The necessity of working with an open platform and integrations: "We know that playing nice with others isn't exactly your MO, but if you can't offer people an open platform that brings everything together into one place and makes their lives dramatically simpler, it's just not going to work."
And ultimately love: "We love our work, and when we say our mission is to make people's working lives simpler, more pleasant, and more productive, we're not simply mouthing the words."
Here's the final paragraph:
So welcome, Microsoft, to the revolution. We're glad you're going to be helping us define this new product category. We admire many of your achievements and know you'll be a worthy competitor. We're sure you're going to come up with a couple of new ideas on your own too. And we'll be right there, ready.

— Your friends at Slack
6. Fair Billing Policy
Like many other service apps and tools, Slack uses the freemium business model: free, standard and plus subscriptions.
Out of the thousands of hours of talking to early adopters and customers, the team behind Slack found one particular paint point and came up with a solution.
What is preventing the customer on free subscription from upgrading to a paid one?
One reason is that companies are charged for a number of seats regardless of how many employees are actively using the software. A second reason is that sometimes employees become inactive so the company loses money because it paid in advance.
To this problem, Slack found the following solution: Fair Billing Policy.
Here it is: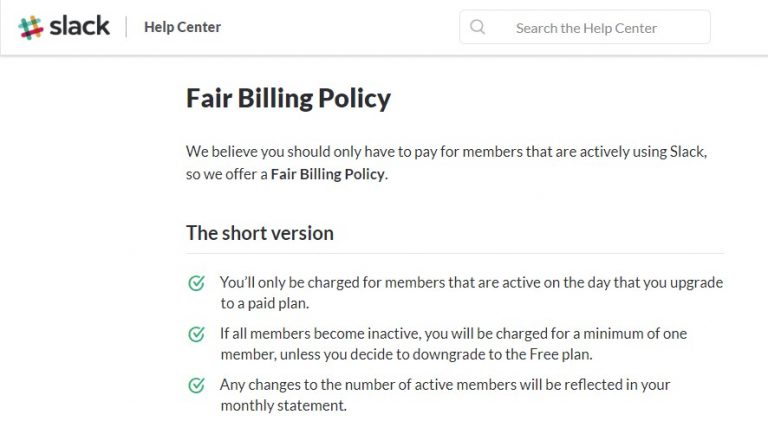 Big companies like Airbnb, IBM, Oracle, Target, BBC, Workday and E-Trade count among Slack's customers with approximately 70,000 businesses paying for the company's services.
According to finance experts, Slack is currently valued at $8.3B and it doesn't look like it is slowing down.
Join the Conversation
We'd love to hear what you have to say.
Get in touch with us on Facebook Group and Twitter.