If you still haven't figured out the Millennials yet is high time you do it, because there is a new generation coming your way: one that is even younger and closer to technology then the Millennials. Unlike Millennials who are stereotyped as self-involved and demanding, the New York Times calls Gen Z "conscientious, hard-working and mindful of the future."
According to yourcareerintel.com, more than a quarter of America's population belongs to Gen Z, giving it a slight edge in size over Baby Boomers (23.6%) and Millennials (24.5%), reports US Consultancy Sparks and Honey. While much of this generation is still in their teens, they're eager to start working. Parents of Gen Z are encouraging their children to find jobs early and independently, without their help. "Gen Zers are highly driven to achieve and more than half of all high school students are eager to gain independent job experience. College students are loading up on internships and summer positions to hone in on their dream job post-college," added yourcareerintel.com.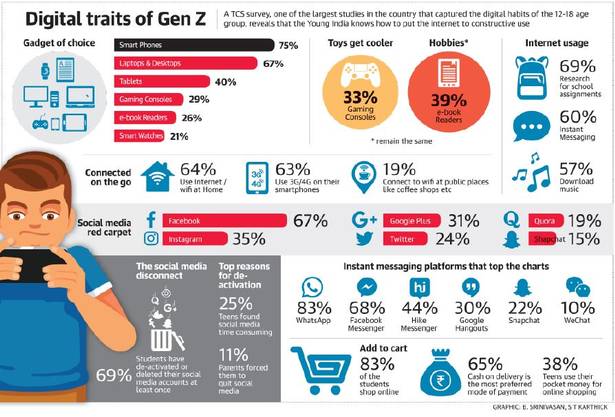 source: The Hindu
Who are they?
According to Wikipedia, Generation Z or Gen Z (also known as iGeneration or iGen, Post-Millennials, or Homeland Generation) is the demographic cohort after Millennials. Currently, there are numerous additional competing names used in connection with them in the media, demographers and researchers typically use the mid-1990s to mid-2000s as starting birth years. At the present time, there is little consensus regarding ending birth years. Moreover, most of Generation Z have used the Internet since a young age, and they are generally comfortable with technology and with interacting on social media.
"Gen Z lives in a world of continuous updates. Gen Z processes information faster than other generations thanks to apps like Snapchat and Vine. Thus their attention spans might be significantly lower than Millennials. Gen Z can quickly and efficiently shift between work and play, with multiple distractions going on in the background…working on multiple tasks at once. Gen Z are entrepreneurial and know the true value of independence, and knowledge is no exception here. If a Gen Z'er knows they are capable of learning something themselves, or through a more efficient, non-traditional route, you can bet they'll take the opportunity," wrote Huffington Post.
Meagan Johnson, a generational expert, speaker and author of From Boomers to Linksters: Managing the Friction Between Generations at Work, defines anyone born after 2002 (and therefore post-millennial) as the Linkster generation. "We chose the term Linkster Generation because it is the first generation to be linked into technology from day one. Millennials brought technology into the cultural focus and have pushed other generations to use technology.  However, there are Millennials that can remember using dial up or even a life before social media," Johnson told The Independent.
Therefore, the Linkster population – estimated to make up 18 per cent of the world's population – grew up with social media, smart phones and apps. According to Johnson's intervention for The Independent, the Linkster Generation may never hold a textbook, read everything from a tablet and never learn cursive writing and it may never write a check or walk into a traditional bank.
When it comes to their consumption on social media, Business Insider quoted the data gathered by a study conducted by the research firm 747 insights, in partnership with consumer research platform Collaborata, showing that only 49% of Gen Zers agree with the statement "Social media is an important part of my life" — a truth 61% of Millennials admit to. However, nearly 60% of both generations are concerned that social media is too public and that their posts could come back to haunt them. For Gen Z, this concern has changed its behavior: Members favor Snapchat in part because of the strict control over who can see their posts.
More on the study's results you can read here.
Moreover, in November, a Piper Jaffray survey found 47% of teens consider Snapchat their favorite social media platform, up from 35% the year before. Instagram was the preferred platform for 24% of teens, the same number as one year earlier. Meanwhile, only 9% of teens chose Facebook — a decline of 4% from 2016. And that just after in September, market research firm eMarketer estimated that the number of Facebook users between the ages of 12 and 17 would be to fall 3.4% to 14.5 million people by the end of the year.
Gen Z is pragmatic and realistic, but they also believe it is possible to achieve their "dream job" and build a career doing what they love. Nearly a third of Gen Z (32%) said their greatest aspiration is to be at their dream job 10 years from now, according to Fortune. They're realistic about how tough it may be to find this job, however. An equal amount (32%) say that finding a job is their top concern.
All of these data and more must be very well looked at and perceive by marketers in order to make sure that their campaigns will fit like a glove the wanted target.