According to the latest statistics, 76% of the world's population now live in urban areas.
People's need for a closer supply of nutritious food has increased in recent years and the pandemic enhanced it even further.
Urban farming is on the rise globally and iFarm uses innovative technologies to grow more produce at less space.

What is iFarm?
iFarm is a team of professionals with expertise in IT, agriculture and science. Together they have built the technology which makes urban agriculture possible. With offices in Finland, the US and Russia, iFarm is growing berries, flowers, vegetables and microgreens in vertical farms.
The startup was co-founded by Alexander Lyskovsky, Maxim Chizhov and Konstantin Ulianov in 2017 and grew from 10 to 70 employees in 2019. The team is now working in 5 countries and 7 cities.
We create technologies that enable anyone to grow fresh vegetables, berries, greens and edible flowers for personal use or for commercial purposes.

We offer fully automated turnkey solutions suitable for production sites of any size — from an apartment to large scale factories — that are more sustainable, eco-friendly and economically viable than conventional farming.
iFarm Technology
The team at iFarm developed the following automated technologies to support city farmers worldwide:
Vertical farms
Greens growing module
Software for vertical farm management
The iFarm vertical farms are modular farm systems for indoor urban agriculture which allow growing pesticide-free healthy plants.
The farms are fitted with automated climate-control systems, smart nutrition and Led-lighting designed by iFarm which provide plants with all of the macro- and micronutrients required to grow healthy crops.
Urban farming with iFarm allows city farmers to produce yield 2 times faster than that of traditional field farming.
The vertical salad farm set includes:
multi-tiered iron constructions;
equipment (Led lighting and power supplies for lamps, solution unit, industrial osmotic installations for water treatment, pallets, caps, IoT sensors, video cameras etc.);
germination chamber;
consumables (seeds, peat, fertilizers, pots, etc.)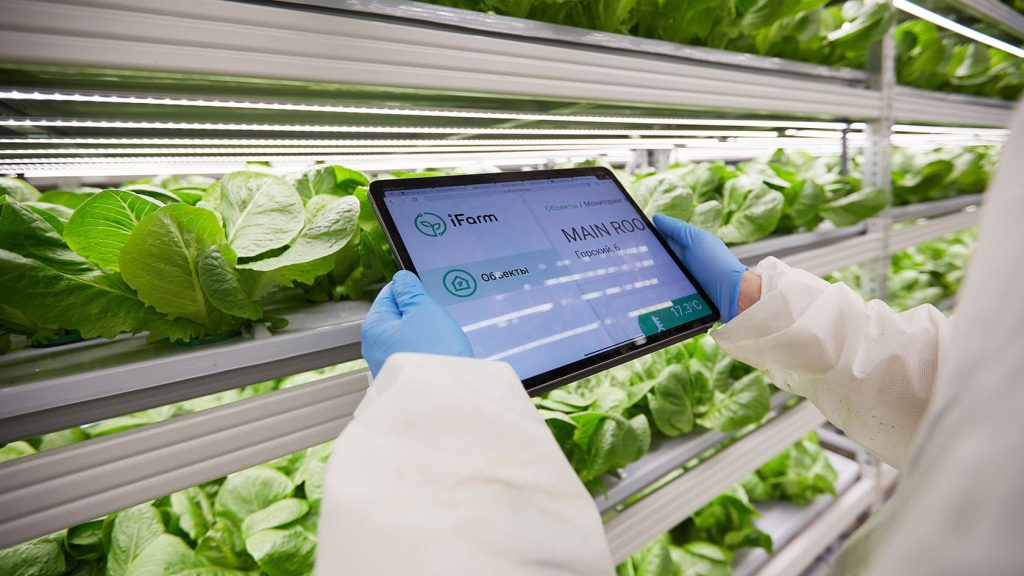 The iFarm Growtune is a vertical farm management software which monitors microclimate parameters and provides planting management, using demand forecast and sales data. The software also provides scenarios for farm personnel.
iFarm Growtune is based on an adaptive protocol that employs computer vision, machine learning, all the data about thousands of plants collected from a distributed network of farms and also open data.
The platform is cost-effective and allows city farmers to achieve greater yields. By collecting big data from farms all over the world, the platform's AI constantly improves its algorithms.
The platform monitors microclimate parameters, spots inconsistencies in plant growth at an early stage, optimizes plant growth recipes and the net cost of produce and alerts about any deviations in plant growth.
The iFarm greens growing module was designed for retail chains, restaurants or private usage and it provides ideal conditions for salads and herbs growing and storing.
The module looks like a showcase where fresh greens in pots are placed in special trays on several tiers. All you need to do to start growing your own vegetables is connect the growing module to electricity. The average productivity is ~3 kg/per month.
With the iFarm germination chamber, 100% of seeds sprout
The team at iFarm is constantly working on improvements that make vertical farms even more efficient and allow farm owners to see payoffs sooner. One example of such an improvement is the germination chamber.
Before creating this chamber, iFarm agronomists planted the seeds in trays and covered them with plastic film. This technology allowed for only 85-90% of the seeds to germinate in 2 to 5 days which meant the number of mature plants was reduced and, in turn, the profitability of a farm.
The iFarm germination chamber maintains 100% humidity and a temperature of 20-24 °C.
The trays are not covered with a plastic film which makes it easier for the seed to germinate.
Also, the seeds hatch faster in 1 to 3 days and develop better throughout the whole growth cycle.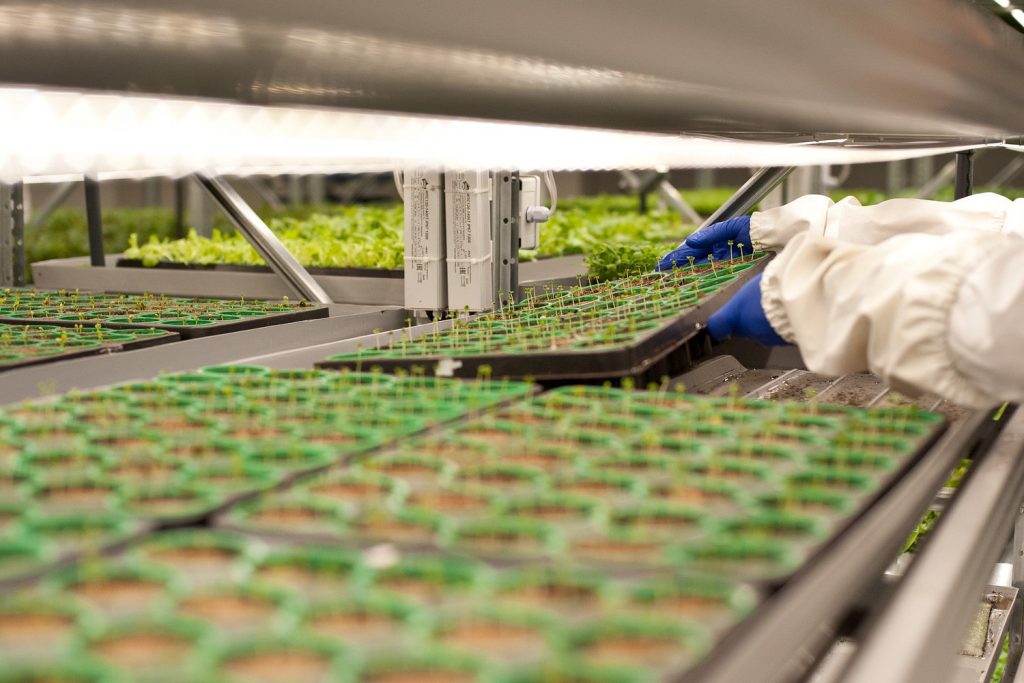 Advantages

of growing your business and crops with iFarm technology:
Use 90% less water and 75% less manure
Pesticide-free crops
Minimal logistics expenses
Save energy by technology optimizing
Less "human factor risks"
Reduced payroll expenses
Stable crop yields all year round
Modular and compact units
Great replicability of the iFarm automation system
Benefits of working with iFarm:
High productivity
High scalability
Distributed manufacturing system
Customized solution
Awards and Recognition
iFarm won the Best Social Impact Startup at the 2019 Nordic Startup Awards and the Hottest Ag/FoodTech Startup at the 2020 Europas Awards.
Join the Conversation
We'd love to hear what you have to say.
Get in touch with us on our LinkedIn Group, Facebook Group or Twitter.