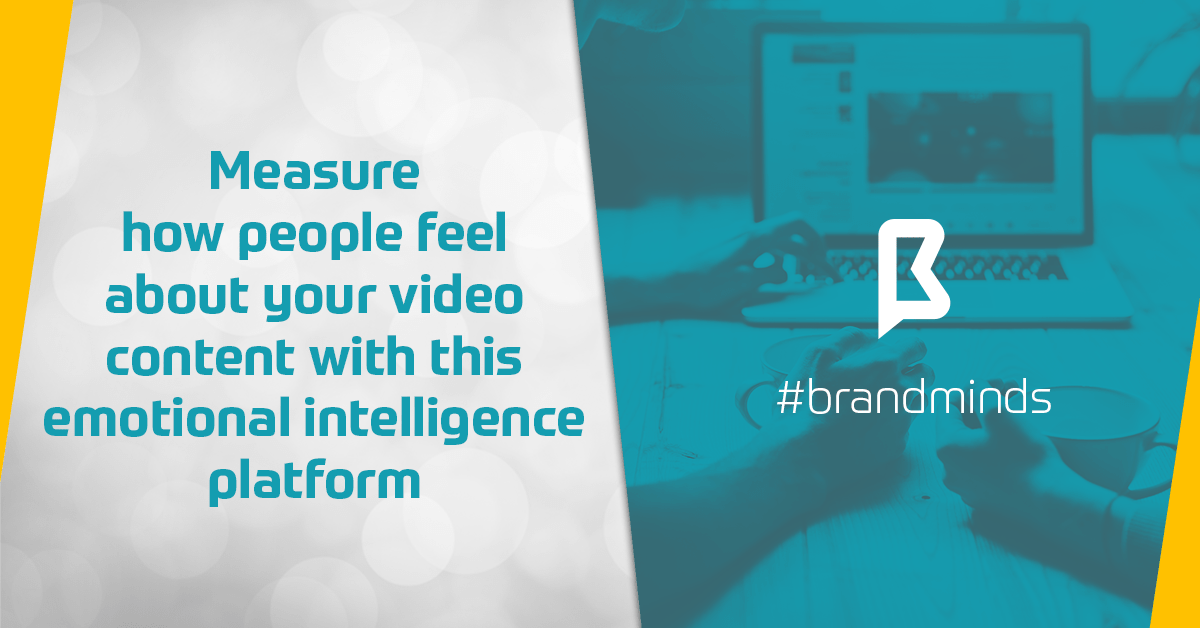 Latest statistics say that where both video and text are available on the same page, 72% of people would rather use video to learn about a product or service.
Learn more: Video Marketing Statistics 2018 – How Brands used Video for Business
Businesses acknowledged this rising trend in customer behaviour and began producing more video content to cater to their customers' needs.
But when you produce video content (or any content for that matter!) you need to measure its impact on the consumer, you need to find out whether it had the expected outcome.
Realeyes

is an emotional intelligence platform which uses the power of AI to help brands measure their video content at scale.

[bctt tweet="Use Realeyes, the emotional intelligence platform to help you measure your video content at scale." username="brand_minds"]
With Realeyes marketers can:
transform the impact of their video content;
make more informed media decisions;
eliminate media waste.
What is Realeyes?
Realeyes is an AI powered platform which uses computer vision and machine learning to measure how people feel as they view your video content online through their webcam.
It was co-founded by Mihkel Jäätma in 2007 at Oxford University. After ten years of breakthrough R&D innovation, Realeyes is now the technology leader in emotion AI for marketing performance, providing unfiltered emotional responses from consumers to businesses.
The innovative emotional intelligence platform has offices in Boston, London, New York and Budapest.
According to TechCrunch, the London-based startup has raised $16.2 million in funding, money that it plans to use to expand in engineering and business development.
It's fast growing – revenues have shot up 932% in the last four years.
Some of its customers are Coca Cola, Mars, Publicis, Turner, Heineken, LG, Twix etc
How does Realeyes work?
Realeyes delivers results by running your video content through 4 stages:
1.Set the brief
Upload your own or competitor images, GIFs or videos at any stage of its life-cycle. Generally, we source a sample audience of 300 viewers based on your campaign objectives.
2. Collect Data
The platform measures the attention, emotions and sentiment of your sample audience as they watch your video content on their own device at home. You can even ask brand lift survey questions too.
3. Get results
The results are delivered to the Realeyes dashboard within 24 hours (depending on the sample), enabling you to slice and dice your audience data to see how different segments responded.
4. Act on insight
The Realeyes highly-experienced marketing professionals team craft your reports; this way your results are turned into valuable insights you can act on with confidence.
What does Realeyes measure?
Realeyes measures attention, emotions and sentiment.
1. Attention
The attention metric shows at which point your audience attention rises and falls whilst viewing your content. Attention is measured on volume and quality.
2. Emotions
Emotions are tracked with the help of the Realeyes Facial Action Coding System (FACS) used by Paul Ekman to categorise human facial movements.
Facial expressions are broken down into the individual Action Units that make up a specific expression over time. The output of your collected audience emotions is aggregated and displayed within the dashboard as six basic emotion metrics and three proprietary metrics for measuring the emotional experience.
The six basic emotions are: happiness, surprise, confusion, sadness, disgust, scared.
In addition to these basic emotion metrics, Realeyes also tracks a variety of proprietary metrics or classifiers.
These classifiers have been derived through their own research and are:
Engagement – when a participant has an expressive reaction to a stimulus.
Valence – whether a reaction is positive or negative.
Negativity – the percentage of people showing an emotion classified as negative.
3. Sentiment
With the sentiment analysis you can discover how audiences feel about your brand and content, expressed in their own words. Sentiment Analysis uses AI to analyse open ended consumer comments to identify the prevailing emotional opinion within the text, determining whether the overall sentiment is positive, negative, or neutral.
Here are 6 benefits of using Realeyes:
1.Optimise video
With second by second emotion traces, see exactly how people react to your content – what works and where it might fall short.
2. Select winners
The Realeyes EmotionAll® score ranks your assets – see at a glance which videos to push or pull.
3. Target audiences
The score enables you to weed out the low performers and identify which demographic responds best to your video.
4. Compare norms
See how your video performs amongst different markets, genders, or age groups as well as custom demographic segments, in order to fully optimize your targeting.
5. Drive efficiency
Skew spend towards the most engaged audiences and invest in high performing content.
6. Predict performance
Capitalize on your earned media potential and inform channel split decisions based on the 1 to 10 score.
Additional advantages
Get an instant overview of what people are saying about your brand, ad or campaign with automatically ranked responses.
Specific audience insight
By combining Sentiment Analysis data (consciously reported feedback) with our unique Attention and Emotion data (subconscious feedback), collected using webcams, we create a comprehensive report of the effectiveness of your creative.
Sentiment analysis is not restricted to English-speaking audiences, with analysis of French, German, Italian, Japanese, Korean, Portuguese, Spanish, Chinese (Simplified), Chinese (Traditional) also included.
Unlike other similar tools that require manual effort, Sentiment Analysis is completely automated and is fully integrated into our dashboard.