Over the past few years, we've had many participants telling us that only one BRAND MINDS event a year was not enough. 
We listened and here is one of the surprises we announced on stage, at this year's edition of BRAND MINDS: a second event, scheduled for October 27. The event is the BUSINESS STRATEGY MASTERCLASS delivered by Costas Markides, Professor of Strategy & Entrepreneurship at London Business School. There is a limited number of seats available (at the time of this article, there were only 200 left out of 400), so get your tickets today. The masterclass takes place at Radisson Blu Hotel, in Bucharest Romania.
Table of Contents
WHO IS THE BUSINESS STRATEGY MASTERCLASS FOR?
The Business Strategy Masterclass provides in-depth business development for the executive team in your organization. Whoever makes decisions regarding the future of your business needs to be here.
CEOs & Top Executives
General Managers
Entrepreneurs
Business Consultants
Brand Managers
Business Owners
Marketing Managers
Investors
WHAT DOES THE MASTERCLASS TEACH YOU?
BUSINESS STRATEGY IN A VOLATILE WORLD
What are the choices that Strategy needs to make
Why do companies fail to make choices?
The importance of differentiation
What kills our creativity and how to make sure that your strategy is innovative?
CREATING A CULTURE OF INNOVATION
Overcoming company and industry beliefs
Developing strategies that break the rules
The principle of variety and how to institutionalize it in the Strategy process
DIGITAL TRANSFORMATION
What is the Organizational Environment and how to develop it
The Butterfly Principle: Small Changes, Big Impact
Who are the effective change agents?
HOW TO MOTIVATE YOUR TEAM
How to 'sell' your Strategy to your team so they buy into it
How to provide clear communication
The importance of experimentation
Tactics to make your message emotional
WHERE CAN YOU APPLY THE LESSONS FROM THE MASTERCLASS?
BUSINESS STRATEGY: Create efficient strategies that work for the company;
INNOVATION: Redesign the company roadmap toward innovation-focused goals;
LEADERSHIP: Upgrade your skills in team management, engagement and strategic communication;
DECISION MAKING: Make the best decisions for your company's strategies taking into consideration the latest trends and company culture.
HOW YOU BENEFIT BY ATTENDING THIS MASTERCLASS
Learn from one of the world's foremost experts on strategy and innovation
Unique opportunity for elite networking
Become an innovative business architect
Accelerate your professional growth
Be among the top experts in your industry
Share ideas with like-minded people
Meet, connect & grow your network
Learn how to create new habits to achieve your goals
Reward yourself with the best learning experience with one of Europe's best strategic thinkers
HOW YOUR ORGANIZATION BENEFITS BY YOUR ATTENDING THIS MASTERCLASS
Redesign the strategy which leads to your desired company goals
Create efficient strategies that work for the company
Use disruption to develop the business
Become a fast and efficient decision-maker in a dynamic environment
Generate unique, efficient business models
Learn to adapt & make better decisions at tipping points
Create a work environment that improves performance
Learn to create an empowering corporate culture
Expand your network with new strategic partnerships
Reconnect with industry leaders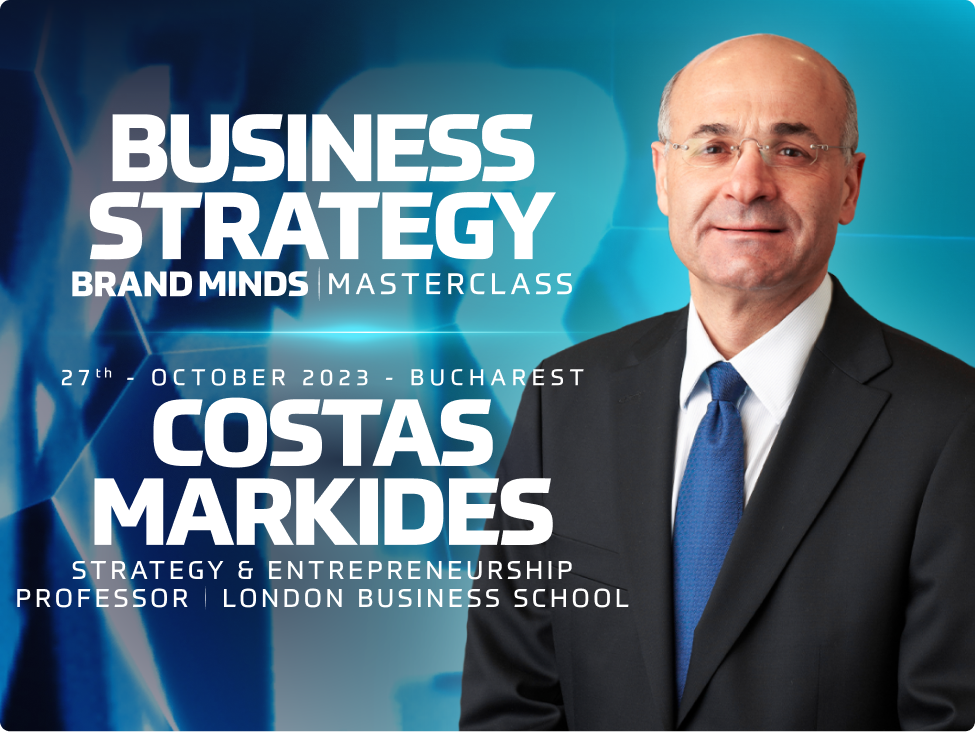 ABOUT COSTAS MARKIDES, PROFESSOR OF STRATEGY & ENTREPRENEURSHIP AT LONDON BUSINESS SCHOOL
FORMER EXECUTIVE EDUCATION FACULTY DIRECTOR AT LONDON BUSINESS SCHOOL
Professor Costas Markides is recognised as one of the world's foremost experts on strategy and innovation with over 20 years of research in: Corporate Entrepreneurship & Corporate Strategy and Disruptive Innovation
He holds the prestigious Robert P Bauman Chair in Strategic Leadership at London Business School where he has been teaching strategy and innovation for the last 28 years. He is the former Executive Education Faculty Director at London Business School, was a member of the Board of Directors at the Strategic Management Society and is the author of 9 business strategy bestselling books.
Professor Markides is currently teaching courses at London Business School's programs of Master's Degree and Executive Education.
DOCTOR OF BUSINESS ADMINISTRATION (DBA) FROM HARVARD
Professor Markides has a master's degree in Economics from Boston University, and two degrees from Harvard Business School: master of business administration (MBA) and doctor of business administration (DBA).
Attend the BUSINESS STRATEGY MASTERCLASS and prepare your organization for the future!