One United Properties is a leading green investor and developer of residential, mixed-use and commercial real estate in Bucharest, Romania.
An innovative company, One United Properties is dedicated to accelerating the adoption of construction practices for energy-efficient, sustainable, and healthy buildings.
There is no doubt that the destiny of a city is closely related to the vision of the companies willing to develop and invest in it.
The real estate industry has the power to reshape the face of the city and make a significant contribution to building sustainable communities for the citizens.
From its very first developments, One United Properties has put forward a new vision for urban living, one that blends superior design with sustainability, green building construction and urban regeneration. 
ONE is a high-end brand and represents quality, design, community, sustainability, and last but not least – very desired locations.
One United Properties' purpose is to improve existing and to build new communities, by developing quality, energy-efficient buildings, and to generate long-term value growth for the stakeholders. As a green property developer and investor, One United Properties is dedicated to not only building sustainable homes and offices, but to transforming neglected areas in the city into thriving communities and, thus, contributing to improving the face of Bucharest.
ONE community is in fact what distinguishes, among others, One United Properties from other developers. The company has pioneered the mixed-use development concept in Romania, being the most important player in this segment. Mixed-use developments work against the trends of building sprawling cities and instead, they help create inclusive, connected communities. In mixed-use areas, inhabitants can find housing, restaurants, services, schools, green spaces, cultural and entertainment facilities, and more.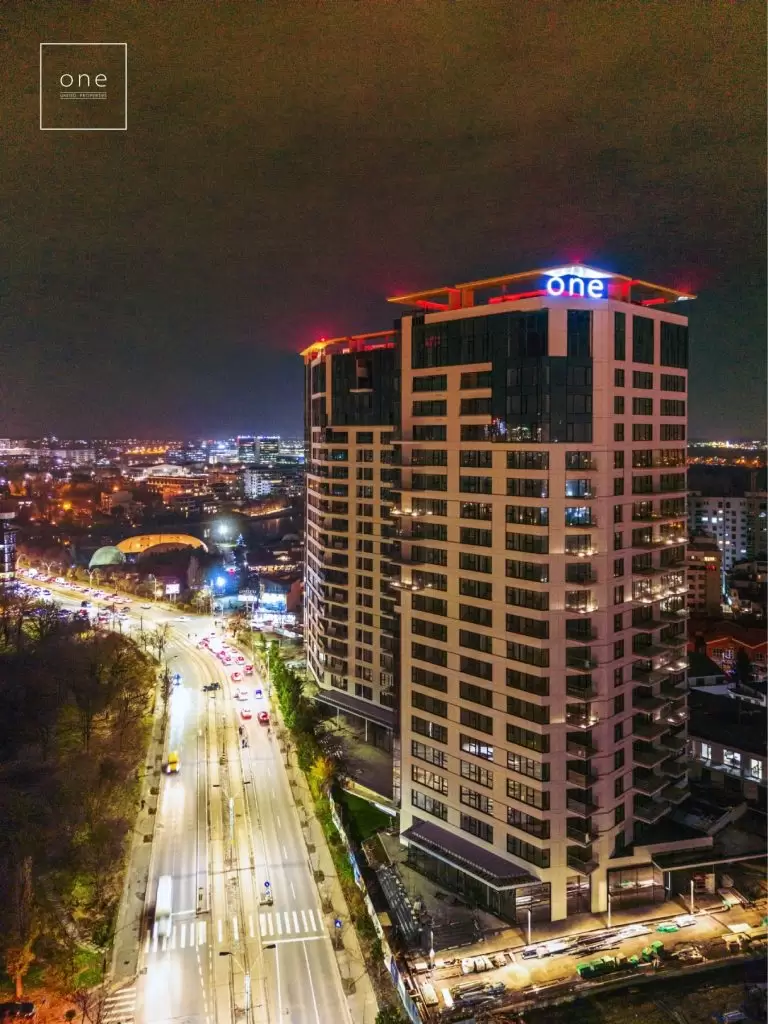 Abandoned industrial places reshaped into mixed-use communities
One of the sustainability goals of One United Properties is to develop areas that were previously abandoned and forgotten, having a significant negative impact on the city. As part of the strategy, One United Properties strives to return these formerly bustling areas back to the public circuit.
The company acts on urban regeneration principles when transforming industrial abandoned places in Bucharest into vivid communities that live and work together in modern mixed-use developments. Such is the case of the landmark development One Floreasca City, built on the former Automatica platform, which has improved the dynamics of the district both in terms of aesthetics and infrastructure. One United Properties has delivered a high-end multifunctional and internationally awarded development comprised of three residential towers and an office one, as well as a commercial area that has gathered around it a brand-new community. With One Floreasca City, the developer has also contributed to the reconstruction of the intersection of Calea Floreasca with Mircea Eliade Boulevard, which significantly reduced traffic. In fact, for each new community developed, the company feels responsible for neighbourhoods and their smooth functioning, therefore it invests in developing necessary infrastructure and solutions that will not only be used by its customers but the community as a whole.
Another similar example is One Cotroceni Park, the most ambitious urban regeneration development in Bucharest, built on 5,8 hectares on the former Ventilatorul platform, which has all the premises for improving the whole Cotroceni area. With a holistic Live / Work / Play approach, One Cotroceni Park is shaping up as a city within the city, comprising housing units, a modern and certified business park, as well as numerous integrated commercial services and an upgraded infrastructure meant to support the 15-minute city concept that reduces traffic.
Building up new communities
With each new development, the company aims to create new communities and at the same time upgrade the entire area around it. Sustainable buildings, integrated services, and access to a wide range of commercial, leisure and educational facilities mean more value for the entire district. ONE developments do not comprise only high-end penthouses or exclusive luxury properties, but also green and modern real estate addressing the medium and upper-medium public. Without making any compromise in terms of quality and construction principles, large-scale developments such as One Lake Club, One Lake District or One High District will reshape and improve the northern lakes area of Bucharest by building up new, fresh and lively communities embracing a modern attainable urban lifestyle. 
Restauration of historical Bucharest

 
Urban regeneration and protection of the cultural heritage of Bucharest are also part of One United Properties' strategy.
In 2021, the company invested for the first time in restoring historical monuments following the acquisition of the well-known Braikoff House, which was in an advanced state of decay. The historical building located in the heart of the city, near the Romanian Atheneum, is undergoing a complete renovation and will be known as One Athénée, a luxury residential development with commercial components. On the same street, George Clemenceau, One United Properties has also acquired an unfinished, abandoned building, which will be transformed into a 5-star lifestyle hotel – One Plaza Athénée. Both restored buildings will definitely change the dynamics of the area around the Athenaeum, contributing to revitalizing the city centre. 
The company has also committed to the renovation of other three historical buildings located in the centre of Bucharest, on Academiei Street. One United Properties has acquired these three buildings near the Ion Mincu University of Architecture and Urbanism with the goal of restoring and transforming them into a new development – One Downtown.
In addition, One United Properties (BVB: ONE) acquired another historical monument – the former Ford factory, located within One Floreasca City, which is currently undergoing restoration and will be transformed into a retail space, called One Gallery.