You may be familiar with Return on Investment as a metric but do you feel you need an additional performance measurement tool which illustrates more accurately the changes in our world with a direct impact on your business?
PwC offers you the answer to your question – Return on Experience.
What is ROI?
Return on Investment (ROI) is a performance measure used to evaluate the efficiency of an investment. To calculate ROI, the benefit (or return) of an investment is divided by the cost of the investment. The result is expressed as a percentage or a ratio.
ROI is a financial metric of profitability widely used in business. With the rise of digital and social media, business executives may find it difficult to calculate the ROI of their company's marketing and advertising efforts on digital platforms.
What's the ROI of social media?
Some digital experts believe that due to its human nature social media cannot be measured using a business-focused tool. Three years ago Gary Vaynerchuk famously replied to a business executive asking him repeatedly about the ROI of social media with What's the ROI of your mother?
Other digital experts support the idea of looking at social media from a different standpoint – that of soft leads generator which I believe is more accurate. Marketers should find where social media fits best in their company's funnels so that their efforts translate into results that can be measured.
Consumers have power over brands
Our world is changing; it's not technology leading the change, it's the people. It's not the businesses running the show, it's their consumers. They have power over brands, not the other way around.
According to PwC's 2019 Global Consumer Insights Survey, it's time to include another metric in addition to the traditional ROI. It's the consumer-centred metric – the Return On Experience or ROX.
We need to introduce another metric, one with a laser focus on customer experience: return on experience. Whether your organisation is in the business of household goods, health services, selling cars or financial services, delivering a superior experience will be what makes you a winner.

PwC – 2019 Global Consumer Insights Survey
What is ROX?
The Return On Experience (ROX) is the metric with which marketers measure the purchase experience of their consumers.
Because consumers today are so discerning and powerful, it's our perspective that most organisations need to invest far more in customer experience (CX). Measuring 'return on experience' (ROX), will help you understand your earnings on investments in the parts of your company directly related to how people interact with your brand.

John Maxwell, PwC's Global Consumer Markets leader
Why should you include ROX in your measurement list?
Here are 10 of the report's main findings which are good reasons for your company to include ROX as an additional measurement metric:
31% of consumers buy online weekly or daily;
24% of consumers shop on smartphones more often than on PCs – the first year in the decade PwC has been conducting this study that mobile phones were used more than other digital devices;
51% of respondents paid bills and invoices online;
51% transferred money online;
54% are streaming movies and TV 2x a week or more;
39% of Gen Z respondents said they go directly to social media for information compared with 25% overall;
Mobile payment has been growing steadily since 2018, with China leading the way (86%) followed by Thailand (67%), Hong Kong (64%) and Vietnam (61%);
75% of consumers are using their mobile phones for health information;
46% of consumers would like to have an autonomous vehicle today or would consider one in the future;
35% of the survey's respondents said they choose sustainable products to help protect the environment, 37% look for products with environmentally friendly packaging, and 41% avoid the use of plastic when they can.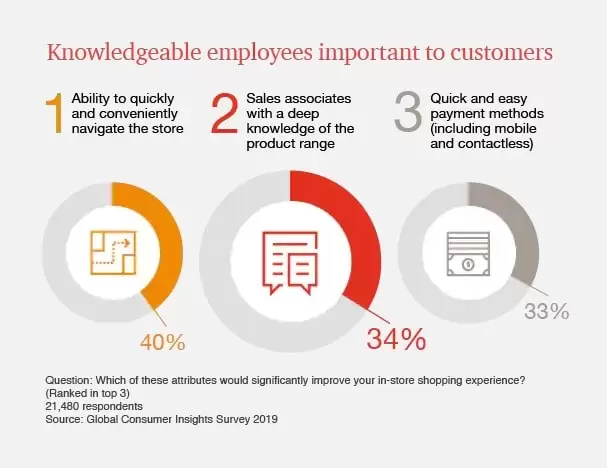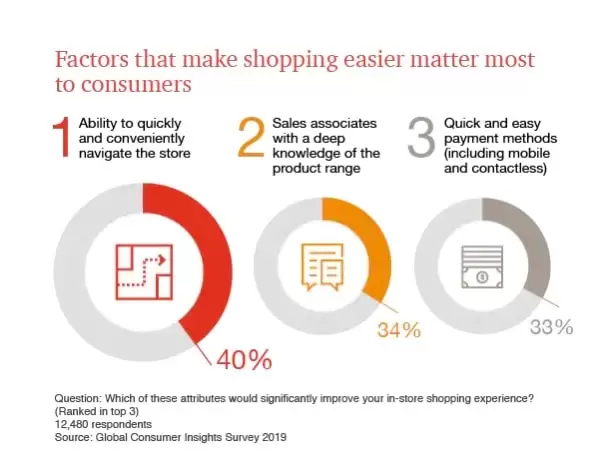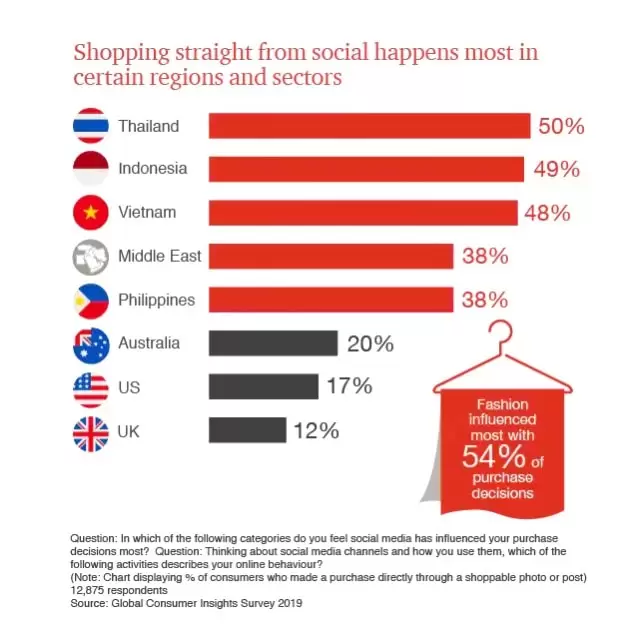 Now that you're convinced of the power of your consumers and the importance of the customer experience, let's see what factors contribute to great customer experience.
5 factors who drive great customer experience:
1. Less friction
Your company should aim towards a frictionless purchase journey. A purchase journey which eliminates friction as much as possible encourages your customers to buy more frequently and spend more money.
Amazon is a great example of a frictionless purchase journey.
2. Digital voice assistants
9% of consumers said they used voice technology to shop online weekly or more frequently. Using digital voice assistants makes it easier for consumers to buy. The voice technology contributes to the frictionless purchase experience.
Learn more: What Voice Search and AI Mean For Your Business
3. BOPUS
BOPUS is the acronym for buy online and pick up in store. BOPUS requires previous customer training but it works because it is convenient.
4. Blended experiences
A blended purchase experience means augmenting your customer's in-person interaction with digital content before, during and after that interaction.
5. Employee experience (EX)
Last but not least, the employee experience is vital to creating excellent customer experiences. It means your company should invest in and improve the employee experience (EX) because EX has a big impact on customer experiences.
Learn more: Keeping Your Employees Happy Is More Than A Higher Paycheck

Are you looking to improve your ROX?
Based on the PwC survey results, here are 6 recommendations on how your company can improve its Return on Experience:
1. Fuse CX and EX
Companies that invest in and deliver superior experiences to both consumers and employees are able to charge a premium of as much as 16% for their products and services.
2. Build communities with a purpose;
3. Build on discreet moments along the customer journey;
4. Understand your customers based on their behaviours;
5. Treat consumers' data with respect, and deliver value in exchange for it;
6. Win the trip.
Win over customers on-premise or via e-commerce by understanding what they are trying to experience and then making it easier for them to accomplish that goal.

Design your ROX-focused framework
What should your ROX-focused framework look like?
Identify the things your company does exceptionally well;
Make sure your IT systems, data infrastructure, business processes and performance metrics are aligned with those core capabilities;
Identify your company's 'critical few' behaviours; these behaviours are the ones that are most important to creating and delivering excellent customer and employee experiences;
Quantify your progress in building these behaviours across functions, business units and geographies;
Use your metrics to gain deeper insights into what matters most to customers;
Quantify what's most important along the path to purchase and what factors are most influential in driving customer behaviours.
Join the Conversation
We'd love to hear what you have to say.
Get in touch with us on Facebook Group and Twitter.