GoPro was founded in 2002 by Nick Woodman, a surfer, skier and motorsports enthusiast in search of a better way to film himself and his friends surfing.
The first GoPro camera was released in 2004; Nick himself put the camera together with his mom's sewing machine and a drill using pieces of old wetsuits and plastic scraps.
Now the company has grown internationally selling 26 million GoPro cameras in more than 100 countries.
We enable people to tell stories.

Nick Woodman at the 2015 Consumer Electronics Show (CES) in Las Vegas
GoPro HERO7 – Shaky Video is Dead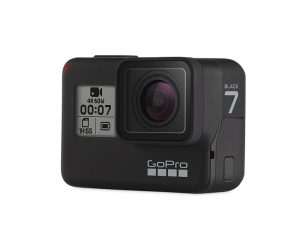 gopro.com
With the latest GoPro camera, the GoPro HERO7, you can tell your stories in a new and improved way.
This video illustrates perfectly the range of HERO7's abilities, but if you missed them, here they are via gopro.com:
HyperSmooth Stabilization – Gimbal-like stabilization without the gimbal;

Live Stream – Automatic sharing as you live it while saving your streamed videos to your SD card in high definition;

TimeWarp Video – Super-stabilized time lapse 'magic carpet ride' videos of your experiences, up to 30x speed;

SuperPhoto – Intelligent scene analyzation for professional-looking photos via automatically applied HDR, Local Tone Mapping and Multi-Frame Noise Reduction;

Portrait Mode – Native vertical-capture for easy sharing to Instagram Stories, Snapchat and more;

Enhanced Audio – Re-engineered audio captures increased dynamic range, new microphone membrane reduces unwanted vibrations during mounted situations

Intuitive Touch Interface – 2-inch touch display with simplified user interface enables native vertical (portrait) use of camera;

Face, Smile + Scene Detection – HERO7 Black recognizes faces, expressions and scene-types to enhance automatic QuikStory edits on the GoPro app;

Short Clips – Restricts video recording to 15- or 30-second clips for faster transfer to phone, editing and sharing. Great for new users and kids;

Photo Timer – Countdown timer for convenient selfies and group shots;

Stunning Image Quality – 4K60 video and 12MP photos;

Ultra Slo-Mo – 8x slow motion in 1080p240;

Rugged and Waterproof – Waterproof without a housing to 33ft (10m), goes everywhere your phone can't;

Voice Control – Verbal commands let you go hands-free in 14 languages;

Auto Transfer to Phone – Your photos and videos move automatically from camera when connected to the GoPro app for on-the-go sharing;

GPS Performance Stickers – Track speed, distance and elevation, then highlight them by adding stickers to videos in the GoPro app;

Touch Zoom – Frame your photos and videos with just a touch.
GoPro – more than a hardware company
Fuelled by their passionate community, GoPro transitioned from a hardware company to a big media company thanks to the success of the GoPro Channel on YouTube, which has 6.2 million subscribers and over 1.8 billion views. 
The $1 Million GoPro Challenge
With the introduction of the HERO7 camera line, GoPro asks its fans to help them create the HERO7 Black Highlight Video. All you have to do is submit on the gopro.com your best raw video clips shot exclusively on HERO7 Black. If your shots are used in the video, you'll get an equal cut of a million dollars.