The Story behind the Brand: L'Oréal
L'Oréal is the world's most valuable beauty brand. Here is its story.
L'Oréal was founded in 1909 by Eugène Schueller, an innovative French chemist and ambitious entrepreneur
Women have been colouring their hair since ancient times. Egyptians used henna to turn their grey hair to red. The Greeks and Romans used saffron, gold dust, blended flowers and other plant and animal products to embellish their hair with various colour tints. The combinations used were natural but the results were short-lived. Chemicals would soon enter common practice: lead for dark-coloured hair and sulfuric acid for light-coloured hair. They produced better results but they were dangerous to the health of people using them and often even lethal.
Everything changed when French chemist and pharmacist Eugène Schueller invented the first synthetic risk-free hair dye for women in 1907. He used para-phenylenediamine (PPD), a chemical discovered in the previous century and named his innovation "Oréal."
Two years later, he founded the Société Française de Teintures Inoffensives pour Cheveux (the "French Company of Inoffensive Hair Dyes"), the company that was to become the L'Oréal Group.

Eugène Schueller set out to conquer the international market and established a network of sales reps around the globe. His innovative hair dyes were sold to hairdressers and later, pharmacies. 
In the following years, he developed new products: Dop, the first modern shampoo without soap (1934) and Ambre Solaire, the first tanning oil containing a sun filter (1935).
Schueller's success was powered by his ability to understand the needs and anticipate the expectations of customers. L'Oréal revolutionized the market for women's hair dyes allowing women greater opportunities for self-expression. Today 75% of American women and 60% of European women dye their hair compared to only 7% in the 1950s. 
Schueller understood early on that technology-driven innovation was the answer to solving customers' needs effectively and efficiently. Being the first helped build the L'Oréal brand and establish a strong relationship with the customers.
"Schueller was a man of action and a creative spirit. He was the first to build a beauty industry on a bedrock of science. For half a century, he lay the groundwork for a company that would offer unparalleled quality and safety innovations to meet the full range of beauty needs and trends. That credo holds true today: L'Oréal has gone from strength for more than 110 years and continues to cement its position as the global leader in the beauty industry."

L'Oréal Group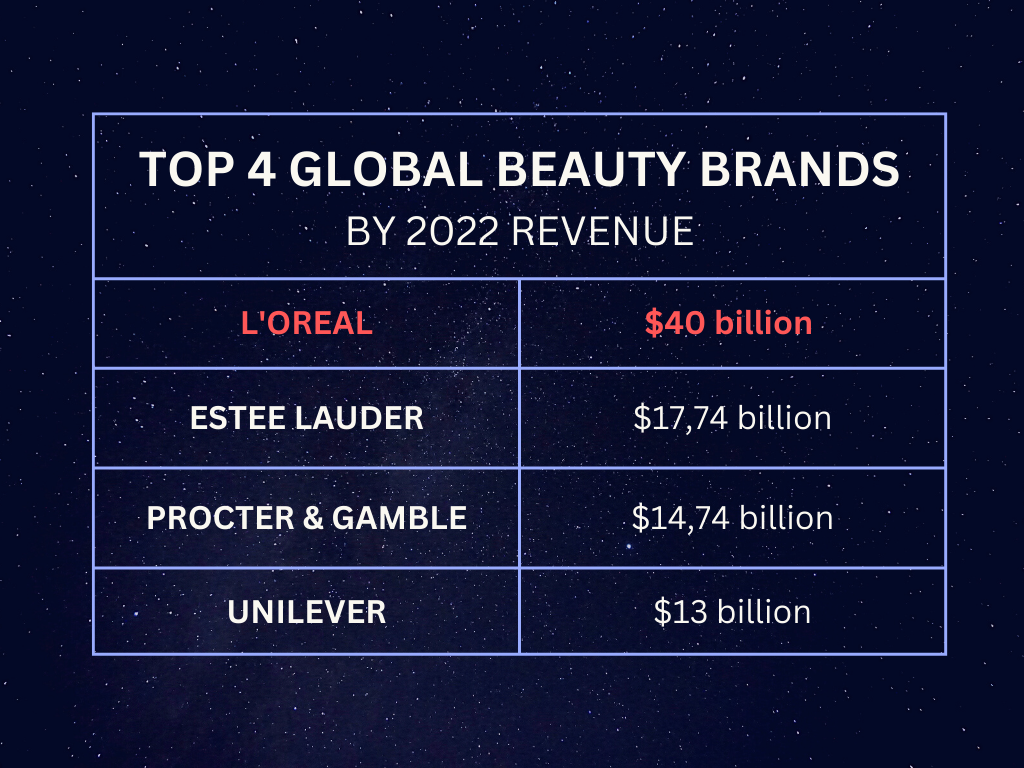 2021 L'Oréal Company Statistics & Financials

 
Founded 114 years ago

4 product categories: skincare, haircare & hair colour, makeup,

 

fragrance
portfolio of 35 international brands (Yves Saint Laurent, Biotherm, Garnier, Maybelline, Cacharel, Armani, Lancome, Kerastase, Vichy, La Roche Posay and more)

85,400 employees worldwide

20 research centres across 11 countries around the world
Research and Innovation team of over 4,000 scientists and 3,000 tech professionals
Research & innovation investment: 1 billion euros (3.2% of 2021 sales)
Generated sales: 32.28 billion euros
27% of L'Oréal's sales are generated by e-commerce
Operating profit: 5,2 billion euros (19% of sales)

 

Gross profit: 23 billion euros
Advertising & Promotion investment: 10 billion euros (32% of 2021 sales)
L'Oréal's annual growth (16%) is 3x higher than the average annual growth of the global beauty market (4%-5%)
L'Oréal's share of the global beauty market: 14%
L'Oréal's most profitable division is L'Oréal's Luxury (12 billion euros); its fastest-growing division is Active Cosmetics (+30%) comprised of La Roche Posay, Vichy, CeraVe, SkinCeuticals, Decleor
L'Oréal's most profitable market is Europe (10 billion euros); its fastest-growing market is Latin America (+20%)

How to grow your business with 1 strategy framework
L'Oréal – A Beauty Tech Powerhouse
L'Oréal is a science-driven beauty brand innovating through products since its founding in 1909.
The amazing advancements in machine learning and Artificial Intelligence over the past decade have found practical applications in many industries including IT, computers, e-commerce, aviation, telecommunications, healthcare …and last, but not least – beauty. 
'Seize new opportunities' is a motto L'Oréal lives by and strongly believes in. The beauty powerhouse saw how these new technologies are changing the world and they have quickly included them in the brand's product development and business growth strategy. 
In only 5 years, L'Oréal has become a true tech powerhouse in the service of beauty for all, personalized and sustainable.
L'Oréal's latest innovations have received numerous awards at CES and have been included in TIME's Best Inventions list
YSL Scent-Sation

, the First In-store experience leveraging neuroscience to provide personalized fragrance advice (2021)
A system where a neuro-connected headset that uses EEG (electroencephalography) for the first time in the beauty industry captures 5 different feel-good emotions triggered by 14 different accords, representing 27 YSL fragrances. And then translates them into a unique, personalized selection of 3 YSL scents.
YSL Rouge Sur Mesure

: Personalized Lipstick, a beauty tech innovation by Perso (2020)
2020 TIME's Best Inventions
With this smart device, home consumers can create their very own versions of the iconic YSL's iconic Velvet Cream Matte Finish lipstick. The lid of the device functions as a compact luxury case, so you can take your personalized product along with you when you go out.
Colorsonic

, reinventing the consumer hair colouring experience through user-design breakthroughs at home and in the salon
2022 TIME's Best Inventions
CES® 2022 Innovation Awards Honoree
Colorsonic is a lightweight, handheld device that uses an innovative, mess-free process to mix hair colour and apply it evenly, delivering consistent hair colour results for consumers at home.
HAPTA

, the first handheld, ultra-precise computerized makeup applicator designed to advance the beauty needs of people with limited hand and arm mobility
CES® 2023 innovation award-winner
L'Oréal Brow Magic

, a first-of-its-kind smart eyebrow makeup applicator that gives users bespoke brows for their face shape in seconds
CES® 2023 Innovation Award-Winner
L'Oréal Water Saver

, a groundbreaking showerhead that uses rocket engine technology to reduce water consumption by 61% compared to standard methods
2021 TIME Best Inventions
Designed for the professional salon industry, L'Oréal Water Saver has the potential to help save billions of litres of water annually.
UVMune 400

, L'Oréal's breakthrough sun filtering technology
After 10 years of research, L'Oréal introduces UVMune 400, its breakthrough sun filtering technology that effectively protects the skin against insidious ultra-long UVA rays.
L'Oréal's current and future success lies in the brand's strong investments in research & development and the company's strategic acquisitions, investments and partnerships.
2021 – 2023 Acquisitions & Investments & Strategic Partnerships:
Digital Village, a metaverse-as-a-service platform and NFT marketplace for brands, creators, and communities;
Prinker Korea, a micro-printing startup whose temporary tattoo products have won multiple CES Best of Innovation awards and the prestigious global iF Design award;
Microphyt, a biotech that has developed a revolutionary process with a low carbon impact to produce microalgae used in cosmetics, among other fields, for their active properties and functional qualities;
Skinbetter Science, a physician-dispensed skincare brand backed by cutting-edge, dermatological science, combining patented efficacious ingredients with luxurious sensorial textures;
SPARTY, a startup that has successfully created a D2C business model grounded in personalized beauty, with brands such as Medulla in haircare and Hotaru in skincare;
Youth to the People, a skincare company that develops and markets high-performance skincare products known for formulas that combine premium vegan blends of superfood extracts and science;
Verily, an Alphabet precision health company advancing skin health;
Emotiv, a global neurotech leader that helped L'Oreal launch YSL Scent-Sation;
BreezoMeter, a climate tech company uncovering insights around exposome and skin.
What are L'Oréal's business strengths driving the brand further?
Setting (and achieving) the goal of outperforming the market;

High quality of teams and their extraordinary level of commitment;

Investment in research and new technologies, like Artificial Intelligence;

Portfolio of complementary brands enabling the company to meet all beauty expectations;

Balanced geographic footprint;

Strategic vision and shareholder stability (the founding family is the company's main shareholder);

Ability to seize new opportunities: the shift towards digital (virtual try-on, e-commerce), personalized product; recommendations. The next step in L'Oréal's digital development may well be the metaverse;

Agility: the company trained employees on digital, e-commerce, the internet, and high tech;

Emerging countries represent a tremendous source of growth;

A unique point of view on the business: financial performance and environmental and social performance are now inextricably linked (read The Story behind the Brand: Patagonia);

Having a single line of business: L'Oréal focuses only on beauty but they cover all of beauty;

Leveraging the power of data.
Source: L'Oréal websites
3 drivers of innovation: customers, product, service
In our previous article on innovation, What are the 4 types of innovation? we talked about how employers are expecting employees to have innovation-focused skills, the definition of innovation, the difference between innovation, creativity and invention and the 4 types of innovation.

What does your company need to innovate?
Innovation is a broad subject and therefore can be a daunting challenge for anyone trying to approach it. My solution is to place the information in categories. Organizing information in whatever way feels comfortable for you (lists, diagrams etc) improves your learning process greatly.
For the present article, let's go deeper with the conversation on innovation and answer the following questions:
What drives innovation?
What stands at the core of innovation-centred efforts?
What is the first step toward innovation?
In this article:
Customer-led innovation: customer-driven innovation, customer-centered innovation, customer-focused innovation;
Product innovation: definition and example;
Service innovation: definition and example.
The drivers of innovations are customers, product and service.
The first step on your path toward innovation should be deciding where to focus your efforts.
Are you going to focus on your customers and create products that meet their needs? Will you focus on product development?
Or find a new way to serve your customers?
Let's discover more about each innovation driver!
Customer-led innovation
Customer-led innovation is when the company finds an innovative solution to a demand arising from the customer experience & dissatisfaction with the choices currently available in the marketplace.
Examples of customer-led innovations:
The extended battery life for smartphones;
LEGO plastic bricks with tubes inside to stick together thus preventing the constructions from falling apart;
Bumble, the dating platform allowing only female users to make the first contact with matched male users;
Canva, the design platform for non-designers who had neither the money nor the time to invest in professional tools like Photoshop;
Amazon's Show and Tell feature allowing the blind to identify grocery items by holding each item to the Echo Show camera and asking, "Alexa, what am I holding?".
According to this paper published in the award-winning Research Technology Management journal, customer innovation "has become an essential strategy for organizational survival."
There are 3 types of customer innovation:
Customer-driven innovation
Customer-centred innovation
Customer-focused innovation
What is customer-driven innovation?
At the centre of customer-driven innovation is the customer.
The innovation is made by the customer with the organization having a coordination role. The end result is an innovation that is dynamic, impossible to control and difficult to get to the market. The entire process is time-consuming and requires high levels of interaction between the customers and the organization.
What is customer-centred innovation?
Customer-centred innovation is about innovating with customers.
At the centre of this type of innovation are the customer AND the organization. The role of the organization is that of the communicator. This type of innovation is open, difficult to control and coordinate. The main challenge: there's no shortage of ideas; the difficulty stands in the organization's ability to develop them.
What is customer-focused innovation?
Although it's called customer-focused innovation, at the centre of this type of innovation is not the customer, but the organization alone. A customer-focused innovation is where the organization innovates for the customer.
The organization discovers customer needs and seeks to satisfy them by expanding the choices available within a product category.
The organization is the innovator. The innovation is closed, easy to control and to coordinate. The main challenge of this type of innovation is that it requires an ongoing process of customer analysis.
Here are all three types of customer innovation in one picture:
ServiceNow

– customer-led innovation example

ServiceNow is a platform that lets people automate workflow in a business. The company was ranked #1 by Forbes in its 2018 World's most innovative companies list.
ServiceNow delivers digital workflows that create great experiences and unlock productivity. This is the future of work. Behind every great experience is a great workflow.
The company was founded by Fred Luddy in 2004. In an interview with Forbes, Fred Luddy says he's never had an original idea but has always paid close attention to anybody doing, struggling to do or wishing they could do differently.
In his opinion, the company must "deeply, deeply, deeply understand customer needs".
Also, technology must be used in the service of the employee. In keeping with his words, he met with over 500 customers and asked every one of them these questions:
What are your most important priorities? What keeps you up at night?
And regarding ServiceNow, what are we doing well? And—very importantly—where can we get better?
Product innovation
Product innovation is the development and market introduction of new, redesigned, or substantially improved goods.
Apple

– Product innovation example

When you say product innovation and development, you say Apple.

The $2 trillion tech company has been launching new products in every one of its product lines every year since the company's foundation four decades ago.

Apple's goal is to create the world's best products which are also what consumers want. The company has set out to make only great products by constantly focusing on innovating.
Innovation is making things better and not just merely changing. And that requires a depth of fall which is well beyond merely changing something.

Tim Cook
Service innovation
Service innovation is changing the way you serve your customers to create greater value for them and deliver more revenue for your organization.
It's about providing customers with an amazing and improved experience that wasn't available before.
L'Oreal

– Service innovation example

L'Oreal is one of the most innovative companies in the global beauty market.

As per the company's 2020 Research, innovation & beauty tech report, L'Oreal has invested 964 million euros in Research & Innovation.

The beauty company has embraced the digital revolution as early as 2012. Since then L'Oreal has integrated technology to serve customers better and more efficiently.

One example is the brand's use of Augmented Reality and Artificial Intelligence to virtually try on its products.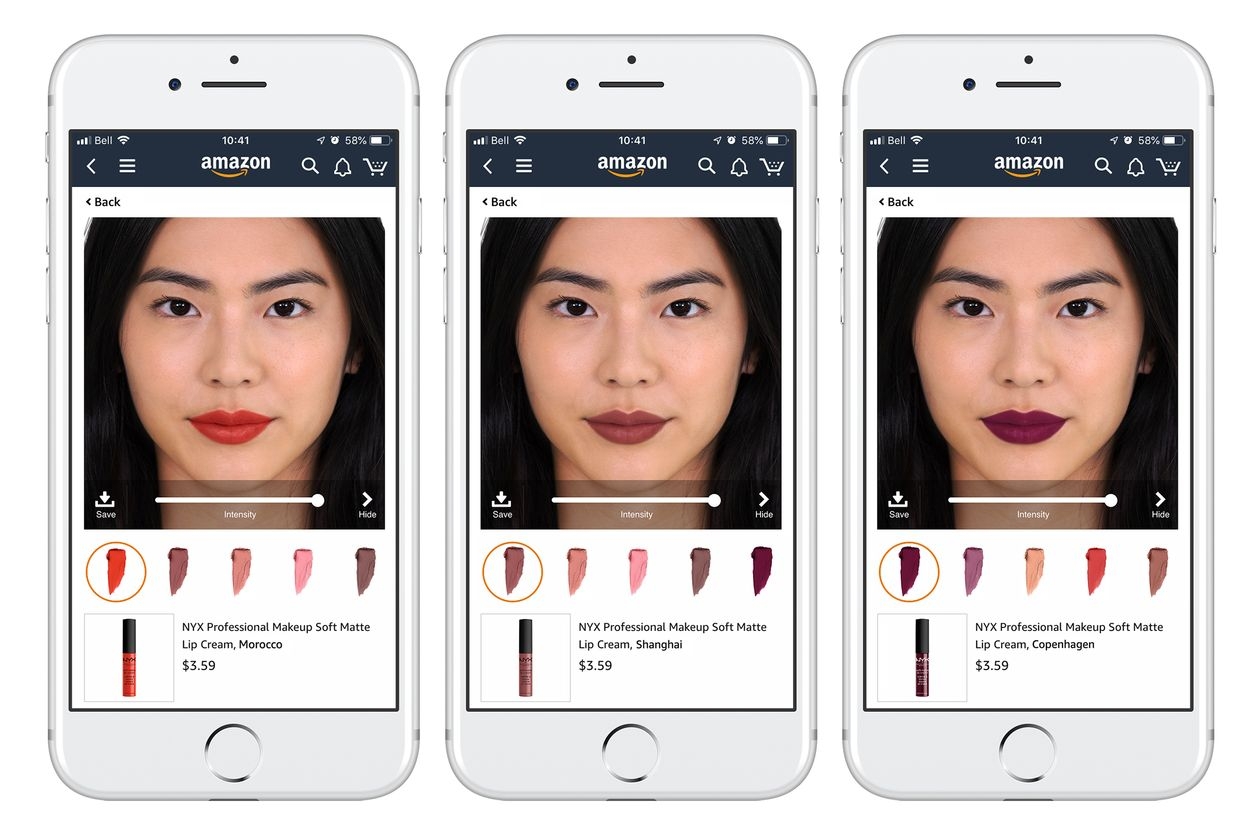 At CES 2020, L'Oreal unveiled Perso, an AI-powered at-home system.
The device delivers on-the-spot skincare and cosmetic formulas that optimize for increasing levels of personalization over time.
Here's what Nicolas Hieronimus, L'Oréal's Deputy Chief Executive Officer had to say about the company's innovation goals:
Building on our deep scientific heritage and leadership in innovation, L'Oréal is once again leveraging advanced technology to create smart beauty products and services that answer the needs of our consumers and offer them near-limitless personalization and precision.