On September 14, 2022, Yvon Chouinard, the founder of outdoor apparel and gear Patagonia made the news with a unique leadership and business decision: he donated his 3 billion US dollar company to a climate change organization effectively committing his business to protect Earth.
Patagonia's new owners are the Holdfast Collective and the Patagonia Purpose Trust.
Holdfast Collective is a not-for-profit organization; the organization receives funds to fight the environmental crisis, protect nature and biodiversity, and support thriving communities and decision-makers dedicated to building a better future for people and Earth.
The Patagonia Purpose Trust was created solely to protect the company's values and mission. All excess profits—money the company makes after reinvesting in the business—will be distributed as a dividend to the Collective to be used for its work.
Truth be told, there were no good options available. So, we created our own.
Instead of "going public," you could say we're "going purpose." Instead of extracting value from nature and transforming it into wealth for investors, we'll use the wealth Patagonia creates to protect the source of all wealth.
Yvon Chouinard
With this decision, Yvon Chouinard has just redefined the meaning of going all-in business-wise. It's also unprecedented: no other founder has donated their billion-dollar company to a non-profit organization no matter how strongly they supported its mission. When or if other business leaders follow his example, as he said he hoped, remains to be seen.
View this post on Instagram
Read on to discover Patagonia's story behind the brand and how Yvon Chouinard has slowly changed the meaning of doing business.
Looking to learn about other purpose-driven companies running successful businesses? Click here and here.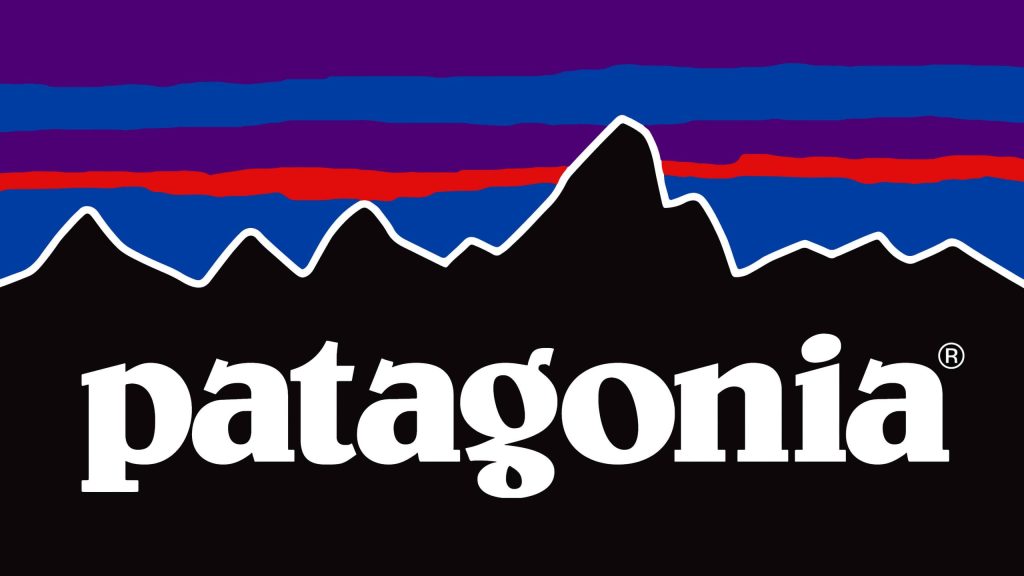 PATAGONIA – The Story behind the Brand
When Yvon Chouinard became an entrepreneur, almost fifty years ago, he didn't imagine nor wished that one day he would become a billionaire. He wanted to make outdoor clothing and gear for his mountain climbing friends and himself.
The first money he ever made as a young entrepreneur, was selling steel pitons he made himself on an old forge. Encouraged by his success, he started Chouinard Equipment with a friend. Within nine years, Yvon and his partner had redesigned and improved almost every climbing tool.
The climbing gear produced by Chouinard catered to the needs of the climbing community: it was stronger, lighter, simpler and more functional. Unfortunately, it was also damaging the rock. To protect the mountains he loved so much, he decided to replace steel with aluminium.
The aluminium chocks were an innovation so the first step to market them to the climbing community was to show the climbers how to use them through printed essays in the company's catalogues.
The chocks were an instant success and paved the way for the next innovation: the quick-drying insulated apparel and underwear. From this point on, the company began to make significant investments in the research and development of new and innovative fabrics.
As we began to witness the extent of global warming and ecological destruction, and our own contribution to it, Patagonia committed to using our company to change the way business was done.
If we could do the right thing while making enough to pay the bills, we could influence customers and other businesses, and maybe change the system along the way.
Yvon Chouinard
Over the next decades, the company, now known as Patagonia, has grown at a fast pace but maintained the community-centred culture that was there at the beginning. Employees dressed casually, played volleyball in the sandpit at the back of the company building, ate healthy, mostly organic food at the company's cafeteria or had lunch with their children at the on-site childcare centre, among the first in the country at that time.
When you care about your people, you care about the environment; when you care about the environment, you care about people. One nurtures the other.
It's been nearly 50 years since we began our experiment in responsible business, and we are just getting started. If we have any hope of a thriving planet—much less a thriving business—50 years from now, it is going to take all of us doing what we can with the resources we have. This is another way we've found to do our part.
Yvon Chouinard
The company's shift towards protecting the environment continued naturally in the early 70s with its first contribution: to save the Ventura river and its fish habitat from a development plan. The donation was small but it made a difference: the difference between killing and saving a natural ecosystem.
Yvon and his core team were inspired and began making regular donations to smaller groups working to save or restore habitats. They never donated to big NGOs acting very much like corporations; they always directed the money toward local grassroots organizations with an authentic passion for the environment.
Starting in 1985, Patagonia pledged 10% of its profit to conservation groups. They felt they weren't bold enough so they took it one step further and committed 1% of sales, profit or not.
Entering a new decade, the company took steps to reduce the influence of its business on the environment and began using 100% organic cotton exclusively.
In 2011, they made a bold statement with their anti-consumerism Black Friday ad Don't buy this jacket.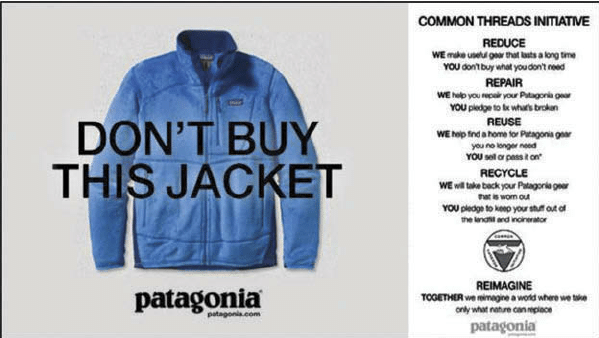 In 2012, Patagonia became a B-Corporation (B stands for "benefit"), a certification received by companies with an explicit social or environmental mission, and a legally binding fiduciary responsibility to take into account the interests of workers, the community and the environment as well as its shareholders. For 2022, Patagonia has been recognized as one of the Best For The World B Corps in Environment and Community (source).
In 2017, Patagonia sued President Trump following his proclamation to reduce the territory of Native American national monuments in Utah.
In 2018, the company's mission changed to a very clear and simple statement: We're in business to save our home planet. The company's revenue for 2022 is estimated at 1.5 billion US dollars which goes to show that having a solid commitment to its brand-driven activism is also good for business. The company has built a strong community around
In 2020, the company launched a collection of Patagonia shorts with tags that said Vote the A**holes Out as a response to those politicians denying the reality of climate change but looking to get elected that year. It wasn't a brand campaign, the media and the wider public found out about the message when a photo of the tag was posted on Twitter. Needless to say, the line sold out immediately and now they are a collector's item.
Pure🔥by @patagonia. pic.twitter.com/PDCnHSqsjo

— Corey Ciorciari (@CoreyCiorciari) September 12, 2020
Now the company has taken the ultimate step toward fulfilling its brand mission: every dollar made that's not reinvested back in the business goes to fund the work of the Holdfast Collective, namely around 100 million US dollars a year.
Patagonia is now at the stage where business equals the mission and the community. Through everything it does, the company gives a powerful voice to a community of millions worldwide and uses its resources to protect nature and secure a better future for our children.
Despite its immensity, the Earth's resources are not infinite, and it's clear we've exceeded its limits. But it's also resilient. We can save our planet if we commit to it.
Yvon Chouinard