Businesses looking to sniff out a commercial opportunity have been aware of its power for a long time. According to the Sense of Smell Institute, people are able to recognize approximately 10,000 different odors and are able to recall smells with 65% accuracy after a year, in contrast to only 50% of visuals after three months.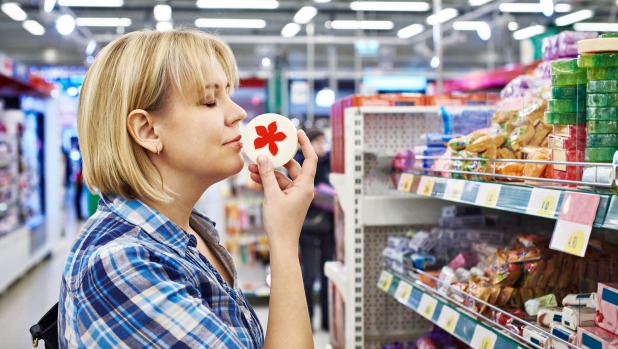 source: Stuff
Martin Lindstrom found that brand impact increased by 30% when more than one sense is engaged and by a whopping 70% when three senses are integrated into the brand message. Scents have an immediate and compelling effect as they are directly linked to the brains limbic system which is the part of the brain responsible for our memories and emotions. Therefore scents go beyond our rational perception and have an ultimate impact on our emotions.
Moreover, smell is the most powerful and emotional of all the senses. By using scent, brands are able to connect with consumers on a deeper emotional level, resulting in a more memorable experience. Scent can attract new customers, increase sales, heighten value perception, and expand brand recognition and customer satisfaction. A scent has the ability to influence behavior and trigger memories almost instantaneously. When smell is combined with other marketing cues, it can amplify a brand experience and establish a long lasting connection with consumers.
The right scent can depend on several factors. Research by Eric Spangenberg, the dean of the college of business at Washington State University, who has been researching the effect of smell on customer behavior since 1996, has found that it affected everything from cultural norms, gender and appropriateness to the product. "Another area where we've seen effects is if you've got a scent that's congruent with a season. So, for instance, shopping and the seasonal effects of scent – people expect Christmas to smell like cinnamon or something like that," he says.
Comparing this with a scent more appropriate for Easter, he found positive effects for the seasonal smell and negative effects for the incongruous one. "Using the correct smell is crucial. For businesses across many sectors, getting their fragrances right could mean the difference between the lingering stench of failure or the sweet smell of success," writes The Independent UK.
"Smell has been a somewhat neglected sense in terms of being used to help differentiate brands, so scents are one of the final frontiers for marketers," explains Maureen Morrin, professor of marketing at Temple University's Fox School of Business and coauthor of a research study on the effects of ambient scent on consumer preferences and choice behaviors. "Hotels have created their own proprietary scents that are not just emitted in public spaces, such as the lobby and workout rooms but also often integrated into their toiletries. Not only is the odor pleasant, but it also comes to have unique associations with the brand over time," she added, quoted by Sarah Bergen for Lodging Magazine.
Because sense of smell is tied to the side of the brain that processes memories and emotions, the appropriate use of scent can positively impact the perception of a brand, customer loyalty, and even the attitude of the staff. "We're where music was 15 years ago. You wouldn't walk into an established retailer today without some sort of music playing, but that wasn't the case 15 or 20 years ago. You can walk into a beautifully designed space, and it's rendered meaningless if there's a bad smell or an absent smell," said Roger Bensinger, exec VP of AirQ by Prolitec, which works with Abercrombie &  Fitch, Hard Rock Hotel & Casino and Giorgio Armani, among others, quated by AdAge. "
The researchers hypothesized that the degree of complexity of a scent may affect the consumer's ability to process that olfactory information. The less complex a scent, the easier it is to process, and the greater its influence on associated attitudes and behaviors. This should translate into more favorable consumer responses to the retail environment and associated products.