Influencer Marketing campaigns are a great tool for marketers to increase brand awareness, convey a specific message and drive sales.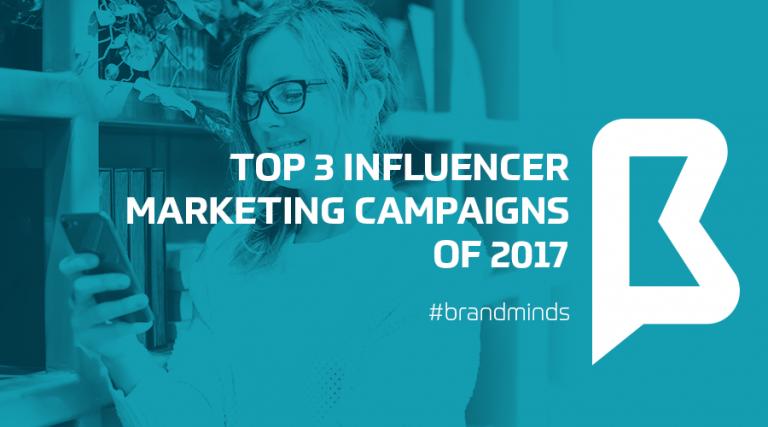 The biggest challenge for brands creating an influencer marketing campaign is to find the perfect influencer. When brands choose the right influencer, the campaigns have great results and become viral.
Do you plan to create an influencer marketing campaign for your company?
Read on and get your creative juices flowing!
Top 3 Influencer Marketing Campaigns of 2017
1.

KFC

– Never-ending summer
Brand: KFC
Product: Krushers Moktails
Campaign goal: extending sales outside season
Channel: micro-site
Influencer: Fuego
Campaign results:
17 million views;

74% organic reach in social media;

168 extra days of Krushers Moktails in the menu.
This campaign received the Silver award at Internetics 2018.
Why we chose this campaign
Summer is coming to a close. Millennials' posts on Facebook stopped showing cool places at the seaside. They are short for money and have no fun stuff to do in the city. Winter is on the next corner and sadness is overpowering everyone. Who is the harbinger of winter? Fuego with his all time hit: Mother, decorate the Christmas tree. If we keep him busy and prevent him from decorating the Christmas tree, will we be able to extend summer?
KFC built a dedicated micro-site for this campaign, recorded Fuego doing all sorts of activities (singing, telling jokes, playing kendama, reciting a poem etc) and asked visitors to keep him busy. The campaign worked out brilliantly and became a viral hit. 
Why was this campaign successful?
Fuego is a middle-aged musician singing romantic songs. He has a long history of being the subject of jokes, irony and internet memefication. The unexpected association between Fuego and KFC drawn the Millennials' attention;

Visitors engaged with Fuego on the micro-site which contributed to campaign's fun;

Fuego's humour and self mockery was a surprise to everyone and propelled the campaign forward.
2.

Target Easter

with Zach King and lifestyle influencer Naomi Davis
Brand: Target
Product: Seasonal easter candy & decorations
Campaign goal: 
Channels: Instagram
Influencer: Zach King and Naomi Davis
Campaign results on Zach Kings' Instagram post:
8,599,024 views;

7632 comments.
Why we chose this campaign
To celebrate 2017 Easter, Target teamed up with Zach King and Naomi Davis to create five Easter baskets and a truly magical celebration for children.
For kids, Easter celebration is all about egg hunting and other surprises. Zach with his magic video tricks is a perfect match.  
Zach King, filmmaker and YouTube personality will be speaking at Digitalium 2018, the Hottest Digital Marketing Conference taking place in Bucharest, on October 12th.
Watch Zach's video for Target:
3.

Ask for a raise

with Cindy Gallop
Brand: The Muse, a career building website
Campaign goal: helping women ask for a pay raise
Channel: Facebook Messenger + chatbot
Influencer: Cindy Gallop
Campaign results:
Over 110 million media impressions worth over $1 million in earned media;

In the first seven days, Brand partners saw 5x the normal daily reach on social media and traffic to their site;

The tool has seen over 100,000 users, 86% of them female (ages 18-44), with conversations lasting an average of 1 minute and 43 seconds.
Why we chose this campaign
Amongst the reasons why women are 25% less likely to receive a raise are the facts that women often don't know how to ask, when to ask, and how much to ask. Women lack confidence and self worth (read our article on how to build confidence). Building a case for pay raise is daunting for most women and is an individual challenge. That's why Facebook Messenger is the perfect medium because it preserves women's privacy. The Cindy Gallop Chatbot creates a private conversation between two women backed by data and supported with sass. The combination between Cindy's personality and chatbot technology resulted in a powerful tool that supports women's right to equal pay. 
This campaign received the 2018 Shorty Awards in the Facebook Partnership category.
Watch the campaign's video here:
Did you like this article?
Share it with your community!