In-car entertainment (ICE), or in-vehicle infotainment (IVI), is a collection of hardware and software in automobiles that provides audio or video entertainment. If at its beginnings, the car entertainment would represent only car audio systems that consisted of radios and cassette or CD players, with the rise of the new technologies and the digital explosion, ICE includes automotive navigation systems, video players, USB and Bluetooth connectivity, Carputers, in-car internet, and WiFi. Once controlled by simple dashboards knobs and dials, ICE systems can include steering wheel audio controls and handsfree voice control.
Moreover, driven by the demand for more connected vehicles, in-car entertainment is getting more and more sophisticated. According to wikipedia, car makers, electronics and software suppliers, as well as newcomers from the Silicon Valley (such as Google and Apple), work together and also compete to come up with infotainment systems that are user-friendly and safe to use. ICE systems are increasingly commonplace with newer vehicle models and several auto makers have developed their own systems.
At the same time, with the mass adoption of smartphones worldwide, a new issue has emerged: the use of connected devices in the car. According to a 2015 survey conducted by AT&T and quoted by wikipedia, with a sample of over 2,000 US respondents, "7-in-10 people engage in smartphone activities while driving" including social media (40%), web browsing (30%) and even video chatting(10%).
Having in mind the concerns regarding possible accidents, Google and Apple's mobile OSs' making the bulk of the market, the two tech companies have developed projection modes (Android Auto, Apple CarPlay) to enable mobile devices to be operated in vehicles through the dashboard head unit so that the vehicle occupants don't manipulate their devices directly, use an interface they are familiar with, and spend more time with their eyes on the road.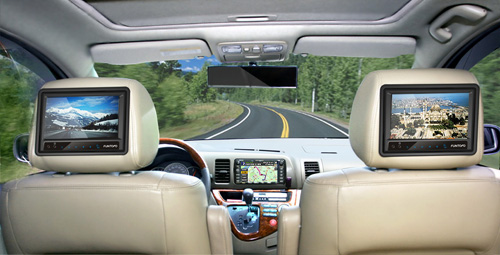 More than that, while travelling long distances,the entertainment systems become more than a pleasure,but a requirement. Especially if you have children and keeping them entertained and happy may otherwise seem as a hard task to accomplish. Companies are fighting to discover the next best thing for you and keep you hooked, either is a new incorporated tablet, a new surround system, tv and rear entertainment systems.
According to autobytel.com, while SUVs and minivans are the most common vehicles with dedicated entertainment screens for back seat occupants, you can also find some standout passenger cars with rear seat systems. With these installed, second-row passengers can watch their favorite movies or TV shows, enjoy gaming on the go, and even surf the internet. Here and here are some examples.
What will the future hold? Intel has just announced a partnership with Warner Bros. for developing in-cabin, immersive experiences in autonomous vehicle settings. "Called the AV Entertainment Experience, we are creating a first-of-its-kind proof-of-concept car to demonstrate what entertainment in the vehicle could look like in the future. As a member of the Intel 100-car test fleet, the vehicle will showcase the potential for entertainment in an autonomous driving world. The rise of the AV industry will create one of the greatest expansions of consumer time available for entertainment we've seen in a long time. As passengers shift from being drivers to riders, their connected-device time, including video-viewing time, will increase. In fact, recent transportation surveys indicate the average American spends more than 300 hours per year behind the wheel," writes the Warner Bros.' website.
According to the company's representatives, they imagine riders enjoying immersive experiences never seen before, courtesy of in-cabin virtual reality (VR) and augmented reality (AR) innovations. For example, a fan of the superhero Batman could enjoy riding in the Batmobile through the streets of Gotham City, while AR capabilities render the car a literal lens to the outside world, enabling passengers to view advertising and other discovery experiences.