As a social media specialist one must always be up-to-date and improve the quality of your posts, therefore you need some tools to help you along. Today, we present you some of the best google chrome extensions.
HTTPS Everywhere
This is an port of the popular HTTPS Everywhere extension for Firefox, created by EFF and the Tor Project. It automatically switches thousands of sites from insecure "http" to secure "https". It will protect you against many forms of surveillance and account hijacking, and some forms of censorship.
HTTPS Everywhere is produced as a collaboration between The Tor Project and the Electronic Frontier Foundation. Many sites on the web offer some limited support for encryption over HTTPS, but make it difficult to use. For instance, they may default to unencrypted HTTP, or fill encrypted pages with links that go back to the unencrypted site. The HTTPS Everywhere extension fixes these problems by using clever technology to rewrite requests to these sites to HTTPS. Information about how to access the project's Git repository and get involved in development is here.
Check My Links
Check My Links is a link checker that crawls through your webpage and looks for broken links, an extension developed primarily for web designers, developers and content editors. When you're editing a web page that has lots of links, wouldn't it be handy to be able to quickly check that all the links on the page are working ok? That's where 'Check My Links' comes in.
After you install the extension, open the page you want to check and click the Check My Links icon on the toolbar. The app will then start testing the links on the page and display the results in a box in the upper-right corner of the screen. Broken links are highlighted in red, problematic links in yellow, and good links in green.
Buffer
Buffer is a better way to publish your updates on Twitter, Facebook, LinkedIn, Google+ and more. It also tracks results and analyzes everything you share for you. Click the Buffer button on any website to add Tweets and Facebook updates to your queue. From there it will be posted at a better time, well spaced out over the day. With each update posted, Buffer also gives you analytics about clicks, retweets, mentions, shares, likes and more.Buffer is free to use and offers paid plans for higher volume users.
It will show you the complete social profiles of your email contacts, including those on Twitter, Facebook and maybe more as long as the email address is associated with those accounts. It also works with Boomerang, Buffer and Hunter. Any associated Social Media platform associated with that email address will come up and you can immediately make a connection.
Grammarly
The free Grammarly extension helps you prevent typos and spelling errors when you post content to your social media accounts or blog. After you install the extension, it will automatically check your spelling and grammar whenever you type in a text box in your browser. If it flags a potential error, hover your mouse over the underlined word and select an option from the pop-up menu to resolve it.
Hunter.io
If you are looking for an email address for someone in an organisation Hunter is here to help. If you put in an URL of an organisation Hunter will give you a number of email addresses associated with that domain. I use this to reach out to people in relation to co-marketing and guest blogging.
With this extension installed, you just need to click on the icon in Chrome browser to instantly view how many shares your social media post received. It displays stats on Twitter, Pinterest, LinkedIn, StumbleUpon, and Delicious. For Facebook, it shows likes, shares, and comments.
There's a refresh button in the extension bar that can be used to see updated social media stats. A unique thing about this extension is that it shows the stats of every web page you visit. Therefore, you can track the performance of your own content, as well as see how others are performing.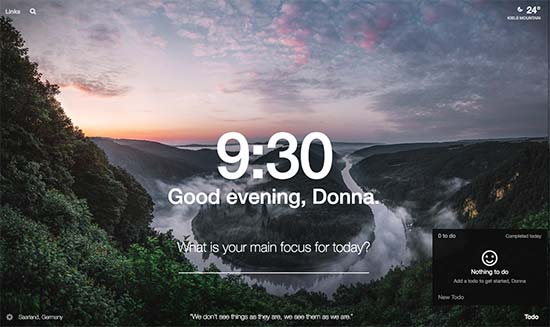 It is a great productiveness tool, you can create to-do lists and decide on the main focus for each day. It is a fantastic user-friendly extension that can help you with your tasks each day. Moreover, is a personal dashboard that helps you eliminate distractions and stay focused on key tasks. After you install the free extension, it launches every time you open a new Chrome tab, reminding you of the tasks you need to accomplish that day.
Creating visual content is time-consuming, but necessary as posts containing visuals or visuals + text receive far more engagement than posts containing just text. The quickest way to spruce up your post with a visual without brainstorming with your creative team (only when you're fully occupied with other tasks) is to insert a GIF in your social media post.
With Giphy, you get an archive of GIFs, searchable through the extension icon. Marketers can search for GIFs with a tag. After you've selected a GIF, you can drag it directly on your social media page for posting. And there's a short link (automatically created) that can be shared on social channels.
Pocket is great for when you'll read an article, it keeps it fresh and right at hand. The Pocket Google Chrome Extension lets you add new articles just by adding the link, and then read them when the time's right. It automatically syncs to your phone, tablet or computer so you can view it at any time, even without an internet connection.See related recommendations for you based on your choices and articles you are reading.
In this field,everything is about the connections and how you work with them. Therefore, social media marketers should work towards making connections with people within their industry than just focusing on having a good relationship with their followers. Discoverly is a Chrome extension that displays social media details of a person, even in email, so you can reach out to them on Twitter or LinkedIn.
This extension lets you create beautiful images formatted perfectly for Pinterest, Instagram, Facebook or Twitter. They have thousands of images to choose from. You can then add personalized text and your logo to make the image your own.
If you have images that you like to upload yourself you can check if they fit the format for your chosen Social Media outlet and using the editing options. Pablo designers have created more than 500,000 images.